---
↑Top↑
Album Review: Hillside Avenue
from Erica and Friends | Released 2018-08-30
By Celia Fábos-Becker and Tony Becker 2018-08-30
The brand new album, Hillside Avenue has been anticipated for some time, and now it is finally here!
For people who have had the pleasure of listening to Erica and Friends live, this album lives up to their best work. The pieces are familiar, their favorites; the arrangements are new but well-polished. Erica Hockett and her ensemble are perfectionists and the album is excellent all round! You will be happy to buy and enjoy it many times over.
Erica has always had a sweet, clear voice and on this excellent album, it is better than we have ever heard it before. As we listened to Hillside Avenue for the very first time last Thursday, August 30, 2018, we had just been watching Senator John McCain's services in Arizona, and Senator Joe Biden's stirring eulogy. We appreciated these lovely old ballads all the more for the context. Celia really was brought to tears by Erica's rendition of Garden Valley and its remembrance of a 'Gallant Laddie,' and as she thought how appropriate it was in the context of the day.
On Bonny May and Game of all Fours, Lee Corbie-Wells joins Erica with her sultry contralto for two lovely and well balanced harmony treats. Here is a sample: Game of all Fours Sample Video
Troy Dillinger has a wonderful touch with his piano accordion and it added greatly to the upbeat pieces. The band's Chris Hammond on guitar and Anne Bingham Goess on fiddle, and whistle, all comport themselves with skill and style for a full instrumental sound that accompanies song, jig and reel to perfection.
Erica grew up in the English Cotswolds listening to the English folk band Fairport Convention, and we were expecting at least one of their hits, but were very pleasantly surprised to hear Erica's rendition of Farewell, Farewell, written by Richard Thompson and first released in 1969 by Fairport Convention.
Tony says, 'I was an impressionable young college freshman when I first heard this song, and I don't think I have ever heard it done better.'
We especially like the carefully crafted new arrangements for these traditional ballads, jigs and reels. These new settings will give even the most jaded traditional music aficionado's something new and pleasing to hear.
Sound engineers, Margrit Eischler of Absolutely True Sound and Gawain Mathews of Gawain Mathews Music Studio (who also plays loads of instruments on the album) have done a fantastic job on this one. The mix is great – not too much compression or reverb, so the presence is just the way we like it – every word is audible, yet so are all the nuances of the acoustic accompaniment.
You can see and hear Erica and Friends live at the Scottish Games and Gathering in Pleasanton this coming weekend, Labor Day weekend, Saturday and Sunday, September 1st and 2nd, 2018, at the Alameda County Fairgrounds. They will have CD copies Hillside Avenue for sale as well, so you can keep enjoying their music. We'll also gladly look forward to their future albums!
For more on Erica and Friends, check their Facebook Page here!
---
↑Top↑
Review: Charmas New Album, Stark Raving Celtic
Enjoyable, Eclectic and now Available!
Instrumental madness, blue ballads, and comedy fuel this rare blend of Traditional Celtic and Modern Fusion Music
By Cecilia Fabos-Becker and Tony Becker Published 2018-04-20
The Twenty
Stark Raving Celtic
All-Stars
Aaron Clegg
Mick O'Broain
Jim Powell
Phil Johnston
Stephen Vahle
Devin Lara
Russ Bennett
Matt Johnson
Dan Frechette
Mike Long
Lee Corbie-Wells
Richard Dwyer
Galt Barber
Janet Herman
Garrett Harpainter
Daniel Steinberg
Jamie Wylde
Jeffrey Ferrell
Ariel Ferrell
Elise MacGregor-Ferrell
In past 18 months, Santa Cruz collaborative Charmas has successfully used Kickstarter to fund their albums, Songs of the Sea, which proved to be a landmark collection, and now Stark Raving Celtic. Stark Raving Celtic features twenty Central California musicians, wielding an astonishing variety of folk-, rock-and percussion-instruments, who are give the album exceptional creative variety. The result can be heard on Charmas' brand new album Stark Raving Celtic, which features original Celtic music and performances by 20 past and present members of Charmas as well as notable guest performers.
Stark Raving Celtic includes several lovely tune sets, but there are not many Scottish/Irish/Celtic bands who compose original songs about their life experiences in the traditional style, and although we liked all the tunes and songs well, for us, these four original songs stood out.
We've been to many Scottish Highland Games, and so we especially appreciated the humor and liveliness of The Highland Games Song, by Elise MacGregor Ferrell, and the extra vocal effects of the lads singing it. It should be the theme song of California Highland Games in general!
Speaking of Scottish Games, the bagpipes there can be overwhelming, but the bits of bagpipes that Elise plays in several tracks of Stark Raving Celtic fit pleasantly with the instrumental arrangements and medleys.
The Dreaming Tree, composed by Elise as a elegy for the authentic and tragic life story of 'Kathleen of the Great White North', is made all the more poignant by the distinctive voice of emerging star Lee Corbie-Wells. Keep your eyes and ears open for more from Lee.
Brains S.A., written by guitarist Jim Powell about an evening at a pub of that name in Cardiff, Wales, brought to mind a couple of memorable visits to a pub we used to know in St. Paul, Minnesota, as well as an old song by a long-ago favorite British group ('The Inn of the George and Dragon' by Herman's Hermits). I couldn't help but smile when Jim mentioned the Welsh dragon breathing fire down my back.
Jonny Hardie's Tumble, composed by Elise for Old Blind Dogs fiddler Jonny Hardie, was a lovely tribute and a rollicking tune, made exceptional by the wonderful, rich tenor-baritone voice of lead vocalist Aaron Clegg. Aaron is among the best we've heard. His natural, strong voice is accompanied by emotion, especially humor, you can feel, and his excellent enunciation stands out over the accompanying instruments.
We can heartily recommend Stark Raving Celtic to anyone as an enjoyable, eclectic experience.
To hear samples of any the Stark Raving Celtic tracks, click on this CDBaby Player link, Charmas Stark Raving Celtic Player, and scroll down to select that Track.
Check the Music Players for all Charmas recorded Celtic music on their website at https://charmasband.com/charmas-full-band-for-stage-showsfestivals
Charmas performs traditional and modern Celtic ballads, drinking songs, sea chanteys, comedy songs, instrumental dance music, and Celtic rock. For more info. and Charmas audio samples check
www.charmasband.com.
---
↑Top↑
Review: The Next Chapter by Connla
Northern Ireland's Must See band
By Cecilia Fabos-Becker – Published 2018-04-13
Connla is a new, young Northern Irish band, which has been called 'the best new trad band' from Northern Ireland but is much more than that. It is gaining recognition in the U.S., with rave reviews from such entities as the 'Chicago Irish American News,' as well as winning awards in Ireland. It is comprised of four young people from Derry and Armagh; Ciara McCafferty (vocals), Ciaran Carlin (Flute/Whistles) and Paul Starrett (Guitar) Emer Mallon (Harp) and Conor Mallon (Uilleann Pipes/Whistles). Connla was described as a 'must see' group by 'Songlines Magazine,' a magazine out of the UK that covers world-wide music and has taken over awards presentation from the defunct BBC music awards.
We listen to a few dozen new album's by various, very good, groups every year, and recently listented to Connla's newest album, The Next Chapter just released last Friday. A few of these really stand out to us, and this is one of them — even better than Connla's 2016 album, River's Waiting.
Although the band considers itself 'trad,' it has a generally modern presentation that is refreshing. Connla's music also includes touches of Jazz, Pop, a fair amount of Latin or Spanish influence, especially in pieces where guitar dominates, and even Americana. The song 'Julie' about a U.S. Civil War period relationship between mistress and a long-time slave while the Union soldiers are approaching, is unforgettable. Both album's have an interesting mix of modern and traditional ballads, and traditionals and more modern instrumental music. The instrumentalism is excellent. I really enjoyed the guitar-dominated pieces. It is so seldom one hears virtuoso melody guitar.
'SS Baychimo' was truly special. It reminded me of some fine classical performances of Spanish music like 'Recuerdos del Alhambra,' or 'Romanza.' and a good reminder of how many Irish went to the Spanish speaking countries after 1641. Wow!
Ciara McCafferty's voice easily rivals the best of Nashville female singers. It is young, sweet and strong. The ballads she sings tell stirring, poignant tales that catch your attention also.
If I have one complaint, it is that Ciara would enunciate her consonants and the mix better balance her voice when she's dropping the volume for dramatic effect. Sometimes she's crystal clear, even above the instruments, and other times, the ends of words disappear a bit, especially when her voice is dropping while the instrumental music is swelling, as in the very end of 'Julie.' Over time, I'm certain this will only improve.
Connla is touring the western U.S. in September and will be featured at the KVMR Celtic festival on September 29 and 30 in Grass Valley (east of Sacramento off Highways 49 and 20). In the preceding week, they will be in the Bay area (in Berkeley) and we hope to find them a gig in the South Bay area as well. AmeriCeltic readers should get out and listen to them, where and when they can! They are well worth the prices of the tickets! We'll publish all their dates and places as they develop closer to their tour. Meantime, we can recommend their album as a lovely diversion during our long bay area commutes.
For more on Connla, check their website, www.connlamusic.com, or Facebook Page www.facebook.com/connlamusic, or watch their Promotional Video.
---
↑Top↑
Album Review: Wake the Dead The Deal
More Tie-Dye melded Celtic music than ever!
By Tony Becker 2017-10-30
Wake The Dead is a cadre of multi-talented musicians lead by Danny Carnahan that has been moshing Hunter/Garcia's malleable and durable songs with traditional Celtic jigs and reels for better than three decades. On this latest album, The Deal, they add songs from the Youngbloods, Buffalo Springfield, Bob Dylan, the Beatles and more.
The performances, by Maureen Brennan, Celtic harp, Cindy Browne, double bass, Danny Carnahan, vocals, octave mandolin, guitar, fiddle, Kevin Carr, fiddle, uilleann pipes, pennywhistle, Sylvia Herold, vocals, guitar, Paul Kotapish, vocals, mandolin, guitar, jaw harp, Brian Rice, hand percussion, are all wonderful, but then every one of these are masters of their art.
The tracks are likewise incredible. Note how these classic songs are carefully paired with Celtic traditional tunes like a fine wine with a great entree!
1. Cumberland Blues (Hunter/Garcia/Lesh) / Mind the Gap (Carnahan)
2. New Speedway Boogie (Hunter/Garcia) / Frieze Britches (trad.)
3. White Room (Jack Bruce/Pete Brown) / The Congress Reel (trad.)
4. Box of Rain (Hunter/Lesh; © Ice-Nine Publishing)
5. Eyes of the World (Hunter/Garcia) / Reel à Jules Verret (trad.)
6. Waiting For Snow (Julie King) / Darkness Darkness (Jesse Colin Young) / Reel Mattawa (Eric Favreau)
7. Deal (Hunter/Garcia) / Tom Billy's Jig (trad) / Sheepskin and Beeswax (trad.)
8. Just Like a Woman (Bob Dylan)
9. Bluebird (Stephen Stills) / Pinch of Snuff (trad)
10. Dark Star (Hunter/Garcia/Hart/Kreutzmann/Lesh/McKernan/Weir) / Maids of Michelstown (trad.) / And Your Bird Can Sing (Lennon/McCartney)
11. Brokedown Palace (Hunter/Garcia)
Surprisingly, my personal favorite is Bob Dylan's Just like a Woman, because of the sensitive treatment given by vocalist Sylvia Herhold, but overall it's another great album and a MUST for any 60's folk-rock fan.
Another great track is the first, where the rollicking country-bluegrass-rock fusion number, Cumberland Blues by Garcia and Lesh is paired with Mind the Gap, an original tune by Danny Carnahan, and together, they blend beautifully into a classic old-time anthem.
There is plenty of variety here to please almost any traditional music fan, probably including you.
You can listen to samples at www.wakethedead.org/product/deal/ and purchase a download right from the site.
---
↑Top↑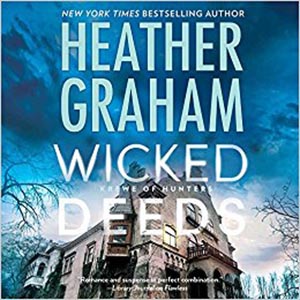 Book Review: Wicked Deeds by Heather Graham, 2017
A Hallowe'en / Samhain Mystery
by Cecilia Fábos-Becker 2017-10-26
To many who have grown up with a love of both the Celtic traditional ghost stories, CSI, murder mysteries in general where law enforcement is actually involved in solving them, and romance, Heather Graham Pozzessere is a well known romantic occult mystery writer. Her novel settings are familiar older cities and areas of the U.S.–where else would the best ghosts be? Her female characters are as strong as the males, and she covers a wide range of old fables, legends and historical events. She is known for her characters solving a mystery within a mystery, the past influencing the present. A strong theme is that human nature doesn't change very much across the centuries and genetics can and does sometimes play a role in perception and behavior, sometimes in surprising ways.
I've always enjoyed her stories, especially in autumn and winter, when, as the Celts and other Europeans believed, the increase in darkness is accompanied by a weakening in the veils between the worlds of the living and spirits, and even eras of time. These beliefs are so old and powerful, even the Christian churches acknowledged them, and incorporated them with commemoration of the dead at "All Hallow's Eve" and the following two festival days, "All Saints Day" and "All Souls Day."
Her stories are well written in the classical sense: heroic protagonists, strong villains and conflict, and a resolution of the conflicts, and criminals brought to justice as most people would like to see in real life, at the end. She also explains motive, much better than many writers, even for the mentally ill. She goes into their fantasies and twisted logic with almost surgical precision and then shows how they can live among us, compartmentalize, and not be suspected until they commit horrible crimes. She shows us the other side of the usual statement by friends and relatives of a murderer, "we never suspected a thing; he/she was always a nice person, a good boy/girl, in our neighborhood."
This year, Ms. Graham has outdone her self, though and come up with one of the best, classic tradition murder mysteries of all, Wicked Deeds set in the beloved city of the father of both horror stories and murder mystery-detective stories, Baltimore, and featuring none other than the father of both genres himself, Edgar Allan Poe. A new restaurant dedicated to Mr. Poe has opened and the Poe Society itself meets there. There is even a gift shop with kitschy souvenirs like bobble-headed ravens. Two new members of an elite FBI unit called the "Krewe of Hunters" who combine modern forensics, old fashioned Poe and Arthur Conan Doyle style investigation, and an ability to communicate with ghosts, who love being FINALLY noticed and able to participate in on-going living lives, have decided to have a honeymoon in Baltimore, and to try out this new restaurant with great preliminary reviews. Where else would FBI agents who work with ghosts go, especially in late summer or early autumn in the waning seasonal light, for a honeymoon? They've picked a poor time, of course, as someone seems to have taken offense at the restaurant and the Poe Society, and has begun murdering writers in modern variants of the old Poe themes in his better-known horror stories. Poe's ghost knows about this, is indignant and wants it stopped. Poe's own death was a mystery and his reputation was heavily damaged by a jealous rival afterward. His instincts say that at the bottom of the mystery, history is trying to repeat itself, but he also can't remember most of his own last days. So the Krewe, this time, is solving two mysteries: the modern imitator of fictional horror, and Poe's death itself.
It has a number of twists, turns, and surprises and many of Poe's stories show up in interesting, unexpected ways. There is a major stunning insight about the importance of perception and how jealousy can become insanity. You will never dismiss jealousy lightly again after reading this novel. It's the best Hallowe'en novel I've read in a long time, and a real tribute to the father of the two genres of horror and detective stories.
So, after you've handed out the treats to all the modern little ghouls, ghosts and goblins, treat yourself to a sold read of this book. Make yourself a nice hot cup of blood-red mulled wine, settle in a comfy bed with plump pillows in a darkened bedroom, lit only by your favorite old-fashioned hurricane lamp casting a soft golden glow. Then the shadows darken and grow, and perhaps a raven flaps its wings, as it passes your window in the moonlight and moves to another nearby tree outside before perching and watching what happens next…
---
↑Top↑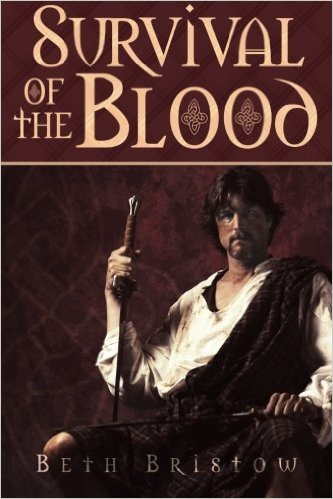 Book Review 'Survival of the Blood' by Beth Bristow
Published by Archway Publishing, Bloomington, Indiana, 2015.
First of all, recognizing that we have a growing, sophisticated subscribership to this newsletter, we want to let readers know that we did accept an ad for this book but I also warned the author that we would be doing an independent review to meet our organization's own standards.
I am very happy to say I highly recommend this book to anyone interested in good historical drama. When I first began college I had two majors: drama, as well as history, and then later switched to history and anthropology. I remember one thing well from those drama classes, as well as some excellent advanced high school English classes. It is common to all successful dramas, be they be plays or films, and likewise fiction books. The characters need to be well described. There must also be a conflict, with a clear protagonist and clear antagonist and the very best of fiction shows flawed tragic characters who are a mixture of good and either evil or at least self-destructive misguided judgment or delusion.

Click for Peter Daldry "Ye Jacobites by Name"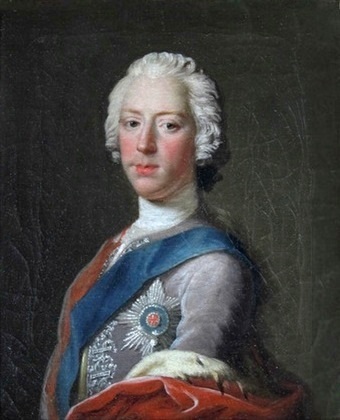 This book has all of that. It has well defined characters in an extended family, men as well as women. It has the conflict of Culloden, which was a tragedy as well as disaster for the Highland Scots. It has the inner conflicts of the men who had to decide whether to fight for the Stuart prince, Charles Edward Stuart, who was raised speaking Italian and French and grew up in archaic French and Italian royal and noble courts, or German speaking Hanover kings in London.
"Bonnie Prince Charlie" promised them a better future for Scotland. Alternatively, they could continue to suffer under a heavy taxload and other restrictions of the Hanovers, who now ruled both England and Scotland under the Act of Union, which even though it was a classic definition of a 'shotgun marriage,' had been voted by the Scottish parliament also in hopes for a better economic future for Scotland.
There is also romance and a vivid description of life as it was for the lower gentry and many ordinary highlanders in these turbulent times, amid a harsh environment.
The author made several trips to Scotland and did a lot of research, especially into the events of Culloden and the characters of the two men who were demanding loyalty and blood of the Highlanders, Bonnie Prince Charlie, and William Augustus of Hanover, Duke of Cumberland, usually known as 'Butcher Cumberland.'
All in all, this is a meaty satisfying read and will hold your attention. It will also make you look forward to a sequel to find out what happens next to the surviving characters, particularly the children.
You can find this book on Amazon.com here http://www.amazon.com/Survival-Blood-Beth-Bristow/dp/1480821438. Enjoy!
---
↑Top↑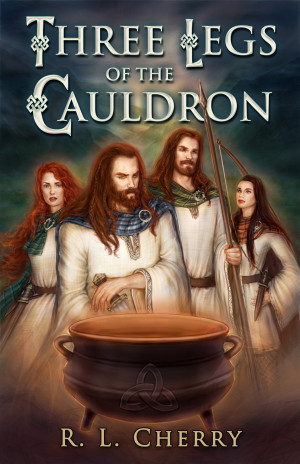 Book Review: Three Legs of the Cauldron
New Dalriada Celtic novel by Ron Cherry
By Cecilia L. Fábos-Becker Published 2016-10-28
California Mystery writer R.L.Cherry has a new, first historical novel, Three Legs of the Cauldron, set in the late 6th Century Celtic Kingdom of Dal Riata. Dal Riata spanned the North Channel, holding lands on both sides in North East Ireland, as well as Western Scotland and the Isles.
As the title hints, the story is a morality tale about Truth, Honor, and Duty, including several of the famous historical figures of that place and time. It tells of the coming of age of a young warrior as he and his two brothers grow to become men and leaders. In particular, the action follows the youngest brother, Connaire as both his character and a relationship with his next older brother, Cathal grow and strengthen. They and their extended family struggle to find their place in a new land and form new alliances amid a melee of betrayals, battles, and feuds.
This book has vivid descriptions of warrior women, brehons, druids and the Christian Irish monks of Ione. There is excellent detail on the warrior training of Connaire by Scathach, a real historical female character on the Isle of Skye who trained legendary warriors in early Irish and Scottish history.
There are other details which give a sense of place and articles, such as the description of the 'curragh' boats used to cross from Ireland to Scotland. While the action moves quickly, in some cases the descriptive writing is sparse, and one sometimes wonders where the children and their mothers are hiding and why Connaire is so easily lead astray. Three Legs of the Cauldron won't dissapoint most male readers and even some female readers in the romantic encounters.
All together, a good first historical novel and worth the time of reading. Contact the Author, R.L.Cherry, or purchase the book on his website, www.rlcherry.com
---
↑Top↑
Review of Tom McEnery Play: Swift Justice
by Cecilia Fábos-Becker
Published 2016-01-16
The message of 'Swift Justice' is very powerful and timely. Because of its unique history, word of this gripping new play by local Irish American legend Tom McEnery has already spread and the premier run by The Tabard Theatre Company at Theatre on San Pedro Square in San Jose is sold out. Still, there is a waiting list and if you can get on the waiting list, we recommend that you DO SO, or hope that it will have another round in another area theater, or goes nationwide.
First, here is a little background. The play is based on a real, controversial incident in San Jose, CA: The last public lynching in California. In 1933, during the darkest days of the Great Depression two white men, one of Irish and one of Scots-Irish descent, kidnapped and murdered the city's most popular young man, the heir to the area's largest department store, Brooke Hart.
The author of the play, Tom McEnery, is a former San Jose mayor, whose father, John McEnery, was a minor participant in, and eye-witness to, most of the related events.
Lynching, by itself, is a term rooted in the Irish, Scots and Scots-Irish tradition of men taking the law, justice or redress of unfairness into their own hands. The term 'Lynching' derives from an Irish American. During the American Revolution, Charles William Lynch and his men rounded up Tories in southwestern Virginia and meted out punishment to them on their own. The resulting hanging, shooting, etc. was often a result of "lynching" but it is not the act of lynching. (check the wiki on Charles William Lynch)
Here is good, engaging play with a very moving story and powerful, timely message as important today as it was in the 1930's. This would be an excellent topic for a Broadway drama, or on Public Television. Who knows? Maybe some day, someone in Hollywood will turn it into a four star film. Does anyone have contact with Leonard Di Caprio, or Stephen Spielberg???
The story develops in a very powerful, moving interplay of logos, ethos and pathos in the most public way possible in 1933. It is clear the playwright put most of his attention in to the last third of the first act and the second act where the events depicted deserve this focus.
The strongest, most involved, characters develop throughout the play, as they do in all truly good stories. The best characters as both written and acted in the play are in order of performance: the villain, John Holmes; the person who was most often an intermediary and changed his life career after these events, Rabbi Karesh; and the father of the victim Alexander (Alex) Hart. San Jose Police Chief J.N. Black is very believable and complex. The victim, Brooke Hart, is very likable and sympathetic, though a little more direct action for him, as well as for his father would have been helpful to keep the presentation engaging.
Of the three females roles played by two actresses, the role of the daughter, Miriam Hart, Brooke's sister is especially poignant. The playwright did well in showing a loving, playful relationship between the sister and brother.
The first act does what it should; it shows the clear differences between the protagonists and the antagonists and why we should care about the fate of the victim and his family. If there are any faults, it's that the first two-thirds of the first act is not quite believable in the depiction of saintliness of the Hart family. The family, was, in fact, very good hearted and involved with their community, but the direct involvement in charitable actions, emphasis actions, could have been stronger. For instance, the father could have directly spoken to the unemployed persons waiting in line for a soup kitchen, offering them jobs himself, instead of directing someone else to do so. Also a couple of lines for the character of Alex Hart to explain why he couldn't bring himself to go, in person, to try to calm the mob would have been good. His very evident grief probably would have been seen more than his words would be heard, but that doesn't come out, and this omission weakens the character slightly. The mother character could have been developed more, especially her relationship with her oldest son. It makes her devastating grief a little harder to understand in later parts of the play. These are minor flaws, though.
In production and direction, a few more props that fit the historical period and help illustrate it would have better established the context. The play relied mostly on costume to set the period and people in the audience were asking among themselves in the intermission, "when did these events take place" because it wasn't as clear in the first act as in the second act where the dialogue set the place and time more clearly. I would have liked to see the plain bar stools replaced by a small settee and a Windsor chair and an old-fashioned floor lamp, which all could have been toted in and out with about the same amount of effort as the bar stools. Also, period telephones on a little tall telephone table for at least the recipients of the calls would have helped. Instead of the unchanging red and black striped backdrop and stage, some projections of scenery to evoke the home, a department store, the jail, etc. would have set place and time better. There just wasn't quite enough to help the audience see the events where and when they actually occurred. Last, is a minor detail on costuming, but one which most audience females immediately spot. Neither lady had a handkerchief on her, and no pocket for one. Every female over the age of 50 knows that NO LADY was ever without a real, cloth, often lace edged, handkerchief and a pocket for it. The gentlemen also had pocket handkerchiefs, in their suit-coat breast pockets. (I realize I'm dating myself with that comment, but it was the reality, and a visible detail of the age that also showed in what class people were, in a society that had more class distinctions.)
Still, none of the above diminishes the overall entertainment value here. We highly recommend this to anyone interested in drama that illustrates the human condition.