---
BREAKING:
The West Coast Premiere Showings of
This is my Home
will be this weekend at the Napa Valley Film Festival in Napa, CA at these theaters and times:
• Thursday, November 14th, 8:30 PM, Uptown Theatre
• Friday, November 15th, 1:00 PM, Lincoln Theater
• Sunday, November 17th, 10:00 AM, Copia Theater
Click Here for Details
Review: This is my Home – The Movie
How the Black Donnelly's of Temple Bar

left Dublin for Vegas and then met America
By Tony Becker – Published 2019-10-04
Updated 2019-11-14
A decade ago, two Irishmen, Guitar/ Mandolin & Banjo player Dave Browne, and partner Singer/Songwriter/Guitarist
Dave Rooney were doing well enough, playing Irish standards and Rooney's original songs in the bustling tourist oriented scene that is the Temple Bar district of Dublin, Ireland.
They had become well know for their two Guinness World Records (longest guitar marathon playing session and largest band) and The Black Donnelly's hit, 'Notorious', became the theme song of UFC champion fighter Conor McGregor. Dave's latest original song 'This is my Home'. https://youtu.be/-Vckms3IkL4 was gaining them growing acclaim.
But with young families and music as their only business, they yearned for greater opportunity, and like millions of their countrymen had done for hundreds of years, their thoughts turned to America.
'America is so big with so many people, there are vast opportunities.', says Browne.
So, in early 2011, Browne acted as their advance man, crossed the Atlantic and began forging relationships here. In Las Vegas, he found the chance for a regular gig, and in 2014 the two Irishmen both came to Las Vegas, NV with a residency deal at the Mandalay Bay hotel as the Ri Ra Irish Pub house band, and spent the next few years building their reputation in Nevada there as well as making forays out to play gigs in nearby States. One of these was a 2016 gig at Folktale Winery in Carmel, CA, where they met and formed a relationship with owner and entreprenuer, Gregory Ahn.
Dreaming of more opportunites, they hit upon the idea of making an attempt at another Guinness book of world records with a much larger road trip – 60 gigs, one in each of America's 50 United States in 40 days!
Then Rooney met Las Vegas independent filmmaker, Karl Nickoley of  Frequency Pictures and the group determined to film a documentary of the project with Nickoley as the producer.
'I instantly saw an opportunity', says Nickoley, 'to apolitically celebrate immigrants and diversity, as well as the status of immigration and the American Dream in the United States.'
The basic outlines of the tour / record attempt set, the The 'This is my Home' Tour began on May 11, 2018, at Ri Ra Irish Pub at Mandalay Bay in Las Vegas, and the first stops were that evening at The Flying X saloon Lake Havasu then onto the next day at the Carmel Youth Center in Carmel, CA sponsored by Folktale Winery.
As the ambitious schedule ground on, chaos quickly ensued, and the nature of the movie changed in a good way. 'What began as just a live music outreach, a became a very positive story', says Browne. 'At every gig we played, people came up to us to tell us tell us about their Irish Heritage and how they were so happy to have the opportunities of America, and this happened in smaller cities like Clinton, WI or Idaho Falls, ID or even Indianapolis, IN in the working class areas'.
Within ten days, money problems arose, but Folktale Winery's Gregory Ahn joined the team with support for the film and the quest continued.
Browne continued, 'For example, in Indianapolis, IN, we met Jim McGinly III, who runs the Golden Ace Inn, founded by his great, great grandgrandfather Jim McGinly (the 'first') in 1925. Jim told us that today, he can count 260 American McGinlys. At one of our last gigs, on June 14th, at McSorley's Old Ale House, established in 1854, in the East Village of New York City, we learned that we were only the second band to ever play there live – that last one being the Clancy Brothers, as they as they were neighbors and McSorley's was their local pub'.
These spontaneous testaments of patriotism and gratitude had an effect on the lads. Both Browne and Rooney applied to U.S. Citizenship and Immigration Services for permanent residence (Green Cards) during the filming of the movie.
Now complete, the film This is my Home has been submitted to numerous Film Festivals around the country, including the Cinequest Film & Creativity Festival held each March in San Jose, CA, where we hope you can all see it. AmeriCeltic will be reviewing the film for a future newsletter edition. Meanwhile, you can watch the trailer here, and check out the IMDB listing here: https://www.imdb.com/title/tt8760856.
---
Country Music by Ken Burns
Country Music, by Ken Burns
Christy, by Catherine Marshall
Songcatcher, Sharyn McCrumb
Reviewed by Cecilia Fábos-Becker
Published 2019-09-20
Ken Burns' new Series about 'Country Music,' and Some Supporting Literature and Film.
Like many of you, we've been watching the new series Country Music, another great program for Public Television by Ken Burns. This documentary covers the history and origins of traditional music in the United States which evolved to include 'Western,' and 'Blues,' and 'Rockabilly,' etc.
First what is repeatedly said in this series and is shown by sales of music, tickets to performances, DVD's and all the earlier forms of audio-recorded music, is that popularity depends on the ability of the song or tune and the performers to resonate with the experiences of the greatest amount of people. Throughout the Country Music series, Burns interviews people and presents footage from the past in 8 2-hour segments. Many of his interviewees note that story songs were and still are the most engaging and popular pieces of music, regardless of the style that goes with it, especially stories that also involve the listener emotionally.
Poetry and songs that tell stories with mnemonic devices that help the orator and listener remember, were the earliest way of recording and retelling news and history–long before writing, and even most musical instruments. They are strong in both traditional English and Celtic music as well as in more modern U.S.,  and even Canadian, Australian and New Zealand 'country,' music–the music of its folk.
All lasting music evolves, yet it has roots and the roots themselves resurge in popularity from time to time as people choose to remember what was, and understand it. Country has origins in African, German, and of course, the predominantly Scots, Scots-Irish and Northern English peoples who emigrated to what became the U.S., 160 to 350 years ago. These newcomers transplanted their ways of life, beliefs and culture in environments both similar and different to what they'd known in their homelands, and some it is largely unchanged. The words and rhythms mix and evolve, but the stories of love lost, murder, cleverness outwitting greed and selfishness, love found, the struggles for life, the terrors of war, the weather and mighty oceans and more remain.
One aspect strongly presented in the first episode of Ken Burns' series was how much 17th and 18th century culture from Britain and Ireland was actually preserved into the 1920's in the relative isolation of the rural areas of the U.S.A., particularly the rural and small town areas of the Appalachian mountains from Pennsylvania and Virginia southward.
Electricity was still a rarity in many parts of the earliest settled U.S. particularly the South, and radios and radio stations themselves did not become popular until the mid to late 1920's. Roads were more often than not still dirt tracks, frequently impassable due to weather. In these mountains and hills most people, particularly rural and small town people, still traveled mostly on foot or by horse, not long and not far. The nation was still far more agrarian and otherwise engaged in natural resource extraction–mining, logging, fishing, hunting, than in manufacturing, especially large scale, assembly line manufacturing.  Yet communication, and entertainment still happened, regularly and frequently. People sang while they worked, and for entertainment after a day's chores, sang and played instruments, by the light of candles, kerosene lanterns, and hearth fires. Instruments were cheap, portable and versatile–and acoustic.
Burns series is great for explaining much of the evolution of the music, including the adoption of instruments, but, as should be expected, the emphasis is on the music, not the lives and history of the people who created and developed modern (1920's and later, essentially) widely popular 'Country' music, particularly what was once called the 'hillbilly' genre–and came to include 'train' and 'steamboat music and songs,' and finally 'western' or 'cowboy' music. This was the music first made famous on regional and national radio and the first records, by the Carter family of the North Carolina-Tennessee border area, Jimmie Rogers, Hank Williams and Bill Monroe.  The proof of its strong roots was there to see even in Great Britain had educated researchers wanted to see it.
Last Wednesday, 9/18/19 night we were discussing the Ken Burns series with fellow attendees at the Tannahill Weavers concert in Soquel, CA. Although this band performs mostly traditional Celtic music and song, the connections to these early American people were very evident. At the breaks, a long time friend and older Scottish emigrant, John Taylor, recalled, 'When I was a teenager in the 1960s, Hank Williams was the most popular recorded performer even in Aberdeen and Perth.' That wouldn't have happened if the music and story songs hadn't spoken to these Scots in rural and small town Scotland the same as it did so much in the U.S.
In their turn, The Tannahill Weavers played a song that reflected the evolution of modern technology and jobs, as much as the 'train music' of Grand ole Opry star Deford Bailey who could duplicate all the sounds of a train on his harmonica. The Tannahill Weavers' song was about the decline of steel shipbuilding in Glasgow after WW II and how the 'welders have no place now in Silicon Glen.' That song that would resonate in every midwestern rust-belt and former ship-making city of the eastern U.S. The struggle with cost efficiencies, new technologies, profits is every bit as old as the first developments of technologies and the desire to make more money.
There is more than just what is in this series, and films and books have tried to capture more of the parts of the story. The best historical novels, describing ordinary people in Scotland, and the people of the southern Appalachians, describe a surprising number of many of the same beliefs and customs.
Christy
by Catherine Marshall
For those interested in how and why the Scots, Scots-Irish and Northern English in the U.S. were able to stay isolated and preserve more of their customs and culture, they had in Britain, I recommend reading a relatively new book (under 20 years old) and a much older one by authors who were born and raised in, or otherwise very familiar with the areas, they researched and wrote about. While there is still no such thing as a time machine, there are a few books that can do something akin. Two, one each by Sharyn McCrumb, Catherine Marshall, and a few others, help give readers a window on the real past, especially the lives of the people, in relation to their culture, including music.
The older of the two, Christy by the late Catherine Marshall, was published in 1967 by McGraw Hill, then later as a paperback by Zondervan Press.
Catherine Marshall herself described the book as 75% historically accurate, and it is based on the life and experiences of her own mother. The later 1990's television series 'based on the novel' is rather loosely based and is, according to a number of people familiar with the book, not nearly as detailed, or good as the book. Frankly, having read the book and caught a couple of episodes of the series, I also thought Hollywood made her and other women in the book far more dependent on men than principal characters in the book were, or else stock Hollywood stereotypical characters of what they think mountain people are like. The main character, in the TV series is much more of an unobservant idiot trying to impose her values on others in the mountains and bumbling and blundering from and through crisis to crisis. Such cynical commercializm is typical for Hollywood. It's amazing they did as well as they did with old west based television series about a female doctor that didn't come from a historical novel.
As a family history researcher and general history researcher and writer, I recommend the author, Sharyn McCrumb, Sharyn McCrumb was born and raised in the mountains of North Carolina and Tennessee border area, and this is one of her series of 'ballad novels' about history, folklore, culture, lifestyle and beliefs of more than two centuries of this area, with large solid, healthy roots in Scotland, Ireland  and northern England as it really was for the majority of their people in the 17th and 18th centuries. This is  not as Hollywood and modern imagination and values would have most people believe.
The Songcatcher
by Sharyn McCrumb
The Songcatcher by Sharyn McCrumb, covers the same area and some of the same periods of time, and more history, published in 2001 by Dutton, The Penguin Group, Penguin Putnam Inc., NY, NY. Sharyn McCrumb's book is NOT the same as the movie of the same name that came out about that same time. While both covered the story of the songcatchers who first came to the Appalachians in the late 1800's to find the forgotten ancient songs and tunes of Scotland, Ireland, Northern England and Wales, the book discusses how 'song catching' continues to this day, and why the songs and tunes lasted as long as they did in these and other areas of the U.S.–the nature of the people and the fact that some preferred to live simpler lives, more isolated areas of the country, and even rejected greater complexity and 'civilization' that was developing in the flatter land areas east to achieve this. This book takes readers through several generations of a family and into modern Country music and how some of it developed, starting from a 9 year old boy born on Islay, kidnapped by a visiting ship who became first a seaman, then a New Jersey lawyer and then a simple farmer in the mountains of North Carolina that reminded him of the mountains and remote areas of Scotland of his childhood and ancestors. In the 'Afterword' of the novel, the author surprises the reader by explaining much of the book is true, the McCourry family was real (possibly McQuarrie, originally in spelling–it was a 9 year old boy who was taken from his family and origins, after all), and the first several generations in the story are indeed her own ancestors.
Is there a modern Hollywood movie or television series about any past historical period or event that doesn't portray nearly all women in it as trashy, superficial, extraneous sex objects, and imagine that all women think about is sex? The movie Songcatcher was a very good film, and like Oh Brother, Where Art Thou, had great music. Both were about  serious subjects and, especially Songcatcher had real history. Songcatcher, however was marred by a totally unnecessary subplot about a lesbian relationship and the conflicts and misery resulting from it. That subplot could have and should have been on its own as a very good separate, more adult film.  Hollywood just had to put sensational, modern late 20th century soapbox sex issue in the middle of the real story of the film, causing some who otherwise might have enjoyed the film with their entire families, to avoid seeing it.
As I've found the same traditions and history in parts of my late mother's family. My late mother, also, her maiden surname was Wallace, had ancestral lines that came from the mountains and river valleys of East Tennessee and North Carolina. I've traveled and visited there to find some of those ancestors and learn how they lived.  I've met cousins and other modern descendants of the people who first settled those mountains over 250 years ago. I've heard old expressions from my own mother, like how thoughty and you all and from her own mother and more easterly kin in Missouri, Tennessee, and North Carolina, and Virginia, that someone 'made' doctor or lawyer, though it was abbreviated to 'made' from 'made a'. These are Scots origin expressions used by characters in Sharyn's books and now discussed in excellent lectures about Scots Gaelic and the influences on American Engish given at some Scottish festivals and events, by Dr. Stephanie Taylor and others.
When looking for more books that cover this area and its rich cultural history, also don't overlook some modern ghost stories and mysteries set in these areas by people who have lived there for some time, and have roots there, Pay attention to the language of the characters, their beliefs and how they express them, the detail of the individual environments of the characters as well as the greater surroundings, and you'll figure out which were and are the better observers who present the best and most accurate images of the past and even present in these areas to readers.
A couple of decades ago, I bought a copy of a book, Scottish Customs, by Sheila Livingstone, 1995, Birlinn, Ltd., Edinburgh, published in the U.S. by arrangement with Birlinn Ltd. in 1996 by Barnes and Noble, New York. This is an introduction to customs, beliefs and traditions that developed in Scotland 'from the time of the Druids,' but most heavily during the later middle ages and the Protestant reformation. Religion has always been important to Scots, and sometimes a determined rejection of it, or at least the religion of the status quoauthority.
Don't wait for the movie, you will have to read these novels, because they are American, and thus highly unlikely to ever be filmed and produced by PBS and the BBC. Since they don't emphasize women as superfluous and sex-mad, Hollywood will also be unlikely to make films of them, especially not true to the books.
---
Album Review: The Lucky Set
from Molly's Revenge | Released 2019-05-30
By Tony Becker and Celia Fábos-Becker 2019-06-06
A brand new, 13th album, The Lucky Set, was just released at a series of CD Launch concerts May 30th – June 1st by perennial West Coast favorite trad. band, Molly's Revenge, and we were lucky enough to pick up a copy.
The album takes its name from the 2nd track, four reels the lads claim is their go-to set when busking for a sushi dinner.
Celia is a big bagpipe fan, and was thrilled by the 4th track, Gordon Duncan Tribute #3, a set of 4 bagpipe tunes from Gordon Duncan, The Paganini of Pipes, which we think will enthrall the like-minded crowds at this summer's Scottish Games and Celtic Festivals.
Tony particularly liked An Dro Ritual, a set of three dance tunes from Brittany, the Celtic province of France, where pipes and hurdy-gurdys abound, and he claims their influence can be heard when listening to this 8th track.
Molly's Revenge, David Brewer on pipes, whistles and bodhran, John Weed on fiddle, and Stu Mason on guitar and guizouki, is playing live this weekend, June 7-9th, at the Utah Scottish Games, in Salt Lake City, and you can get the album there. Says Stu, within the next week you will be able to purchase The Lucky Set on the band's website, https://mollysrevenge.com.
---
Ancestry launches New Product: 'Thrulines'
to Replace 'Circles': Summary of Issues
Reviewed by Cecilia Fábos-Becker 2019-03-29
On February 28, 2019, Ancestry.com officially launched a new product called 'Thrulines' to help people find common ancestors better, using DNA and family trees. A very good summary about its major failings and why 'Circles' which it replaces was at least somewhat better was written on March 11, 2019 by Roberta Estes of 'DNAeXplained.' Here is a link to that article. https://dna-explained.com/2019/03/11/ancestrys-thrulines-dissected-how-to-use-and-not-get-bit-by-the-gators/
The fundamental weakness is the same one that has continued to plague a number of Ancestry programs allegedly designed to 'assist' people in finding their ancestry on all their family lines. Thrulines, in its analysis and suggesting, even attempting to insert ancestors for users, combines the DNA tests and related DNA database WITH 'member trees,' even though the vast majority of member trees uploaded to ancestry are either undocumented, poorly documented or even outright fantasy and myths. Most Ancestry 'member trees' are NOT very accurate, beyond three or four generations, where the person creating the trees might have actually known the people put into the trees and/or have recent documentation like actual census records and copies of vital records. Worse, Ancestry tries to alter family trees and suggest ancestors based on the number of existing trees–documented or not–that have the same ancestor.
In the most egregious instances of this absurdity, mythological ancestors well documented by modern research to be either not the ancestors of lines, or not even to exist, have been inserted or strongly suggested by ancestry, superceeding better researched and documented individuals. Ancestry has been, and still is being, repeatedly accused of  substituting its own agenda and even databases that are not documented, such as many IGI databases, themselves not well-documented, and 'summaries of 'marriage records' and such' based on mere citation of persons as husbands or wives, in members' trees.  Yes, Ancestry personnel can and do alter members' trees.  These Ancestry-LDS databases are treated as equal to solid research and documentation. This all violates numerous rules of scientific and scientific historical research.  No professional academic, nor real scientist would consider these databases, a solid body of evidence.  They would not consider as accurate any claim or report built upon them.
The problem is, Ancestry is in strong joint ventures with Family Search, which actually is the entity digitizing and uploading most older microfilm and records collections. Family Search is an affiliate of the Latter Day Saints CHURCH, which has a ritual in which all members are expected to participate and perform: identifying all RELATIVES, not just ancestors and baptizing, in absentia, all the ancestors and relatives to 'get them into heaven.' For a long time, up to the present, there has not been a uniform, verified and well-enforced standard of accuracy and insistence on use of primary sources and valid secondary sources and related primary and secondary documents, to firmly establish ancestors for even the LDS church purposes. Speculation entries of persons into trees, based on limited documentation, or similar names in the expected places has been widely tolerated. Copying other persons' trees, without checking the documentation has been tolerated. The result is a huge database of millions of family trees that are mostly inaccurate, especially before great-grandparents' generations, but are treated as valid, and even preferred.  The LDS Church interests have been observed again and again to predominate most Ancestry programs that they claim are to try to link families and assist finding ancestors.
If truth and accuracy are important to people, particularly if they are using family trees to determine probabilities of genetic illness, probabilities of outcomes of treatments, and more, then Thrulines is unlikely to be more than marginally helpful, and only for the most recent few generations in your family. Mercifully, it does not go back more than 7 generations in 'analysis,' though it wants to suggest you put into trees ancestors from trees that do go further back. However, as some have suggested, it really ought to really be strictly limited to four generations to have much real value as an automated assistance program.
Until Ancestry, and other companies separate the well-documented and verified trees from the greater amount of chaff of the undocumented, and copies of copies of undocumented, trees, and 'popularity' of numbers of the same trees, the huge database of 'garbage trees,' mixed with the small percentage of valid trees, will continue to hamstring anything else that combines all the trees with real documentation and DNA testing to automatically identify ancestors. The best way to use ancestry's DNA databases right now is to identify the DNA matches, according to one's interest in particular lines and generations, using the numbers of matching centimorgans, and if possible chromosomes where the segments of centimorgans match, and finding the trees in the matches that ARE well documented to look for possible common ancestors where they are expected or suspected to be. People need to create their own databases that link DNA matches with DOCUMENTED trees among those matches. They also need to read the documentation and make sure it is a real document, such as a marriage record with a citation of a county record number, and that it really matches the person being described, for race, age, place, etc.. There are plenty of instances where someone has grabbed a draft record, or obituary, without reading it and applied it to the wrong individual, as proved by all the other documentation in a tree.
Ce Ce Moore and Henry Louis Gates of the popular PBS television program 'Finding Your Roots' are far more careful about matching real documentation to people and combining DNA with actual, documented trees than Ancestry's automated assistance programs like Thrulines are, or have been. Pay attention to what Ms.Moore and Professor Gates are doing and how they are doing it, to be more accurate in the trees and histories you create.  Also pay attention to their caveats about accuracy of documents, and that some conclusions are only being tentatively made on the basis of limited, not complete, documentation and that documents that may be found later may alter the conclusions. Ms. Moore and Professor Gates are professionals and really do assist people.  Ancestry has yet to value and achieve that standard.
---
Book Review: The Donegal Woman
(2017 reprint) Drumkeen Press, 2006, by John (Sean) Throne
Loughfinn@aol.com
The Dark Side of What Ireland, England and Germany Brought to the U.S.
by Cecilia Fábos-Becker 2019-01-30
Just before the start of the 'Me Too' movement, Irish author, John Throne decided it was time to reprint his 2006 novel, The Donegal Woman, about his late grandmother. The novel is fictionalized because he never actually knew his grandmother and she died young, leaving no written records or journals about herself. This novel  is actually a very powerful, harrowing, emotion-and thought-provoking, true tale about what it was like to be a poor girl and woman in Ireland just before World War I (hardly ancient history) and even afterward for some years until women were given rights to vote, to own property collect their own wages, and more. This story is not unique to Ireland. Any family historian who significantly delves into the lives of women and girls in the U.S. sees that precisely the same things happened, all over the U.S., especially between the period of 1783-to the Civil War, 'America's Dark Age' and beyond. In fact, it continues in parts of the U.S. to this day, more rural and small town areas of Kentucky, Arkansas, Tennessee, the Carolinas, the deep South, Utah, even rural areas of California. It's no surprise to any who have studied the cultures of those that emigrated, and who know what was the culture before emigration. The emigrants brought a lot of what they'd lived with before, to the newly created United States of America, and made it part of American culture, especially among the poor and lower socio-economic classes, and on the frontiers of the white European civilization and populace.. It was no wonder that often women and girls captured by some Native American tribes in frontier warfare chose not to go back to the white European culture.
In his preface, the author, John (Sean) Throne, explains that he changed the surnames of the subjects, saying that he didn't think their names mattered any more. Since reading his book, I have communicated with him and, if we have one minor disagreement, it is that he should not have done so. It's just my personal opinion, but I think changing their surnames misses an opportunity to discourage the evil deeds his book presents so powerfully from being recommitted, whether within a family or the country, and by anonymizing these long dead miscreants, it allows their descendants to think better of them than they should, rather than making them bad examples for the evils they truly perpetrated. Many years ago, the author of the partly tongue-in-cheek book Leadership Secrets of Attila the Hun, had Attila say, 'every Hun has his purpose, if only to be the example of how NOT to do something.' It is applicable to all humans, not just the ancient Huns. 
Worse, the attitudes and culture that abused so many women and girls, as shown in this book, were reinforced by a state-affiliated Church, a patriarchal Church, that had sold its original Leader's ideals and goals for money and power and bent to might of arms. The Christian church, both Catholic and Protestant, reinforced attitudes and structures, that though abusive, had been in place since before the Christian church, under the ancient empires that had come to be, ever since men developed metallurgy and better weapons and had more leisure time to steal from one another and make war. Make no mistake in understanding that: all organized religions with buildings and power, especially those run by men, have used force of arms to maintain themselves as they see fit. In this book itself, the Church itself orders men to physically drag the girl away from one form of slavery to another, from one male master to another.
In the The Donegal Woman, as WWI looms, a 12 year old girl, Margaret, the only daughter of her Protestant parents, who also have several sons, is literally sold as a slave by her father to a wealthier Protestant man, under a loose, handshake–between men–system of 'Fair agreements', for wages to be paid to her father once every six months. Her father, though also Protestant, is poorer, and fond of drink, and not very imaginative about how to earn a better living among himself and his sons, or live within a budget. He tells his wife, who does all the household work for 5 individuals, makes their clothes by hand–no sewing machines, even–and tends the vegetable garden, including the potatoes, that largely sustain them, that she doesn't need another female helper, the daughter is 'just another mouth to feed.'
The girl is tiny but her father does not even bother to check what work she will be doing and how she will live at her employer's home. She is turned out, and made to walk, unescorted, carrying a small napkin with some bread, and her only other dress, the several miles to the new owner, whom her father met at some town market or fair–hence the name for the agreements. When she arrives she finds she is to care for the pigs and clean out the pig pen from the pig waste mixed with kicked up mud, every few hours, and mix and haul their food to them in a bucket so large and heavy she cannot lift it, but has to drag it. Then the owner's wife complains that by dragging it, the poor girl is damaging the bucket.  There is no concern for the girl, just the bucket. Within a few months she is also caring for a cow and calf and milking the cow and hauling milk buckets.
Young Margaret is compelled to sleep in a dirty, unheated barn, on old coarse grain sacks and straw and handed her pieces of bread, and little else to eat, outside the back door of the master's house. She has no means of bathing, no bed, no muckers to keep her feet clean.  She has no means of washing her two dresses.  She lives in filth, she sleeps in filth.  She begins to smell like the animals she is tending and her masters will not even allow her to clean up once a week and go to church with them.  Her father never comes to see her and how she fares.  She is a slave, nothing more and she knows it, at the age of 12.  She cannot leave, because then her father will not be paid and her father might beat her or turn her over to the workhouse, for disobedience. The agreement is for six months work, minimum, before pay, and to her father, not her. The Church tolerates the system, because it is the men who build the church buildings, and donate money to the support of the buildings and clergy.
Then, little Margaret starts to go through menses. The inevitable happens between master and slave in a system that has no protections for women and girls. The large brutal master rapes the 13 year old girl as she is trying to get a few hours sleep in the filthy barn, and beats her senseless at times, to keep her from screaming and being heard. The trauma of these experiences causes her to lose her voice, for years. She becomes pregnant, and finally that comes to the attention of the local church, who find this an embarrassment. The Church blames the girl, but decides the way to cover this up is marry her off to a much older local bachelor, as single males are also frowned upon. Procreation means more cheap workers for the wealthier larger land-owners, and more in Church donations from both the poor made to feel like they need to give, little as they can, and the wealthier landowner employers who are paying as little as they can for their labor.
The slow realization of these various characters, of how this rigid feudal socio-economic hierarchy abuses them, and how the Churches are such an integral part of the system, even help enforce it, are key elements of the book. The reactions are different among the characters. Their various reactions lead to growth, and spiritual, mental and emotional healing to some degree, within what she can control, for Margaret, as she transforms from girl into wife and mother, and stagnation and shrinking of her appointed husband.. He continues to go along with the status quo, in nearly every way, and pays bitterly, more and more over time, though he is very slow to realize this.  Margaret finds ways to take control of her life as she can and finds some happiness along with the misery of a loveless, often abusive and neglectful marriage.
Although this a book about Protestants, two Catholics who befriend poor Margaret, state that such abuse was just as likely to happen among the poorer families in Catholic parishes and communities of rural Ireland. We are now learning, that, even after Ireland's independence, much of this abuse continued, as De Valera and his supporters made Eire itself another theocratic state for several decades. The rights of women were only minimally allowed to develop. Additionally, as we now know from the headlines in the media resulting from recent investigations, that the Catholic Church in Ireland had another cruel way of dealing with unwanted pregnancies.  Unwed, pregnant Catholic girls were usually forced to go to 'Magdalene Houses' run by nuns and others and sign away their children and never see them again at birth. Their families were not encouraged or allowed to keep and raise the children. Emer Martin's recent book, The Cruelty Men, centers on this theme.
Under this system, the children of unwed mothers, no matter how they were conceived, were a shame upon the family and 'good Catholic communities.' Many hundreds, even thousands, of these poor little children, died of neglect and privations. There were mass graves with no markers, nothing to remember them, outside some of these orphanages. The mortality rate was much higher for children in these 'homes' than for children in families, even poor families with little sanitation and hygiene. The Catholic Church literally treated these poor babies and young children as though they were the sins, and murdered them, as surely as if they had strangled or smothered them and been seen to do it in public. It's called infanticide and it is just as much murder as any other form of it, and it was institutional and practiced by the Catholic Church from one end of Ireland to the other. On his trip to Ireland last year, the Pope recently had to publicly apologize for these evils, but apologies are not enough, as both families and mothers who remember their stolen children, and the survivors who were the children themselves, have both bitterly and repeatedly stated.
Where to Buy
Both of John (Sean) Throne's books can be viewed and ordered at Books.ie. They post anywhere. They are a small Irish/Dublin based book distributing company with Donegal roots. The launch of the recent book plus the reason for writing The Donegal Woman can be seen on YouTube by going to John Throne, or on the Blog with which John helps. Weknowwhatsup.blogspot.com This can also be seen at Books.ie
Editorial
Both books, The Donegal Woman, and The Cruelty Men are topical and significant because the 'Me Too' movement has erupted out of continued, 21st century abuse of women working in many fields, including entertainment. It is significant because right now, because too many men in the U.S.–and their Churches–are not content with just doing everything they can to ban abortion, and cut food stamps (SNAP), milk and baby food and clothing for infants (WIC), and other support for poor families with too many children, as though children should be put to work as slaves as soon as they are born, before they can walk or speak. There are men in Congress, and men who vote for them in many parts of the U.S. who now want to also eliminate 'Title IX' protections for women and girls in schools as well as sports, and other fields–and to eliminate affordable birth or free birth control–not abortion–but birth control, for those who need it most and can afford it least. It's literally an effort to return to just creating more poor workers, the cheapest labor, possible, and to heck with the quality of their lives, especially those of women and children. If all life is precious, and not just the life of a fetus' still in their mothers' wombs, then this is a shameful, complete hypocrisy. Yet, again, just as in 1912, so-called 'fundamentalist' Churches who claim to be 'Christian,' as well as many in the Islamic world, continue to support these attitudes, votes and practices.  They have not changed; they are still the abusive, misogynistic human entities run by men that they have been since Rome, Greece, and Persia–even before Islam or Christianity came to be.
I recommend reading this book to all women, and to the men who truly care about their wives, sisters, mothers and and daughters and to to talk about it and learn from it. Ask yourselves this: was the old Europe, the old Ireland, of as late as 1912 to 1919 so great that this what you want the U.S. to return to, and become?   If not, I have a few suggestions.
Vote against the attempts to return the entire nation to this culture and teach men and women that just bringing more workers into the world only means the employers can get away with paying less for labor, especially as more and more labor is being done by robots. Vote for more women, and men, who will actually fight for more rights and opportunities for women and children, and to protect them from abuse–and who have a track record of already doing so as much as they can. Help teach your sons, brothers, and other males it is THEIR responsibility also to control themselves, not solely the responsibility of females. Keep reminding them that Christ, and in fact, most of the greatest founders of what became religions, did NOT create the structure of churches and clergy, and set male power only or mostly in them, but human beings, that fallible human beings created and run the religions, and they are no better than any of the rest of us.
You can and should also write and vote for a statewide 'initiative' to amend the California Constitution to require that all girls get at least two or three years of self-defense training, like karate or judo, starting in kindergarten, and refresher courses every few years until high school graduation, and at least a couple of forms of weapons training by age 11 or 12–when most start menses. If you don't live in an initiative state, then vote for state legislators who will make this law in your states. Remember, for the most part, the members of Congress who can help or harm women and children started, and continue begin their careers as state legislators. If you don't insist that your local elected officials and state legislators treat women and children with respect and care, then why would you expect any better when they get to Congress?   Also, teach females and males that drinking to excess and losing control over one's self or finances is bad, at any age, and good nutrition makes them stronger. Teach them that all children, up to the age when they can hold a decent well paid job deserve protection, nurturing and care, not just the males, and not just when they are still in their mother's wombs.  There also must be opportunities for higher education and well paid jobs and careers for females as well as males.  Finally, it is up to fathers as well as mothers, and the accepted, self-acclaimed religious authorities, to help protect and nurture children–and assist and care for their mothers.
Another thing shown by these books is that, being a mother, especially of pre-school age children, is a full time job all in itself, especially when also doing all the care of a home, gardening and, sewing a lot of clothing, and it's all unpaid. The same is true for caring for a single pre-school child at the same time as an elderly parent with declining physical and mental capabilities–it is effectively caring for two children. If this is of value to men, then it is up to them to work, earn a decent amount to support themselves and their families and finance the the work of the wives and mothers, and yes, when those wives and mothers are ill, to also help care for them and the children, not just let fall down from exhaustion and illness and then die of neglect and ignorance, or rely on small children to know what to do for their mothers and care for them entirely–as well as each other. If your wives and children are important to you, if only as labor and potential labor, then shouldn't you be caring for that labor and helping make it strong? Shouldn't you understand what all is needed to survive and thrive and help to provide it?   Ask yourselves this: What good are men to the human species if all they care about is themselves, as individuals, and their status in relation to other men, and their power over all that is deemed by males as inferior, which includes more than two-thirds of the human population?  Last, but not least, don't ever confuse God with the religious structures of men–and don't let religion and social hierarchy become combined with government, law enforcement and criminal punishments.
In 1912, rural Ireland, wasn't much different than Pakistan, Saudi Arabia, Iran and other Islamic theocratic states are today, especially for women and children, more than half of the human population. God didn't create 3,000 years of abuse, violence, and exploitation, men did, and then have avoided and denied their responsibility for all the harm they have done and excusing themselves and blaming others–usually their victims–ever since, in all aspects of human life. Women, you need to start holding men responsible for their own actions, and the harm they create, including in all institutions they dominate and use to maintain power and abuse, business, government–and Churches.  Remember little Margaret Wallace-Campbell, because if you don't pay attention, care, and fight back, your own daughters, or grand-daughters, could be the next Margaret's in the 21st or 22nd centuries.
---
Album Review: Hillside Avenue
from Erica and Friends | Released 2018-08-30
By Celia Fábos-Becker and Tony Becker 2018-08-30
The brand new album, Hillside Avenue has been anticipated for some time, and now it is finally here!
For people who have had the pleasure of listening to Erica and Friends live, this album lives up to their best work. The pieces are familiar, their favorites; the arrangements are new but well-polished. Erica Hockett and her ensemble are perfectionists and the album is excellent all round! You will be happy to buy and enjoy it many times over.
Erica has always had a sweet, clear voice and on this excellent album, it is better than we have ever heard it before. As we listened to Hillside Avenue for the very first time last Thursday, August 30, 2018, we had just been watching Senator John McCain's services in Arizona, and Senator Joe Biden's stirring eulogy. We appreciated these lovely old ballads all the more for the context. Celia really was brought to tears by Erica's rendition of Garden Valley and its remembrance of a 'Gallant Laddie,' and as she thought how appropriate it was in the context of the day.
On Bonny May and Game of all Fours, Lee Corbie-Wells joins Erica with her sultry contralto for two lovely and well balanced harmony treats. Here is a sample: Game of all Fours Sample Video
Troy Dillinger has a wonderful touch with his piano accordion and it added greatly to the upbeat pieces. The band's Chris Hammond on guitar and Anne Bingham Goess on fiddle, and whistle, all comport themselves with skill and style for a full instrumental sound that accompanies song, jig and reel to perfection.
Erica grew up in the English Cotswolds listening to her cousin Jane's Irish Trad band and the English folk band Fairport Convention. We were expecting at least one Fairport Convention hit, and were very pleasantly surprised to hear Erica's rendition of Farewell, Farewell, written by Richard Thompson and first released in 1969 by Fairport Convention.
Tony says, 'I was an impressionable young college freshman when I first heard this song, and I don't think I have ever heard it done better.'
We especially like the carefully crafted new arrangements for these traditional ballads, jigs and reels. These new settings will give even the most jaded traditional music aficionado's something new and pleasing to hear.
Sound engineers, Margrit Eischler of Absolutely True Sound and Gawain Mathews of Gawain Mathews Music Studio (who also plays loads of instruments on the album) have done a fantastic job on this one. The mix is great – not too much compression or reverb, so the presence is just the way we like it – every word is audible, yet so are all the nuances of the acoustic accompaniment.
You can see and hear Erica and Friends live at the Scottish Games and Gathering in Pleasanton this coming weekend, Labor Day weekend, Saturday and Sunday, September 1st and 2nd, 2018, at the Alameda County Fairgrounds. They will have CD copies Hillside Avenue for sale as well, so you can keep enjoying their music. We'll also gladly look forward to their future albums!
For more on Erica and Friends, check their Facebook Page here!
---
Review: Charmas New Album, Stark Raving Celtic
Enjoyable, Eclectic and now Available!
Instrumental madness, blue ballads, and comedy fuel this rare blend of Traditional Celtic and Modern Fusion Music
By Cecilia Fabos-Becker and Tony Becker Published 2018-04-20
The Twenty
Stark Raving Celtic
All-Stars
Aaron Clegg
Mick O'Broain
Jim Powell
Phil Johnston
Stephen Vahle
Devin Lara
Russ Bennett
Matt Johnson
Dan Frechette
Mike Long
Lee Corbie-Wells
Richard Dwyer
Galt Barber
Janet Herman
Garrett Harpainter
Daniel Steinberg
Jamie Wylde
Jeffrey Ferrell
Ariel Ferrell
Elise MacGregor-Ferrell
In past 18 months, Santa Cruz collaborative Charmas has successfully used Kickstarter to fund their albums, Songs of the Sea, which proved to be a landmark collection, and now Stark Raving Celtic. Stark Raving Celtic features twenty Central California musicians, wielding an astonishing variety of folk-, rock-and percussion-instruments, who are give the album exceptional creative variety. The result can be heard on Charmas' brand new album Stark Raving Celtic, which features original Celtic music and performances by 20 past and present members of Charmas as well as notable guest performers.
Stark Raving Celtic includes several lovely tune sets, but there are not many Scottish/Irish/Celtic bands who compose original songs about their life experiences in the traditional style, and although we liked all the tunes and songs well, for us, these four original songs stood out.
We've been to many Scottish Highland Games, and so we especially appreciated the humor and liveliness of The Highland Games Song, by Elise MacGregor Ferrell, and the extra vocal effects of the lads singing it. It should be the theme song of California Highland Games in general!
Speaking of Scottish Games, the bagpipes there can be overwhelming, but the bits of bagpipes that Elise plays in several tracks of Stark Raving Celtic fit pleasantly with the instrumental arrangements and medleys.
The Dreaming Tree, composed by Elise as a elegy for the authentic and tragic life story of 'Kathleen of the Great White North', is made all the more poignant by the distinctive voice of emerging star Lee Corbie-Wells. Keep your eyes and ears open for more from Lee.
Brains S.A., written by guitarist Jim Powell about an evening at a pub of that name in Cardiff, Wales, brought to mind a couple of memorable visits to a pub we used to know in St. Paul, Minnesota, as well as an old song by a long-ago favorite British group ('The Inn of the George and Dragon' by Herman's Hermits). I couldn't help but smile when Jim mentioned the Welsh dragon breathing fire down my back.
Jonny Hardie's Tumble, composed by Elise for Old Blind Dogs fiddler Jonny Hardie, was a lovely tribute and a rollicking tune, made exceptional by the wonderful, rich tenor-baritone voice of lead vocalist Aaron Clegg. Aaron is among the best we've heard. His natural, strong voice is accompanied by emotion, especially humor, you can feel, and his excellent enunciation stands out over the accompanying instruments.
We can heartily recommend Stark Raving Celtic to anyone as an enjoyable, eclectic experience.
To hear samples of any the Stark Raving Celtic tracks, click on this CDBaby Player link, Charmas Stark Raving Celtic Player, and scroll down to select that Track.
Check the Music Players for all Charmas recorded Celtic music on their website at https://charmasband.com/charmas-full-band-for-stage-showsfestivals
Charmas performs traditional and modern Celtic ballads, drinking songs, sea chanteys, comedy songs, instrumental dance music, and Celtic rock. For more info. and Charmas audio samples check
www.charmasband.com.
---
Review: The Next Chapter by Connla
Northern Ireland's Must See band
By Cecilia Fabos-Becker – Published 2018-04-13
Connla is a new, young Northern Irish band, which has been called 'the best new trad band' from Northern Ireland but is much more than that. It is gaining recognition in the U.S., with rave reviews from such entities as the 'Chicago Irish American News,' as well as winning awards in Ireland. It is comprised of four young people from Derry and Armagh; Ciara McCafferty (vocals), Ciaran Carlin (Flute/Whistles) and Paul Starrett (Guitar) Emer Mallon (Harp) and Conor Mallon (Uilleann Pipes/Whistles). Connla was described as a 'must see' group by 'Songlines Magazine,' a magazine out of the UK that covers world-wide music and has taken over awards presentation from the defunct BBC music awards.
We listen to a few dozen new album's by various, very good, groups every year, and recently listented to Connla's newest album, The Next Chapter just released last Friday. A few of these really stand out to us, and this is one of them — even better than Connla's 2016 album, River's Waiting.
Although the band considers itself 'trad,' it has a generally modern presentation that is refreshing. Connla's music also includes touches of Jazz, Pop, a fair amount of Latin or Spanish influence, especially in pieces where guitar dominates, and even Americana. The song 'Julie' about a U.S. Civil War period relationship between mistress and a long-time slave while the Union soldiers are approaching, is unforgettable. Both album's have an interesting mix of modern and traditional ballads, and traditionals and more modern instrumental music. The instrumentalism is excellent. I really enjoyed the guitar-dominated pieces. It is so seldom one hears virtuoso melody guitar.
'SS Baychimo' was truly special. It reminded me of some fine classical performances of Spanish music like 'Recuerdos del Alhambra,' or 'Romanza.' and a good reminder of how many Irish went to the Spanish speaking countries after 1641. Wow!
Ciara McCafferty's voice easily rivals the best of Nashville female singers. It is young, sweet and strong. The ballads she sings tell stirring, poignant tales that catch your attention also.
If I have one complaint, it is that Ciara would enunciate her consonants and the mix better balance her voice when she's dropping the volume for dramatic effect. Sometimes she's crystal clear, even above the instruments, and other times, the ends of words disappear a bit, especially when her voice is dropping while the instrumental music is swelling, as in the very end of 'Julie.' Over time, I'm certain this will only improve.
Connla is touring the western U.S. in September and will be featured at the KVMR Celtic festival on September 29 and 30 in Grass Valley (east of Sacramento off Highways 49 and 20). In the preceding week, they will be in the Bay area (in Berkeley) and we hope to find them a gig in the South Bay area as well. AmeriCeltic readers should get out and listen to them, where and when they can! They are well worth the prices of the tickets! We'll publish all their dates and places as they develop closer to their tour. Meantime, we can recommend their album as a lovely diversion during our long bay area commutes.
For more on Connla, check their website, www.connlamusic.com, or Facebook Page www.facebook.com/connlamusic, or watch their Promotional Video.
---
Album Review: Wake the Dead The Deal
More Tie-Dye melded Celtic music than ever!
By Tony Becker 2017-10-30
Wake The Dead is a cadre of multi-talented musicians lead by Danny Carnahan that has been moshing Hunter/Garcia's malleable and durable songs with traditional Celtic jigs and reels for better than three decades. On this latest album, The Deal, they add songs from the Youngbloods, Buffalo Springfield, Bob Dylan, the Beatles and more.
The performances, by Maureen Brennan, Celtic harp, Cindy Browne, double bass, Danny Carnahan, vocals, octave mandolin, guitar, fiddle, Kevin Carr, fiddle, uilleann pipes, pennywhistle, Sylvia Herold, vocals, guitar, Paul Kotapish, vocals, mandolin, guitar, jaw harp, Brian Rice, hand percussion, are all wonderful, but then every one of these are masters of their art.
The tracks are likewise incredible. Note how these classic songs are carefully paired with Celtic traditional tunes like a fine wine with a great entree!
1. Cumberland Blues (Hunter/Garcia/Lesh) / Mind the Gap (Carnahan)
2. New Speedway Boogie (Hunter/Garcia) / Frieze Britches (trad.)
3. White Room (Jack Bruce/Pete Brown) / The Congress Reel (trad.)
4. Box of Rain (Hunter/Lesh; © Ice-Nine Publishing)
5. Eyes of the World (Hunter/Garcia) / Reel à Jules Verret (trad.)
6. Waiting For Snow (Julie King) / Darkness Darkness (Jesse Colin Young) / Reel Mattawa (Eric Favreau)
7. Deal (Hunter/Garcia) / Tom Billy's Jig (trad) / Sheepskin and Beeswax (trad.)
8. Just Like a Woman (Bob Dylan)
9. Bluebird (Stephen Stills) / Pinch of Snuff (trad)
10. Dark Star (Hunter/Garcia/Hart/Kreutzmann/Lesh/McKernan/Weir) / Maids of Michelstown (trad.) / And Your Bird Can Sing (Lennon/McCartney)
11. Brokedown Palace (Hunter/Garcia)
Surprisingly, my personal favorite is Bob Dylan's Just like a Woman, because of the sensitive treatment given by vocalist Sylvia Herhold, but overall it's another great album and a MUST for any 60's folk-rock fan.
Another great track is the first, where the rollicking country-bluegrass-rock fusion number, Cumberland Blues by Garcia and Lesh is paired with Mind the Gap, an original tune by Danny Carnahan, and together, they blend beautifully into a classic old-time anthem.
There is plenty of variety here to please almost any traditional music fan, probably including you.
You can listen to samples at www.wakethedead.org/product/deal/ and purchase a download right from the site.
---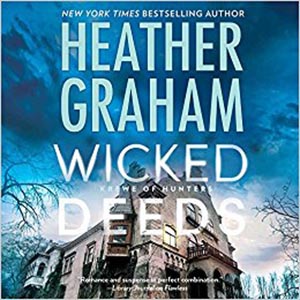 Book Review: Wicked Deeds by Heather Graham, 2017
A Hallowe'en / Samhain Mystery
by Cecilia Fábos-Becker 2017-10-26
To many who have grown up with a love of both the Celtic traditional ghost stories, CSI, murder mysteries in general where law enforcement is actually involved in solving them, and romance, Heather Graham Pozzessere is a well known romantic occult mystery writer. Her novel settings are familiar older cities and areas of the U.S.–where else would the best ghosts be? Her female characters are as strong as the males, and she covers a wide range of old fables, legends and historical events. She is known for her characters solving a mystery within a mystery, the past influencing the present. A strong theme is that human nature doesn't change very much across the centuries and genetics can and does sometimes play a role in perception and behavior, sometimes in surprising ways.
I've always enjoyed her stories, especially in autumn and winter, when, as the Celts and other Europeans believed, the increase in darkness is accompanied by a weakening in the veils between the worlds of the living and spirits, and even eras of time. These beliefs are so old and powerful, even the Christian churches acknowledged them, and incorporated them with commemoration of the dead at "All Hallow's Eve" and the following two festival days, "All Saints Day" and "All Souls Day."
Her stories are well written in the classical sense: heroic protagonists, strong villains and conflict, and a resolution of the conflicts, and criminals brought to justice as most people would like to see in real life, at the end. She also explains motive, much better than many writers, even for the mentally ill. She goes into their fantasies and twisted logic with almost surgical precision and then shows how they can live among us, compartmentalize, and not be suspected until they commit horrible crimes. She shows us the other side of the usual statement by friends and relatives of a murderer, "we never suspected a thing; he/she was always a nice person, a good boy/girl, in our neighborhood."
This year, Ms. Graham has outdone her self, though and come up with one of the best, classic tradition murder mysteries of all, Wicked Deeds set in the beloved city of the father of both horror stories and murder mystery-detective stories, Baltimore, and featuring none other than the father of both genres himself, Edgar Allan Poe. A new restaurant dedicated to Mr. Poe has opened and the Poe Society itself meets there. There is even a gift shop with kitschy souvenirs like bobble-headed ravens. Two new members of an elite FBI unit called the "Krewe of Hunters" who combine modern forensics, old fashioned Poe and Arthur Conan Doyle style investigation, and an ability to communicate with ghosts, who love being FINALLY noticed and able to participate in on-going living lives, have decided to have a honeymoon in Baltimore, and to try out this new restaurant with great preliminary reviews. Where else would FBI agents who work with ghosts go, especially in late summer or early autumn in the waning seasonal light, for a honeymoon? They've picked a poor time, of course, as someone seems to have taken offense at the restaurant and the Poe Society, and has begun murdering writers in modern variants of the old Poe themes in his better-known horror stories. Poe's ghost knows about this, is indignant and wants it stopped. Poe's own death was a mystery and his reputation was heavily damaged by a jealous rival afterward. His instincts say that at the bottom of the mystery, history is trying to repeat itself, but he also can't remember most of his own last days. So the Krewe, this time, is solving two mysteries: the modern imitator of fictional horror, and Poe's death itself.
It has a number of twists, turns, and surprises and many of Poe's stories show up in interesting, unexpected ways. There is a major stunning insight about the importance of perception and how jealousy can become insanity. You will never dismiss jealousy lightly again after reading this novel. It's the best Hallowe'en novel I've read in a long time, and a real tribute to the father of the two genres of horror and detective stories.
So, after you've handed out the treats to all the modern little ghouls, ghosts and goblins, treat yourself to a sold read of this book. Make yourself a nice hot cup of blood-red mulled wine, settle in a comfy bed with plump pillows in a darkened bedroom, lit only by your favorite old-fashioned hurricane lamp casting a soft golden glow. Then the shadows darken and grow, and perhaps a raven flaps its wings, as it passes your window in the moonlight and moves to another nearby tree outside before perching and watching what happens next…
---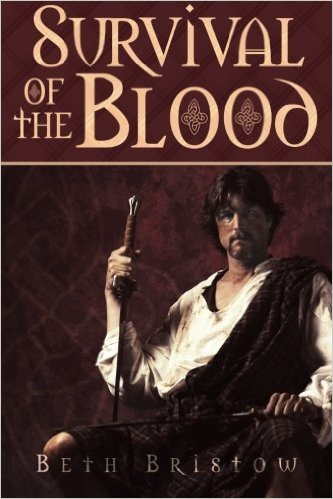 Book Review 'Survival of the Blood' by Beth Bristow
Published by Archway Publishing, Bloomington, Indiana, 2015.
First of all, recognizing that we have a growing, sophisticated subscribership to this newsletter, we want to let readers know that we did accept an ad for this book but I also warned the author that we would be doing an independent review to meet our organization's own standards.
I am very happy to say I highly recommend this book to anyone interested in good historical drama. When I first began college I had two majors: drama, as well as history, and then later switched to history and anthropology. I remember one thing well from those drama classes, as well as some excellent advanced high school English classes. It is common to all successful dramas, be they be plays or films, and likewise fiction books. The characters need to be well described. There must also be a conflict, with a clear protagonist and clear antagonist and the very best of fiction shows flawed tragic characters who are a mixture of good and either evil or at least self-destructive misguided judgment or delusion.

Click for Peter Daldry "Ye Jacobites by Name"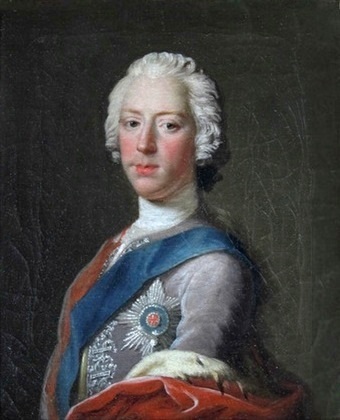 This book has all of that. It has well defined characters in an extended family, men as well as women. It has the conflict of Culloden, which was a tragedy as well as disaster for the Highland Scots. It has the inner conflicts of the men who had to decide whether to fight for the Stuart prince, Charles Edward Stuart, who was raised speaking Italian and French and grew up in archaic French and Italian royal and noble courts, or German speaking Hanover kings in London.
"Bonnie Prince Charlie" promised them a better future for Scotland. Alternatively, they could continue to suffer under a heavy taxload and other restrictions of the Hanovers, who now ruled both England and Scotland under the Act of Union, which even though it was a classic definition of a 'shotgun marriage,' had been voted by the Scottish parliament also in hopes for a better economic future for Scotland.
There is also romance and a vivid description of life as it was for the lower gentry and many ordinary highlanders in these turbulent times, amid a harsh environment.
The author made several trips to Scotland and did a lot of research, especially into the events of Culloden and the characters of the two men who were demanding loyalty and blood of the Highlanders, Bonnie Prince Charlie, and William Augustus of Hanover, Duke of Cumberland, usually known as 'Butcher Cumberland.'
All in all, this is a meaty satisfying read and will hold your attention. It will also make you look forward to a sequel to find out what happens next to the surviving characters, particularly the children.
You can find this book on Amazon.com here http://www.amazon.com/Survival-Blood-Beth-Bristow/dp/1480821438. Enjoy!
---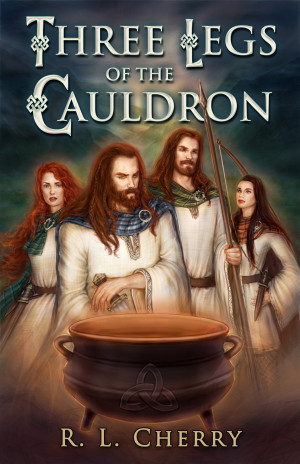 Book Review: Three Legs of the Cauldron
New Dalriada Celtic novel by Ron Cherry
By Cecilia L. Fábos-Becker Published 2016-10-28
California Mystery writer R.L.Cherry has a new, first historical novel, Three Legs of the Cauldron, set in the late 6th Century Celtic Kingdom of Dal Riata. Dal Riata spanned the North Channel, holding lands on both sides in North East Ireland, as well as Western Scotland and the Isles.
As the title hints, the story is a morality tale about Truth, Honor, and Duty, including several of the famous historical figures of that place and time. It tells of the coming of age of a young warrior as he and his two brothers grow to become men and leaders. In particular, the action follows the youngest brother, Connaire as both his character and a relationship with his next older brother, Cathal grow and strengthen. They and their extended family struggle to find their place in a new land and form new alliances amid a melee of betrayals, battles, and feuds.
This book has vivid descriptions of warrior women, brehons, druids and the Christian Irish monks of Ione. There is excellent detail on the warrior training of Connaire by Scathach, a real historical female character on the Isle of Skye who trained legendary warriors in early Irish and Scottish history.
There are other details which give a sense of place and articles, such as the description of the 'curragh' boats used to cross from Ireland to Scotland. While the action moves quickly, in some cases the descriptive writing is sparse, and one sometimes wonders where the children and their mothers are hiding and why Connaire is so easily lead astray. Three Legs of the Cauldron won't dissapoint most male readers and even some female readers in the romantic encounters.
All together, a good first historical novel and worth the time of reading. Contact the Author, R.L.Cherry, or purchase the book on his website, www.rlcherry.com
---
Review of Tom McEnery Play: Swift Justice
by Cecilia Fábos-Becker
Published 2016-01-16
The message of 'Swift Justice' is very powerful and timely. Because of its unique history, word of this gripping new play by local Irish American legend Tom McEnery has already spread and the premier run by The Tabard Theatre Company at Theatre on San Pedro Square in San Jose is sold out. Still, there is a waiting list and if you can get on the waiting list, we recommend that you DO SO, or hope that it will have another round in another area theater, or goes nationwide.
First, here is a little background. The play is based on a real, controversial incident in San Jose, CA: The last public lynching in California. In 1933, during the darkest days of the Great Depression two white men, one of Irish and one of Scots-Irish descent, kidnapped and murdered the city's most popular young man, the heir to the area's largest department store, Brooke Hart.
The author of the play, Tom McEnery, is a former San Jose mayor, whose father, John McEnery, was a minor participant in, and eye-witness to, most of the related events.
Lynching, by itself, is a term rooted in the Irish, Scots and Scots-Irish tradition of men taking the law, justice or redress of unfairness into their own hands. The term 'Lynching' derives from an Irish American. During the American Revolution, Charles William Lynch and his men rounded up Tories in southwestern Virginia and meted out punishment to them on their own. The resulting hanging, shooting, etc. was often a result of "lynching" but it is not the act of lynching. (check the wiki on Charles William Lynch)
Here is good, engaging play with a very moving story and powerful, timely message as important today as it was in the 1930's. This would be an excellent topic for a Broadway drama, or on Public Television. Who knows? Maybe some day, someone in Hollywood will turn it into a four star film. Does anyone have contact with Leonard Di Caprio, or Stephen Spielberg???
The story develops in a very powerful, moving interplay of logos, ethos and pathos in the most public way possible in 1933. It is clear the playwright put most of his attention in to the last third of the first act and the second act where the events depicted deserve this focus.
The strongest, most involved, characters develop throughout the play, as they do in all truly good stories. The best characters as both written and acted in the play are in order of performance: the villain, John Holmes; the person who was most often an intermediary and changed his life career after these events, Rabbi Karesh; and the father of the victim Alexander (Alex) Hart. San Jose Police Chief J.N. Black is very believable and complex. The victim, Brooke Hart, is very likable and sympathetic, though a little more direct action for him, as well as for his father would have been helpful to keep the presentation engaging.
Of the three females roles played by two actresses, the role of the daughter, Miriam Hart, Brooke's sister is especially poignant. The playwright did well in showing a loving, playful relationship between the sister and brother.
The first act does what it should; it shows the clear differences between the protagonists and the antagonists and why we should care about the fate of the victim and his family. If there are any faults, it's that the first two-thirds of the first act is not quite believable in the depiction of saintliness of the Hart family. The family, was, in fact, very good hearted and involved with their community, but the direct involvement in charitable actions, emphasis actions, could have been stronger. For instance, the father could have directly spoken to the unemployed persons waiting in line for a soup kitchen, offering them jobs himself, instead of directing someone else to do so. Also a couple of lines for the character of Alex Hart to explain why he couldn't bring himself to go, in person, to try to calm the mob would have been good. His very evident grief probably would have been seen more than his words would be heard, but that doesn't come out, and this omission weakens the character slightly. The mother character could have been developed more, especially her relationship with her oldest son. It makes her devastating grief a little harder to understand in later parts of the play. These are minor flaws, though.
In production and direction, a few more props that fit the historical period and help illustrate it would have better established the context. The play relied mostly on costume to set the period and people in the audience were asking among themselves in the intermission, "when did these events take place" because it wasn't as clear in the first act as in the second act where the dialogue set the place and time more clearly. I would have liked to see the plain bar stools replaced by a small settee and a Windsor chair and an old-fashioned floor lamp, which all could have been toted in and out with about the same amount of effort as the bar stools. Also, period telephones on a little tall telephone table for at least the recipients of the calls would have helped. Instead of the unchanging red and black striped backdrop and stage, some projections of scenery to evoke the home, a department store, the jail, etc. would have set place and time better. There just wasn't quite enough to help the audience see the events where and when they actually occurred. Last, is a minor detail on costuming, but one which most audience females immediately spot. Neither lady had a handkerchief on her, and no pocket for one. Every female over the age of 50 knows that NO LADY was ever without a real, cloth, often lace edged, handkerchief and a pocket for it. The gentlemen also had pocket handkerchiefs, in their suit-coat breast pockets. (I realize I'm dating myself with that comment, but it was the reality, and a visible detail of the age that also showed in what class people were, in a society that had more class distinctions.)
Still, none of the above diminishes the overall entertainment value here. We highly recommend this to anyone interested in drama that illustrates the human condition.