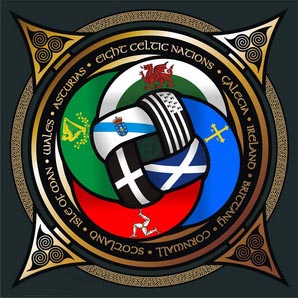 Northern California Celtic Societies
Organizations for Scots, Irish and more
by Cecilia Fabos-Becker
Every summer in Northern California includes an extensive set of Celtic festivals. Perhaps you've recently been to either the Sacramento Valley (at Woodland) Scottish Games or the Silicon Valley Irish Fleadh (Irish festival, in Mountain View), or are planning to attend the HUGE Scottish Highland Gathering and Games in Pleasanton over the Labor Day weekend. You might be wondering where else you might get involved in something Scottish, or Irish, and social, as well as doing some community good. Some people enjoy more than just going to an occasional pub-restaurant for music or festival. If you are interested in more, you might consider participating in and joining one or more of a our local membership organizations.
Several, including United Irish Cultural Center and the San Francisco chapters of the St. Andrew's Society and the Caledonian Club of SF own their own buildings, and offer regular meetings and events in the same place every time, (rather than having to find a space and then let everyone know where the event will be every time.
The United Irish Cultural Center (UICC) owns a large facility, with a number of large and small meeting and banquet rooms for all kinds of events, its own full restaurant and maintains a menu with a number of Irish/British favorites and a large bar. UICC hosts a regular live Irish music and dance, and a monthly session every first Saturday of every month that often has participation from a number of members of local bands in attendance. UICC has a number of cultural events and social activities on other evenings and Saturday afternoons. It has affiliations and divisions that support other Celtic entities such as the local Gaelic Athletic Association (GAA) teams, a pipe band, and is a leading organizer of the annual St. Patrick's Day parade in San Francisco. Many UICC members are also members of the Irish Literary and Historical Society of the San Francisco Bay Area or other organizations which helps raise scholarship funds for Irish students to study in the U.S. and American students to study in Ireland. It has 800 plus members, and membership is available to anyone interested in Irish heritage, culture, the organization and/or its affiliates. The UICC is located in west San Francisco just north of the San Francisco zoo at 2700 45th Ave, San Francisco, and has parking at the site and on the street around it. It's a great place to take the family!
The Saint Andrews Society of San Francisco (SASSF) meets in an attractive historic fire-house that it owns at 1088 Green St, San Francisco, and at it's monthly meetings, offers free valet parking for members and guests. It holds educational meetings about topics covering Scotland, Scots-American relationships, and has a number of very nice social events including whiskey samplings, dinners with poetry readings (some definitely humorous) like the annual 'Robert Burns Supper', dancing, etc. some of which it holds in conjunction with the Oakland chapter and the Caledonian Club of San Francisco. It raises funds for scholarships in Scotland (Scots coming to the U.S. and Americans going to study in Scotland), and Erskine, a hospital for wounded Scots servicemen, including chronic conditions from service injuries, etc.. SASSF meetings often begin with complementary light refreshments and beverages. Its membership is open to people with or without some Scottish heritage who have an interest in the organization, Scotland, etc.
There are Saint Andrew's Society chapters in Oakland and Sacramento as well, but note that not all chapters have the same degree of liberal membership policies. One or more chapters of St. Andrew's has a hospitality and information booth at most of the area's Scottish gatherings and games.
The Caledonian Club of San Francisco (CCSF) has a building in South San Francisco, where is hosts it's monthly meetings. They have a dining room and bar, but they are available only to members and guests accompanying members. CCSF has several annual social events, but it's main effort is hosting (doing all the work of arranging and managing) the Scottish Highland Gathering and Games, the largest such event in the world, (certainly in the U.S.) at the Alameda County Fairgounds on Labor Day Weekend (first weekend in September) every year, and also supports a local area pipe band. It's membership is more restricted than SASSF, and it's membership rules requires a full member to be male and have at least one line of well-documented Scottish ancestry. Again membership requirements vary among the chapters of the Caledonian Clubs.
For example, the Caledonian Club of Sacramento (CCS) is generally more flexible on membership and grants membership to female applicants. The CCS also hosts (does all the work again) for the Sacramento Valley Scottish Games and Festival held in late April at the Yolo County Fairgrounds in Woodland, not far from Sacramento.
In the Bay Area, there are two smaller Scottish organizations, the South Bay Scottish Society, (SBSS) and the East Bay Scottish Association (EBSA, formerly Tri-Cities). Each has monthly meetings, with films, speakers, etc. and host smaller events. EBSA hosts the Tartan Day Scottish festival at Ardenwood Historic Farm Park in Fremont about the first weekend in April, every year. Both also host Robert Burns suppers, with poetry and other entertainment, and SBSS also hosts an annual Christmas-time dinner where members and guests bring toys for the U.S Marine Corps "Toys for Tots" drive. (For those who don't know: the U.S. Marines and Navy were founded by Scottish Americans and the Scots organizations feel they have a special relationship with these entities. This is why larger festivals also often have a U.S. Marine Corps. band play at them.)
There are many additional non-Bay area smaller Scottish societies for the Goldrush Country along Highway 49, Fresno and Modesto, as well as the Monterey Bay area. These include the Mother Lode Scots the Big Trees Scottish Gathering & Highland Games (which hosts the recently revived gathering and games in Felton in October), the Dixon Scottish Cultural Association (gathering and games in late September), most of whom host meetings, and small and large events. The Scottish games usually have a strong Irish presence as well as most Americans are a mixture of both Scots and Irish and the organizers appreciate this, as well as the shared history and culture of the two.
For those living around the Monterey Bay and Santa Cruz Mountains, the is the venerable
Celtic Society of Monterey Bay with a 25 year record of bringing world class Celtic musicians to the Monterey Bay Area. These concerts happen about twice every month and CSoMB is a key sponsor of AmeriCeltic.
Last but not least, a major Celtic music festival with a lot of additional entertainment, including Irish dancing, demonstrations of Scottish competitive activities (don't stand too close to either the weight for distance throw or the caber toss!), and historical re-enactments/demonstrations, is the KVMR Celtic Festival at the Nevada County fairgrounds at Grass Valley the first weekend in October. This event has six stages of music, and additional smaller venues as well, jousting, shopping galore. It's a beautiful site, generally wonderful weather, a heckuva bargain for the admission fee, and a lot of fun!
There are lots of friendly and fun-loving people in all of these and they do a lot of good.