AmeriCeltic Newsletter
AmeriCeltic.net
is a
non-profit public service
,
supported by you, our readers and performers
.
Your donation of any amount is very welcome and will help us prepare and distribute these newsletters, continue our public outreach, and support our Mission, as we did at the Saint Patrick's Day in San José fest in March and will do at several Celtic Festivals in April and May.
Join Us on Facebook!
Connect with Celtic Culture!
Join our Celtic-compatible community on Facebook in a modestly moderated meetup.
AmeriCeltic
Facebook Group

Subscribe to our YouTube Channel!

.
Learn more in our Video Introduction
Friday, 2019-05-17
Updates, Features, & Events
Hello AmeriCeltic Reader,
Features:
• Co-founder Cecilia Fábos-Becker reports on first hand observations of immigration paralysis complaints in Immigration Delayed. (See Below)
Events:
• This weekend sees the last performances of the hilarious Two Pints by Roddy Doyle, Friday, May 17th and Saturday, May 18th, at Stanford CA. (See Below)
• On Friday May 17th, at 7:00 PM, Cassie Cushing and Ed Silberman will be telling Silkie Stories in Berkeley, CA. (See Below)
• On Friday, May 17th, at 9 PM, four River City based post-punk Celtic bands will be on stage at Old Ironsides in Sacramento, CA. (See Below)
• On Saturday, May 18th, at 9:00 AM its the Northern Nevada Celtic Celebration in Reno, NV. (See Below)
• This Saturday, May 18th, Québécois musiciens sans frontières Sophie, Fiachra and Marchand perform at the Celtic Celebration in Reno, NV and then @ 7:00 PM, at Brewry Arts in Carson City, NV. (See Below)
• On Saturday, May 18th, at 2:00 PM California Revels presents A Victorian Music Hall & Spring Variety Show at First Congregational Church in Oakland, CA. (See Below)
• Saturday, May 18th, 3:00 PM, Legendary Celtic Rock band Tempest wraps their Northern CA Tour with shows at the Celtic Celebraton in Reno, NV. (See Below)
• Broceliande will give two Concerts this month: Sunday, May 19th 1:00 PM, in Palo Alto, and by Friday, May 31st 12:30 PM at Stanford Hospital. (See Below)
• On Sunday, May 19th, at 5:00 PM, the Irish Literary and Historical Society presents a lecture featuring Renée Tosser speaking about Political Imagery & Bonfires in Northern Ireland, at the United Irish Cultural Center in San Francisco. (See Below)
• On Sunday, May 19th, 9:30 PM, Michael Mullen's Trio Of One makes a first appearance at Johnny Foley's Irish House in San Francisco, CA. (See Below)
• On Tuesday May 21st, consumate showman David Brewer brings his uber-Scottish band The Fire to Celtic Music Nights in Aptos, CA. (See Below)
• Beginning Friday, May 24th @ 5:00 PM — Monday, May 27th @ 1:30 PM, the Community Music School of Santa Cruz hold their annual Redwood Music Camp, featuring Molly's Revenge and The Fire in Boulder Creek, CA. (See Below)
• On Saturday May 25th, 12:00 PM, Santa Cruz stalwarts Elise MacGreggor Ferrell & Mike Long entertain at Silver Mountain Winery in Los Gatos, CA. (See Below)
• On Saturday, May 25th, at 7:30 PM Irish duo Kyle Alden and Suzuki Cady entertain at the Wu Wei Tea Temple in Fairfax, CA. (See Below)
• On Sunday, May 26th, at 6:00 PM, Gabe Duffin will release his album I will Search for You, at the Bothwell Arts Center in Livermore. (See Below)
• For a Blast from the Past, on Sunday, June 2nd, at 7:00 PM catch the The Undertones at Slim's in San Francisco, CA. (See Below)
• On Saturday, June 8th, from 12:00 PM – 10:00 PM, the still completely FREE, 43nd annual San Francisco Free Folk Festival, happens at Everett Middle School in San Francisco. (See Below)
• On Saturday, June 8th, 7:00 PM the infamous SOBs, (Sons of the Buccaneers) return to the Dana Street Roasting Company in Mountain View, CA. (See Below)
• On Sunday, June 9th, 7:00 PM, Michael and Shay Black and Eamonn Flynn entertain at Swedenborgian Church in San Francisco. (See Below)
• On Friday, June 21st, seminal Scottish band, Old Blind Dogs begins a tour with stops in eleven cities throughout California and Oregon. (See Below)
• From Monday, June 24th to Saturday, June 29th, Freight & Salvage and a host of sponsors offer the annual Fiddlekids Camp, in Berkeley, CA. (See Below)
• Beginning on July 26th and running through August 3rd, it's the 40th Annual Lark Camp World Music, Song & Dance Celebration, in the Mendocino Redwoods. (See Below)
Please support our sustaining Sponsors with your Celtic business!
• Co-Founder Cecilia Fábos-Becker's e-book Ancestry & DNA: Beyond the basics, is available for download now! (See Below)
• Sport your Celtic heritage! AmeriCeltic offers a colorful array of items, each emblazoned with the AmeriCeltic logo. (See Below)
• Publican Carlos answers the many recent rumors about The Duke of Edinburgh Pub & Restaurant with a New Video. (See Below)
• Lark In The Morning is opening a new store location in the Inner Richmond neighborhood of San Francisco. Full service continues at their original shop in Berkeley, CA. (See Below)
• The Plough and Stars, a SF Legacy Business, and THE place for Live Traditional Music in the inner Richmond district of San Francisco. (See Below)
• The Chieftain Irish Pub & Restaurant, local Irish Pub bringing the culture of Ireland to downtown at 5th and Howard in San Francisco. (See Below)
Scan our feature articles below, or as always, you can click here to check the full listings on our website.
AmeriCeltic Mobile
Get the AmeriCeltic Calendar on your mobile device
---
Editorial: Immigration Delayed
by Cecilia Fábos-Becker – Published May 17th, 2019
First, here is a link to a trailer for a new documentary film, The Black Donnellys – This is my Home, about a VERY popular new band who just played in Mountain View this past weekend at an Irish festival. These two IMMIGRANTS LIKE this country and have made it HOME–as many others want to do. This is a documentary that both Democrats and Republicans could celebrate and use.  Five or so years ago, when Dave Rooney and Dave Browne applied and became citizens, and made the U.S. home, we had at least a somewhat functional Immigration department that responded to applications.
That's no longer the case. I'd been hearing rumors and third hand information for months about unresponsiveness, and for me, those third-hand stories just became first hand.
AmeriCeltic Booth @ Mountain View
This past weekend, two Irish born applicants for US Citizenship stopped by our AmeriCeltic booth at the Silicon Valley Fleadh (Irish festival) in Mountain View and complained of getting 'no response'. Without doubt, if we get more than one in a single day at a small festival, there are many more out there that we haven't personally heard. One gentleman told us that he had applied in 2017–two years ago, and despite repeated calls and promises to look into it, he has had no decision, nor instructions to send additional papers, nothing. He then complained to U.S. Rep. Anna Eshoo, with the same results, and he still has no idea when and if his application will ever be really considered much less approved. Another complained to his representative in the Santa Cruz area (Jimmy Panetta?) and has been getting similar results. The two men were actually comparing their negative experiences in front of our booth–in public, with passersby listening in!
I should not have to write an editorial calling our representatives and ICE to account this week, but in the last two years, educated/skilled Irish and Scottish immigrants who have lived here under green cards, all legal and proper, have filed applications for U.S. citizenship, are getting NO response from Immigration, no instructions about what else they need to provide, if the application is under consideration and when they should expect a response yea or nay. Nothing, zip.
There IS an existing law and an existing process, until abolition or replacement by Congress. Why isn't the Trump administration following it and why isn't Congress investigating and demanding the Trump administration follow current law? What makes this even stranger is that Scots and Irish have on average from 12-25% VIKING–as in SCANDINAVIAN DNA, precisely the stuff that President Trump has been praising and saying he wants more of in this country. Apparently he has failed to convey this to his immigration offices and staff, or else everyone is abysmally ignorant of the genetics of most Scots and Irish. The Viking DNA is highest in Scots and Northern Irish, precisely the groups suffering most from Brexit uncertainty and years of English under funding of everything for non-English, particularly Scots and Northern Irish in the UK. Additionally, there are Irish trying to leave the UK now, as English supremacists are even willing to shout at the Irish in the streets and put up banners, etc., saying 'Irish Go Home!' (literally! Seen on the BBC news recently) So what the blazes is going on in the immigration department that Trump himself runs?
I'm suggesting that people keep notes every phone call and email, identifying who responds and when, and with what response (inane or substantive), including staff members of U.S. representatives offices. This website is a good starting point: https://www.usa.gov/elected-officials
I suggest you make two strikes for each office, Immigration and a Representative, for a total of 'four fouls,' and then complain to Speaker Nancy Pelosi's staff and the news media. Send copies of your correspondence or notes of calls to Pelosi's office* and the news media. The NBC Bay Area Investigative Unit might be interested, and the other two news organizations have similar groups at their stations. I'm also suggesting they call each office, FIRST and get a person's name, to say 'attention of' on any email or fax, or letter, before they send any of those, and then follow up by phone to make sure the person received the email or fax, so some individual in each office actually knows the applicants exist and can be held, to some degree, or other, accountable.
Again, I should not need to write this editorial. The staff members of all Immigration, Representative' and Senators' offices should be well trained enough to do this on their own–keep track of emails and phone calls and make sure someone responds to every one of them–especially on issues as vitally important like immigration status that can result in loss of jobs, costly moves, etc.. The Congress as a whole, should also have the sense to be tracking immigration related calls, emails and letters, especially when the caller/emailer says applications have been filed and paperwork, as minimally described on government websites, has been sent. This is an issue/situation with which Senators McConnell, Graham and other Republicans should be in agreement. It should be a 'no brainer.'
Here's an additional issue. NO ONE in the government is tracking the number of persons LEAVING the U.S. for other countries. Per its consul-general, Ireland (not Northern Ireland) has had at least 50,000 applications for long-term visas and citizen passports, for each of the last two years. The citizen passports are for persons who either have a parent or grandparent who was born in Ireland. Other countries, like France, are doing the same in Europe. How many countries are now offering citizenship, and a chance to 'repatriate', to Americans who have either a parent or grandparent born in another country? How many people also have applied to Canada? Is the U.S. beginning to suffer a brain and compassion drain? Do we even know? We need to know both sides of the equation: how many people are leaving–and why–besides how many people are seeking asylum and applying for green cards, and citizenship here.
If you think what I've said here is important, e-mail or fax your Congressperson and Senator–and send them a copy of this Editorial. To find their contact info. start here: https://www.usa.gov/elected-officials There is an immigration bill that has finally been presented to Congress by Trump's son-in-law, Jared Kushner. Fixing these issues should be in it.
* If you live in San Francisco, Nancy Pelosi is your representative and you can use the online form, but if not, just call her San Francisco Office telephone number, (415) 556-4862, and ask the staffer who answers for an email address there.
---
Abbey Theatre Two Pints by Roddy Doyle
May 15 – 18 Stanford University
Bing Concert Hall, 327 Lasuen St, Stanford, CA
Two men meet for a pint. They talk about their Da's, death, Nigella, North Korea, the afterlife. This is the making of Roddy Doyle's hilarious and provocative Two Pints, which started as a series of conversations on Facebook and has since evolved into an immersive play from Abbey Theatre of Dublin and coming to Vanderhoef Studio Theatre Pub in Davis and Bing Concert Hall at Stanford. Two Pints exemplifies the company's vision to imaginatively engage its audiences to become part of the conversation, experienced here through interactions with these fascinating Dubliners. Pull up a stool and listen in as two men, over a couple of pints, chew the fat and set the world to rights.
Trailer from Abbey Theater 2018 Run https://youtu.be/m5Q5OuGVGx0
Performances:
https://live.stanford.edu/calendar/may-2019/two-pints
• Friday, May 17, @ 8:00 PM
• Saturday, May 18, @ 2:00 PM
• Saturday, May 18, @ 8:30 PM
---
Cassie Cushing and Ed Silberman
Silkie Stories | Friday May 17th, 7:00 PM
The Silk Road House, 1944 University Ave., Berkeley, CA
Peppered throughout Irish, Scottish, Icelandic, and Scandinavian mythology and folklore are stories about, Selkies (also spelled silkies, sylkies, selchies).
Storytellers Cassie Cushing and Ed Silberman take you to these lands where seals come ashore and shed their skins. Seals become people, people become people, and only mist and sea lie between. Fear, love, jealousy, enchantment, horror, survival, danger, all this and more, all in one night!
A benefit for the Storytelling Association of California.
Suggested donation: $10. No one turned away for lack of funds.
Details in the Facebook Event, or email Ed Silberman: ensilberman@aol.com.
For more about the The Silk Roadhouse, check the Website, Facebook Page or call (510) 981-0700.
---
Tribute to The Pogues
Friday, May 17th, at 9 PM
Whiskey & Stitches / The Pikeys / One-Eyed Reilly / Stout Rebellion
Old Ironsides, 1901 10th St, Sacramento, CA, 95811
This one will be one for the memory books, Irish music lovers! This show brings together Whiskey & Stitches, The Pikeys, One-Eyed Reilly, and a one-time REUNION of Stout Rebellion.
These four bands have been the mainstays of Celtic Punk – Rock in the Sacramento area for many years, sometimes sharing and trading members. The fact that we're tipping the hat to The Pogues is icing on the cake. Let's pack the place.
Old Ironsides has been a low-key watering hole since 1934 offering cocktails, casual American fare & nightly live music. For more info, check www.theoldironsides.com, call them at (916) 443-9751 or email oldi@theoldironsides.com.
---
28th Annual Northern Nevada Celtic Celebration
Saturday, May 18, 2019 at 9:00 AM – 5 PM
Bartley Ranch Regional Park, 6000 Bartley Ranch Rd., Reno, NV
The Northern Nevada Celtic Celebration is an event that seeks to preserve and showcase the culture, history, and heritage contained within the seven Celtic Nations: Cornwall, Wales, Ireland, Brittany (Great Britian), Scotland, Isle of Mann, and Galicia.
Join us for Pipe Bands, Living History, Scottish Highland Heavy Athletics and Main Stage Entertainment and Celtic Dancing celebrating our 28th event.
More Details on the Facebook Event and website.
---
Sophie & Fiachra
Québécois musiciens sans frontières
5/17 Carson City, NV | 5/18 Reno, NV
Sophie & Fiachra refuse to let the Atlantic sunder their love of their own and one another's Irish and Québecois musical traditions.
Comprising of Irish uilleann piper Fiachra O'Regan, Québec guitarist & singer André Marchand and Québec fiddler/singer Sophie Lavoie, the trio take traditional Irish and Québécois traditional music, blended with Lavoie's 'lithe and masterful' compositions. Their choice of songs will 'captivate the most casual listener'.
'It's refreshing to hear a traditional band reference the present with such subtlety and finesse'
Quotes from Siobhán Long, of  The Irish Times
More info on their website and Facebook Page
Tour Dates
• Saturday, May 18th, Northern Nevada Celtic Celebration, Reno, NV
Program
• Saturday, May 18th, 7:00 PM, Brewery Arts Center, Carson City, NV, Tickets
---
California Revels Fundraiser
Saturday, May 18, at 2:00 PM
First Congregational Church of Oakland Reidenbach Hall 2501 Harrison St, Oakland, CA
California Revels Presents A Victorian Music Hall & Spring Variety Show, a California Revels fundraiser, featuring performances by some of Revels favorite friends, including:
• Shay Black
• Erica and Friends
• Scrumbly Koldwyn
• Shira Kammen's Gallimaufry
• Brothers Luper
and many more!
LOCATION:
First Congregational Church of Oakland
Reidenbach Hall
2501 Harrison St, Oakland, CA, 94612
TICKETS:
$75 with wine / $50 without
Children 5-12 $30; 4 and under free
More Details at the Event website, or the Facebook Event
---
Tempest
Tempest West Coast Upcoming Shows
Celebrating more than 30 years of Celtic Rock!
'Tempest rocks, all right, but its forte is folkrock with decidedly Celtic accent, drawing on traditions stretching back hundreds of years.' — CHICAGO TRIBUNE
Reno Celtic Celebration
• Saturday, May 18th, 3 PM, Reno, NV Northern Nevada Celtic Celebration, Hawkins Amphitheater, Bartley Ranch, 6000 Bartley Ranch Rd. (775) 379-0186
Since forming in 1988, Tempest has delivered a globally-renowned hybrid of high-energy Folk Rock fusing Irish reels, Scottish ballads, Norwegian influences and other world music elements. The last 30 years have seen the San Francisco Bay Area based act release seventeen critically acclaimed CDs and play more than 2,500 gigs. It's also enjoyed an evolving line-up that's enabled musicianship and creativity to rise with each new member.
Signed to Carta Records, Tempest's releases are acclaimed worldwide. Last year, the group celebrated it's 30th Anniversary with a fab new studio CD, Thirty Little Turns, a collection of inspired new original and traditional material — with a cheeky surprise or two.
Mail order CDs directly from Tempest: tempestmusic.com/html/cdorder.html
---
Broceliande Concerts
5/19 Palo Alto | 5/31 Stanford
Celtic/Medieval Ensemble Broceliande will welcome in the Spring with a joyous series of concerts of traditional and Early music of the season. Between them they play Celtic harp, cello, guitars, recorders, nyckelharpa, octave mandolin, flute, hardanger cello d'amore, and oboe. Join us!
We've launched a Patreon Page! We'll be recording and posting all-new original music and videos monthly, along with calligraphic Visionary art by Margaret! Your patronage helps us to remain full-time musicians and artists. Check it out: https://www.patreon.com/margaretandkristoph
CLICK HERE for a video preview.
Broceliande is Margaret Davis, Kristoph Klover, and Kris Yenney, check their website at www.broceliande.org, or email margaret@flowinglass.com.
Shows:
• Sunday, May 19th 1:00 PM Broceliande @ Bol Park May Fete, 3590 Laguna Ave., Palo Alto

• Friday, May 31st 12:30 PM Broceliande @ Bing Concert Series, Stanford Hospital, 300 Pasteur Dr., Stanford, CA
---
Bonfire, ready to begin
Political Imagery & Bonfires in Northern Ireland
ILHS Speaker Series: Renée Tosser
Sunday, May 19th, 5:00 PM
The United Irish Cultural Center, St. Patrick's Room, 2700 45th Ave, San Francisco
Renée Tosser, Assistant Professor of Irish civilization at Université de la Réunion, France, will examine recent developments in the older bonfire tradition of the North.  She will analyze how these celebrations act as social paradigms which entertain and indeed seek to encourage separation between the Catholic and Protestant communities of Northern Ireland.
Her talk at the United Irish Cultural Center on Sunday, May 19–not the last Sunday of month due to Memorial Day, will feature photographs from her exhibition on bonfires entitled 'King Billy's Towers' which was shown in Ireland and North America in 2016. 
Visual displays play an important political role in Northern Ireland. They are often the most visible sign of sectarian division and attitudes in a society still marked by division 30 years after the end of the so-called 'Troubles'. Violence still prevails and sometimes it coalesces around Orange marches.  July 12, known as 'the Twelfth,' celebrates the victory of William of Orange at the Battle at the Boyne against the English Catholic King James II in 1690.
Tosser will deal with the 'Twelfth,' and more specifically, her research on bonfires and the photographs she has taken every year in Northern Ireland since 2007.
Michael Mullen's Trio Of One
Hard Driving Live Looped Celtic Acoustic Rock
Sunday, May 19th, 9:30 PM, Johnny Foley's Irish House, 243 O'Farrell St, San Francisco
Michael says: "I'm very happy to be invited Johnny Foley's Irish House. Come out and hear what I do LIVE while you record GoT for later."
Never pre-recorded, always immediate and created fresh, the masterful Michael Mullen makes live looping an art form. Experiencing this solo musician building his TriaSoli 'ensemble' group gives the audience a unique and powerful connection with old chamber favorites – You may have heard them a thousand times, but never like this. Then, in Trio of One, the Mullen brings to life the music of his Celtic roots, creating a full band while you watch and listen. In the end, you'll understand why his old Tempest bandmates dubbed him The Mad Fiddler.
---
Celtic Music Night this Tuesday!
Series Finale | 7:00 PM, Tuesday May 21st
St. Andrews Church, 9850 Monroe Ave., Aptos, CA
Celtic Music Night is a donation based series, and as is tradition, each of these fun-filled evenings include a bagpipe procession, concert of music by a featured special guest artist, Q&A with the group, complimentary refreshments, and an open Celtic music jam session with the players afterward, and is open to ALL ages. Come be a part of it! Mark your calendars now! Spread the word! Grab your friends, family, neighbors, and instruments!
Tuesday May 21st, 7:00 PM is this Series Finale with: The Fire Scottish band, featuring International Fiddle Champion, Rebecca Lomnicky and Adam Henley. www.firescottishband.com
Celtic Music Night website: celticmusicnight.com
Celtic Music Night Facebook page: https://www.facebook.com/groups/194642300895477
Celtic Music Night is a FREE event, run by donations of any amount at the door if possible to help it continue– just contribute what you can that makes sense for you, and your support is greatly appreciated in keeping folk tradition going. CDs and recordings of the artists are also available for purchase.
As is tradition, each of these fun-filled evenings at  Celtic Music Night include a bagpipe procession, concert of music by a featured special guest artist, Q&A with the group, complimentary refreshments, and an open Celtic music jam session with the players afterward, so bring your instruments, questions, and good vibes and ALL of this is ALL ages, and ALL for a nominal donation of any size at the door. So grab your friends, family, instruments, and head out to Aptos for a good time the way nature intended!
Thanks to St. Andrew Church of Aptos; Check out their website: www.aptospresbyterianchurch.org
---
Redwood Music Camp, Boulder Creek
Friday, May 24th @ 5:00 PM — Monday, May 27th @ 1:30 PM
Easterseals Camp Harmon, 16403 Hwy 9, Boulder Creek
Redwood Music CampHeld at Camp Harmon in Boulder Creek, Redwood Music Camp is a three-day music camp for adults. Faculty will include members of The Fire and Molly's Revenge as well as Shelley Phillips, Rachel Goodman, Tom Padula, Neal Hellman, Aria di Salvio, and Fox Pettinotti.
Musical styles range from Irish and Scottish to Old Time, with a strong focus on Celtic. Participants get a full music immersion experience learning in small group settings the first half of the day, while afternoon and evening sessions bring it all together, plus lots of informal jamming. Perfect for experienced players who want to up their game, or those who have been meaning to get that fiddle out of the closet.
Details and Registration.
More details on the Facebook Event, Facebook Event.
---
Elise MacGregor Ferrell & Mike Long
Ferrell & Long @ Silver Mountain Winery
Saturday May 25th, 12:00 – 3:00 PM
Silver Mountain Winery, 269 Silver Mountain Dr, Los Gatos, CA
Elise MacGregor Ferrell & Mike Long will be playing American Patriotic Songs, Battle Marches and Commemorative Ballads on bagpipes, as well as fiddling Irish tunes on Saturday, May 25th.
Admission is free.
For a sample of Elise playing Green Hills of Tyrol at Operation Surf, Click Here.
Questions?, email Elise MacGregor Ferrell at eliseelise@aol.com.
For more information about Silver Mountain Winery and it's great wines, visit their Website, or Facebook Page, or call (408) 353-2278.
---
Suzuki Cady & Kyle Alden
Saturday, May 25, 2019 at 7:30 PM
Wu Wei Tea Temple, 1820 Sir Francis Drake Blvd, Fairfax, CA
Suzuki Cady, fiddle, and Kyle Alden, guitar and vocals, convey their love of both Irish and American musical traditions in a cozy intimate setting.
Playing a lovely set of tunes and weaving seamless vocal harmonies to original and traditional songs, Suzuki's 5-string fiddle joins Kyle's guitar, banjo, and bouzouki for a dynamic blend of musical textures.
No cover, tips accepted and Tracy the owner is very persuasive with the tip jar.
More on the Facebook event https://www.facebook.com/events/546941159170054.
---
'Gabe' Duffin's Album Release Concert
Sunday, May 26th, 6:00 PM
Bothwell Arts Center, 2466 8th St, Livermore
Folksinger Gabriel 'Gabe' Duffin's invites you to join him for the Release Concert for his new album I will Search for You, at the Bothwell Arts Center.
Gabe says:
"Bring a Pot luck dish, and enjoy the full bar at the show. There is a $10 cover at the door which includes a complimentary copy of the CD."
Gabe hails from Belfast, Ireland and beside his solo work, has two bands: Pog Mo Thoin and Gabe Duffin Band, which feature talented musicians from around the Bay Area. Known for their rich Irish ballads and lively Irish folk tunes, both bands will happily follow their leader and throw in an unexpected rock song while serving up, many favorites with a Celtic flair and plenty of rockers too.
For more information http://www.bothwell.lvpac.org, or contact: Anne Giancola, (925) 447-2787, agiancola@lvpac.org
---
The Undertones w/ The Hooks, Nobody's Baby
Blast from the Past | Sunday, June 2nd, 7:00 PM
Slim's, 333 11th St, San Francisco, CA
Join The Undertones live in concert with The Hooks and Nobody's Baby.
The Undertones emerged from Derry, Northern Ireland in 1976 and hit the world stage in 1978 with the release of Teenage Kicks. Feargal Sharkey left the band in the 80s to pursue a solo career and after 16 years of silence, the rest of the band reformed with frontman Paul McLoone. More than 40 years later, they are touring away, and apparently deliver 'a scorching live act.'
Check out their Facebook Page.
---
43rd annual San Francisco Free Folk Festival
A full day of music, dance, and storytelling!
Saturday, June 8th, 12:00 PM – 10:00 PM
Everett Middle School, 450 Church St (at 16th) SF
The San Francisco Folk Music Club presents the 43rd annual San Francisco Free Folk Festival.  The festival has been a cornerstone celebration of folk music's rich history for the past 43 years. This year's festival is a full day of music, dance workshops, dance parties, storytelling workshops, crafts, vendors, formal and informal music-making, and just plain fun for the whole family.  Since 2019 is the 100th anniversary of the birth of folk icon Pete Seeger, there are several special events connected to him at this year's festival.  All events and workshops are free and open to anyone who wants to drop in and participate or just listen.
SFFFF Highlights

Two performance stages.
Workshops in song, instrumental,
storytelling, and dance.
Scheduled jams.
Family program.
Evening dance parties and concert.
Vendors.
Impromptu music-making.
Open Mic.
Family crafts
Parking & Transit
Onsite parking ($) or street parking
BART: 4 Blocks from 16th St Mission BART
Via Muni: On J Line, 2 blocks from F line.
Wheelchair accessible
ADA compliant
family-friendly
Completely free.
(but donations appreciated)
Click Here for YouTube Videos from Past Years: https://www.youtube.com/user/SFFreeFolkFestival
Volunteers
These events have great need of and provide great rewards to community volunteers. Click Here to learn how to volunteer: 2019 Festival Volunteer Sign-Up Page
Click for full details and information on the Facebook Group, Facebook Page or Website.
---
Sons of the Buccaneers
Saturday, June 8th, 7:00 PM
Dana Street Roasting Company, 744 W Dana St, Mountain View, CA
Yer invited to sit in with us in a rowdy, irreverent, and boisterous good time, recreating the rollicking ambiance of a foc's'le full of off watch sailormen in unrestrained celebration of life at sea… audience precipitation encouraged. We enjoy the occasional unrepressed naughty-cal lyric for the adult taste.
Check out a recent Skylark on YouTube: http://youtu.be/WYqyzB6rMVs, or hear the SOBs on their website www.sonsofthebuccaneers.com.
Our crew includes singer James (Banjo Jimmy) Dean, classic bassist and concertina virtuouso Alan Lochhead, the Hindu Dubliner pennywhistler Ruup, Maine-ly fiddlin' fool Brian Theriault, and our fearless leader, "No Engine No Oars" Mordecai, on melodeon, 12 string guitar and musically humorous surprises…
Dana Street Roasting Company, (650) 390-9638, www.danastreetroasting.com,is a relaxed space with specialty & housemade blends, along with light eats. We don't think you'll be needing the free WiFi except for lookin' up them naughty-cal lyrics. Please be discreet with any coffee lubricants you might bring.
---
The Black Brothers Harmony in Fraternity
Michael and Shay Black with Eamonn Flynn
Sunday, June 9th, 7:00 PM
Swedenborgian Church, 2017 Lyon Street, San Francisco
Irish brothers Shay and Michael Black from the renowned Black Family sing ballads from the Irish, Scottish and English traditions, old Dublin street songs, music hall songs, rollicking reels & joyful jigs that will have have you joining in on the choruses, interspersed with stories, jokes and humorous childhood anecdotes.
Here is a sample: https://youtu.be/DuO8sbJvP1I
Shay and Michael are close harmony singers, with a special fondness for songs that include their audience in chorus, and many of the songs are narratives with stories. The brothers grew up in a household where singing was a normal part of daily life, and have been performig since teenagers as The Black Brothers, frequently with sisters, Mary and Frances, as The Black Family.
They are joined by rollicking pianist Eamonn Flynn, who, like the Blacks, was born into a musical family in Dublin, Ireland. He first came to prominence playing Hammond organ and piano on the 12 million selling movie soundtrack The Commitments. Now living in San Francisco, he has gone on to record and tour worldwide with artists including Michael Franti and Spearhead, Evelyn 'Champagne' King, Elvin Bishop, Bernard Purdie, Grant Green Jr. Coco Montoya, Michelle Shocked, Pee Wee Ellis, Donald Harrison, Maria Muldaur, and many more.
The show, and the entire season of concerts at the Swedenborgian Church, is a benefit for three local non-profit organizations that do wonders for the people and environment of San Francisco: Nature in the City, which engages residents in butterfly, bee, and wildlife habitat restoration projects in diverse San Francisco neighborhoods; Young Women's Choral Projects of SF, which transforms girls' lives through choral music education and performance; and Canine Companions for Independence which enhances the lives of people with disabilities by providing highly trained assistance dogs and ongoing support. Attendees are invited to a coffee and food reception for these organizations at 6 pm prior to the concert.
Advance Tickets are $15 until May 26th and available at Brown Paper Tickets.
Or call 415-346-6466 or 415-346-6468 or email office@sfswedenborgian.org.
Check out the facebook event:
https://www.facebook.com/events/807503932967494

Check out the venue: www.sfswedenborgian.org
---
Old Blind Dogs
2019 Tour of California and Oregon
Since forming in the early 1990's, Old Blind Dogs have stood on the cutting edge of Scotland's roots revival. The band has developed its own trademark style with an energetic mix of songs and tunes.
California / Oregon Tour 2019
• Friday, June 21st, Bethany Lutheran Church, San Diego, CA, Tickets
• Saturday, June 22nd, Ramo Auditorium, Pasadena, CA, Tickets
• Sunday, June 23rd, St Mary's Church, Pacific Grove, CA, Tickets
• Tuesday, June 25th, 7:30 PM, Duffy's Tavern, Chico, CA, (530) 343-7718
• Wednesday, June 26th, Freight and Salvage, Berkeley, CA, Tickets
• Thursday, June 27th, Palms Playhouse, Winters, CA, Tickets
• Friday, June 28th – Sunday, June 30th, Kate Wolf Festival, Laytonville, CA, Tickets
• Tuesday, July 2nd, American Music Festival, Brookings, OR, Tickets
• Thursday, July 4th, The Park at Peacetown, Sebastopol, CA, Tickets
• Friday, July 5th, Ojai Womens Club, Ojai, CA, Tickets
• Saturday, July 6th, Castoro Vineyards, Paso Robles, CA, Tickets
• Sunday, July 7th, Kuumbwa Jazz Club, Santa Cruz, CA, Tickets
One of the most highly touted Celtic groups of our time, OBD is the only multiple winner of the prestigious Scots Trad Music 'Folk Band of the Year' Award . With 12 CDs already in the bag, you'll have a chance to collar their 13th offering, titled Room With A View.
Old Blind Dogs continues to distinguish themselves as vital, innovative ambassadors of Scots music by subtly and ingeniously expanding upon the very tradition they celebrate in harnessing the rich resonance and timeless themes of the songs and tunes of their homeland and weld them to new rhythmic frameworks, dynamic arcs and textural expanses, This produces a uniquely identifiable sound that reflects the rich heritage of their forefathers, yet comes across as resoundingly fresh and immediate. OBD's Dynamic percussion, virile vocals, soaring fiddle and stirring pipes fuel the delicately-phrased melodies and traditional songs generate rave reviews, like this one:
'Old Blind Dogs play with a compelling energy and intoxicating rhythm as players and audience seem to share a wild ecstasy of emotion. Come out and see what the excitement is all about!' – The Scotsman
---
Fiddlekids 2019 June 24-29!
Old Time, Irish, Regional Mexican, Jazz, Latin, Cajun-Creole and Hillbilly Rags
Berkwood Hedge School, 1809 Bancroft Way, Berkeley, CA
A week-long day camp devoted to Traditional Fiddle Music featuring inspiring teachers, fiddling by ear, improvisation, traditional dance, music-based art, and an end-of-camp performance at the Freight & Salvage. Fiddlekids is a great opportunity for children to explore a wide range of fiddling styles from all over the world through tunes, songs, and dance.
Here is a link to their introductory video
Fiddlekids was founded by Bay Area fiddle player and educator Bobbi Nikles in 1997. Now in its twenty-second year, Fiddlekids is a unique, fun-filled summer day camp devoted to traditional fiddle music. We welcome young violinists and fiddlers, ages 7 to 14, with at least one year of violin playing experience. No previous fiddle knowledge is required. Camp is divided into skill-based groups of roughly 15 fiddlers. Students attend classes with three of the camp's fiddle instructors and learn a wide range of traditional styles — this year's teachers specialize in Old Time, Regional Mexican, Irish, Jazz, Latin, Cajun-Creole and Hillbilly Rags. Students also explore the music through daily art and dance classes. Boasting an experienced teaching staff and a wonderfully supportive atmosphere, Fiddlekids has introduced hundreds of youngsters to a lively and expansive fiddle repertoire. We've inspired many of our alumni to enjoy a life-long relationship with their instrument, traditional fiddle music, and folk music culture.
For more information, check out the webpage, www.thefreight.org/fiddlekids, or contact the Freight & Salvage, email fiddlekids@freightandsalvage.org, or call 510-859-1117.
---
Lark Camp's 40th Anniversary
Music, Song & Dance Celebration July 26th – August 3rd, 2019
World Music, Song and Dance Celebration
Lark Camp Features
Music, Song & Dance Workshops • Family Friendly • Dances, Parties & Sessions • Great Food • Camping • Mendocino Woodlands Redwoods • Full Camp for 8 Days or Half Camp for 4 Days
Three camps – three themes: Camp One – Music of Ireland, British Isles, Greece, Eastern Europe, and Sweden; Camp Two — Latin American, North American, Spanish, French, and Swing Styles; Camp Three — Middle Eastern, Greek, Asian, and African music!

Spend idyllic days and nights in the magical redwood forest filled with all the music, dance, and good times you could possibly stand — that's the Lark Camp World Music & Dance Celebration.
Click Here for the Video by Doug Plummer.
Take as many or as few of the workshops as you like; jam sessions 24 hours a day, big dances every evening. Plenty of good food, new friends, and musical stimulation for adults and families. Workshops for professional and beginner, alike.
To review the Complete Lark Camp Music & Dance Staff for 2019, Click Here

Check out the Mendocino Woodlands site: Click Here

Questions, email: registration@larkcamp.com or call (707) 397-5275 (LARK)
---
A printable e-book
by Cecilia Fábos-Becker
Ancestry & DNA
Family History Research: Beyond the Basics
There are many good basic manuals, both in print and online, that can help you get started researching your ancestors and finding lost cousins, but in over fifty years of research into our own Scots-Irish, Irish, Scottish and Welsh ancestry, I've learned what works well and what doesn't, as well as many useful sources and links.
Now, I have written a book, Ancestry & DNA – Beyond the Basics, to help you, and all Americans find their origins. My book will be especially useful to especially Celtic Americans doing family history research, and it is available for immediate download!
My Book includes:

• Introduction to Family History Documents
• What are REAL Primary Sources?
• America's Dark Age (1783 to 1850)
• Finding Family Records with online services
• Introduction to Family History DNA
• Using DNA Tests to help Find Family History
• How autosomal, MtDNA, or Y-DNA tests can help
• DNA Testing Company Reviews
• Loads of Examples

Download Ancestry & DNA – Beyond the Basics here:
---
→ AmeriCeltic Logo Gifts! ←
Shirt, Hat, Mug, Apron or Patch
5 FULLY EMBROIDERED – MADE IN USA
Celebrate your rich AmeriCeltic history and heritage in style and class and support AmeriCeltic by sporting a shirt, hat, mug, apron or patch, all except the mug, embroidered in full color with the AmeriCeltic logo! And don't forget to give one to yourself!
Click Here for the full line-up of AmeriCeltic Logo items.
The AmeriCeltic logo, styled like a coat of arms, commemorates your MIXED, Scots, Irish, Welsh Celtic American heritage! Wales, Scotland, Ireland and the thirteen colonies of mostly Scots, Scots-Irish, Irish and Welsh who joined with many others from many other countries, and together fought tyranny to assert our Independence from the United Kingdom of Great Britain.
Click for more information about the AmeriCeltic Logo design
---
Breaking News at The Duke
The Duke of Edinburgh Pub & Restaurant
10801 N. Wolfe Road, Cupertino, CA, 11:30am – 2:00am every day of the year
Publican Carlos and his partners have an announcement to make! Many of you have heard the rumors about the at The Duke of Edinburgh Pub & Restaurant. To paraphrase Sam Clemons, aka Mark Twain:
The Duke is, and will remain, THE only Authentic, (and we do mean AUTHENTIC!), British Pub in the Bay Area, located across the street from Apple Headquarters on Wolfe Road in Cupertino.
The atmosphere at the 'The Duke', is the same as you would find in any pub in the British Isles, full of friendly patrons who come in to socialize, play darts, have a pint or two, and eat a meal. If you are looking for a comfortable elegance, pints of beer and authentic food, in an authentic English Pub, there is no a better choice in the Bay Area. The Duke offers a large number of beers on draft and by the bottle. Almost anything English, Scottish or Irish is available. Murphy's Irish Stout brewed in Cork, Ireland and Scotch Eggs is always a good choice.
The servers are excellent and very knowledgeable about the beer and food menu. The menu is expansive and worth exploring. The dark pubsy feel with old regulars in their respective, but not crowded corners around lunch hour in Cupertino, is a great boon.
You can't find more 'authentic' atmosphere, because the entire building was built in jolly old England, then disassembled, shipped and reassembled on site in Cupertino. With the red velvet seating and wall paper and ornate, dim lighting, you are transported to London as soon as you enter the etched glass door.
More info. on The Duke Facebook Page, website www.theduke.com or call 408-446-3853.
---
Lark In The Morning Stores in Berkeley and San Francisco
Tuesday – Saturday, noon – 6 PM
Sundays, noon – 5:00 PM
Lark In The Morning, 830 Gilman St, Berkeley
and soon in the Inner Richmond of San Francisco
Eric says:
"We're soft-opening a new location at 814 Clement Street in San Francisco, (currently Exploring Music). So far, this new store only has a sampling of the instruments available in our Berkeley location, but we're slowly adding more as we reconfigure the space."
Thorn Land and Eric Azumi
Lark in the Morning Store, Berkeley
Lark in the Morning has been a folk musician's favorite since 1974 and has musical instruments and instructional material from all over the world.
Shop online at https://larkinthemorning.com, call us at 707-964-5569, or check out our Facebook Page www.facebook.com/LarkInAM.
---
Plough and Stars Honored
Added to SF Legacy Business Registry
The Plough and Stars Irish Pub, 116 Clement Street at 2nd Avenue, San Francisco
The Plough & Stars is thrilled to announce we've been honored with 'Legacy' status as an historic asset to the city by the San Francisco Office of Small Business … Join us for great music & the best Guinness pint in town.
What a diverse and vibrant mix of businesses added to the Legacy Business Registry yesterday! Join us in congratulating Babylon Burning, the Lab SF, The Mindful Body, The Plough and Stars and Slim's! Thank you for your commitment and service to our communities.

The Plough and Stars (116 Clement St): An Irish pub and known gathering place for the Irish community for over 40 years. The bar showcases musicians across genres and maintains a tradition for over 35 years of hosting seisiúns, informal Irish jam sessions. Stop by for a perfectly-poured Guinness and see why?? they've been voted Best Irish Bar by SF Weekly.
I would like to thank all the Musicians who have played in the Plough. Without their contributions this would not have happened — Sean Heaney
The Plough and Stars Irish Pub, is known around the world for hosting incredible Irish music and pulling beautiful pints of Guinness since 1975. Since then, it has evolved to host live music every night of the week, except Monday, including all genres of music; Bluegrass, Country, Rock, Zydeco, acoustic Americana, and of course, Irish Traditional.
The first Saturday is always Americana Jukebox and every third Friday is Bluegrass Bonanza! We welcome you to stop in for a drink and try our famous, award winning pints of Guinness, or indulge in any of our other specials. We host Happy Hour all day every Monday with free pool, and the first Monday of the month has a Pub Quiz at 8:30 PM. Check out our website for a full calendar of events!
For a video of a Plough session from 2014, Click Here.
For more about the Plough, check www.theploughandstars.com, call 415-751-1122, or email Sean Heaney at sfplough@aol.com.
---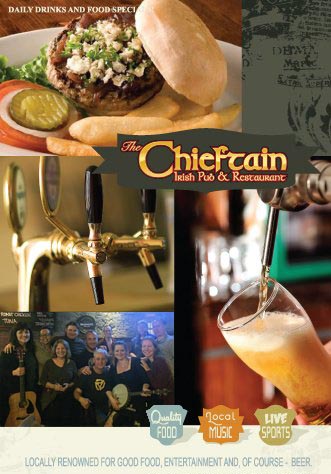 The Chieftain Irish Pub & Restaurant
198 5th St, San Francisco
The Chieftain Irish Pub & Restaurant, is a bustling SoMa spot with Irish pub grub & beers on tap plus sports on the satellite TV.
This local Irish Pub brings the culture of Ireland to San Francisco, offering a full bar, Happy Hour specials, and a full Irish restaurant menu, including favorites like fish and chips which goes with any style of sport, music or fun.
'I am in the city every 2-3 months and The Chieftain is an absolutely integral part of every trip. Mark runs an amazing, authentic Irish pub. Major plus, the only place I know of in northern California to get Kilkenny!!'

'Walked in, Saturday night about 7pm and there was a table right inside the door. We had a shepherds pie and an Irish stew. The shepherds pie was actually made with lamb! The live music was great entertainment too!'
For a video of some the Chieftain's food menu, Click Here.
The Chieftain hosts live music on Fridays and Saturdays. Click Here for the current schedule! The live Irish traditional music and song session every Sunday evening is always great Craic! Here is a sample Irish Session from 2009: Live Irish Session at the Chieftain.
For the latest happenings, check the Chieftain facebook Page, or call 415-625-0436, or email Mark Nagle at mark@thechieftain.com or check www.thechieftain.com.
---
Wanna help, comment or get published?
We publish articles or comments that relate to our Mission (see below), to our thousands of Celtic concordant readers. If you have one, email us: Tony and Celia Becker, americeltic@gmail.com
---
Click to display the combined
AmeriCeltic Calendar
, covering the Northern California Coast and Bay Area, and the
Celtic Events Calendar
, from Chuck Jamison, covering the Central Valley.
To
submit an event for listing in our Calendars
, email your Celtic event info., including Who, What, Where, Why & Description to us.
Coastal Celtic events –
Email AmeriCeltic
. Central Valley events –
Email Chuck Jamison
.
Click Here to use the online form.
We love videos! Include a link to an online video, and you will likely get featured in this weekly newsletter!
---
AmeriCeltic Mission
AmeriCeltic is an all volunteer, non-profit organization. Our Mission is to restore awareness, celebrate and preserve the culture and history of Americans of Celtic descent in Northern CA by promoting Celtic events & history. Our volunteers cover all the Celtic related events in Northern California, with an accurate and up-to-date description of each. To help fund our efforts, click the 'Donate' button above or on our AmeriCeltic Website www.americeltic.net.