AmeriCeltic Newsletter
AmeriCeltic.net
is a
non-profit public service
,
supported by you, our readers and performers
.
Your donation of any amount is very welcome and will help us prepare and distribute these newsletters, support our Mission, and continue our public outreach, as we did at several Celtic Events last year and will do at several more in March and April of 2020.
Join Us on Facebook!
Connect with Celtic Culture!
Join our Celtic-compatible community on Facebook in a modestly moderated meetup.
AmeriCeltic
Facebook Group

Subscribe to our YouTube Channel!

.
Learn more in our Video Introduction
Friday, 2020-04-03
Updates, Features, & Events
Hello AmeriCeltic Reader,
Features:
• Paul Kotapish describes how Shira Kammen and her California Revels cohort are maintaining their social distance by playing daily at noon in a virtual Plague Orchestra. (See Below)
Events:
Social Distancing Compliant Online Events:
GOOD NEWS! Our personal technology is quite capable of bringing live streaming shows right into our homes, and many of our favorite performers are offering live streaming performances for your at-home enjoyment. Here are a few:
• On Friday, April 3rd, Saturday, April 4th, and Sunday, April 5th, 8:00 AM — 6:00 PM PDT, Galen Fraser and his team will build on their Stay At Home Festival success of last two weekends and offer three days of Stay At Home music from many of your favorite Celtic performers, brought to you Streaming LIVE online directly on your devices. (See Below)
• Daily, including today, Friday April 3rd at 12:30 PM, Noctambule (Marla Fibish & Bruce Victor), will Serenade in Place, Online from Marin, CA. (See Below)
• On Friday, April 3rd, at 1:00 PM Eamonn Flynn will entertain you with a LIVE streaming show broadcast from his residence in San Francisco, CA. (See Below)
• On Friday April 3rd, at 1:00 PM, Irish Songstress Sin Silver, will hold us in thrall as we stay safe at home, streaming Online from from 'Murray's Pub' (her recreation/piano room) in Concord, CA. (See Below)
• On Friday, April 3rd, at 5:30 PM PDT Singing Angel Doris Williams returns with another Online show of her songs accompanying herself on Lute and Harp. (See Below)
• The team at East Coast based Fiddle Online are organizing a series of COVID Concerts, featuring many well known fiddle players Celtic performances, Streaming LIVE online directly on your devices. Here are the links to three coming up this weekend:
• Saturday, April 4th, at 12:30 PM PDT –
Gráinne Brady
– Original and traditional music from Ireland via Glasgow.
• Sunday, April 5th, at 11:30 AM PDT –
Jenna Reid
– Exciting & thoughtful fiddling of Shetland & beyond, from a member of Blazin' Fiddles, and RANT.
More details at https://www.fiddle-online.com/concerts.
• On Saturday, April 4th, at 2:00 PM (Standard Time in NV is the same as Pacific Daylight Time), The Black Donnellys, Dave Rooney and Dave Browne, will stream their high-energy show to you from Las Vegas, NV as you stay safely sequestered in your homes. (See Below)
• On Monday, April 6th, at 4:00 PM, and every Monday, well known Irish box player John Whelan goes LIVE for Mondays with John, Online from his home on Vashon Island, WA. (See Below)
• On Friday, April 10th at 7:00 PM Frank O'Connor's Piano Bar Returns LIVE Online via Zoom from East Petaluma, CA. (See Below)
In Person Events:
NOTICE! Due to public health officials orders for social distancing to limit the spread of the COVID-19 infections, all in person events and festivals have been postponed or cancelled, at least through April. Under these circumstances, if you have plans to attend ANY event, large or small, we recommend that you call and confirm that they are NOT cancelled. Listed below are a few later public events that have not been cancelled, (yet!).
• On Friday May 15th, at 7:00 PM Caliban Trio (Lief Sorbye, Michael Mullen and Mirco Melone of Tempest) will bring their rockin' acoustic songs and tunes to the intimate setting of Cope-a-cabana in San José, CA. (See Below)
• On Friday, May 22nd – Sunday, May 25th, our Welsh-Mexican Irish Trad. fiddler friend, Catherine John is organizing a trip to Tijuana, Mexico for the Irish Music Weekend. (See Below)
• Beginning on July 31st and running through August 8th 2020, it's Lark Camp, the annual Music, Song, & Dance event among the Redwoods near Mendocino, CA. (See Below)
Please support our sustaining Sponsors with your Celtic business!
• Co-Founder Cecilia Fábos-Becker's e-book Ancestry & DNA: Beyond the basics, is available for download now! (See Below)
• Sport your Celtic heritage! AmeriCeltic offers a colorful array of items, each emblazoned with the AmeriCeltic logo. (See Below)
• Publican Carlos answers the many recent rumors about The Duke of Edinburgh Pub & Restaurant with a New Video. (See Below)
• Lark In The Morning is opening a new store location in the Inner Richmond neighborhood of San Francisco. Full service continues at their original shop in Berkeley, CA. (See Below)
• The Plough and Stars, a SF Legacy Business, and THE place for Live Traditional Music in the inner Richmond district of San Francisco. (See Below)
• The Chieftain Irish Pub & Restaurant, local Irish Pub bringing the culture of Ireland to downtown at 5th and Howard in San Francisco. (See Below)
• The Celtic Society of Monterey Bay, has a 32 year record of producing Celtic Concerts in various venues in and around Santa Cruz and Monterey, CA. (See Below)
• The United Irish Cultural Center, hosts many Irish and other events in their large facility in San Francisco, CA. (See Below)
• Catherine Barry's Irish Culture Bay Area, offers a succinct listing of Irish events around Bay Area. (See Below)
Scan our feature articles below, or as always, you can click here to check the full listings on our website.
AmeriCeltic Mobile
Get the AmeriCeltic Calendar on your mobile device
---
Shira Kammen hosts daily "Noony Tunes" sessions
Credit: Paul Bestock
Keeping Sane With Shira Kammen's 'Noony Tunes'
By Paul Kotapish, March 31, 2020
While orchestra, opera, and ballet cancellations are grabbing the headlines, musicians of all stripes are feeling the pain of sheltering in place, not just from the interruption of income, but also from the absence of the fellowship and camaraderie that comes with rehearsing, performing, and simply making music with others for the fun of it. Yes, concert halls are quarantined, but so are pub sessions, community choirs, and even back porch jams. And while some musicians are filling the gap with elaborate online performances, one Bay Area musician is spearheading a simpler, grassroots approach.
Shira Kammen with just two
of the many instruments she plays
Multi-instrumentalist Shira Kammen is well known to Bay Area music enthusiasts for her work with medieval and Renaissance groups such as Ensemble Alcatraz, Project Ars Nova, Medieval Strings, Hesperion XX, the Boston Camerata, and many others.
She also plays Balkan and other traditional music with the eclectic Janam, English country-dance and contradance music with Roguery and The Whoots, codirects WAVE women's choir, directs the mixed-voice Gallimaufry, and plays medieval harp in hospital and care settings in conjunction with Healing Muses. As if that weren't enough, she is music director for the annual California Revels.
Like most professional musicians, when her upcoming gigs in California, Hawaii, Washington State, and Nashville suddenly evaporated, she suddenly found herself with a lot of time on her hands. It wasn't long, though, before the notion of 'Noony Tunes' emerged. Kammen says, 'It was March 17, the first full day of our shelter-in-place, and I just thought 'Oh, it is St Patrick's Day, I should play an Irish tune,' and thought [the Irish jig] 'Banish Misfortune' would be good, so casually put sheet music for it on Facebook.'
She added to her post, 'In honor of St. P's Day, I will play 'Banish Misfortune' on the fiddle at noon Pacific Standard Time. Anyone who wants to join me please do, and let me know what instrument you are playing on. Love to you all.' Scads of players joined in from the privacy of their own shelters and a daily ritual was established.
---
Stay At Home Festival
Streaming LIVE on your Internet from Facebook and Instagram
Friday, April 3rd, Saturday, April 4th, and Sunday, April 5th
The Stay At Home Festival this weekend will be another online music festival where musicians, in groups or solo, can stream performances directly into viewer's homes
Galen says:
ARE YOU READY TO STAY AT HOME… AGAIN?! For the 2nd edition of #stayathomefestival we have lined up some of the best of the best- you won't want to miss it!

Once again these musicians have all lost months of work due to COVID-19 and we are putting on this event to encourage the public to take the necessary precautions to prevent the further pandemic spread of the virus AND to help support these musicians during this hard time. Tune in this weekend and donate at stayathomefestival.com. ALL donations go to the incredible musicians!
Use the box to pick the performances you want to watch. All shows will be live streamed from the indicated individual Facebook LIVE accounts (P1ain Links) and/or Instagram accounts (@ Links) of each artist, or watch the full festival combined into one stream on the Stay At Home Festival website.
What is #stayathomefestival?
During all this chaos we bring you live broadcast music from your favorite international musicians straight to the comfort of your living room. Performances will be live streamed from the individual Instagram accounts of the artists as well as on this website. Follow us on Instagram @StayAtHomeFestival for updated artist roster and performance schedule!
Who is running this organization?
We are Galen Fraser, Diego San Miguel and María San Miguel, currently residing in a state of quarantine in Valladolid, Spain.
Follow them on Instagram @StayAtHomeFestival for updated artist roster and performance schedules!
For more information, email the organizers at stayathomefestival@gmail.com or check their website at
https://stayathomefestival.com, or follow their Instagram account at @StayAtHomeFestival.
---
Noctambule
Serenade in Place
Marla Fibish & Bruce Victor
Daily at 12:30 PM | Now through Wednesday, April 8th
Hi all! We are going to do a short daily serenade over FB Live starting this Wednesday, March 25 at 12:30PM Pacific Time. We hope to provide a quick outing while we are all still stuck inside. Join us and say hello! Tune in on the Noctambule Facebook page. See you then!
Marla & Bruce
Noctambule is Marla Fibish and Bruce Victor. They play a variety of musical forms – traditional Irish tunes and songs, their own compositions written in traditional forms, and compelling settings of a broad range of poetry. This unique collaboration brings out surprising qualities in these seasoned musicians. Their work is rendered with lush beauty, sensitivity and humour on an unusual array of strings – different guitars in varied tunings, mandola, mandolin, cittern, tenor guitar – and their blended voices. A Noctambule experience is like no other – a wake-up call for body and soul.
Noctambule video samples http://bit.ly/2ndIy0x
More details on the Facebook Event https://www.facebook.com/events/544388173158508
More music and info:
www.noctambulemusic.com
| noctambulemusic@gmail.com or call 510-205-1617
https://www.facebook.com/noctambulemusic.
---
Eamonn Flynn
Live and Slightly Dangerous
Friday, April 3rd, 1:00 – 2:00 PM PDT
Facebook LIVE, from San Francisco, CA
Join Eamonn for a pianoman show at https://www.facebook.com/eamonn.flynn.
Eamonn says:
Last Friday, I did one of these where people in the U.S. were able to join but for this one I wanted to have it at a time when people in Ireland and the rest of Europe could make it. I'll be playing my own songs, some favourite Irish songs and whatever people want to hear (send me your requests)!
Check out the Black Coddle video: Click Here to view the music video 'Black Coddle'
Eamonn's new album, Black Coddle, has a unique blend of Irish and American music and featuring Eamonn's original songs, vocals and piano front and central. The album features contributions from some amazing Irish and American musicians, including Michael, Shay and Róisín O from the Black Family, Chris Cain, Jeff Tamelier, Todd Denman, Darryl Anders, Kevin Hayes, Tamar Gillette, Sanara Pippins, Jamie Brewer, Conor Brady, Joel Jaffe, Mike Rinta, Shelly Bukspan, Jorden Bukspan, Andrew MacNamara, Cormac Gannon, Blyss Gould and Ruth Davies.
Dublin, Ireland born keyboardist, singer and songwriter Eamonn Flynn was the session Hammond organist and pianist on the 14 million selling movie soundtrack 'The Commitments'.
More on the Facebook Event: https://www.facebook.com/events/217384119472960
---
Sin Silver
Friday, April 3rd, 1:00 – 2:00 PM PDT
Facebook LIVE, from Concord, CA
Sin Silver is an Irish singer songwriter based in the Bay Area in California
'Sin Silver came to San Francisco from County Clare in Ireland six years ago with a dream, an enormous talent, and what many would call a fire in the belly to be heard. Since then, she has made a large swath of fans in the Bay Area, where she finds herself these days, one song at a time, one fan at a time.' – (Oakland Tribune)
Sin will be Live-streaming from 'Murray's Pub' (her recreation/piano room) every Friday at 1:00 PM PST. 9:00 PM Irish Time. This week's theme is The 70s. Find her by following her on Sin's Facebook Profile, or go to www.livestream.com/watch and search for Sin Silver.
During the live stream, just drop your requests in the comments.
Virtual Tip Jar:
PayPal https://www.paypal.me/sinsilversin
Venmo @Sin-Silver
With a unique style, her 'Irish piano' and angelic voice are delighting audiences. A featured artist at Northern California's Graton Casino Resort, she brings a unique flavor to her craft. Whether she is playing her expertly crafted originals, covers with her own twist or celtic music, Sin Silver is someone that deserves to be heard live.
A true singer-songwriter at heart, she weaves a silver tapestry drawing from diverse influences such as David Bowie, Elton John, Sinead O'Connor, Jack White and Joni Mitchell.
Check out her website here:  www.sinsilverandtheavenue.com or email her at sinsilverandtheavenue@gmail.com.
---
Doris Williams
Friday, April 3rd, 5:30 PM PDT
Online via Facebook LIVE on Doris' Facebook Page, from Ortonville, MI
Angelic soprano Doris Williams has will entertain you in your own home with another online streaming show! This will be good time, relaxing, Celtic, romantic program with new originals, Celtic and Renaissance tunes, and coaching about livint in the moment with your Singing Angel Doris on her harp and lute.
Check out the Facebook Event for full view details.
To see Doris' Videos, Click Here
"I want to share with you my unique stories of how I came to do the music I love and how it as helped me through all my adversity and struggles! I want to share my stories and open up hearts and maybe emotions that you didn't know were there that need releasing or need attention! If you think I have value and like my music in my stories and share this post to friends who might come want to come and hear the only singing angel around in a pub that is!
Love,
DORIS"
Support Doris by leaving a tip at https://www.paypal.me/dorisangel444 or buy one of her three CDbaby Albums! Doris has three albums available for download on CDbaby, collections of Renaissance, Celtic and Original songs: Renaissance and Beyond, Celtic and Beyond, and The Singing Bird

For more information, Email Doris Williams dorisinging@gmail.com or check out Doris' Facebook Page.
---
The Black Donnellys LIVE
Dave Rooney and Dave Browne
Saturday, April 4th, 2:00 PM
Facebook LIVE, from Las Vegas, NV
On Saturday, April 4th, at 2:00 PM (Standard Time in NV is the same as Pacific Daylight Time), The Black Donnellys, Dave Rooney and Dave Browne, will stream their high-energy show to you from Las Vegas, NV as you stay safely sequestered in your homes.
Last year, the two Daves from Dublin had the crazy idea to attempt a new World Record: 60 shows. 50 states. 40 days. What could go wrong? Find out what happened along the road as their beloved Irish band, The Black Donnellys set out to break this ambitious world record when Vision Films and Frequency Pictures present An Irish Story: This Is My Home.
The film was released last month, on March 17th, Saint Patrick's Day and is available on Amazon Prime, iTunes, and Vimeo. Here is a link to the trailer.

Watch the streaming show via Facebook LIVE on their Facebook Page
For more, check Dave Browne's Facebook Profile.
---
John Whelan
Mondays with John
Every Monday, 4:00 PM
Facebook LIVE from Vashon, WA
John says:
I go live weekly on Mondays at 4:00 PM Pacific for Mondays with John. I started this about 2014 just to see how it worked and kill time. People seem to like it so I just kept going and now I have thousands of regular participants. I enjoy the connection with people around the world and friends that live far away. The opportunity to share what the good Lord bestowed upon me was also a factor and I'm glad I did it and will continue as long as I am able and of course as long as people continue to join me and chime in.
Like all Celtic musicians, John recently lost all his March and April gigs and associated income, so please consider leaving a tip at Paypal.me.com/buttonboxman
John Whelan grew up near London in Dunstable, England, he was raised on the fiddle and pipe music of Ireland. Dunstable has a large Irish community, and his father, Denis, was from Ireland's County Wexford. 'Ours was a very traditional household,' John says. 'My father didn't have any major vices – his only addiction was to Irish music.' Denis Whelan carried a reel-to-reel tape recorder to many shows, collecting hours of live music. Songs of home elicited sentimental tears, even when the words were not in English. 'It was not the words but the emotion of the music that moved me'.
John moved to the United States in 1980 where his artistry blossomed. He was soon performing with Riverdance fiddler Eileen Ivers in one of the most celebrated Irish duos of the decade, and he has since recorded many albums and composed much new music, but more on that later.
'What is the difference between an accordion and an onion?' asked Irish button accordion player John Whelan. 'People don't cry when you chop up an accordion.' Though no one cries over a chopped up accordion, not even the sweetest Vidalia onion could be as tasty as the John Whelan Band. – Robert Mihalek, Editor & Contributor, Cincinnati Enquirer
Check out John's website http:// www.johnwhelanmusic.com, Facebook Profile, https://www.facebook.com/john.whelan.142 or email John at whelanbx1@me.com.
---
Frank O'Connor's Piano Bar Returns!
Friday, April 10th at 7:00 PM
Lefty O'Doul's in East Petaluma via Zoom
Ask anyone who has visited Lefty O'Douls in San Francisco, and they will tell you that Frank O'Connor is the best singalong piano man in the business! This Friday night, Frank will host a virtual piano bar for you on the Zoom platform. To get the details, send him a Facebook friend request at https://www.facebook.com/frankoc2, fill up your glasses and sing along.
Frank says,
We had 280 people show up in the 'Zoom room' on Friday, March 27th, and it went really well, so we are doing another one on Friday April 10th.

You post your requests and off we go.
To access our Zoom room and Join
Click this link: https://zoom.us/j/7077733836
If you already have Zoom installed, simply enter meeting ID #.
Meeting ID: 707 773 3836
More details on my Facebook page here: https://www.facebook.com/frankoc2.
Send Frank a Facebook friend request, fill up your glasses and sing along.
Contact Frank by email at francispoc1@gmail.com or on his website frankoconnormusician.com.
---
More Caliban Trio
---
Sonoma, CA, Friday, May 29th, 8:00 PM
Reel & Brand 401 Grove St. (707) 938-7204
---
Menlo Park, Sunday, May 31st, 4:00 PM
Dala's Nest House Concert 371 O'Connor St. All Ages (650) 321-3170
Caliban Trio
Friday, May 15th – Two Events
---
Everywhere 4:00 PM, The Friday Folk-Off
Streaming at
KKUP.ORG
or Broadcast on KKUP 91.5 FM
---
First South Bay Live Appearance!
Presented by Cope-a-cabana and AmeriCeltic
San Jose, CA 7:00 PM Cope-a-cabana House Concert
Lief Sorbye, Michael Mullen and Mirco Melone of Tempest have formed the new Caliban Trio, and this will be their first performance in the South Bay!
Join us for a delightful, eclectic blend of music on Fiddle, MandoGuitar and Bass, filling a set with spirited dance-tunes and spellbinding ballads. Their repertoire consists of Celtic and British material, as well as traditional and original songs from Sorbye's native Norway. Featuring tight vocal harmonies and great instrumental skills, their show has a lively feel and a contagious sense of humor.
Videos:
As I Roved Out: https://youtu.be/sB2ZoF3sy9M
Donnybrook Faire / Old Hag / Cliffs of Moher: https://youtu.be/L9mzB1uI4dA
"…bursting with life and energy, hard hitting rhythms and intelligent instrumental work." – Oakland Tribune
More on Caliban at http://www.tempestmusic.com/html/caliban.html
---
Irish Music Weekend in Tijuana
May 22nd – 25th, 2020
El Pub de la Chapu, Sonora 530, Chapultepec, 22020 Tijuana, B.C., Mexico
Check your passport expiration dates – we're going to Tijuana!
Join our contingent of Bay Area people planning to travel together for a wonderful weekend of rince ceol agus craic in the vibrant border metropolis of Tijuana, sponsored by The San Francisco Irish Mexican Association and The Center for World Music.
The Mexican-owned Irish Pub, El Pub de la Chapu, https://www.facebook.com/pubdelachaputijuana, will be the center of activities, and in addition there will be a special Irish music demonstration as part of the Fandango Fronterizo at Friendship Park at the border wall.
An AirBnB has been reserved for out-of-towners, in an upscale neighborhood near the Pub. Cost is approx. $50 USD per person per night, and we will arrange carpools from the Bay Area to the Event.
Reserve your place now! Email sfirishmex@gmail.com or PM to Catherine John.
---
Lark Camp
Music, Song, & Dance Camp July 31st – August 8th, 2020
World Music, Song, and Dance Camp
Mendocino Woodlands State Park
Lark Camp Features
Music, Song & Dance Workshops • Family Friendly • Dances, Parties & Sessions • Great Food • Camping • Mendocino Woodlands Redwoods • Full Camp for 8 Days or Half Camp for 4 Days
Three camps – three themes: Camp One – Music of Ireland, British Isles, Greece, Eastern Europe, and Sweden; Camp Two — Latin American, North American, Spanish, French, and Swing Styles; Camp Three — Middle Eastern, Greek, Asian, and African music!
Spend idyllic days and nights in the magical redwood forest filled with music, dance, and good times — that's the Lark Camp experience.
Click Here for the Video by Doug Plummer.
Take as many or as few of the workshops as you like; jam sessions 24 hours a day, big dances every evening. Plenty of good food, new friends, and musical stimulation for adults and families. Workshops for professional and beginner, alike.
Check out the Mendocino Woodlands website: Click Here
Visit http://larkcamp.org, Questions, email: registration@larkcamp.org or call (707) 397-5275 (LARK)
---
A printable e-book
by Cecilia Fábos-Becker
Ancestry & DNA
Family History Research: Beyond the Basics
There are many good basic manuals, both in print and online, that can help you get started researching your ancestors and finding lost cousins, but in over fifty years of research into our own Scots-Irish, Irish, Scottish and Welsh ancestry, I've learned what works well and what doesn't, as well as many useful sources and links.
Now, I have written a book, Ancestry & DNA – Beyond the Basics, to help you, and all Americans find their origins. My book will be especially useful to especially Celtic Americans doing family history research, and it is available for immediate download!
My Book includes:

• Introduction to Family History Documents
• What are REAL Primary Sources?
• America's Dark Age (1783 to 1850)
• Finding Family Records with online services
• Introduction to Family History DNA
• Using DNA Tests to help Find Family History
• How autosomal, MtDNA, or Y-DNA tests can help
• DNA Testing Company Reviews
• Loads of Examples

Download Ancestry & DNA – Beyond the Basics here:
---
→ AmeriCeltic Logo Gifts! ←
Shirt, Hat, Mug, Apron or Patch
5 FULLY EMBROIDERED – MADE IN USA
Celebrate your rich AmeriCeltic history and heritage in style and class and support AmeriCeltic by sporting a shirt, hat, mug, apron or patch, all except the mug, embroidered in full color with the AmeriCeltic logo! And don't forget to give one to yourself!
Click Here for the full line-up of AmeriCeltic Logo items.
The AmeriCeltic logo, styled like a coat of arms, commemorates your MIXED, Scots, Irish, Welsh Celtic American heritage! Wales, Scotland, Ireland and the thirteen colonies of mostly Scots, Scots-Irish, Irish and Welsh who joined with many others from many other countries, and together fought tyranny to assert our Independence from the United Kingdom of Great Britain.
Click for more information about the AmeriCeltic Logo design
---
Breaking News at The Duke
The Duke of Edinburgh Pub & Restaurant
10801 N. Wolfe Road, Cupertino, CA, 11:30am – 2:00am every day of the year
CLOSED UNTIL FURTHER NOTICE
Publican Carlos and his partners have an update! Many of you have heard the rumors about the at The Duke of Edinburgh Pub & Restaurant.
The Duke is, and will remain, THE only Authentic, (and we do mean AUTHENTIC!), British Pub in the Bay Area, located across the street from Apple Headquarters on Wolfe Road in Cupertino.
The atmosphere at the 'The Duke', is the same as you would find in any pub in the British Isles, full of friendly patrons who come in to socialize, play darts, have a pint or two, and eat a meal. If you are looking for a comfortable elegance, pints of beer and authentic food, in an authentic English Pub, there is no a better choice in the Bay Area. The Duke offers a large number of beers on draft and by the bottle. Almost anything English, Scottish or Irish is available. Murphy's Irish Stout brewed in Cork, Ireland and Scotch Eggs is always a good choice.
The servers are excellent and very knowledgeable about the beer and food menu. The menu is expansive and worth exploring. The dark pubsy feel with old regulars in their respective, but not crowded corners around lunch hour in Cupertino, is a great boon.
You can't find more 'authentic' atmosphere, because the entire building was built in jolly old England, then disassembled, shipped and reassembled on site in Cupertino. With the red velvet seating and wall paper and ornate, dim lighting, you are transported to London as soon as you enter the etched glass door.
More info. on The Duke Facebook Page, website www.theduke.com or call 408-446-3853.
---
Lark In The Morning Stores in Berkeley and San Francisco
Tuesday – Saturday, noon – 6 PM
Sundays, noon – 5:00 PM
Lark In The Morning, 830 Gilman St, Berkeley
and soon in the Inner Richmond of San Francisco
CLOSED UNTIL FURTHER NOTICE
Eric says:
"We're soft-opening a new location at 814 Clement Street in San Francisco, (currently Exploring Music). So far, this new store only has a sampling of the instruments available in our Berkeley location, but we're slowly adding more as we reconfigure the space."
Thorn Land and Eric Azumi
Lark in the Morning Store, Berkeley
Lark in the Morning has been a folk musician's favorite since 1974 and has musical instruments and instructional material from all over the world.
Shop online at https://larkinthemorning.com, call us at 707-964-5569, or check out our Facebook Page www.facebook.com/LarkInAM.
---
Plough and Stars Honored
Added to SF Legacy Business Registry
The Plough and Stars Irish Pub, 116 Clement Street at 2nd Avenue, San Francisco
CLOSED UNTIL FURTHER NOTICE
The Plough & Stars is thrilled to announce we've been honored with 'Legacy' status as an historic asset to the city by the San Francisco Office of Small Business … Join us for great music & the best Guinness pint in town.
What a diverse and vibrant mix of businesses added to the Legacy Business Registry yesterday! Join us in congratulating Babylon Burning, the Lab SF, The Mindful Body, The Plough and Stars and Slim's! Thank you for your commitment and service to our communities.

The Plough and Stars (116 Clement St): An Irish pub and known gathering place for the Irish community for over 40 years. The bar showcases musicians across genres and maintains a tradition for over 35 years of hosting seisiúns, informal Irish jam sessions. Stop by for a perfectly-poured Guinness and see why?? they've been voted Best Irish Bar by SF Weekly.
I would like to thank all the Musicians who have played in the Plough. Without their contributions this would not have happened — Sean Heaney
The Plough and Stars Irish Pub, is known around the world for hosting incredible Irish music and pulling beautiful pints of Guinness since 1975. Since then, it has evolved to host live music every night of the week, except Monday, including all genres of music; Bluegrass, Country, Rock, Zydeco, acoustic Americana, and of course, Irish Traditional.
The first Saturday is always Americana Jukebox and every third Friday is Bluegrass Bonanza! We welcome you to stop in for a drink and try our famous, award winning pints of Guinness, or indulge in any of our other specials. We host Happy Hour all day every Monday with free pool, and the first Monday of the month has a Pub Quiz at 8:30 PM. Check out our website for a full calendar of events!
For a video of a Plough session from 2014, Click Here.
For more about the Plough, check www.theploughandstars.com, call 415-751-1122, or email Sean Heaney at sfplough@aol.com.
---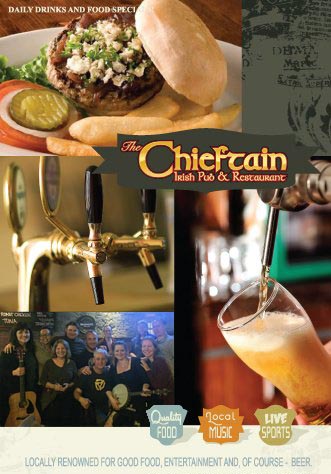 The Chieftain Irish Pub & Restaurant
198 5th St, San Francisco
OPEN FOR CARRYOUT ONLY
The Chieftain Irish Pub & Restaurant, is a bustling SoMa spot with Irish pub grub & beers on tap plus sports on the satellite TV.
This local Irish Pub brings the culture of Ireland to San Francisco, offering a full bar, Happy Hour specials, and a full Irish restaurant menu, including favorites like fish and chips which goes with any style of sport, music or fun.
'I am in the city every 2-3 months and The Chieftain is an absolutely integral part of every trip. Mark runs an amazing, authentic Irish pub. Major plus, the only place I know of in northern California to get Kilkenny!!'

'Walked in, Saturday night about 7pm and there was a table right inside the door. We had a shepherds pie and an Irish stew. The shepherds pie was actually made with lamb! The live music was great entertainment too!'
For a video of some the Chieftain's food menu, Click Here.
The Chieftain hosts live music on Fridays and Saturdays. Click Here for the current schedule! The live Irish traditional music and song session every Sunday evening is always great Craic! Here is a sample Irish Session from 2009: Live Irish Session at the Chieftain.
For the latest happenings, check the Chieftain facebook Page, or call 415-625-0436, or email Mark Nagle at mark@thechieftain.com or check www.thechieftain.com.
---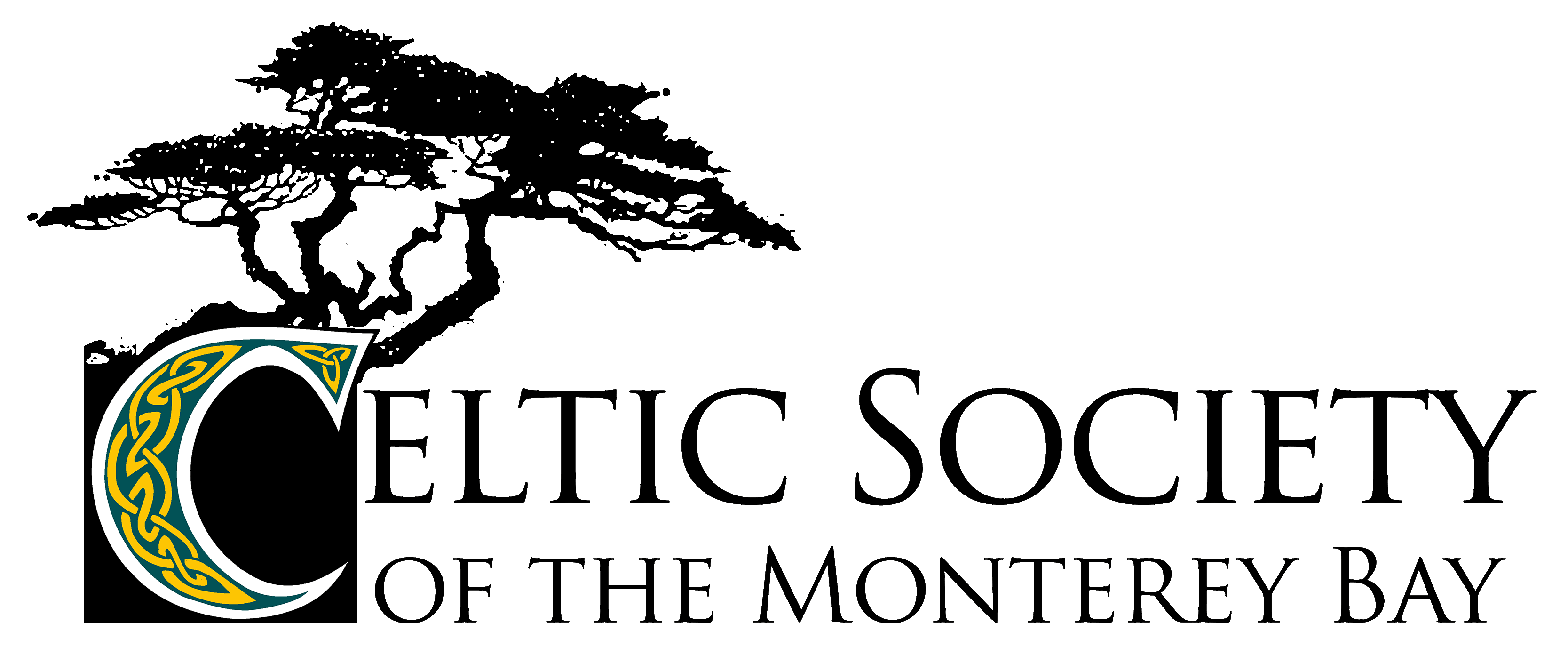 Celtic Society of the Monterey Bay
The venerable Celtic Society of the Monterey Bay has a 32 year record of bringing world class Celtic musicians to the Monterey Bay Area and is a key sponsor of AmeriCeltic.
ALL APRIL EVENTS CANCELLED
Click here for full details of All Celtic Society of Monterey Bay Concerts on the CSoMB website! (Click on 'Video' button for videos.)
---
United Irish Cultural Center
2700 45th Avenue, San Francisco, CA
The UICC operates a large event facility near the Zoo in San Francisco, serving the Irish and other Cultural communities. Here is a list of upcoming events there, linked to their UICC website.
Click here for details of these events and more on the United Irish Cultural Center website!
Rent a Room at the UICC! Call Angela on the NEW Event Hotline 415-741-8803
---
Irish Culture Bay Area
Catherine Barry maintains a separate Irish Culture Bay Area website, with a calendar focused on Bay Area Irish events, supported by the Consulate of Ireland in San Francisco.
Click here for details of these events and more on the Irish Culture Bay Area website!
---
Wanna help, comment or get published?
We publish articles or comments that relate to our Mission (see below), to our thousands of Celtic concordant readers. If you have one, email us: Tony and Celia Becker, americeltic@gmail.com
---
Click to display the combined
AmeriCeltic Calendar
, covering the Northern California Coast and Bay Area, and the
Celtic Events Calendar
, from Chuck Jamison, covering the Central Valley.
To
submit an event for listing in our Calendars
, email your Celtic event info., including Who, What, Where, Why & Description to us.
Coastal Celtic events –
Email AmeriCeltic
. Central Valley events –
Email Chuck Jamison
.
Click Here to use the online form.
We love videos! Include a link to an online video, and you will likely get featured in this weekly newsletter!
---
AmeriCeltic Mission
AmeriCeltic is a user supported, non-profit service organization. Our Mission is to restore awareness, celebrate and preserve the culture and history of Celtic Americans by promoting live Celtic music, festivals, history & ancestry as well as report and comment on related current events. To help fund our efforts, click here or click on the Donate Button on our AmeriCeltic Website www.americeltic.net.