---
COVID-19 and Pub Sessions
With The Pandemic be the End of Pub Sessions?
By Alex Wilding – 2020-05-15 – Reprinted with permission
Alex Wilding
Celtic music sessions have been following a largely upward trajectory for the seven, eight or even nine decades that they have been going. As we all know, like the rest of the Irish music scene, they got a boost 25 years ago from that dance show that I don't need to name, but it does not seem to have been a problem that said show has passed into history.
Like every other social event, sessions have of course been knocked right back. The upward trajectory sessions have had for nearly 70 years has been knocked sideways. Recovery is probable, but uncertain, and there cannot help but be change. Changes for the better? Or the worse? I don't know, but it could be the way things develop. For better or worse, some kind of change will come. It could be for the better, but we would have to rise to the occasion for that to happen.
As we come out of isolation (which might be a slow, staged process) it is inevitable that the session scene will have changed. Quite possibly it will shrink, though I don't know that that is a given. But change of some sort is almost certain, not least because players will almost certainly be having to sit with a much larger physical spacing. The need, which might well last for many many months, for physical spacing might perhaps bring a resurgence of the largely solo playing that was the way of things before sessions got started. This is my actual thought.
Our former sessions may grow into a 'playaround' format, a largely instrumental version of the 'singaround' or 'round robin'. Some may be horrified, others may be delighted at this prospect, but players would have to be prepared to perform, possibly entertain but certainly not just grind on and on because they know the tune. I can well see it happening.
It would create new opportunities for both artistry and musical disaster. Casual accompaniment from somebody who is not physically or socially close to the melody player would become difficult to impossible. Having what you believe to be a repertoire of one or two thousand tunes that you reckon you can join in on would become less relevant. It would be more difficult for beginners to ease their way in, and would quite possibly call for sessions to have more of a 'leader' to make sure that everyone gets their turn.
This can already be seen online, with solo performances (or performances by cohabiting duos etc) from players great and not so great. For great performances, see (for example) https://www.facebook.com/stephgeremiamusic/videos/240568777047739 and other stuff from Culture Ireland (https://www.facebook.com/CultureIreland) – you may need Facebook to see these, I'm not sure.
(This article first appeared in discussions on https://thesession.org, where Alex Wilding is a frequent contributor, and is reprinted here with his permission. Check out his blog here: http://chagchen.org or email Alex here yeshedorje@chagchen.org.- ed.)
---
Carl Hylin — Our Man in Dublin
Cian and Morty at O'Donoghue's 20190115
O'Donoghue's Pub, located at 15 Merrion Row, Dublin 2, Ireland
Historically significant drinking and traditional Irish music establishment, O'Donoghue's Pub, located at 15 Merrion Row, Dublin 2, Ireland, near St. Stephen's Green on Dublin's south side.
'This Video, https://youtu.be/F0jU5G7zKgA, taken on Tuesday, January 15th, features Cian (flute, whistles) and Morty (guitar, vocals) holding court in O'Donoghue's. They were later joined by some of their mates, all fabulous musicians. O'Donoghue's has photos and sketches of The Dubliners all over the walls, and apparently hosts trad sessions every night. It's just four blocks from my hotel, so I'll be coming back.' — Edward Carl Hylin
And we hope our Man in Dublin, Carl Hylin will bring us more first hand reports on the Dublin music scene and his other adventures in Dublin.
---
Dublin, Ireland Sessions
Cobblestone Pub
by Tony Becker 2016-05-10
The Cobblestone, is described by publican Tom Mulligan as 'a drinking pub with a music problem', is a highly recommended traditional Irish music bar and venue. Literally everyone we asked, "Where is the Craic", from Ray Yeates, the City of Dublin's Arts officer, to our taxi drivers, recommended the Cobblestone.
We stopped in late on an April Saturday afternoon, and listened to the last half-hour of the Old-time session as well as the first part of the first Trad Session of the evening. Fiddler Dermy Diamond of Belfast lead both, and the place was absolutely packed, with punters literally shoulder to shoulder. Luckily, Tony was able to secure a couple of pints at the bar, so we were not left high and dry.
Click Here for a video sample of the session!
The Mulligan family have been playing Irish music for five generations, no one can remember back any further. Tom's laid back and friendly pub is built on family tradition as well as respect for the full range of music and culture.
Besides the Irish Traditional music and song, The Cobblestone also features Irish Sean-nós singing and dancing, set dancing, céilidh, American Old-time sessions, history talks and more.
The Cobblestone is just fifteen minutes walk from the city center in Smithfield, one of Dublin's oldest neighborhoods, at 77 King St N, Smithfield, Dublin 7, Ireland. Full details on their website http://cobblestonepub.ie
Doheny & Nesbitt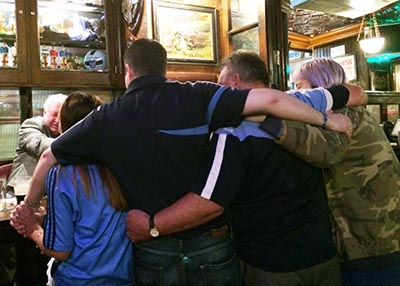 Located at 5 Baggot Street Lower, Dublin 2, Ireland, the Doheny & Nesbitt Public House is otherwise known in literary and debating circles as the 'The Doheny & Nesbitt School of Economics'. 'Nesbitts' is surrounded by renowned landmarks; The Dail (House of Parliament), Grafton Street, Trinity College, Stephen's Green and Lansdowne Road. Full details are on The Doheny & Nesbitt website www.dohenyandnesbitts.ie
We visited this vernerable Pub on a Tuesday in late April at the invitation of Patrick Good, a long time friend of Michael Black, who lead a 4 hour long session that was about 3/4 Songs and 1/4 Tunes with a half-dozen musicians participating. They were all very engaged with the general clientele, and Patrick spoke directly with them throughout the evening, sprinkling in stories, jokes and taking their requests.
In the photo at left, the musicians (They all demurred from being included in the photo) are just out to the shot to the left, as they sing 'Happy Birthday' for one of the regulars. Included among them were three former members of the famous Irish band 'The Dubliners', whom Tony and I had the pleasure of hearing perform both Songs and Tunes as well as meeting them. Some of the mandolin work was amazing!
To cap the evening, Tony sang 'The Old Dun Cow', which none of them had ever heard before, but still, the entire Pub was soon singing the chorus, 'There was Brown, upside down, lapping up the whiskey on the floor', and shouting 'McIntyre'! at the top of their lungs!
Throughout the Dublin session scene, we found that every session is unique in how the music is organized, and simply a reflection of the management and clientel's preferences. Despite what you may have heard, been told, or found in some book, there are no set 'Rules of Session Etiquette' that we found in any of them.
---
Sessions in Galway, Ireland
A first-hand report by Robert Sullivan 2018-01-11, updated 2019-01-21
Editors Note: I first met the author while playing sessions here in California. When I learned that he emigrated to Ireland, and was active in the sessions there in County Galway, I asked him to write this article. – Tony Becker
Traditional Irish musicians in Galway are very fortunate to have many pubs hosting sessions, two to three times a day, seven days a week. These are frequented by the best musicians from Galway and all over Ireland and the world. Most pubs that host trad music are within a fifteen minute walk from city centre, and all sessions are 'open' sessions, though they are not described as either open or closed. All sessions in Galway are 'open' to anyone who already knows how to play the music.
Local musicians know when and where the sessions are, and are always welcome and supportive to anyone else who wants to join in. Visitors who know traditional Irish music and play at the level of the session are always welcomed. A set of tunes from another country, another culture, are always encouraged.
Most of the sessions I personally attend are mainly for traditional tunes, with only an occasional song. There are singing sessions for those who prefer to hear mainly songs, and anyone may participate in them by singing and playing. There are also swing, jive, jazz, contemporary rock and country music, not open to visiting musicians, but usually with dancing. There are also monthly Ceili dances at the Claddagh Hall with Set Dancing and the best of live Irish Ceili bands.
Sessions are controlled by a session leader that has been hired by the pub. That person almost always has a second, or partner that they play with regularly, and together, they keep things flowing and interesting, which keeps the patrons coming back. They know every common, or popular tune which allows every one to play along, while constantly introducing new tunes. Occasionally, they will be the only ones playing. The session leaders are also working. They are hired by the pub and being paid to have high quality music on a daily basis to attract patrons. They are working to pay their mortgages or rents, so trying to take over a session is not very considerate.
Rules
There is no 'rule book' for sessions in Galway. Trad musicians know how to conduct themselves without one. Etiquette means respect. Respect for the session leaders, the pub, the players sitting next to you, the people who come to listen, and especially the music. The leaders here are so supportive and accommodating to every one, they deserve respect.
We joke amongst ourselves here in Galway about how Trip-Advisor has sold our town as the go-to place to check playing in a trad session off your bucket list.
Just bring your guitar with limited ability and 'jam' during the trad tunes. Have family get photos. Maybe sing some Americana. The locals love it. It's great craic!
I just returned from our regular Tuesday half five session at Taaffe's, led by George Grasso, originally from Santa Cruz, on banjo, and his session partner Simon on Guitar and vocals. Also there were some Tuesday regulars, Brendan on Guitar and banjo, Javier on Banjo, Ben on pipes, another Brendan on whistle, and I was playing bouzouki. We look forward to Tuesdays because every week George will have each of us start a set. It allows everyone to add in a few favourites, and keeps us on our toes to have an interesting set ready.
The first set, three jigs, was a great start, and so George went into some reels. Suddenly, a visitor started playing guitar quite loud, fumbled for chords and started to derail the music. No one gave out to him, but I could see that no one was pleased either. Everyone had a cringed look, trying to get through the set. His guitar playing became progressively more complicated, bad dad gad, and continued for two hours. Aside from a couple of Carolan tunes that he didn't play on, the session was quite strained, like pulling a ball and chain. Still, no one gave out to the guy.


Sunday, June 24th, 2018 2:30 PM at Til Coíli's in Galway, Ireland
I started playing rhythm guitar over 60 years ago. I liked it so much I just kept doing it. But when I started learning trad, I switched to bouzouki and mandolin, both tuned G D A E. I knew that I had gotten bored playing rhythm guitar in rock, so I would probably get bored playing rhythm on it or bouzouki. Most of the tunes I was learning had only two, three, maybe four chords that fit anyway. Boring. Absolutely no room for creativity as far as I was concerned. No D A D G A D noodling for me. Until I got a four string instrument, then put in the time practicing and learned some trad tunes, I didn't know what I was missing!
Trad music is very basic, stripped down to the core. Any sheet music you see will only have one treble clef line. Check on The Sessions or JC's ABC Tunefinder. There are no harmony lines, no bass lines. One melody line only. Two, three, four or more parts, but only one line of melody. No introductions, no endings. One line of notes. Nice and simple.
A chord progression has three notes at a time. If a melody line only has one note at a time, two notes of the chord are not in that melody. Chords played prominently are a distraction from the melody. Chords played loudly create a muddy bottom that the music gets stuck in. It really does not make the music better.
My favorite trad band, Altan, includes guitar and bouzouki. If anyone insists on playing rhythm guitar, then they should listen to every Altan album, and also The Chieftains, and listen to how they play. Subtly! And always remember, "Practice at Home!"
Practice at Home!
Practice at home, not in public. Noodle at home, not in public. Fish for chords with recordings at home, not in public. Instead of starting sets to show what you got, buy a pint and say hello. Join the craic. The session leaders are good at what they do. You don't need to start sets, that is their job. They have been doing this all their lives. Remember, there are 100,100 Irish children who are better at trad music than you will ever be, so stop, listen and learn.
Resources
Galway has the National University of Ireland, Galway, NUI Galway, and several other major colleges including MIT and GTI, all with music departments. Galway also has a great community trad music school, Dusty Banjos. It's also a major tourist spot on the 'Wild Atlantic Way', and is therefore a high transit area with eclectic musical tastes.
O'Neill's 1001 Dance Tunes Of Ireland, still the Bible, is a lifetime of learning and available from Waltons in Dublin, https://www.waltons.ie or Amazon. Comhaltas 'Foinn Seisiún Book #1 – 4', are 4 Sheet music books with CDs, and available from https://comhaltas.ie in Dublin. Dusty Banjos 400+ Trad Tunes played in The West of Ireland is available at: http://www.irishtunebook.com. Now! Go home and practice!
The best daily sessions in Galway are at:
Tig Coili http://www.galwaycitypubguide.com/tigcoili
Taaffe's, http://www.galwaycitypubguide.com/taaffes.html
The Crane Bar, http://www.thecranebar.com
(also check out https://www.tripadvisor.ie/Attraction_Review-g186609-d607271-Reviews-Crane_Bar-Galway_County_Galway_Western_Ireland.html)
TG4 is the Irish Language TV station broadcasting from the Connamara Coast, Galway, with Music and Dance Programs: http://www.tg4.ie/en/player/irish-music-series/
---
The Traditional Scottish Music Scene
Ranging from festivals such as Celtic Connections, theatres, folk clubs, and more recently house concerts, there are many venues in Scotland where traditional music can be enjoyed. One tried and tested way to experience or participate is to attend a music session.
The dictionary defines a music session as:
"A social gathering of musicians who usually play or sing for pleasure and simply socialize with each other."
Frequently these musicians are unpaid and under no obligation to attend. However sometimes, an experienced musician is paid to lead a session and to encourage others to join in.
So just how popular is the traditional music scene in Scotland? I spoke with a number of people involved in the scene including musicians, organisers, and promoters and the following points emerged.
The participating audience tends to be in the older adult range.
There is a real lack of adequate funding available.
Emphasis has moved more to instrumental music at the expense of song.
Although there is no doubt that younger musicians are participating, the typical audience appears to be of an older age group. Lack of adequate funding was also highlighted. A fact reflected in a recent survey published by "The Traditional Music Forum". However there are institutions such as The Royal Conservatoire of Scotland which are training establishments for the performing arts. (They have a Facebook page).
Many of the musicians I spoke with, some well respected and well known in the Scottish folk scene, felt that the emphasis had moved too much towards instrumental type of music. Indicating that the roots of folk music lay in song and participation of audiences.
In conclusion the Scottish Folk Music Scene appears to be alive and thriving. Many young musicians are carrying the music forward for future generations to enjoy. There are many supporting organisations to be found such as The Traditional Music and Song Association. Social media has become a platform and support tool with many groups and pages dedicated to supporting our tradition. Festivals are many and folk clubs, house concerts, and sessions are well attended.
Links:

http://www.tmsa.org.uk
http://www.celticconnections.com/Pages/default.aspx
https://projects.handsupfortrad.scot/handsupfortrad
http://www.tracscotland.org/tracs/traditional-music/traditional-music-forum
https://www.fraserbruce.co.uk/auld-hat-new-heids
---
USA Sessions: Session Etiquette
As these several authors have just noted, in Ireland (Galway or Dublin), and Scotland there are no written 'rules' for sessions and all sessions are 'open to all who can play'. However, if you attend a session here in the USA there is a chance that you may be surprised by the expanded expectations of the participants. With these few American Celtic sessions, a newcomer attempting to join in might well wonder whether they have accidentally disturbed a private party, even though the gathering is in a public place like a public house (Pub) or restaurant! While such perceived coolness might seem inappropriate, there are reasons for this occasional marked difference between sessions in the Celtic homelands and some sessions here in America.
To help explain why this is so, AmeriCeltic has collected a few comments from primary sources on this subject. AmeriCeltic strives for accuracy in its work, and recognizes the principal of using primary sources in journalism, and so we begin with the comments of American session hosts, without whom there would be no public sessions, and continue with the comments of those who play an instrument or sing at these sessions, without whom they would have no music or song.
---
Mark Nagle
Session Etiquette:
by Mark Nagle, Founding Partner – 2017-01-04
The Chieftain Irish Pub, San Francisco
Speaking from the owner/operator side, once again, there are NO hard and fast 'rules' for sessions.
The protocol is best kept between each particular establishment and the particular group of musicians that come in to play and sing.
It's really all about having a group of people that enjoy performing and who enjoy sharing that enthusiasm with the guests of the hosts. – Mark Nagle
---
Session Etiquette: Song Sessions
by Ed Silberman – 2016-12-27
With Camp Harmony fast approaching my thoughts turn to the song sessions and the good fun we have there. It's a fabulous bargain we make: we want our friends to entertain us with the best singing they can, so we support with the best attention we can give.
Attention is key. But some things interfere with the attention, and one of them is lyric sheets, be they on paper or devices.
I no longer advocate for everyone having everything memorized. It's not fair or realistic. Not all memories all created equal.
But there are ways to use lyric sheets with a minimum of compromise to our attention. I will forego the argument that cell-phones command more of our attention than paper, but I will say that I find that the glow of cell-phones in the darkness of Ruebens' very distracting.
Here are some ideas that may be helpful:
• Have 3 songs in your head as possibilities for your next song.
• Know where they are in your book or device so you can find them with a minimum of fuss.
• When singing from a lyric sheet or device, hold it up so you can look over the top and maintain eye contact with people.
• Try to take in two or three sentences at a time, not individual words, so you can take your eyes away from lyric sheet altogether.
• Communication, and communing, is the key.
• Wait until the current song is over before you enter the room, un velcro your jacket or move chairs around.
• If you see someone waiting patiently in the door, don't point out the empty chair(s) available to them. It creates the very distraction they're trying to avoid.
• Step out of the room for a memory freshener or if you want to check social media.
• Treat yourself to a day dream. No one will know but you.
But most important of all — one way or the other, keep the quality of attention strong. That's the core of a vibrant song session.
---
Session Etiquette: Rhythm Instruments
by Shay Black – 2016-12-30
Shay Black was a founder of the Sunday Irish session at the Starry Plough in Berkeley, CA, and here he writes down some thoughts about rhythm instruments in tune sessions.
I am a guitar player and run an Irish session on a regular basis. It is an open session, which means open to anyone that wants to join in, provided they already know how to play Irish traditional music. There is an unsaid institutional knowledge in session etiquette, and I will attempt to give my take on it.
Irish music sessions are usually characterized by everybody playing lead, all the time. There actually is no traditional harmony, as Irish music does not have a history of rhythmic background structure per se, apart from some classical Carolan or harp tunes. Sean O Riada and Paddy Moloney from the Chieftains were initiators of harmonic settings to tunes, eventually developing into the music of great revivalist groups like The Bothy Band.
As rhythm players, we first need to be cognizant of the fact that very many Irish session players want NO rhythmic accompaniment. They can find it off-putting, intrusive, distracting, off-beat and often just plain wrong. When joining a new session, it is often a good idea to check in with the lead players to see if it is acceptable to join, and do not be miffed if the answer is no. However, if you are welcomed, there are a few common-sense rules to which you should adhere.
First off, know the tune. That last half-sentence is important. There is nothing worse than sitting beside someone who is a 'noodler'. Noodling is trying to keep up (and failing) because others are playing faster, not knowing the tune and guessing at it, or if you are playing a lead instrument, playing 'ad lib harmony'. Musicians love it if the guitar player plays 'lead', in that they are playing tunes like a mandolin or banjo player, i.e., keeping up and actually playing the notes of the tunes. Please, people, do not noodle. If you don't know a tune or can't keep up, don't play. It spoils it for everyone. Do not guess chords.
Secondly, if you join an open session, be aware if there is another rhythm player amongst the players. If this is a regular accepted session member, learn from him or her. It is polite to at least acknowledge them. As a guitarist, you are not like a fiddle or flute player joining in and playing the tune; you are hearing chordal structure behind the music and whatever you are playing, it should be virtually identical to what the usual accompanist is cranking out at that moment. Position yourself in the session so that you can watch their fingers, and maybe even ask if they are playing 'standard' tuning, dropped D or DADGAD. It matters and it will help you follow the chord structure, as played.
In my band (The Black Brothers) we have banjo and fiddle playing lead, and I play guitar backing, but we also have a piano and sometimes cello and we spend a long time working on backing chords that do not clash with each other, or the music.
Although you are usually playing chords, you are also adding 'beat' to the session. Try and develop your chordal rhythm. Do not be the 'dead hand', simply playing a three-chord chunka-chunka so that you are at least playing …erm… something? Note other musicians' body language. Most are too polite to say that you might be spoiling the session for them, but if you see people squirming in their seat as soon as you join in, or they are looking uncomfortable, maybe you should back off in volume, or otherwise be more aware of your contribution. If you are not adding to the session, stop and have a break. Stand close by and listen to the others for awhile.
Note the bodhran players. Are they an integral part of the session, or are they sitting on the periphery just trying to keep up? If it is the former, listen to them. Your rhythm should be in sync with them. If it is the latter and the bodhran player is a learner, then watch the main musician or the person who starts the tune and follow their pace. Often they will tap their foot in rhythm. Follow that, and don't fly off into a fugue of rhythm and speed and chords that drowns or ignores everyone else. Less is more in this case. Listen to the work of Denis Cahill, who plays with Martin Hayes. He is slow and sensitive, yet fulfilling.
In the open session at The Starry Plough, how the music sounds can sometime depends on who walks in the door carrying a guitar. It can be a blessing or a curse. With any session, always check it out before you even take out an instrument. Record the session and listen to it at home. Work out who sits where and who is running the night. Introduce yourself, if it's appropriate. Note the tonal landscape that musicians, who are used to playing together, are trying to create. Newcomers can sometimes, in their enthusiasm, blithely guess at chords. Yes, the basic chords add rhythm to the music but when some musicians are playing different chordal harmonies than those usually played, it can be a clamorous unmusical clash. Listen to see if that is happening, or is it a balanced blend of instruments, with the tune soaring above everything. When it doesn't happen, other lead musicians get impatient. I do, and I will sometimes ask some players to play less stridently.
I try to share chords with other rhythm players. If I think someone is struggling, or makes it clear to me that they are checking what I am doing, I will sometimes strategically place myself in a place where they can see my fingers. Often I will back off on a set of tunes completely, put my instrument down, and give another guitarist full rein to play their own chords without my interference, and build their own musical backing.  For me, it is mind-opening and welcome to hear a innovative chordal backing of a tune with new chords that that I have not heard before. Experienced rhythm players can actually bounce chords off each other once they are familiar with each other's style, by playing on the half-beat, or in other ways filling in gaps. Some sessions, like Jack's (below), prefer to have one designated guitar player and bodhran player. It's good practice to check theses things out in advance.
With bodhrans, just because one is great doesn't mean two is more great. I have heard sessions where there are excellent tune players, but all one can hear is an amorphous white noise because of the multi-bodhrans thumping away. Bodhrans are instruments that, played well, are succinct and rhythmically pleasing. They are best played under the music, giving it crisplift and pace, not drowning it with thuda-thuda noise.
There is an interesting booklet called Field Guide to the Irish Music Session by Barry Foy. (ed. See below) While often written tongue-in-cheek, and even fiddlers and concertina players come in for some slagging from Barry, it's basically good advice. Another knowledgable source on the subject comes from the Plough and Stars website, and this was put together by the illustrious Jack Gilder. (ed. Click Here to read the complete article by Jack Gilder)
He says: "Bodhran, guitar, bouzouki and piano players would benefit greatly by approaching seisiuns (Irish music sessions) very cautiously. These instruments have been given a bad name by insensitive hackers. Many people have the misconception that these instruments are the easiest to play. What they fail to realize is that the effect of these instruments on a seisiun is profound. The rhythm and tonal landscape of the music is what everyone is riding on, and if you're playing an instrument that is the essence of this then you need to be spot on or you'll throw everyone off. You might think you sound great when you're at home playing with your CDs but keep in mind that the CDs can't hear you. The understanding of how to 'back up' Irish traditional music isn't anything that comes overnight. If you're interested in these instruments the best thing to do is find folks that do know how to play them well, then listen and watch. Also, two guitars or bodhrans in a seisiun are too many. If you are an experienced player on these instruments try taking turns rather than playing over each other. Do your part to protect the integrity of instruments that are actually fine contributors to the music.'
In my own session in Berkeley I have sometimes been accused of suffering fools too gladly. My line is that we are all on a continuous learning curve, and people need a place to play. At an open session sometimes impatient musicians can vote with their feet if they don't want to play alongside a noodler, or a thumping bodhran, or insensitive guitarist. People are very sensitive around the issue of talent and musicianship, and with whom they want to put in their time and effort. I try to walk a line of fostering a good session, while encouraging developing musicians. I personally prefer critical tolerance of learners, and I recognize that beginners sometimes can't hear that what they are doing doesn't quite add to the final product. I know this can be very subjective, but I believe the rule of thumb could be new players striving to play softer when in a learning situation, using less pick or plectrum, and as ever, try to learn from more experienced musicians. Over time skills improve and this adds to the session.
Consider also joining slow sessions, or work with other tune learners so that there is familiarity in playing some of the standard tunes. In many sessions across the world, here have been tears and harsh words and walk-outs and flame email wars. But don't be disheartened: we have been playing an open Irish music session in The Starry Plough on a Sunday night for over twenty years and, most times, it's exciting and really great fun. Of course, the occasional song adds to the bright mix.
Once you become really enthused, think about starting your own session with friends, and this becomes a cross-fertilization of talent. We can't have too much Irish music, and diversity in styles, leadership, levels of accomplishment, and types of instruments are very welcome in the genre. Remember to be sensitive about how you are playing, be realistic about your own talent, and be prepared lay down your instrument sometimes during the night to give others a chance to shine.
~ Shay
---
Editorial: Why not Both?
Learn music or song by Ear or by Notation
By Tony Becker 2019-01-18
In an August 16, 2018 article, published online here, https://www.intellectualtakeout.org/article/tragic-decline-music-literacy-and-quality, the author, Jon Henschen, writes:
If you play by ear only, you will never have that same depth of understanding (of) music construct.
I fear that millions of traditional musicians who might benefit, instead will react with abhorrence and read no further.
In opposition, some traditional music session hosts ban the use of sheet music, thereby restricting who is allowed to participate and offending all who have developed these skills. The ban and restrictions are generally not a matter of space and conditions. Certainly a small crowded pub, or a windy open air site where sheet music stands can blow over and sheet music away and both can get in the way of passersby would not be an appropriate place for them. But this is the exception.
Why do you think players continue to divide into such hostile doctrinal camps in this age of growing diversity? Is it because they fear change, and so feel the need to defend their group from the intrusion of those who have other views, or are they simply afraid of the possibility of any competition?
There is plenty of common cause between these two groups, 'written' and 'by ear'. Across the world, traditional music, song and dance represent the traditions and customs of a culture, rather than so-called international music which can be heard all across this planet. With the globalization of all things, every young person should be encouraged to love and engage with their own traditions to keep their cultural heritage alive.
That being said, anyone who has ever played the game of 'telephone' knows how a message can alter from the first person to the last in a chain. If the music is written, it can be altered in performance but not the notes themselves.  Would we know what Johannes Bach, Wolfgang Amadeus Mozart or Ireland's great Turlough O'Carolan had created, or that they ever existed, and how their creations were performed in their time, if they had NOT written them down (or in the case of O'Carolan, had his son not written them down)? Non-written music evolves; it does not stay the same. If you have any doubts about that, go check out a film about this very subject, called 'Songcatcher.'
It seems to us there is value in both approaches.
A few years ago, noted UCLA Ethnomusicologist Derek Kortepeter posted an thoughtful and brief discussion of these issues on his Mixolydianblog, which I recommend we all take a moment to read: https://mixolydianblog.wordpress.com/2012/06/18/learning-music-notation-vs-oral-tradition
Rather than ostracize each other over the means of preserving our distinct cultures, shouldn't we focus on the larger issue of their homogenization into an indistinct globalized one?
In our opinion, and that of many others, one of the values of traditional Celtic culture is the way they integrate their music, song, dance with their socialization in settings like the traditional Public House (Pubs), and Celtic Festivals like traditional Fleadhs.
In fact, there is now excellent science to support the idea that culture, especially music and song, are good for us. Even Henschen concludes his piece with the statement,
…parents should encourage their children to play an instrument because it has been proven to help in brain synapse connections, learning discipline, work ethic, and working within a team.
By playing, he means also learning to read music, not just experimenting with where to put the fingers on an instrument and learning from others solely by ear or watching where others put their fingers and hoping to remember more than a few notes.
Kortepeter sums up as follows:
When you are dealing with tradition, it really becomes a slippery slope to attempt critique, as many decisions of tradition are relative to your perspective. I see advantages to both systems, and to students of music in the west I strongly encourage immersion in both practices, as the mark of a great performer is versatility.
This is America. Let's all support, and take full advantage all our diverse, distinct cultures and techniques, combining all our bests, for the good of all of us.
---
Session Etiquette:
Rick Steves interview with Barry Foy
One regular session participant, Barry Foy has actually written a book on the subject, Field Guide to the Irish Music Session! Barry Foy, is the author of the book Field Guide to the Irish Music Session. Midway through the Mar 14, 2010 edition of his radio show 'Travel with Rick Steves', author and PBS Travel show host Rick Steves interviewed Barry Foy about the book.
A webcast of Rick Steves' interview with Barry Foy is available on his Soundcloud account: Travel with Rick Steves Mar 14, 2010 edition. (Skip forward to 33:00 to hear the interview with Barry Foy).
---
Session Etiquette:
AmeriCeltic Interview with Barry Foy
By Tony Becker – 2016-12-26
Barry Foy's book has often been cited to us (and to many others, sometimes with some heat) as justification for rules, but in different contexts, so that the actual intent of the author has never been clear to us, even after we reviewed the Rick Steve's interview carefully. To discover the true intent of the author, we forwarded the Harmony discussion to Barry Foy, pointed out his point from the interview on his book's target audience, and invited Barry to comment, asking for permission to publish them. Barry responded, granted permission, and offered his comments below for the purpose of clarifying his intent in writing the book.
Note: Emphasis Added
Barry Foy:
Thanks for your interest in my book and my opinions. Here are a few notes on the exchange of views you sent, in no particular order:
My book's definition of 'session' was meant to encompass any non-concert gathering of Irish musicians, whether in a kitchen or at a pub or on a sandy beach, but some readers have taken it to refer strictly to pub sessions and have found fault in that. Perhaps I wasn't precise enough in the way I framed the matter; one way or the other, that wasn't the intent.
My trepidation isn't about negative reactions, which I can certainly handle. It's about inadvertently giving the impression that I fancy myself the supreme expert on sessions, a title and role that are essentially meaningless.
I don't remember saying, in the Rick Steves interview, that the book was intended for the non-participants. What I may have said is that it's ALSO intended for them, which is certainly true. But the primary audience is those who show up carrying an instrument.
AmeriCeltic:
At 36:10 in the Rick Steves interview, you said, 'I had to kind of fire a shot across the bow right at the beginning of the book and say, 'Look, I know I'm going to get looked at askance by people in Ireland, or in hot beds of Irish music, for even bringing up the idea of writing about a session, and writing a book about a session, and I was trying to talk to those people who aren't at the epicenters of Irish music, and give them some idea of what they might see."
Barry Foy:
This is an unscripted comment that could have been more precise. I chiefly meant aspiring session players there, rather than the punters; the sense of 'see' was what sort of protocols and objectives they'd encounter in a session and be expected to conform to.
AmeriCeltic:
Many host restaurants and publicans describe these gatherings as 'Irish jam sessions' and the like. You disapprove?
Barry Foy:
Irish music will be better off once people stop associating the word 'jam' with it in any way (assume that someone who does, knows very little about the music in the first place). That word is freighted with far too many associations with other musics, whose values and protocols are worlds apart from those of Irish trad, to suit this context.
I'm 58 years old; I saw Jimi Hendrix play, and I can sing for you, note for note (God help us), Clapton's solo from Cream's live recording of Crossroads. So believe me, I know what a jam is, and this isn't any such thing. You won't show up at an Irish session and 'jam' to it any sooner than someone who has never picked up a spatula will walk into a kitchen and 'jam' an eggs Benedict (they'd probably try to put jam on it). I definitely prefer to trust the experts when it comes to Sunday brunch-why should I want any less from Irish music?
AmeriCeltic:
So, the target audience of your book is those who carry a musical instrument into a session unaware of what to expect?
Barry Foy:
It's worth asking where anyone gets the notion that he can saunter in on a spell of music making by devoted, diligent players of a particular music and essentially try to remake it in his own image, on the spot. Try as I might, I've never been able to answer that question. The fact is, Irish music, like any handed-down music, is full of strictures and borders and prohibitions, and it signals its distinctive identity by treading a finite number of well-worn paths. That scenario won't appeal to everyone; some may find it inhibiting, a threat to their self-expressive impulse. Luckily, the world is large, and there's likely some other form of music that would suit those people better. If so, the players of Irish trad welcome them to pursue that other music, and we promise not to impose our own standards on it. In the meantime, we'll try to make the most of our sometimes limited opportunities to play this music in the way we learned to play it, and have a good time doing it.
I guess if I had to pick one sentence from Field Guide to the Irish Music Session that matters most, it would be this, from page 52: 'The fact that you are holding a musical instrument in your hands at a session does not automatically entitle you to play it.'
AmeriCeltic:
Is there anything you would like to share with AmeriCeltic readers?
Barry Foy:
I don't have any particular feelings about that kind of forum – whatever works for the participants is fine with me. I suppose the only caution I'd make is to remind people that participating in a chat room is not the same as participating in Irish music; playing the music is about playing the music, not just talking about it and dropping names of players and groups and festivals.
---
Session Etiquette
by Jack Gilder – 2015-01-03
This next is from Jack Gilder, one of the anchors of the Sunday session at the Plough & Stars in San Francisco.
I'm in agreement with Shay on this. I made a page that's linked to the Plough & Stars website about session etiquette, but it was aimed specifically at the people who come to that venue. I tried to give anyone interested an idea of what to expect when they come on session nights to the Plough in hopes of everyone being able to enjoy it and maybe gaining a little insight into what makes it tick. As for sessions elsewhere, they would need to establish their own MO for what they want it to be… so it's really impossible to have any universal set of guidelines. I posted the following on the session.org as part of a response to what someone said, but it sums up how I feel in general. (ed. Click Here to read the complete article by Jack Gilder)

I asked Charlie Lennon about sessions when he was visiting one night years ago here in SF, and he said that he gets questions about sessions from people outside of Ireland and rarely in Ireland itself. He said at the end of the day it's just a matter of making sure you don't interfere with the flow of the music. I think if you truly stick to that concept you can't go wrong regardless of the differences from one session to the next.