Table of Contents

Alta CA Celts Irish and Scots-Irish began immigrating to California during the Spanish times
Wealthy San Jose as Gold became an Industry, San Jose grew rich on Mercury Mining
California and the Easter Rising 2016-03-17 documentary film from Donagh Mc Keown
Mick McDonnell Irish War of Independence revolutionary who came to San Jose, CA
Bay Area Support, 1900 – 1922 Supporters of Irish War of Independence from San Jose, San Francisco and the Bay Area of CA
Irish in the Bay Area from 1922 to the present There are still many Irish actively engaged from San Jose, San Francisco and the Bay Area of CA
---
The Irish, Scots and Scots-Irish in 'Alta California'
John Cameron Gilroy
Celts have been present here in California from the earliest days of European settlement. By 1800, Irish priests and immigrants were among those settling near the Spanish missions here in Alta California.
Many Scots and Irish, who arrived in California by sea, really didn't want to be whalers, fishermen or sea-traders all their lives. They really wanted to settle down on farms or ranches of their own. So many began jumping ship in Monterey and San Pedro, the port of Los Angeles, and heading inland. One example of Scots leaving the economic depredations of the Highland ClearancesCameron family.
John Cameron was born in a southern district of Inverness-shire, Scotland in 1794. At the age of 19, young John left home, hiring aboard a British trading ship, the 'Issac Todd' as an ordinary sailor. In 1814 this ship arrived at what was then the Spanish harbor of Monterey, California. John promptly abandoned it and made his way inland. It's unclear when the young sailor changed his surname to Gilroy, his mother's maiden name, but he was baptized Juan Bautista Gilroy at the Mission San Carlos Borromeo del Rio Carmelo, and before long was conversant with Spanish.
As reported in the San Jose Mercury News by Scott Herhold, the current Mayor of San Jose, Sam Liccardo, is descended from him and another such a person. Jose Francisco Ortega, was a Spanish scout on the Gaspar de Portola expedition of 1769-70. Having missed Monterey because of the fog, Portola landed on the San Mateo County coast and sent his scouts inland to explore. Ortega was reportedly the first European to see San Francisco Bay. Ortega's son was given a land grant in what is now south San Jose, and his daughter, Maria — Jose's granddaughter — married a the very same Scot who had jumped ship in Monterey and changed his name to Juan Bautista Gilroy. Through his mother, Laura (nee Aceves), Sam Liccardo is a direct descendant of Maria Ortega and John (Cameron) Gilroy.
After 1821, the brand new government of Mexico had a problem. Alta California was a slowly growing ranching and agricultural area, particularly known for fine ranches and cattle and the hides and meat, salted and later tinned. These goods were being traded all over the world, including to the east coast of the U.S. Additionally, fur seal and whale hunting ships from New England were trading and obtaining supplies in the ports of Alta California. Other trading vessels from around the world circumnavigating the Americans on their way between East Asia and Europe and the east coast of the U.S. were also obtaining critical food and water supplies in Alta California.
Meanwhile, the Russians had established the Russian American Company for furs and fish and had built Ft. Ross (Ros) and a community at what is now Bodega Bay. Americans and British had established fur trade forts on the northwest coast of the U.S. at what is now Vancouver and near what became Portland. The Spanish, and now Mexico, had no settlements north of San Francisco at that time.
After 1815, with the Napoleonic Wars ended, world trade resumed. The British were masters of that world trade, and their ships were stopping in San Pedro and Monterey. The Mexicans began encouraging Catholic Irish sailors to jump ship but it was never enough.
By 1823, the total population of Spanish and Mexicans only numbered a few thousand, so the Mexican government ordered one more mission to be built, at what is now Sonoma. In the 1830's Mexico became very alarmed, when, having first made their way into Oregon by wagon trains, the first Americans began moving southward into what is now northern California since they found passage to northern California from eastern and central Oregon easier than crossing the Cascades into the Willamette Valley. In 1835, the Mexican government ordered Governor Figueroa of Alta California to add a fort and pueblo at Sonoma. It was already too late.
The first Scots-Irish Americans had already arrived north of San Francisco Bay and the town of Sonoma was laid out with the help of a Scots-Irish descended man named Richardson. You'll find the Richardson family among early settlers of the then back country, now the piedmont, of North Carolina in the 1750's. These first notable groups came overland from the eastern United States, or up from Mexico.
Martin Murphy Sr.
However, Scots and Irish, born in Scotland and Ireland had already been arriving and settling in Alta California, south of San Francisco since the 1820's if not slightly before. They had become sailors and sea-going tradesmen to avoid the poor economic conditions in Scotland with people being deliberately evicted for sheep in what were known as the 'Highland Clearances.' The Irish fled the poor economic conditions for them resulting from the limits on land ownership and enterprise under English occupation and rule.
The first known Murphy in California, Don Timoteo (Timothy) Murphy, born in County Wexford, Ireland, arrived by sea, in this manner in 1829 and settled in what eventually became San Rafael where his grave is still found.
Interestingly, nearly all later Murphy's were born in Ireland in County Wexford and settled in Northern California, including one notable family in San Jose, CA. One antecedent of this family was Martin Murphy, born in 1807 in County Wexford, who first immigrated to Canada, then moved to Missouri then came to California in 1845 via the Oregon Trail. He was known also for keeping the Irish traditions of his family alive all his life and passing them on to his sons. He had what was called 'the Bay View Ranch' in San Jose and Santa Clara and is buried in the Santa Clara cemetery.
Realizing that the Irish were Catholic and thus less of a threat to Mexican rule than the Scots-Irish and English descended Americans coming into Alta California from the north via Oregon, the Mexican government began deliberately setting aside land grants for Irish Catholic persons. In the early 1840's, an Irish priest, Father Eugene McNamara who was living in Alta California, was deliberately given huge grants of land in the San Joaquin Valley with orders to bring in and settle upon them 3,000 Irish families. Unfortunately by this time the U.S. had expeditionary forces exploring for new overland trails under the rogue 'Captain' Fremont and the priest died without completing his task.
Another Irishman who had come with Fremont, Thomas Fallon, had other ideas as well. Mexico lost California. Fallon, did as many Irish had previously done, and married a Californio heiress. In 1846 Fallon raised the American flag over San Jose which then became the state's first capitol. By that time, there were already more Irish, Scots and Scots-Irish-Americans, than Spanish/Mexicans and most of the original Spanish and Mexican families were already intermarried with these slightly later Celtic immigrants.
All of these Celts made their mark here in California several years before the infamous Gold Rush of 1848-9.
---
Wealthy San Jose
The New Almaden Mine
By Celia and Tony Becker
New Almaden Mercury Smelter
Since 1980, technology companies have brought a lot of wealth to the South Bay Area, (aka Silicon Valley), and to Ireland, but this was not the first time that San Jose brought them significant support. The Irish in San Jose and Santa Clara County had significant impact, both here and in Ireland, long before.
Today we like to think of San Francisco as being the largest and wealthiest city with the most Irish on the west coast, but between about 1820 and 1930, that was only partly correct. After the 1849 Gold rush, San Francisco was the most populous city of the Bay area and the state of California, but it was not the wealthiest. That distinction went to San Jose. Like San Francisco, San Jose had a population that was similarly one-third Irish, and through this period grew from a quarter and a third the size of San Francisco.
Unlike the Spanish Missions, San Jose had been established in 1777 by Spanish settlers as a 'pueblo', a small but bustling town with both an agricultural and mining economy. As a town in a Spanish colony, Pueblo San Jose welcomed Irish Catholic immigrants. Long before their arrival, the indigenous Ohlone people had been utilizing the Capitancillos hills area to make red paint from its cinnabar, and so in the 1820s the deposit was discovered by local Spanish settlers at the south part of the town. In 1845 it was reestablished by the Mexican government as The New Almaden Quicksilver (Mercury) Mine, named for a mercury mine in Almadén, Spain, which had operated since at least Roman times, powering almost all gold refining in Europe. All this happened years before California became a state and before anything more than a tiny presidio existed in what would later become San Francisco.
San Jose remained the wealthiest city in the state, by far, throughout the time when gold was mined because gold could only be extracted from gold ore with the mercury extraction process. Mercury extraction had been known since antiquity, and except for the initial placer finds of high concentration flakes and nuggets, it was the ONLY way to extract gold from lower concentration gold ore. Mercury from San Jose was available in much larger quantities than any other source on the West Coast. The New Almaden mine produced most of the mercury used to refine gold in virtually all the western states of the U.S. By 1854, with thousands of Irish famine immigrants pouring in, its operations had been greatly enlarged and it was in full operation all the way up to and including World War II, producing over 1 million 75 pound flasks of mercury per year. Before 1900, it already had 3,000 workers, mining and smelting and shipping its products, and two associated villages with it. The New Almaden mine produced huge wealth for its operators and steady income for workers at all levels of production and distribution throughout these years. (images of the mine).
However, the mercury process does not work on pyritic gold, and when large deposits of pyritic gold were discovered in South Africa in the 1880s, the MacArthur-Forrest process was developed and introduced about 1887. Since then, several other industrial level gold extraction processes have largely replaced the mercury process, and as San Jose began to move it's economy away from mining and agriculture, the New Almaden mine shut down in 1976.
Besides the huge operations of New Almaden, San Jose had three copper mines which helped provide copper wire for the electric power and telephone systems of all the bay area cities.
Additionally, by the late 1800's, a large amount of food being consumed in San Francisco and Oakland was coming from the large and fertile farms of Santa Clara County, then called 'the Valley of Heart's Delight.' In addition to growing food there were food processing plants, breweries, and companies making all that was needed for bottling, canning, and drying. Of course, cattle were being processed here for meat. According to the late Hal Pearsall, who was in his 80's when I first met him in the early 1960's in San Jose, there were a thriving fisheries, docks, and cultivation and harvesting of oysters, clams and shrimp and crabs from the south end of the bay that supplied restaurants in San Francisco, all at Alviso, the most southerly port on San Francisco Bay. In 1863-4 a 50 mile rail line was built between San Jose and San Francisco to keep the city of San Francisco well supplied.
In 1851, San Jose was briefly made the first California state capitol, and it was still estimated as about half as populous as the rapidly growing San Francisco. According to Mark Twain, by 1852, the population of Santa Clara County was not quite 7,000 while the population of San Francisco County was recorded as 36,000, though many were not permanent residents.
---
California and the 1916 Easter Rising
By Donagh Mc Keown
By Donagh Mc Keown, 2016-03-17
Many of you have watched the film, California and the Easter Rising (at right), created for the 100th anniversary of the event by videographer Donagh Mc Keown and premiered on March 17th, 2016. As mentioned in the film, the Irish Revolution was partly funded and nearly unanimously supported by the local Irish community here in the Bay Area of Northern California, and particularly in San Francisco, and the South Bay's Santa Clara County.
In his film Mc Keown briefly covers a few of the more significant supporters of Irish Freedom from California, including:
• 00:52 Thomas Desmond, one The 'Catalpa' rescuers in 1876 and later Sheriff of San Francisco
• 02:00 The Ancient Order of Hibernians, (AOH) a leading source of funds supporting Irish Freedom
• 02:25 Father Peter York, editor of the San Francisco Catholic newspapers, and leading speaker and fundraiser for the cause.
• 03:18 James D. Phelan, wealthy banker, former Mayor of San Francisco and U.S. Senator for California.
• 03:48 Michael E. Griffith, San Jose lawyer and AOH of California Treasurer and Secretary.
• 07:15 The Friends of Irish Freedom, founded in 1916 specifically to support Independence for Ireland.
Of these, the the Ancient Order of Hibernians (AOH) was the leading fundraiser for the cause of Irish Freedom throughout America. The AOH of San Jose had offices in the Hibernia Bank Building directly across Market street from Cathedral Basilica of St. Joseph in San Jose. The parents of one Michael Edward Griffith of San Jose, and an uncle, who later settled in Santa Cruz, had been among the lucky miners who did well in Trinity County, California. After they settled in San Jose they sent their son Michael to the finest local university, the University of Santa Clara, where he graduated in 1898. A few years later, he returned to the University, and earned a law degree. Over the next years, Griffith was also elected to several offices in the AOH of San Jose, and then as treasurer and finally secretary of the Ancient Order of Hibernians of California.
---
Irish Revolutionary Mick McDonnell
By Tony and Celia Becker
One of the young rebels who served in Dublin during in the 1916 Easter Rising was Mick McDonnell. Thereafter, Mick was imprisoned at Frongach in North Wales along with Michael Collins, where he served as camp cook, and became a trusted lieutenant of Michael Collins. During the War of Independence, McDonnell was the young leader of 'the Squad', directly under Michael Collins, throughout the crucial 1919 – 1921period of the Irish Revolution, then was sent to California on a special mission. After Collins assasination in 1922, Mick lived out the rest his life here in San Jose, working for the McEnery family until his death in 1950. Mick's funeral was celebrated at St. Mary's in Los Gatos and he is buried in Mission Santa Clara Cemetery.
To read a complete biography of this Irish patriot, Mick McDonnell, by noted Irish historian Shay Courtney, Click Here.
Mick McDonnell was not mentioned during the California 1916 Easter Rising film above, because we didn't know about his role in 1916 at that time, but when we learned of it, we decided to rectify the omission with a graveside memorial, appropriately during Samhain, the traditional time to remember ancestors and honored dead.
Mick McDonnell Memorial
Film by Donagh Mc Keown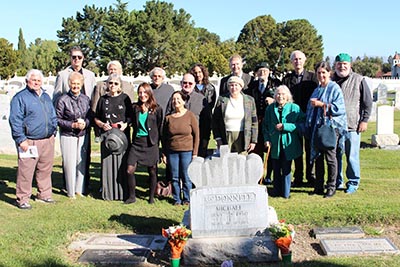 Mick McDonnell Grave & Gathering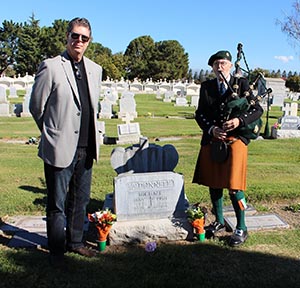 Sean O'Kane and piper Phil Lenihan
In commemoration of Mick McDonnell's service to the cause of Irish Independence, a group of nineteen Bay Area Irish history buffs (pictured) gathered at the Mick McDonnell grave site at Noon, Thursday, November 17th at Santa Clara Mission Cemetery, 490 Lincoln Street, Santa Clara, California, at Block 9A PC, Lot 29J.
Former San Jose Mayor Tom McEnery spoke at length about Mick and his life as it spanned the roles of Irish revolutionary, employee and faithful family friend. Mr. Mc Enery explained that, as Michael Collin's appointed assassin, Mick McDonnell played a terrible, but crucial role in the Cause of Irish Freedom, then lived the rest of his life here in the South Bay Area, saying 'Mick McDonnell was probably the most significant revolutionary who ever lived in California'.
Sean O'Kane, President of co-sponsor San Jose Dublin Sister Cities Program, acted as Master of Ceremonies for the event, Saffron Kilted piper Phil Linehan played The Minstrel Boy and A Nation Once Again, and noted singer Erin Thompson, sang The Foggy Dew.
South Bay Journalist Gary Singh has published two articles in the San Jose Metro on Mick McDonnell.
The first on February 2nd, 2016, which relates more of his story: Gary Singh: San Jose's Irish Assassin Pre-Dates Sister City Connection.
The second on November 30, 2016, describes the November 17th, 2016 Memorial Service. Gary Singh: Irish Revolutionary Receives 100-Year Memorial.
For more information about the gravesite, call Mission Santa Clara Cemetery at (408) 296-4656, or check their website www.santaclaramissioncemetery.org
---
Details of Mick McDonnells service in the cause of Irish Freedom, both in Ireland and San Jose
On April 10th, 1919, the newly elected Sinn Féin members of Parliament for Ireland, ignoring Westminster, instead convened their own Irish Parliament in Dublin. This First Dáil announced a policy of ostracism of Royal Irish Constabulary men. At the time, Sinn Féin official policy was against acts of violence. Boycotting, persuasion and mild intimidation succeeded against many but others escalated their activities against republicans and in March 1920 Collins asked Dick McKee to select a small group to form an assassination unit.
In fact, it was Mick McDonnell, and not Michael Collins, (as often claimed), who first advocated the setting up of a Special Services Unit or 'Squad' to assassinate 'G Men' who had picked out the 1916 leaders to be shot by the British execution squads, and who were now again closely watching the leaders of the new resistance movement.
According to Bureau of Military History 1913-1921 Statement By Witness Document No. W.S. 423, when formed, The Squad was commanded by Mick McDonnell and came directly under the control of the Director of Intelligence Michael Collins, or his deputy, and under no other authority.
According to evidence held in the National Archives and in the Department of Defence, in 1921, Michael Collins sent Mick McDonnell to San Jose, California for 'health reasons' claiming he was suffering from TB. There are also some indications that he may have gone to the United States on a special mission. The truth is in fact that his mission was a mixture of both.
At that time, San Jose was the fourth largest city in California, (very slightly smaller than San Diego), a center of Irish population, and a HOTBED of support for Irish Independence!
It is important to remember that in 1919, the already busy Michael Collins had received yet another responsibility. When Eamonn de Valera left Ireland for 18 months to tour, speak, and raise funds in America, de Valera appointed Collins to the Aireacht (ministry) as Minister for Finance. Michael Collins remained Ireland's Minister of Finance until his death in 1922. With good reason, we believe that, during this period, a very significant portion of these Irish Finance Ministry funds for the Irish Revolution came from the Bay Area.
Ancient Order of Hibernians
In the film above, at 24:55, Tom McEnery is asked to explain why Mick McDonnell was connected with the McEnery family, and sent to San Jose. McEnery answers, 'We didn't bring him here, he got to know my father, … through the Ancient Order of Hibernians…', as Cecilia Fabos-Becker is heard off-camera, commenting, 'That's the connection'. Mr. McEnery answers, 'Yes, it (the AOH) wasn't the group of wonderful people that get together on Saint Patrick's day, this was a group very committed to Clan Na Gael, the Ancient Order of Hibernians, and to breaking the bonds with England, and they supplied the monetary resources in a large way … to support the movement … tremendous amounts of money came from here.'
We believe that Mick McDonnell's special mission in San Jose was, as a trusted lieutenant of his Commander in Chief, Michael Collins, to take charge of the transfer of funds that were then being gathered by the AOH and the Friends of Irish Freedom (FOIF) to the Irish Free State and its government, lead by Arthur Griffith and Michael Collins, (and NOT to the Rebels engaged in Civil War, lead by Eamonn De Valera).
And we believe that the fund collection and transfers continued for decades to the the Irish Republic. Why else was Mick McDonnell arrested in San Fransisco in 1948, while in possession of a suitcase containing ~$8000 in US currency, and then indicted for espionage, if not to support his homeland's struggle for freedom?
---
1900 – 1922
The Irish Revolution
By Celia and Tony Becker
James D. Phelan
San Jose and Santa Clara County, had wealth that exceeded its population, in both agriculture–and mining–at that time. It is also worthy of note that the Donohoe, Kelly Banking Company of San Francisco had offices in San Jose and in New York, (where leading Irish patriot John DeVoy had his headquarters) and was a correspondent with the Bank of Ireland, which was controlled by Michael Collins, and also that the owner of the First National Bank of San Francisco was former San Francisco Mayor and former US Senator for California, and vociferous advocate and fundraiser for Irish Independence, James D. Phelan Jr. First National Bank also had offices on Market Street in San Jose, originally set up by the very same James D. Phelan Jr.. Senator Phelan's residence after his Senate service was his Villa Montalvo estate in Saratoga, and 'The James D. Phelan' Awards,' given to young California writers and artists were endowed at San Jose State University by a bequest in Phelan's will. By modern standards, Phelan had major character flaws, most egregioous his racist attitudes to Asians and Asian immigrants, but he was a very important advocate for the cause of Irish Freedom.
By 1900, as unrest was rising in Ireland, and the Irish War of Independence was looming, the population of San Francisco was just under 343,000. San Jose and the several other small communities that eventually became part of the city totalled just over 30,000. The general assumption was that larger cities were wealthier and more important, and the British government focused its attention then and later on San Francisco. However, a closer look at some history of the two cities shows this was a tactical error. In 1900, San Francisco was hit by the bubonic and pneumonic plague coming in from China and that city had a very ineffective response. Despite 2nd generation Irish Mayor James D. Phelan's early efforts to improve health care and sanitation, the city was NOT prepared at all for plague. San Francisco is recorded in history as 'the last major outbreak of plague in the United States.' Joseph Kinyoun, the head of the predecessor of the National Health Institute, banned all travel to and from San Francisco to contain the plague to the city. The governor of California, Henry Gage, hastily found $25,000 from the state budget to pay for health care to combat this, and demanded of San Francisco's Irish mayor Phelan, that the city match these funds. Mayor Phelan and his board of supervisors could only muster $6,000. In 1906, the city had to rebuild from the famous earthquake and again depended upon state and federal funds to do so, and had to have Phelan and a committee of 50 act as a watchdog group for the use of the funds to keep the new SF mayor, Eugene Schmitz, from 'getting his hands on the funds.'
San Jose had its own problems, but nothing quite like San Francisco's. San Jose was comparatively lightly hit by the earthquake, (The Cathedral was one of the few buildings badly damaged), did not have any known deaths from the plague, and did not require extensive outside financial support to either fight a plague or nearly completely rebuild. Instead, San Jose continued to grow slowly until after World War II, and generally stayed under the British agent's radar…
Many Irish who had come to California had been successful, as both miners and 'mining the miners,' creating general stores that supplied the miners. As the gold rush started, two Irish emigrants, Joseph Donahoe and Eugene Kelly came to San Francisco and made their fortunes selling goods to the miners. Another, Irish emigrant James Phelan Sr., father of the Mayor and Senator, did the same. The Farmers Union was founded in San Jose in 1874. It supplied farmers, ranchers and miners and in 1930, another son of Irish emigrants, John Patrick McEnery and his partner, Robert Benson, acquired it, and like the others, additional real estate. Donahoe and Kelly went on to found two banks, the first with a partner Ralson who broke away and founded the Bank of California with his share. Donahoe and Kelly then reorganized and had international transfer licenses for their branch in New York and had another branch in San Jose, established soon after the first branch in San Francisco. James Phelan, the father, went on from his general store to found the First National Gold Bank, which became the First National Bank of San Francisco. He put his son, the future Senator, in charge of its second branch in San Jose, built directly across from St. Joseph's Cathedral. The father and son acquired lands outside of San Francisco including a parcel of land that included what is now Lighthouse State Beach near Santa Cruz and the Senator built his Villa Montalvo estate at Saratoga, near San Jose. After his death at the estate in 1930, the estate was given to Santa Clara County and is now a performing arts center.
Villa Montalvo in 2007
The Irish in San Jose and Santa Clara County became so significant that the Ancient Order of Hibernians (AOH) held state conventions in the city, and had parades and other events, well covered by the local and regional press, including the San Jose Mercury Herald whose editor was then the Irish emigrant grandfather of Mayor Tom McEnery, Patrick Henry McEnery. Patrick Henry McEnery had been an Irish journalist employed by 'Fleet Street' in London who was brought to San Jose as a protege of Archbishop Riordan in 1901. He emigrated, became editor of a substantial newspaper and married all the same year. The AOH, well covered by this paper, was already very active in San Jose and Santa Clara County prior to World War I, precisely when funds were being sent to Ireland by the local and state AOH to care for the needy and support the Irish rebels. At this time, a treasurer then secretary of the entire statewide AOH was elected from San Jose, Michael Edward Griffith and then remained a statewide officer for the AOH for several years, and remaining an officer for many years.
Friends of Irish Freedom
In February 1915, Lawrence 'Larry' De Lacey and an accomplice were being arrested for having illegal explosives and other revolutionary materials in Enniscorthy, Ireland and he fled to New York, where John DeVoy then promptly sent him to San Francisco, 'then a hotbed of Sikh and Hindu, German and Irish revolutionaries' to work on a magazine with Fr. Peter Yorke. He was then arrested again, in July, 1917. The British were waiting and watching by the time he arrived and had already put 150 agents of what became the ancestor of the British SIS all over the city. This made it increasingly hazardous for Irish activities. A fair skinned Irishman conniving with Indians and then Germans, was rapidly noticed. He ended up imprisoned until 1919.
However, the British knew very little about the smaller city more than 50 miles to the south and had no significant representation there. The AOH operated much more freely in San Jose. As Tom Mc Enery says in his talk about Michael (Mick) McDonnell, 'the AOH at this time was not the wonderful group of people just putting on St. Patrick's Day parades.' In the Irish War of Independence, Mick McDonnell was the head of the assassin's squad that finally brought the UK to the negotiating table. A few months before the Irish leader Michael Collins was assassinated in August 1922, the AOH brought Mick McDonnell to San Jose, not San Francisco. Mick McDonnell remarried, had a family, and worked for the McEnery Family steadily until his death in 1950. Mick's office was the space on San Pedro now occupied by O'Flaherty's Irish Pub.
Thanks to the British agents all over the U.S., POTUS Woodrow Wilson, was apprised of all the money going to Ireland and threatened to impound all the AOH accounts and those of members for supporting Irish rebels. John Byrne of Los Angeles and other members of the AOH in California and New York decided to create a second organization to protect the funds that were going to support the needy in Ireland. In early 1916, they formed 'The Friends of Irish Freedom,' incorporated in early March, 1916 to handle the 'political' and otherwise revolutionary funds. Most of the records, particularly of the California activities of the FOIF later ended up at San Jose State University, in 'Special Collections' under the heading 'John Byrne Collection and FOIF.' through a young supporter and biographer of his who was from San Jose.
---
1922 – Present
By Celia and Tony Becker
The United Irish Cultural Center of San Francisco
By 1900, San Jose was a city of 30,000 persons, and already prosperous. By 1960, San Jose was a city of 300,000 persons, when the orchards and fields surrounding the city began to be replaced by the newer industries, and more recently, with high technology industries. The Irish social and business community again saw opportunities to share the new wealth they were building and new industries with Ireland, and the AOH faded away to be replaced by The Irish Literary & Historical Society, founded in 1945 in San Francisco, the United Irish Cultural Center, built in San Francisco in 1973 and opened in 1975, the Irish Social Club of Santa Clara County, founded in San Jose in 1959, and several industry groups founded in San Jose including the San Jose Dublin Sister Cities Program, co-founded in 1986 by Tom McEnery, Mayor of San Jose and Bertie Ahern, Lord Mayor of Dublin, the Irish Technology Leadership Group founded in 2007 and the Irish Innovation Center founded in 2010.
There is another transition coming, as many Irish from San Jose have now moved further out in California to Monterey County and to the greater Sacramento area, and the Federal government with changes like the Sarbanes-Oxley Act tightened restrictions on how much political and economic activities 501(c)3 charitable organizations could do and retain this most favorable tax status. San Jose is still growing with information technologies, such as a new Google campus and some 40,000 units of new housing to be adjacent to it, and there is also the biomedical field, with some of it near Stanford University. Because of California's greater medical insurance coverage and size of its population, the biomedical and pharmaceutical industries are growing in all the largest metropolitan areas of the state. Especially since the pandemic, the old organizations are again in flux. The UICC has been the largest cultural and social survivor of all the changes in the SF Bay area.