---
---
Lets Learn Irish

First Sundays Online Workshop

9:00 AM Pacific | 12:00 PM Eastern | 5:00 PM Ireland/UK
Let's Learn Irish is an online Irish community, providing daily classes, conversation sessions and workshops for learners throughout the world. First established by Dr. Ronan Connolly in Washington DC in 2009, and the Let's Learn Irish story of 'the online Gaeltacht' has resonated with a global online audience. Let's Learn Irish is now the largest provider of online Irish courses and comhrá sessions for learners.
Check out their Free Workshop on the first Sunday of every month. This online session is suitable for those who are new to Irish, as well as for those who are currently studying the language! Click Here to get the Zoom Link. Attendees are welcome to stay on afterwards to ask questions and learn about the online Irish language community. They also offer a free three video self-directed phrase course, https://letslearnirish.com/courses/freeclass, you can take at a time convenient to you.
The Let's Learn Irish online community was developed at University of Galway, Ireland to support Irish learners throughout the world.
They provide daily online classes, comhrá sessions and community workshops. The Mar/Apr 2023 term, offers 11 courses each week, for all levels. Learners from all over the USA and further afield attend these classes, and since all sessions are video recorded, many more learners follow along in their own time and/or timezone each week.
The upsurge in interest in the language, and the success of the Oscar-nominated 'An Cailín Ciúin', marks a watershed moment. On their website, there are links to learner profiles, articles and news from their community. Their Press page provides further insights into their story and online activities.
Links:
YouTube Videos: https://www.youtube.com/letslearnirish
Courses: LetsLearnIrish.com/cursai
Press: LetsLearnIrish.com/press/
Articles: LetsLearnIrish.com/ailt/
Learner Profiles: LetsLearnIrish.com/member-profiles/
About: LetsLearnIrish.com/about
Contact Info: LetsLearnIrish.com/contact/
Twitter | Facebook | Instagram
---
Sundays
Loch Down Folk Club
8:00 PM in Ireland/UK
3:00 PM Eastern Daylight Time
12:00 PM Pacific Daylight Time
Do you fancy going to the Folk Club?
Join Maria Hawthorne Boyle and her world-wide group of singing friends using Zoom, and you can give us a song or a tune from the comfort of your own home or just listen in.
This singing circle will be hosted by Andy Clapham as Caretaking Loch Down folk club while Maria Hawthorne Boyle is recovering from her illness.
Description: Andy Clapham is inviting you to a scheduled Zoom meeting.
Topic: Loch Down Caretaking Sundays
Join Zoom Meeting
https://link.americeltic.net/lochdown
Maria's Meeting ID: 861 6124 5826
Andy's email is ac@aclapham.co.uk.
To find out more contact: mariaboylegalway@gmail.com or take a look at https://www.comeandsingatgosforth.com.
---
Mondays

Traditional Irish
Music Session
8:00 PM Ireland/UK
4:00 PM Atlantic
3:00 PM Eastern
12:00 PM Pacific

Join the Zoom Meeting!
Welcome to the ONLINE ZOOM Traditional Irish Music Session! Hosted by Mark Wallis & Alix Sandra Huntley-Speirs, we meet every Monday at 8 PM Ireland/UK | 3 PM Eastern | Noon Pacific.
All are welcome to attend to play, and/or listen and enjoy! This is a traditional Irish tune [instrument] session only.
https://us02web.zoom.us/j/89155330559?pwd=NHF4aTU0TSsxd01aUVdNbXhoODRGQT09
Meeting ID: 891 5533 0559
Passcode: tunes
Please also join our FB Group: https://www.facebook.com/groups/trad.irish.music.session
---
Welcome to the Ag Teacht Le Chéile Irish Session! Hosted by native Irish singer Maureen McNally, this Traditional Irish Tune and Song Session meets every Monday at 11 PM Ireland/UK | 6 PM Eastern | 3 PM Pacific, online via Zoom.
All are welcome to attend to play tunes, sing songs, read a poem, and/or listen and enjoy!
Join Zoom Meeting
https://us02web.zoom.us/j/4017573378?pwd=MUM3SU1IMlk3K3g5M1RrSW5uZEJCQT09
Meeting ID: 401 757 3378
Passcode: 298888
Long time participant Cornelius (Connie) McEleney passed on in early 2023, but we still have his playlist, with lyrics and recordings of Connie singing 33 of his Irish songs to learn ourselves. Cornelius McEleney Collection.
Please email questions to: maureenmcnally6@gmail.com
---
Phoenix Folk
3 Weekly Online Sessions
12:00 PM Pacific / 8:00 PM UK
Online via Zoom
Mondays
Play Along with Irish Tunes at a steady pace

Join the Meeting Passcode: 245476
---
Tuesdays
Song and Tune Round Robin

Join the Meeting Passcode: 715687
---
Thursdays
Play Along with Irish Tunes at Full Speed

Join the Meeting Passcode: 245476
Established in 2009, Phoenix Folk exists to promote performance and participation in folk music, song and dance. We offer regular folk sessions, events and ensemble opportunities, both in the North East of England and online. Additionally, we provide a range of resources aimed at helping people to engage with folk music as both participant and listener. We put participation at the centre of all that we do, and aim to provide a comfortable space where musicians of all levels of ability can experience the joy of making music with others, extend their repertoire, challenge themselves and be inspired.
On Mondays, Maurice & Marina host a Play Along tune session leading mostly Irish Traditional Music tunes at a steady pace.
On Tuesdays, Maurice & Marina host a 'Folk Singaround', featuring mostly (but not exclusively) folk and traditional tunes and songs from the British Isles and North America. This regularly includes acappella and self accompanied songs, tunes, poems and readings from many attendees.
On Thursdays, Maurice & Marina host another 'Play Along' tune session, leading lots of Celtic tunes at full speed. They have a particular interest in Northumbrian music and see their online presence as a great opportunity to share local tunes with musicians from outside the region/outside the UK.
Phoenix Folk Website: https://phoenixfolk.co.uk
---
Wednesdays
The Trans-Atlantic Session
8:00 PM in Ireland and the UK
3:00 PM Eastern Time
12:00 PM Pacific Time
Tony Becker hosts a Trans-Atlantic Irish Traditional Virtual Zoom Session every Wednesday at 8:00 PM in Ireland and the UK / 3:00 PM Eastern / 12:00 PM Pacific Time.
Like most such sessions, this International session's music emphasis is on Celtic and other traditional tunes, songs, readings, etc., Occasionally, other culture's arts are also heard, and welcome.
With pandemic lock-downs ending, some online sessions have stopped happening, but this one will continue for as long as there are participants. Please invite your musical friends to join us! Other co-hosts, and sometimes Mark Wallis, may lead from time to time, and are in demand. If you would like to host or co-host sometime, just let us know.
Here's the Zoom meeting info:
https://link.americeltic.net/session
During the session, you can send an email to request the link. Don't send an International text message, because they are expensive!
Email or Text Tony Becker with any questions:
americeltic@gmail.com
+1 408 600-8783 (text)
---
Wednesdays
The Pacific Evening Jam
7:00 PM Pacific Time
Every Wednesday Evening Tony Becker, initiates a musical Zoom meeting at 7:00 PM in the Pacific Time zone. The gathering features songs, tunes, poems, from Oldtime tradition, as well as Irish, Québécois or whatever other cultures, and the fun is open to anyone, anywhere online via Zoom.
Ed Hilton, or other co-hosts, lead the affair from time to time. Leading these online sessions is not very difficult, but host and co-hosts are in demand – please consider being one. If you would like to host or co-host sometime, just let us know.
Many such virtual music events have stopped happening, but this one will continue for as long as there are participants. Please invite your musical friends to join us!
Here's the Zoom meeting link:
https://link.americeltic.net/jam
Email or Text Tony Becker with any questions:
americeltic@gmail.com
+1 408 600-8783 (text)
---
1st Thursdays
The Ould Sod Virtual Session
9:00 PM Eastern Time
6:00 PM Pacific Time
On the 1st Thursday of the month, multi-instrumentalist Michael Eskin hosts the – The Ould Sod Virtual Session at 6:00 Pacific / 9:00 PM Eastern.
This easily best and most popular online session in the western hemisphere. The music is 95% Irish traditional instrumental dance tunes with an occasional song, and the participation level is massive!
The Zoom meeting information is posted on Michael's website:
---
John Whelan Free Tune Teach and 'Taking Time' Play Along Sessions
Online via Zoom
John Whelan is inviting you to a scheduled Zoom meeting.
Topic: Tune Learning & Taking Time Slow Session
Time: 01:00 PM Pacific Time (US and Canada)
Every week on Friday.
Join Zoom Meeting
Meeting ID: 960 3382 9649
Passcode: 012220
Seven-time All-Ireland Button Accordion Champion John Whelan is one of the world's best living Irish button accordion players. John was raised in the vibrant London Irish music scene of the 1970s, and learned his craft from such legends as Lucy Farr, Roger Sherlock, Paddy Taylor, Mick O Connor and his teacher Brendan Mulkaire. Along with his All-Ireland Championships, he was twice awarded musician of the year from the Irish Music Association. He has over 15 CDs and has performed on Late Night with Conan O'Brien. John's music has been featured on such TV shows as 'Sex in the City,' 'History's Mysteries' and 'History Detective.' John performs with the John Whelan Band and has also teamed up with his old pal Brian Conway forming the group Gailfean, which also features Máirtin De Cógáin and Don Penzien have released their first new CD. For over a decade, John has performed 'Monday's with John' every Monday evening on his Facebook Profile.
Every Friday, John hosts a free, live "Taking Time" slow session on Zoom. The Tune learning earlier, starts at 1:00 PM Pacific time/ 4:00 PM Eastern/midnight Irish/UK time, lasts for about two hours, and regularly draws attendees from around the world.
Players and listeners of all levels are very welcome to enjoy playing or hearing favorite tunes at a moderate tempo, along with the all-important warmth of connection that shared music brings into our lives, even — or rather, especially — now.
This is also a great opportunity for learning new tunes, as everybody but the session leader (John) will be muted while they play. Unlike an in-person session you can noodle along to your heart's content, and nobody will ever know unless you tell them.
The tune learning is followed by a play-along session from about 3:30 to 4:30 Pacific.
John says:
Since August, 2023, I'm now working full time, and as of September 8th I am offering to schedule these Tune Learning and Session Zoom meetings on my days off which are Friday and Saturday. Please let me know if either of these days work for you. If enough people respond I will start up again and maybe do the Tune learning earlier, say 1:00 pm to 3:00 pm and the session from 3:30 to 4:30ish.

The music business has changed so much over the last few years that it has become impossible to tour and sustain a living and so I had to make the difficult choice of going back to a full time working environment. At 64 years old the arduous task of doing construction is not attainable physically so working at the the Home Center & Lumber on Vashon with my experience seem to be the best choice. I will still perform from time to time and will start back doing Mondays with John at 4:15 instead of 4pm as the company is allowing me to work earlier hours on Monday to accommodate.

I have had a great career and been blessed to play, work, and meet some incredible people along the way, some of which have become life long friends. My www.wildatlanticmusictours.com will still happen September 14th through the 21st 2024 and that may be my last if I can't get enough people. I never thought that after such a career I would be in this position but if you can't draw a crowd it doesn't matter if everyone likes you as it is after all a business.

God Bless you all and thank you for your support over 52 years of playing and promoting Irish Music

John Whelan
Check them out here: http://johnwhelanmusic.com/slow-session. We send out a tune list and Zoom link for them on Friday mornings. Email John at whelanbx1@me.com to get on the list or for more details.
Get more details on John's John's Facebook Page or John's Website
---
Linn Phipps — Scottish Gaelic Song Events Online
---
2nd Fridays — Srùbag
7:30 PM Ireland/UK
2:30 AM Eastern
11:30 AM Pacific
---
Special Guests
Friday, November 3rd, Kate Crossan
Friday, December 8th, Eilidh Munro

---
On the Second Friday of each month, (with a few exceptions), Linn Hosts a Srùbag Gaelic singing session online via Zoom. Linn always invites a Special Guest to add an exciting new element to each occurance – check the box at left for full details.
As usual everyone who wants to join in to listen to or to sing a Celtic language (Scottish/Irish Gaelic, Breton or Welsh) song is very welcome, as are ceilidh songs so we can all join in.
There are a lot of pre-recorded ceilidhs out there – we wanted to create a space for sharing Gaelic songs live online. Scottish and Irish Gaelic songs are welcome, as are songs from the wider Celtic family such as Breton songs. We have a monthly Guest singer and additionally the song turn goes round the virtual 'Room'. Please drop in and bring your own Srùbag (cuppa) and a song, or drop in to listen. Please see our Facebook page or contact me at linnphipps@gmail.com for the Zoom link and/or more information.
---
Saturday, November 18th
Siansadh / Learn Gaelic Songs
6:00 PM Ireland/UK
1:00 PM Eastern
10:00 AM Pacific
On the Third Saturday of each month, Linn Phipps conducts her Learn Scottish Gaelic songs / Siansadh Workshop, for singers interested in learning a Scottish Gaelic song with no knowledge of Gaelic required. This participatory event is accessible to all online via Zoom. Check the box at left for full details.
Everyone who wants to join in to listen to or to sing a Celtic language (Scottish/Irish Gaelic, Breton or Welsh) song is very welcome, as well as other Scottish traditional singers of ceilidh songs so we can all join in.
Words, translation, phonetics, and mp3 audios of words and song will be provided on Linn's website or by email. Over the year we can learn songs from many different genres of Gaelic song. These include waulking songs (orain luaidh), other work songs (eg rowing, milking, churning, spinning), other sea songs, dance songs (puirt-a-beul), Oran mor (big songs), laments, love songs, lullabies, night-visiting songs, piping songs, fairy/mythical creatures songs, etc. Requests welcome.
---
Linn Phipps
Linn Phipps is a Royal National Mod Medallist having won the Silver Pendant (the highest solo singing prize for learners of Scottish Gaelic) in 2008, along with many other national Gaelic song competitions.
During the pandemic years, Linn has hugely enjoyed participating as a Regular in zoom sings around the world, now over 1000 folk and shanty sings, from Western to Eastern USA, through to Ireland (including An Goilin and SEAC), UK, Brittany, Paris and Australia.
Linn Zoom-hosts a monthly free Learn-Gaelic-Song session and Srùbag, a monthly Gaelic/Celtic language sing based in Edinburgh. She has contributed to many virtual folk festivals from the USA to Australia, as a Zoom host and the host of workshop sessions to Learn-a Gaelic Song. She has created a Youtube channel featuring solos songs, and collaborations with Australia, Gaelic songs 'Cho sean ris na cnuic' and 'Tha mi duilich, cianail, duilich', and 'Amazon' (about the burning rainforest).
Linn has issued 5 CDs: 'Andes to Antarctica' (live-recording from on-ship in Antarctica), Leth Linn (re-issue), Salute to Rona Lightfoot (double CD, Rona's life and piping stories, Rona's piping songs and piping of the tunes/ pibrochs, all on Linn's Website to listen or buy. And a new CD as Sillertides with her co-sing partner Doug Huggins in Colorado, on bandcamp at sillertides.bandcamp.com. The CD launch concert is on the Sillertides' new Youtube channel at https://bit.ly/3hzmYNC.
Check Linn's website: https://linnphippsfolk.co.uk for full details.
---
Philo-Celtic Society
Irish Song Study Group
Saturdays, November 4th, 11th, 18th
December 2nd, 9th, 16th
January 6th & 13th
6:00 PM Eastern Time
3:00 PM Pacific Time
Presented by Donna Charielle & Gwen Butler
Online via Zoom
Irish Song Study Group, suitable for those with beginner level Irish language abilities and knowledge of Irish song history. However, all are welcome. The classes began September 23rd, 2023 at 6:00 PM Eastern Time/3:00 PM Pacific Time, and continue most Saturdays for 12 sessions (See Box).
This song class will cover the exciting, tragic and inspiring history of Irish music from ancient times to the present and discuss how historical events affected language, culture and song. Students will study the pronunciation and meaning of a different Irish language song each week, and sing!
Each song will be emailed to you ahead of class each week.  Class notes will be emailed after each class.
Here is the Link to the song course webpage: https://groups.io/g/philo-songbeginners. Once you have joined here, you are full registered; just return to this webpage, and click on the Zoom link to 'attend' class.
Like a physical classroom, this method avoids having the teachers directly collect and email reminders to every student. To attend class, students simply arrive at the Class webpage, and open the Zoom link posted there. Since the meetings are video recorded and remain accessible on Groups.io along with class materials, if one misses a class, one can always review them and 'catch up'.
Class Schedule Fall 2023, Saturdays 6:00 PM Eastern Tune
The class will generally run until 7:15 or 7:30 to allow for a 10 minute break after 40 minutes. Each song will be emailed to you ahead of class each week. We will send out the song lyrics every week and notes following each class. 
Join Zoom Meeting
https://us02web.zoom.us/j/82834140613?pwd=OHBVMzNNYThwU3ZNM1dyd01YOG13QT09
Meeting ID: 828 3414 0613
Passcode: Ceol
Any type of recording or photographing of the Philo-Celtic Society Irish Song Study Group during the Zoom session is not permitted.  If you would like to use any images or materials please email us:
Donna Charielle dcfamilymatters@live.com
Gwen Butler gwenynbutler@gmail.com
---
How to initiate a Zoom meeting, including with a Free Zoom account:
Every Zoom account, including the free ones, comes with the ability to initiate meetings hosted by that Zoom account.
Meetings initiated by paid Zoom Accounts can last up to 24 hours, but free Zoom accounts are restricted to initiating meetings that last only 40 minutes. But even free accounts they can still initiate meetings for free, and when the initial 40 minutes are up one can immediately initiate another meeting and get another 40 minutes for free. One can repeat the process as many times as desired. Of course, all the meeting attendees will need to re-join each time.
You might think this would require a new 'link' for each restart, but that is NOT required.  Whoever starts the series of 40 minute meetings needs to be there to do the restarts too, and use their 'Personal Meeting ID' (PMI) option each time. This is the best way, because your 'Personal Meeting' link NEVER CHANGES!!!
Using your Zoom Accounts 'Personal Meeting ID' (PMI) is the best for recurring meetings initiated by either paid or free accounts, because the participants can use the same link every time!
Getting Ready
The easiest way to find and/or initiate or reinitiate your 'Personal Meeting' is to use your Zoom Client dashboard. On computers, this icon is found on your desktop:

Click on this icon to open your Zoom Client's 'dashboard':

Here you can easily see the 'Big Orange Button' labeled 'New Meeting'. Don't click it yet, (that would start the meeting), but instead, click the little 'v' low it, which brings up this drop down menu:
Now, make certain that the blue checkbox labeled 'Use My Personal Meeting ID (PMI)' is checked!
Next, notice that your Personal Meeting ID number is also shown here, and slide your cursor down, over the '>' and you will get a second drop down menu:


Now, Hover and Click on the 'Copy Invitation' item! This puts a full copy of the usual Zoom Invitation into your computers 'clipboard', ready to paste into an email to all your intended meeting participants. You just need to paste the clipboard content into your email, and correct the time and/or date as needed before sending it.
Zoom provides several other ways to do all these steps, this method covers all the crucial items.
Running a meeting, including a 40 minute meeting series:
As noted above, recurring meetings, free or paid, should use the same Personal Meeting ID and passcode. This allows all the participants to join all of the series Zoom meetings by clicking the same link! It also means that the same Zoom account must start all of these meetings, and that generally means the same person must do them all. Let's call that person the 'Initiator'.
The Initiator prepares a Meeting Invitation taking care that the Meeting ID etc. matches their Zoom Account's Personal Meeting ID (PMI), and that the time and date are correct. 
The Initiator emails the Meeting Invitation to all the Participants.
On the day of the meeting, at the appointed time, the Initiator starts the Meeting. I prefer to use the 'Big Orange Button' for this, because there I can easily double check that my PMI box is checked.
For paid accounts, the process ends here, but for free accounts, one must remember that the timer is now running, and that the meeting will end automatically in 40 minutes. This means that the Initiator can step away, but must be prepared to return just before the timer runs out to be ready to initiate a fresh meeting.
In either case, the Initiator, (or any co-host) can use the 'Big Red Button' to end the meeting whenever they choose. With free accounts, they can wait for the meeting to end automatically, then choose to re-initiate a fresh meeting as often as needed. Participants will need to re-join the fresh meeting by clicking the same link as they did before.
---
Self-Produced LIVE Streaming Shows
Meet with your friends through your smartphone, tablet or computer
The Impact of COVID-19 on our culture
by Tony Becker and Celia Fábos-Becker
ATTENTION BANDS: Please email us your streaming event information so we can help you connect with all these 'hunkered down' Celtic music lovers! americeltic@gmail.com
If you are one of these fans, 'hunkered down' at home, and all our largest Celtic events and festivals have been postponed or cancelled, you might be feeling a bit depressed, but as someone said, when one door closes, another opens, and so AmeriCeltic will be correcting course over the next weeks and months. You can expect AmeriCeltic to add more features on other ethnic Celtic subjects, like cooking, books like 'Hunted and Harried' and movies like 'Song of the Sea', but there is a big change in the works among Celtic performers all over this planet, and some it has already happened.
The bad news: Live Celtic music at pubs and festivals are very much a part of Celtic culture, and before there film and television, there were pubs and festivals. We were mostly prevented from enjoying these aspects of being Celtic for St. Patrick's Day and Tartan Day this year, and may feel like we're all missing out on all our traditional celebrations, but our Celtic musicians and other performing artists are suffering even more as March is when they make the majority of their annual income. Worse, as the quintessential 'Gig Economy' vocation, most musicians and other performing artists don't have regular single employers, but are 'independent contractors' and may not qualify for unemployment insurance.
The good news: media service companies, including YouTube, Facebook, and Zoom etc. have recently rolled out 'live-streaming' services, which offer a 'stay at home' option. Streaming not quite the same experience as hearing the music live in a nice cozy pub with friends or dancing to it at a festival amid the great spring sunshine and newly greened hills. Also, due to delays in Internet transmission, bands must be together in one location – not spread around the globe – and with travel prohibited in the Bay Area of California and other states and countries, (except for essentials, like groceries and medical services), how do band-mates get together without traveling to be with one another?
Some of our favorite bands are lucky to have had recent performances that someone digitized live at venues and could postthese on their Facebook, Vimeo or YouTube accounts.  They could also take some videos previously posted on YouTube, Facebook or Vimeo and replay them on their Social Media accounts (Facebook, Instagram or the like).
But the 'craic' (fun) comes also from sharing these experiences in a LIVE environment with friends, commenting and applauding together, and since most of us have modern smartphones and/or tablets or laptops, the relatively new YouTube or Facebook Live services offer a facsimile of the in person concert experience.
On Tuesday, March 17th, 2020, while some of us were still reeling from the wholesale cancellations of our favorite Parades and Band concerts due to 'shelter in place' orders, a number of these same performers took advantage of them and gave us all the means and opportunity to hear them perform LIVE on our devices, safely at home with our devices, and to address their loss of income, they included a link to PayPal or other payment providers, soliciting tips/donations just like any in person concert.
For Example, on Tuesday, March 17th, 2020, Culann's Hounds organized a series of live streaming performances, on Facebook LIVE, naming it 'Music in the Distance'. (Check out their 'Music in the Distance' list here: https://www.sfhounds.com/live-stream). At AmeriCeltic, we helped with publicizing their event, and posted some of these concert videos on our AmeriCeltic Facebook Group here: https://www.facebook.com/groups/AmeriCeltic. If you missed the Facebook LIVE event, you can still find these videos there and replay them with a single click.
Other bands did similar Saint Patrick's Day shows on platforms like YouTube Live.
The 'shelter in place' individual performances are best with polytonal (more than one simultaneous pitch) instruments that have both range and volume, or else looped, as Michael Mullen does in his 'Trio of One' shows. Guitars and harps are among the best instruments for individual performances, and though not thought of as traditionally Celtic by a few, we include pianos.  A great pianist, like Eamonn Flynn, can make a piano sound like a miniature orchestra, especially with a great variety of music selections.
It's not just music that can be live streamed. We know a great comedic magician ventriloquist who has sometimes been called 'the best one-man family act in the SF Bay Area.' His name is Ace Miles and he's better known as 'Captain Spareribs,' with his able assistant, Maynard the cheeky monkey.  We're hoping he can be persuaded to record a short show to encourage more people to remember him now and in the future when people can schedule gigs again.
One thing we'd like to see all the performing artists do is make a short introduction to themselves and where they generally perform and how, and also, at the end of their shows, make an appeal on behalf of all musicians and other performing artists in need and urge listener-viewers to donate not just to themselves but to others to help musicians survive and help the great musical and other performing arts culture make it through these difficult times. Name a few friends among the groups that listener-viewers should look for.  It's been a long pledge break period on PBS with endless loops of the same old tribute shows, and re-runs of nearly everything else ad nauseum on most cable channels that haven't turned into live 24-7 police coverage, infinite reruns of World War II and the Mafia's better known, or aliens invented and built everything shows. Good music and other live performances will be new to the bored audiences of cable television!
---
Multiple Weekly shows @ KKUP.org
Live Broadcast or Streaming Shows!
Support KKUP by clicking here
, or
call your favorite programmer at (408) 260-2999 or (831) 255-2999
during his or her show (during the music
not
while they are live and on the air!) and subscribe. An
annual subscription of $25
will cost you less than 7 cents a day.
There are several Celtic Radio Shows produced in the South Bay Area by volunteers at KKUP FM. KKUP is a non-commercial radio station broadcasting at 91.5 MHz from high atop a mountain peak in the Santa Cruz mountains and is heard in both Santa Cruz and the South Bay Area. Staffed completely by volunteers and supported 100% by listeners, providing an alternate source for music and information not readily available on other stations for over 40 years.
KKUP Celtic Shows
KKUP programming includes several weekly shows that highlight Celtic Culture:
Kevin Kavanaugh hosts "The Rising of the Moon" on 4th and 5th Monday of every month, during the morning drive time from 6 am to 9 am. The 'Blarney Rebel' will play folk music from North America and the British Isles, as well as singer/songwriter music, and 'whatever else I feel like playing'. Email Kevin at ozonrgr@comcast.net. Like the entire Kavanaugh family, Kevin has been collecting and singing Celtic songs since the 1960's, and will bring his vast knowledge and collection of Irish and Scottish ballads, laments, and rebel songs, ensuring that your day begins with Copious Celtic Craic!
Greg Winslow's 'Lark in the Morning' at 6:00 AM every Wednesday morning. Greg plays a combination of traditional American folk music, current singer/songwriter material, Celtic music, and theme based programs.
Peter Schwarz's 'New Wood' show at 7:00 AM Thursday mornings. Peter opens his show with Celtic music, then mid-way, American and bluegrass. Find your roots!
Jackie Loken's 'The Moonlight Trail', 7:00 PM Thursday evenings. Jackie's show is a mix of Country, bluegrass, folk (including Celtic) and live music.
Dave Stafford's 'Friday Folk-off' at 3:00 PM Friday afternoons. Dave's show is an unpredictable mix of live music, contemporary acoustic recordings with a healthy dose of Celtic, English, and American melodies.
---
Celtic Contrasts with Ann Chambers
Monday mornings 9:00 AM to 11:00 AM
Streaming LIVE at KOWS.org
Broadcasting from Santa Rosa, CA on 92.5 MHz FM
Ann Chambers hosts Celtic Contrasts, a two hour program of music from Ireland, Scotland, and countries around the world wherever Celts have wandered.
You can expect classic to new Celtic recordings, interviews, live music, and an occasional guest or two. I have a theme for every program. For example, I have just finished six shows of the voices of Celtic women and have begun a series on the voices of Celtic men. After that, who knows? Tune in at KOWS 92.5 FM or stream at KOWS.org Mondays from 9:00 AM to 11:00 AM PDT.
KOWS is low-power grassroots radio located in Santa Rosa, California, The KOWS 'herd' is 100 volunteers strong and serves the West County, broadcasting 24/7 from Occidental to Sonoma County and the world from Santa Rosa. We recently celebrated 12 years on-air and continue our commitment to providing a wide range of recorded and live music, discussion and public affairs programming to our listeners. We're listener supported., a 501(c)(3) non-profit corporation. Check us out at KOWS.org on Facebook at https://www.facebook.com/KOWS.fm or call 707-874-1073.
---
Celtic Songlines Davis
Tuesday mornings 11:00 AM to Noon
replay Wednesday evenings from 6:00 to 7:00 PM
Streaming LIVE at KDRT.org
Broadcasting from Davis, CA on 95.7 MHz FM
Beginning September 1st, join Davis host David Arthur Reynolds for each Tuesday for Celtic Songlines. Dave is a resident of Davis and is excited to share his appreciation of the timeless sound of Celtic music, celebrating the songs, holidays and bardic traditions of Ireland, Scotland, Wales and other Celtic lands.
Tune in at KDRT 95.7 FM or stream at KDRT.org Tuesdays from 11:00 AM to Noon PDT with a replay each Wednesday evening from 1:00 to 2:00 PM, Thursday 6:00 to 7:00 PM. and Sunday 4:00 to 5:00 PM.
Dave says:
me, Dave Arthur Reynolds, for a LIVE show Tuesday mornings from 11:00 AM to Noon (1700-1930 GMT) on KDRT 95.7 FM in Nor Cal www.KDRT.org on the web.
KDRT is low-power grassroots radio located in Davis, California, airing an eclectic mix of music and public affairs programming, and building community by promoting dialogue, encouraging artistic expression, and acting as a forum for people who typically lack media access. Noncommercial radio KDRT 95.7 FM is a project of Davis Media Access (DMA), in turn a dba of Davis Community Television, a 501(c)(3) non-profit corporation.
---
Celt Radio Chico
Wednesday mornings 9:00 AM to 11:30 AM
Streaming LIVE at KZFR.org
Broadcasting from Chico, CA on 90.1 MHz FM
Every Wednesday morning, Steve O'Bryan, Steve O'Bryan, plays the haunting refrains of Celtic melodies old & new on his Celt Radio LIVE show!
Featured artists include… Andy Irvine & Paul Brady, Martin Simpson, Old Blind Dogs, Katie McNally, Dervish, Karan Casey & John Doyle, Michael McGoldrick, Athena Tergis, Mick McCauley & Winifred Horan, The Cranberries, Van Morrison w/ The Chieftains, The Paul McKenna Band, Tim O'Brien, The Pub Scouts and many, many more!
Join me, Steve O'Bryan, for Celt Radio Wednesday mornings from 9:00 AM to 11:30 AM (1700-1930 GMT) on KZFR 90.1 FM in Nor Cal www.kzfr.org on the web.
KZFR Community Radio is a noncommercial, nonprofit, public service organization dedicated to playing music and disseminating news and information. Our purpose is to entertain, educate, and to contribute to cultural appreciation and enlightenment. KZFR's programming reflects the needs of the Northern Sacramento Valley Communities. Most Programming is produced by members of our community and is community oriented. Programming produced outside our community provides information on issues affecting the Northern Sacramento Valley.
---
Maui Celtic Radio
5 Live Streaming Broadcasts Weekly
Originally a British citizen by his Scottish parents, Hamish Douglas Burgess, also known as Seumas (or even Jim by old friends), is now an United States citizen living on the island of Maui, in the Hawaiian Islands, where he has promoted Celtic culture for the last 15 years, collecting new Celtic music from all the greatest Celtic artists in the Celtic homelands as well as the diaspora.
Hamish creates a fresh, always new 2 hour Maui Celtic Radio Show of great Celtic music with a new theme each week! These shows are always spot-on and up-to-date with what is happening in the Celtic World. Hamish blends in commentary drawn from his encyclopedic knowledge of all aspects of Celtic Culture, and often has the hottest performers as his live guests.
The show is broadcast and streamed live twice on Sundays from Maui and 3 more times throughout the week, from Scotland. Full details including the world-wide broadcast schedule are at www.mauiceltic.com/radio.htm.
After these broadcasts are done, each Maui Celtic Radio Show is available On Demand at http://www.mixcloud.com/mauiceltic. Over 2 years of archived editions are available to listen anytime, free and on-demand!
Email Hamish at: hamish@mauiceltic.com, call him at +1 (808) 264 5190, or mail him at Maui Celtic, P.O.Box 1323, Lahaina, HI 96767-1323, USA.
---
The Celtic Cauldron – Fridays @ 11:00 AM – KSQD 90.7
Cindy Odom and her new radio show The Celtic Cauldron are back on the air at on KSQD 90.7 FM and streaming ksqd.org every Friday morning at 11:00 AM. Cindy brings a long history of Celtic music broadcasting experience from her show The Continental Drift on the now-defunct KUSP.
KSQD-FM is a newly formed noncommercial, listener-supported community radio station for Santa Cruz County.
Email Cindy at celtiqueco@gmail.com.
---
High Country Celtic Radio @ KNVC.ORG
On Demand – Live Broadcast & Streaming Shows!

High Country Celtic Radio focuses on traditional, acoustic Celtic music, with a laid-back, Nevada attitude.
Katie and Joe feature both new and old traditional music from across the Celtic nations and the world, with a little extra focus given to artists from the west coast of the US.
Full details are maintained on their High Country Celtic Radio webpage https://highcountrycelticradio.com.
Email Joe Bly at joebly@knvc.org.
---
The Mountain Road with Julia Dream
Mondays | 7:00 – 9:00 PM
Streaming on KBCZ.ORG, broadcast on 90.1 FM Radio, Boulder Creek
This Irish music and culture show, broadcasts every Monday at 7:00 PM. The Mountain Road is produced locally, but streams globally from https://www.kbcz.org, and broadcasts on 90.1 FM, from Boulder Creek Community Radio, KBCZ hosted by Julia Dream.
KBCZ is a listener supported, non-profit, non-partisan, non-commercial, educational (NCE), live broadcast and cloud streaming radio station committed to serving the local community of the San Lorenzo Valley with all locally produced original programming. KBCZ studios are located at the Boulder Creek Recreation and Park District visitor center, 13333 Middleton Ave, Boulder Creek, CA 95006. Call the BCRPD hotline at 831-200-4295 and leave a message for Leslie Buchanan.
For more, check the KBCZ website at https://www.kbcz.org or the Facebook Page www.facebook.com/BCRadioNow.
---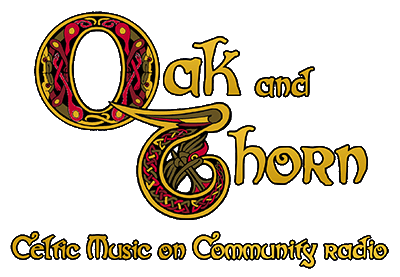 Live or Recorded Streaming Shows!
Mendocino County Public Broadcasting offers 'Oak and Thorn,' a weekly program of Celtic music, every every Sunday from 9 – 11 AM Pacific time (that's 1700-1900 GMT). Click Here, http://www.kzyx.org to listen live on the Web and the last two weeks of shows are available for 'On Demand' streaming at Click Here, http://jukebox.kzyx.org. The program is simultaneously broadcast on radio stations stations KZYX 90.7 MHz FM Philo, KZYZ 91.5 MHz FM Willits and Ukiah, K201HR 88.1 MHz FM Fort Bragg in Mendocino County and surrounding areas of Northern California.
Oak & Thorn presents a wide variety of music within the 'Celtic' genre, from pure traditional to modern contemporary sounds, including music from Brittany, Galicia, and Asturias as well as the British Isles. In addition to the music, we occasionally offer information about the artists and/or the culture from which this wonderful music springs. Playlists and other information are maintained on our blog at http://oakandthorn.wordpress.com. Oak & Thorn also maintains a Facebook page where we post announcements of upcoming special shows, concerts, and other news of interest to Celtic music fans. On either the blog or the Facebook page, you can let us know how we are doing, ask questions, and get answers!
Oak & Thorn also presents benefit concerts featuring many of the musicians heard on the program, including some of the top live bands in the genre. To find out about these events (which often sell out in advance), send an e-mail to oakandthorn@kzyx.org and ask to be put on the notification list.
Colleen Bassett, who originated this program, hosts on the 2nd and 4th Sundays of each month. Tim Bray hosts on 1st and 3rd Sundays. (We flip a caber to determine who's up on 5th Sundays.)
Tim and Colleen love to hear from listeners! During the live show on Sundays, 9-11 AM Pacific time, you can call in comments and requests: (707) 895-2448. You can email Tim Bray at oakandthorn@kzyx.org.
---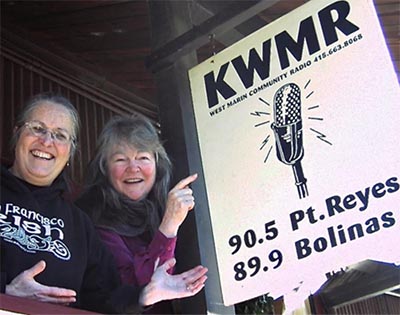 To stream KWMR, point your browser to on
www.kwmr.org
and click on the yellow '
click to play
' icon. The broadcast range is West Marin into Sonoma County, and the west side of San Francisco: 90.5 Point Reyes Station, 89.9 Bolinas, 92.3 San Geronimo Valley. To listen on demand, chose one of the shows from the last 14 days listed at
http://kwmr.org/shows/celtic-universe
.
Live or Recorded Streaming Shows!
On KWMR, West Marin, CA, 'The Celtic Universe' has been bringing listeners this wonderful music since late 2000. Hosts Loretta Farley and Lyons Filmer highlight music from all over the Celtic diaspora: Ireland, Wales, Scotland, England, Brittany, Galicia, Cape Breton, Newfoundland, Quebec, the U.S. Recently, they've also included Nordic folk music.
Loretta and Lyons love to hear from listeners! During the live show
on Saturdays, 6-8 pm Pacific time,
you can call in comments and requests
: 415-663-8492.
Until recently, Lyons was also program director for KWMR and you can email her at filmer@sonic.net
Loretta and Lyons bring musicians on-air, both in-studio and on the phone, and love to feature Bay Area performers and the venues that host them – but it doesn't stop there – calls come from Cape Breton, Ireland, even southeast Asia.
The idea for 'The Celtic Universe' began when Loretta presented a special on KWMR about Irish women and Irish history, using music, spoken word, and her own research and writing. Lyons was impressed, and suggested the two of them share hosting a Celtic music show. Happily the KWMR schedule had room! Generally Loretta and Lyons alternate weeks, and are backed up by Ken Eichstaedt and Greg DeMascio (known as McMascio when subbing).
Initially, Lyons suggested the alliterative 'Celtic Kingdom' for the name. Loretta, feminist and democrat, countered with 'Celtic Universe.' Sold! Their music tastes differ and overlap; some listeners claim they can tell who's hosting within the first 30 seconds by the music (having missed the intro, of course!). During 'The Celtic Universe' you will hear female and male singers in Scots Gaelic, Breton, Irish, English, Manx, Welsh ballad, love song, tragedy, humor, and beauty, waltzes (a Loretta favorite), jigs and reels, airs, strathspeys (a Lyons favorite), polkas, barndances the occasional electric guitar, pipes of all stripes, fiddle, mandolin, bodhrán, banjo, whistle, flute, accordions and concertinas, harp, harmonica, a keyboard or two.
---
Call JoAnn or Bob while they're on the air at 415-841-4134.
(during the music,
not
while they are live and on the air!), or email them at
kalwfolk@rahul.net
.
Folk Music & Beyond @ KALW.org
On Demand – Live Broadcast & Streaming Shows!
Folk Music & Beyond Radio Show produced in San Francisco by volunteers JoAnn Mar and Bob Campbell every Saturday afternoon on FM 91.7 MHz from 2:00 PM to 4:00 PM Pacific Time.
Their program comes to you on NPR public radio station at KALW FM. Their live Streaming, live broadcasting on 91.7 FM from San Francisco as well as On Demand services bring you some of the best in contemporary folk, traditional, and original music from America, England, Ireland, Scotland, and other parts of the world at your convenience.
JoAnn Mar and Bob Campbell started the show in 1988 in response to the lack of alternative folk/acoustic-based music on the commercial and noncommercial airwaves. This was at a time when KALW had very few live music shows and their mission was and remains to inform as well as to entertain, to challenge people's common assumptions, reclaiming and redefining the term "folk music" taking pride in its legacy, and broadening its definition.
Full details are maintained on their Folk Music & Beyond webpages at www.kalwfolk.org and http://kalw.org/programs/folk-music-beyond.
---
Thistle and Shamrock
Most listened to Celtic Programming in the World
Thistle & Shamrock Online
Unfortunately for Northern California fans, San Francisco broadcaster KALW CANCELLED the Thistle and Shamrock show effective 10/2/2019, but the program remains available for On Demand streaming. There are two places on the Internet to get it:
You can also stream the listener-supported, commercial-free SomaFM / ThistleRadio music channel – more than 700 great tracks streaming round-the-clock. To hear the programming, just CLICK HERE, or your can point your browser to www.ThistleRadio.com, and click on the large 'Listen Now' button.
The Thistle & Shamrock, produced by Fiona Ritchie, is the most listened-to Celtic music programming in the world. 'Thistle and Shamrock Show' is heard on many NPR stations, and is available online at both NPR and Fiona Ritchie's websites. Fiona's show was broadcast on Saturdays at 2:00 PM on KALW FM broadcast on 91.7 MHz from San Francisco for decades, but was discontinued in the Fall of 2019. (See box.)
Fiona Richie and her show are unique, because unlike any other Celtic programmer, Fiona grew up and matured with one foot on each side of the Atlantic. Ritchie was born and raised in Scotland, and earned her Bachelors degree at the University of Stirling, but was invited to spend one semester in North Carolina in the United States, where she learned about our National Public Radio (NPR). Pursuing post-graduate research, Fiona was hired by WFAE FM, the NPR station in Charlotte, NC, to oversee their fundraising and promotion efforts.
WFAE was a new station open to new ideas and in 1981 Ritchie began a weekly hour of Celtic music for its local audience. The Thistle & Shamrock was picked up for national broadcast less in less than two years! The program's national following grew quickly and it was soon established as one of NPR's most widely heard and best-loved music offerings. During her years based in North Carolina, Ritchie guest hosted live radio shows featuring everything from Big Band to Classical music, also producing and presenting many live concerts, visited radio stations coast-to-coast across the US, presenting live broadcasts and events, and in 1989 and 1990, traveled to 22 US cities with The Thistle & Shamrock Concert Tour.
Fiona also learned about the deep historic connections between the people of the region, including the Scots-Irish and the other ethnic cultures throughout the South and especially in Appalachia. This expertise permeates Fiona's programs.
Fiona Ritchie has presented numerous programs for BBC Radio Scotland and BBC Radio 2, launching the Radio Scotland world music series "Celtic Connections" in 1993. She has produced and presented many live concert performances and broadcasts, including a musical event for HRH Prince Charles in 2001 at Holyrood Palace in Edinburgh, and has acted in an advisory capacity for arts organizations in the US and UK, including serving on the Scottish advisory committee for the British Council.