---
Self-Produced LIVE Streaming Shows
Meet with your friends through your smartphone, tablet or computer
The Impact of COVID-19 on our culture
by Tony Becker and Celia Fábos-Becker
ATTENTION BANDS: Please email us your streaming event information so we can help you connect with all these 'hunkered down' Celtic music lovers! americeltic@gmail.com
If you are one of these fans, 'hunkered down' at home, and all our largest Celtic events and festivals have been postponed or cancelled, you might be feeling a bit depressed, but as someone said, when one door closes, another opens, and so AmeriCeltic will be correcting course over the next weeks and months. You can expect AmeriCeltic to add more features on other ethnic Celtic subjects, like cooking, books like 'Hunted and Harried' and movies like 'Song of the Sea', but there is a big change in the works among Celtic performers all over this planet, and some it has already happened.
The bad news: Live Celtic music at pubs and festivals are very much a part of Celtic culture, and before there film and television, there were pubs and festivals. We were mostly prevented from enjoying these aspects of being Celtic for St. Patrick's Day and Tartan Day this year, and may feel like we're all missing out on all our traditional celebrations, but our Celtic musicians and other performing artists are suffering even more as March is when they make the majority of their annual income. Worse, as the quintessential 'Gig Economy' vocation, most musicians and other performing artists don't have regular single employers, but are 'independent contractors' and may not qualify for unemployment insurance.
The good news: media service companies, including YouTube, Facebook, and Zoom etc. have recently rolled out 'live-streaming' services, which offer a 'stay at home' option. Streaming not quite the same experience as hearing the music live in a nice cozy pub with friends or dancing to it at a festival amid the great spring sunshine and newly greened hills. Also, due to delays in Internet transmission, bands must be together in one location – not spread around the globe – and with travel prohibited in the Bay Area of California and other states and countries, (except for essentials, like groceries and medical services), how do band-mates get together without traveling to be with one another?
Some of our favorite bands are lucky to have had recent performances that someone digitized live at venues and could postthese on their Facebook, Vimeo or YouTube accounts.  They could also take some videos previously posted on YouTube, Facebook or Vimeo and replay them on their Social Media accounts (Facebook, Instagram or the like).
But the 'craic' (fun) comes also from sharing these experiences in a LIVE environment with friends, commenting and applauding together, and since most of us have modern smartphones and/or tablets or laptops, the relatively new YouTube or Facebook Live services offer a facsimile of the in person concert experience.
On Tuesday, March 17th, 2020, while some of us were still reeling from the wholesale cancellations of our favorite Parades and Band concerts due to 'shelter in place' orders, a number of these same performers took advantage of them and gave us all the means and opportunity to hear them perform LIVE on our devices, safely at home with our devices, and to address their loss of income, they included a link to PayPal or other payment providers, soliciting tips/donations just like any in person concert.
For Example, on Tuesday, March 17th, 2020, Culann's Hounds organized a series of live streaming performances, on Facebook LIVE, naming it 'Music in the Distance'. (Check out their 'Music in the Distance' list here: https://www.sfhounds.com/live-stream). At AmeriCeltic, we helped with publicizing their event, and posted some of these concert videos on our AmeriCeltic Facebook Group here: https://www.facebook.com/groups/AmeriCeltic. If you missed the Facebook LIVE event, you can still find these videos there and replay them with a single click.
Other bands did similar Saint Patrick's Day shows on platforms like YouTube Live.
The 'shelter in place' individual performances are best with polytonal (more than one simultaneous pitch) instruments that have both range and volume, or else looped, as Michael Mullen does in his 'Trio of One' shows. Guitars and harps are among the best instruments for individual performances, and though not thought of as traditionally Celtic by a few, we include pianos.  A great pianist, like Eamonn Flynn, can make a piano sound like a miniature orchestra, especially with a great variety of music selections.
It's not just music that can be live streamed. We know a great comedic magician ventriloquist who has sometimes been called 'the best one-man family act in the SF Bay Area.' His name is Ace Miles and he's better known as 'Captain Spareribs,' with his able assistant, Maynard the cheeky monkey.  We're hoping he can be persuaded to record a short show to encourage more people to remember him now and in the future when people can schedule gigs again.
One thing we'd like to see all the performing artists do is make a short introduction to themselves and where they generally perform and how, and also, at the end of their shows, make an appeal on behalf of all musicians and other performing artists in need and urge listener-viewers to donate not just to themselves but to others to help musicians survive and help the great musical and other performing arts culture make it through these difficult times. Name a few friends among the groups that listener-viewers should look for.  It's been a long pledge break period on PBS with endless loops of the same old tribute shows, and re-runs of nearly everything else ad nauseum on most cable channels that haven't turned into live 24-7 police coverage, infinite reruns of World War II and the Mafia's better known, or aliens invented and built everything shows. Good music and other live performances will be new to the bored audiences of cable television!
---
Multiple Weekly shows @ KKUP.org
Live Broadcast or Streaming Shows!
Support KKUP by clicking here
, or
call your favorite programmer at (408) 260-2999 or (831) 255-2999
during his or her show (during the music
not
while they are live and on the air!) and subscribe. An
annual subscription of $25
will cost you less than 7 cents a day.
There are several Celtic Radio Shows produced in the South Bay Area by volunteers at KKUP FM. KKUP is a non-commercial radio station broadcasting at 91.5 MHz from high atop a mountain peak in the Santa Cruz mountains and is heard in both Santa Cruz and the South Bay Area. Staffed completely by volunteers and supported 100% by listeners, providing an alternate source for music and information not readily available on other stations for over 40 years.
KKUP Celtic Shows
KKUP programming includes several weekly shows that highlight Celtic Culture:
Kevin Kavanaugh hosts "The Rising of the Moon" on 4th and 5th Monday of every month, during the morning drive time from 6 am to 9 am. The 'Blarney Rebel' will play folk music from North America and the British Isles, as well as singer/songwriter music, and 'whatever else I feel like playing'. Email Kevin at ozonrgr@comcast.net. Like the entire Kavanaugh family, Kevin has been collecting and singing Celtic songs since the 1960's, and will bring his vast knowledge and collection of Irish and Scottish ballads, laments, and rebel songs, ensuring that your day begins with Copious Celtic Craic!
Greg Winslow's 'Lark in the Morning' at 6:00 AM every Wednesday morning. Greg plays a combination of traditional American folk music, current singer/songwriter material, Celtic music, and theme based programs.
Peter Schwarz's 'New Wood' show at 7:00 AM Thursday mornings. Peter opens his show with Celtic music, then mid-way, American and bluegrass. Find your roots!
Jackie Loken's 'The Moonlight Trail', 7:00 PM Thursday evenings. Jackie's show is a mix of Country, bluegrass, folk (including Celtic) and live music.
Dave Stafford's 'Friday Folk-off' at 3:00 PM Friday afternoons. Dave's show is an unpredictable mix of live music, contemporary acoustic recordings with a healthy dose of Celtic, English, and American melodies.
---
Celtic Contrasts with Ann Chambers
Mondays mornings 9:00 AM to 11:00 AM
Streaming LIVE at KOWS.org
Broadcasting from Santa Rosa, CA on 92.5 MHz FM
Ann Chambers hosts Celtic Contrasts, a two hour program of music from Ireland, Scotland, and countries around the world wherever Celts have wandered.
You can expect classic to new Celtic recordings, interviews, live music, and an occasional guest or two. I have a theme for every program. For example, I have just finished six shows of the voices of Celtic women and have begun a series on the voices of Celtic men. After that, who knows? Tune in at KOWS 92.5 FM or stream at KOWS.org Mondays from 9:00 AM to 11:00 AM PDT.
KOWS is low-power grassroots radio located in Santa Rosa, California, The KOWS 'herd' is 100 volunteers strong and serves the West County, broadcasting 24/7 from Occidental to Sonoma County and the world from Santa Rosa. We recently celebrated 12 years on-air and continue our commitment to providing a wide range of recorded and live music, discussion and public affairs programming to our listeners. We're listener supported., a 501(c)(3) non-profit corporation. Check us out at KOWS.org on Facebook at https://www.facebook.com/KOWS.fm or call 707-874-1073.
---
Celtic Songlines Davis
Tuesday mornings 11:00 AM to Noon
replay Wednesday evenings from 6:00 to 7:00 PM
Streaming LIVE at KDRT.org
Broadcasting from Davis, CA on 95.7 MHz FM
Beginning September 1st, join Davis host David Arthur Reynolds for each Tuesday for Celtic Songlines. Dave is a resident of Davis and is excited to share his appreciation of the timeless sound of Celtic music, celebrating the songs, holidays and bardic traditions of Ireland, Scotland, Wales and other Celtic lands.
Tune in at KDRT 95.7 FM or stream at KDRT.org Tuesdays from 11:00 AM to Noon PDT with a replay each Wednesday evening from 1:00 to 2:00 PM, Thursday 6:00 to 7:00 PM. and Sunday 4:00 to 5:00 PM.
Dave says:
me, Dave Arthur Reynolds, for a LIVE show Tuesday mornings from 11:00 AM to Noon (1700-1930 GMT) on KDRT 95.7 FM in Nor Cal www.KDRT.org on the web.
KDRT is low-power grassroots radio located in Davis, California, airing an eclectic mix of music and public affairs programming, and building community by promoting dialogue, encouraging artistic expression, and acting as a forum for people who typically lack media access. Noncommercial radio KDRT 95.7 FM is a project of Davis Media Access (DMA), in turn a dba of Davis Community Television, a 501(c)(3) non-profit corporation.
---
Celt Radio Chico
Wednesday mornings 9:00 AM to 11:30 AM
Streaming LIVE at KZFR.org
Broadcasting from Chico, CA on 90.1 MHz FM
Every Wednesday morning, Steve O'Bryan, Steve O'Bryan, plays the haunting refrains of Celtic melodies old & new on his Celt Radio LIVE show!
Featured artists include… Andy Irvine & Paul Brady, Martin Simpson, Old Blind Dogs, Katie McNally, Dervish, Karan Casey & John Doyle, Michael McGoldrick, Athena Tergis, Mick McCauley & Winifred Horan, The Cranberries, Van Morrison w/ The Chieftains, The Paul McKenna Band, Tim O'Brien, The Pub Scouts and many, many more!
Join me, Steve O'Bryan, for Celt Radio Wednesday mornings from 9:00 AM to 11:30 AM (1700-1930 GMT) on KZFR 90.1 FM in Nor Cal www.kzfr.org on the web.
KZFR Community Radio is a noncommercial, nonprofit, public service organization dedicated to playing music and disseminating news and information. Our purpose is to entertain, educate, and to contribute to cultural appreciation and enlightenment. KZFR's programming reflects the needs of the Northern Sacramento Valley Communities. Most Programming is produced by members of our community and is community oriented. Programming produced outside our community provides information on issues affecting the Northern Sacramento Valley.
---
Maui Celtic Radio
5 Live Streaming Broadcasts Weekly
Originally a British citizen by his Scottish parents, Hamish Douglas Burgess, also known as Seumas (or even Jim by old friends), is now an United States citizen living on the island of Maui, in the Hawaiian Islands, where he has promoted Celtic culture for the last 15 years, collecting new Celtic music from all the greatest Celtic artists in the Celtic homelands as well as the diaspora.
Hamish creates a fresh, always new 2 hour Maui Celtic Radio Show of great Celtic music with a new theme each week! These shows are always spot-on and up-to-date with what is happening in the Celtic World. Hamish blends in commentary drawn from his encyclopedic knowledge of all aspects of Celtic Culture, and often has the hottest performers as his live guests.
The show is broadcast and streamed live twice on Sundays from Maui and 3 more times throughout the week, from Scotland. Full details including the world-wide broadcast schedule are at www.mauiceltic.com/radio.htm.
After these broadcasts are done, each Maui Celtic Radio Show is available On Demand at http://www.mixcloud.com/mauiceltic. Over 2 years of archived editions are available to listen anytime, free and on-demand!
Email Hamish at: hamish@mauiceltic.com, call him at +1 (808) 264 5190, or mail him at Maui Celtic, P.O.Box 1323, Lahaina, HI 96767-1323, USA.
---
The Celtic Cauldron – Fridays @ 11:00 AM – KSQD 90.7
Cindy Odom and her new radio show The Celtic Cauldron are back on the air at on KSQD 90.7 FM and streaming ksqd.org every Friday morning at 11:00 AM. Cindy brings a long history of Celtic music broadcasting experience from her show The Continental Drift on the now-defunct KUSP.
KSQD-FM is a newly formed noncommercial, listener-supported community radio station for Santa Cruz County.
Email Cindy at celtiqueco@gmail.com.
---
High Country Celtic Radio @ KNVC.ORG
On Demand – Live Broadcast & Streaming Shows!

High Country Celtic Radio focuses on traditional, acoustic Celtic music, with a laid-back, Nevada attitude.
Katie and Joe feature both new and old traditional music from across the Celtic nations and the world, with a little extra focus given to artists from the west coast of the US.
Full details are maintained on their High Country Celtic Radio webpage https://highcountrycelticradio.com.
Email Joe Bly at joebly@knvc.org.
---
The Mountain Road with Julia Dream
Mondays | 7:00 – 9:00 PM
Streaming on KBCZ.ORG, broadcast on 90.1 FM Radio, Boulder Creek
This Irish music and culture show, broadcasts every Monday at 7:00 PM. The Mountain Road is produced locally, but streams globally from https://www.kbcz.org, and broadcasts on 90.1 FM, from Boulder Creek Community Radio, KBCZ hosted by Julia Dream.
KBCZ is a listener supported, non-profit, non-partisan, non-commercial, educational (NCE), live broadcast and cloud streaming radio station committed to serving the local community of the San Lorenzo Valley with all locally produced original programming. KBCZ studios are located at the Boulder Creek Recreation and Park District visitor center, 13333 Middleton Ave, Boulder Creek, CA 95006. Call the BCRPD hotline at 831-200-4295 and leave a message for Leslie Buchanan.
For more, check the KBCZ website at https://www.kbcz.org or the Facebook Page www.facebook.com/BCRadioNow.
---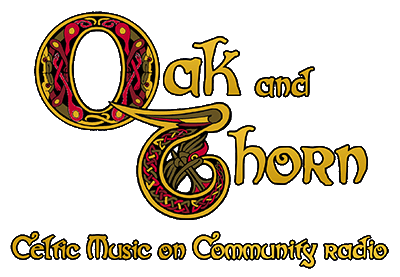 Live or Recorded Streaming Shows!
Mendocino County Public Broadcasting offers 'Oak and Thorn,' a weekly program of Celtic music, every every Sunday from 9 – 11 AM Pacific time (that's 1700-1900 GMT). Click Here, http://www.kzyx.org to listen live on the Web and the last two weeks of shows are available for 'On Demand' streaming at Click Here, http://jukebox.kzyx.org. The program is simultaneously broadcast on radio stations stations KZYX 90.7 MHz FM Philo, KZYZ 91.5 MHz FM Willits and Ukiah, K201HR 88.1 MHz FM Fort Bragg in Mendocino County and surrounding areas of Northern California.
Oak & Thorn presents a wide variety of music within the 'Celtic' genre, from pure traditional to modern contemporary sounds, including music from Brittany, Galicia, and Asturias as well as the British Isles. In addition to the music, we occasionally offer information about the artists and/or the culture from which this wonderful music springs. Playlists and other information are maintained on our blog at http://oakandthorn.wordpress.com. Oak & Thorn also maintains a Facebook page where we post announcements of upcoming special shows, concerts, and other news of interest to Celtic music fans. On either the blog or the Facebook page, you can let us know how we are doing, ask questions, and get answers!
Oak & Thorn also presents benefit concerts featuring many of the musicians heard on the program, including some of the top live bands in the genre. To find out about these events (which often sell out in advance), send an e-mail to oakandthorn@kzyx.org and ask to be put on the notification list.
Colleen Bassett, who originated this program, hosts on the 2nd and 4th Sundays of each month. Tim Bray hosts on 1st and 3rd Sundays. (We flip a caber to determine who's up on 5th Sundays.)
Tim and Colleen love to hear from listeners! During the live show on Sundays, 9-11 AM Pacific time, you can call in comments and requests: (707) 895-2448. You can email Tim Bray at oakandthorn@kzyx.org.
---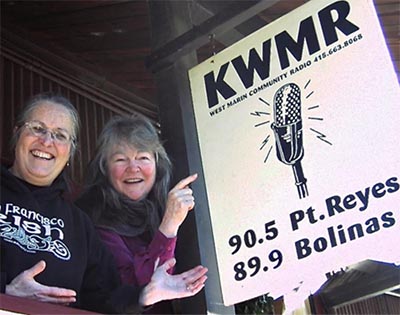 To stream KWMR, point your browser to on
www.kwmr.org
and click on the yellow '
click to play
' icon. The broadcast range is West Marin into Sonoma County, and the west side of San Francisco: 90.5 Point Reyes Station, 89.9 Bolinas, 92.3 San Geronimo Valley. To listen on demand, chose one of the shows from the last 14 days listed at
http://kwmr.org/shows/celtic-universe
.
Live or Recorded Streaming Shows!
On KWMR, West Marin, CA, 'The Celtic Universe' has been bringing listeners this wonderful music since late 2000. Hosts Loretta Farley and Lyons Filmer highlight music from all over the Celtic diaspora: Ireland, Wales, Scotland, England, Brittany, Galicia, Cape Breton, Newfoundland, Quebec, the U.S. Recently, they've also included Nordic folk music.
Loretta and Lyons love to hear from listeners! During the live show
on Saturdays, 6-8 pm Pacific time,
you can call in comments and requests
: 415-663-8492.
Until recently, Lyons was also program director for KWMR and you can email her at filmer@sonic.net
Loretta and Lyons bring musicians on-air, both in-studio and on the phone, and love to feature Bay Area performers and the venues that host them – but it doesn't stop there – calls come from Cape Breton, Ireland, even southeast Asia.
The idea for 'The Celtic Universe' began when Loretta presented a special on KWMR about Irish women and Irish history, using music, spoken word, and her own research and writing. Lyons was impressed, and suggested the two of them share hosting a Celtic music show. Happily the KWMR schedule had room! Generally Loretta and Lyons alternate weeks, and are backed up by Ken Eichstaedt and Greg DeMascio (known as McMascio when subbing).
Initially, Lyons suggested the alliterative 'Celtic Kingdom' for the name. Loretta, feminist and democrat, countered with 'Celtic Universe.' Sold! Their music tastes differ and overlap; some listeners claim they can tell who's hosting within the first 30 seconds by the music (having missed the intro, of course!). During 'The Celtic Universe' you will hear female and male singers in Scots Gaelic, Breton, Irish, English, Manx, Welsh ballad, love song, tragedy, humor, and beauty, waltzes (a Loretta favorite), jigs and reels, airs, strathspeys (a Lyons favorite), polkas, barndances the occasional electric guitar, pipes of all stripes, fiddle, mandolin, bodhrán, banjo, whistle, flute, accordions and concertinas, harp, harmonica, a keyboard or two.
---
Call JoAnn or Bob while they're on the air at 415-841-4134.
(during the music,
not
while they are live and on the air!), or email them at
kalwfolk@rahul.net
.
Folk Music & Beyond @ KALW.org
On Demand – Live Broadcast & Streaming Shows!
Folk Music & Beyond Radio Show produced in San Francisco by volunteers JoAnn Mar and Bob Campbell every Saturday afternoon on FM 91.7 MHz from 3:00 PM to 5:00 PM Pacific Time.
Their program comes to you on NPR public radio station at KALW FM. Their live Streaming, live broadcasting on 91.7 FM from San Francisco as well as On Demand services bring you some of the best in contemporary folk, traditional, and original music from America, England, Ireland, Scotland, and other parts of the world at your convenience.
JoAnn Mar and Bob Campbell started the show in 1988 in response to the lack of alternative folk/acoustic-based music on the commercial and noncommercial airwaves. This was at a time when KALW had very few live music shows and their mission was and remains to inform as well as to entertain, to challenge people's common assumptions, reclaiming and redefining the term "folk music" taking pride in its legacy, and broadening its definition.
Full details are maintained on their Folk Music & Beyond webpages at www.kalwfolk.org and http://kalw.org/programs/folk-music-beyond.
---
Thistle and Shamrock
Most listened to Celtic Programming in the World
Thistle & Shamrock Online
Unfortunately for Northern California fans, San Francisco broadcaster KALW CANCELLED the Thistle and Shamrock show effective 10/2/2019, but the program remains available for On Demand streaming. There are two places on the Internet to get it:
You can also stream the listener-supported, commercial-free SomaFM / ThistleRadio music channel – more than 700 great tracks streaming round-the-clock. To hear the programming, just CLICK HERE, or your can point your browser to www.ThistleRadio.com, and click on the large 'Listen Now' button.
The Thistle & Shamrock, produced by Fiona Ritchie, is the most listened-to Celtic music programming in the world. 'Thistle and Shamrock Show' is heard on many NPR stations, and is available online at both NPR and Fiona Ritchie's websites. Fiona's show was broadcast on Saturdays at 2:00 PM on KALW FM broadcast on 91.7 MHz from San Francisco for decades, but was discontinued in the Fall of 2019. (See box.)
Fiona Richie and her show are unique, because unlike any other Celtic programmer, Fiona grew up and matured with one foot on each side of the Atlantic. Ritchie was born and raised in Scotland, and earned her Bachelors degree at the University of Stirling, but was invited to spend one semester in North Carolina in the United States, where she learned about our National Public Radio (NPR). Pursuing post-graduate research, Fiona was hired by WFAE FM, the NPR station in Charlotte, NC, to oversee their fundraising and promotion efforts.
WFAE was a new station open to new ideas and in 1981 Ritchie began a weekly hour of Celtic music for its local audience. The Thistle & Shamrock was picked up for national broadcast less in less than two years! The program's national following grew quickly and it was soon established as one of NPR's most widely heard and best-loved music offerings. During her years based in North Carolina, Ritchie guest hosted live radio shows featuring everything from Big Band to Classical music, also producing and presenting many live concerts, visited radio stations coast-to-coast across the US, presenting live broadcasts and events, and in 1989 and 1990, traveled to 22 US cities with The Thistle & Shamrock Concert Tour.
Fiona also learned about the deep historic connections between the people of the region, including the Scots-Irish and the other ethnic cultures throughout the South and especially in Appalachia. This expertise permeates Fiona's programs.
Fiona Ritchie has presented numerous programs for BBC Radio Scotland and BBC Radio 2, launching the Radio Scotland world music series "Celtic Connections" in 1993. She has produced and presented many live concert performances and broadcasts, including a musical event for HRH Prince Charles in 2001 at Holyrood Palace in Edinburgh, and has acted in an advisory capacity for arts organizations in the US and UK, including serving on the Scottish advisory committee for the British Council.