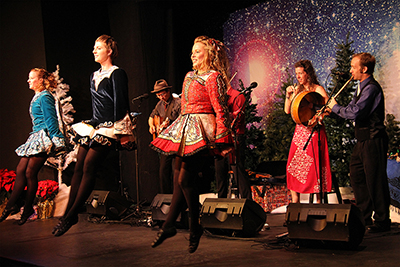 WinterDance! Molly's Revenge,
with Amelia Hogan and Rosemary Turco Dancers
Winterdance Celtic Christmas Celebration
NEW! Raffle to benefit Camp Fire Victins
(see below)
Now in its 13th year, the Winterdance Celtic Christmas Celebration for 2018 will be presented on Friday, December 14th at 7:00 PM, at the Hoover Historic Theatre, 1635 Park Ave., San Jose.
The program features the renowned Celtic band Molly's Revenge: https://mollysrevenge.com, vocalist Amelia Hogan, and The Rosemary Turco Irish Dancers. This year the event also benefits AmeriCeltic.net: http://americeltic.net, the Santa Clara Valley Fiddlers Association: https://www.fiddlers.org, South Bay Scottish Society: http://southbayscots.org and the Saint Andrews Society of SF: http://saintandrewssocietysf.org.
The show is expected to sell out! Get more information or buy advance tickets at http://winterdancesanjose.eventbrite.com.
What: Celtic music and dance, along with other traditional Christmas music,
When: Friday December 14, 2018 at 7:00 pm.
Where: The Historic Hoover Theater at Hoover Middle School, 1635 Park Avenue, San Jose; click for a map.
Why: For fun, and to benefit AmeriCeltic.net, SCVFA, and the South Bay Scottish Society
Cost: This performance is SOLD OUT, but a waitlist is available. Tickets are $25 at the door, $23 advance (+ $1.25 fee) at http://winterdancesanjose.eventbrite.com.
---
Camp Fire Relief Raffle!
The Program will also include a raffle of Premium Events and Gift items to raise funds for benefiting victims of the Camp Fire Wildfire. Raffle Tickets will be available on the day, 1 for $2 / 3 for $5 / 6 for $10 / 13 for $20. All proceeds to the North Valley Community Fund https://www.nvcf.org.
Raffle Items – Final List!