---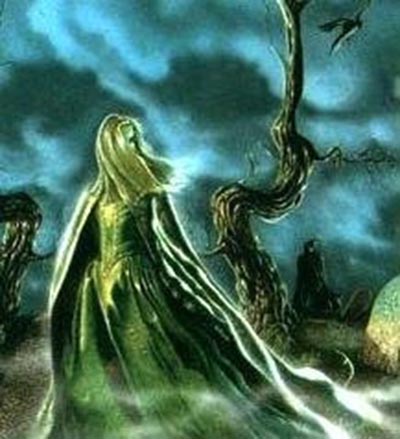 A Visit from an Irate Banshee
Samhain / Hallowe'en Short Story
© by Cecilia L. Fabos-Becker, October 24, 2017
Hugh O'Donnell was dead. That wasn't his real name, but he was a historical re-enactor and lived his character more hours of a day than not, so most people knew him by that name. He really was descended from the O'Donnell clan. If I ever had any doubt, that was firmly dispelled a few hours later. His ashes had just been retrieved by his friend Reggie and were now in a small medieval chest sitting on a small folding garden table in the middle of a parking lot covered, for the sake of proper appearances, by a cloth.
It was Thursday night, Celtic night, about a week before Samhain, (Hallowe'en to those who are unfamiliar with Celtic culture, Wiccans or re-enactors) at his favorite pub, the King's Oak, and all his re-enactor friends were in period correct costume, gathered in a chilly moonlight circle round the little casket.
Serena directed all in the circle assemble to hold hands. Her husband, Marcus, had a two-handled goblet and filled it with Hugh's favorite whisky, (Irish of course). The bottle was placed next to the chest and, since normally no one was allowed to have alcoholic beverages beyond the courtyard-patio of the pub, lookouts checked over their shoulders to make sure no police were arriving. Perhaps they had been advised and were inclined to look the other way, for a half hour or so, this being a special occasion. I never knew.
My youngest sister Annie and I were uneasy. Annie had become reacquainted with Hugh about a year or so before his death, had dated Hugh for a few months. Then she spurned him, (again). "He was a nice enough guy," she said, "but had really let himself go. That pot belly and straggly beard he'd allowed to grow were a turn off." She liked well him, but not enough to date and be serious about him, but Hugh really liked her a LOT, and so she'd been avoiding him. Hugh also hung around with Reggie and she didn't like Reggie. Reggie was never anything but Sir Reginald, whether at a festival or not, and she thought he was a bad influence on Hugh, and that Hugh might have gone to the doctor sooner had he not been thinking so much of himself as a macho Irish lord long before modern medicine. Still, Hugh was gone, and she mourned his passing as a friend.
Perhaps it was the full moon, and wisps of clouds and the beginning of an evening fog blown about the sky by a night breeze, in the chilly October air. Perhaps it was the approaching Samhain, the time of the year when night increases and our ancient Celtic ancestors believed the barrier between the worlds of the living and the dead weaken. Somehow Serena's voice was more resonant as she called us to remember the good in Hugh, say a prayer for him, out of our own beliefs, and to mourn his passing. Several of us spoke of favorite memories. Serena called on his spirit, which she believed had not yet gone to its final destination to listen and be loved. Marcus filled the two-handled goblet again and again and blessed it as each two persons in the ring of about 20 drank from it in honor of Hugh. Before the bottle was finished, Reggie sprinkled a few drops over the casket holding Hugh's remains, "to ensure Hugh had one last taste of his favorite." Annie, reluctantly described a few memories of Hugh and herself, as she'd first known him and said good-bye.
This seemed to inspire Serena, who then told Hugh's spirit, "we know you have a fine destination with other loved ones and your ancestors waiting but you need not hurry there if you do not wish. You are welcome by this circle of love to linger and stop in your friends' homes and lives and say good bye to each of them in your own way."
In that very moment, the breeze stopped, the night became very still, and I thought I heard a distant shriek. A few others did also. The circle tensed, and we all looked about. Nothing solid approached. no teenager racing about and squealing tires, but the darkness seemed to increase. A dark cloud had spread across the moon and seemed to hover over us. Annie was real uneasy at this point and shifted her feet a few times and looked over her shoulder. My instincts practically screamed inside of my head, "Serena what were you thinking! Hugh IS listening and he's a practical joker, for heaven's sake!" Although we couldn't see him, Annie and I both KNEW Hugh was indeed present, and not just his ashes. Hugh had indeed been listening and he was thinking, and Annie had been the last person to speak of him and was special to him. The hair along the back of my neck raised and Annie complained she had goose bumps all over her arms. It was getting colder, besides darker, and we'd finished the bottle and opened the circle again.
"I need another drink', said Annie. 'I don't like what I'm feeling." Several of us headed into the pub, and as I turned, I thought I caught a glimpse of Hugh in his favorite costume, his saffron shift and dark green tunic over it, smiling and waving as he turned toward another couple we knew. I blinked and looked again, but the vision had faded! I told my husband, after I turned to him, "I'm going with Annie for another drink." My husband quirked an eyebrow, looked intently into my face and understood. This wasn't our first encounter with such things.
Ten years prior, the ghost of police officer, who had once lived there, used to pace the halls of our previous home. Every night at 2 a.m. the upstairs landing would creak at his footsteps. Virtually everyone who spent the night heard and asked who was restless the night before.
In our current home, my late mother, and a cousin still occasionally "visited," such as the time, my mother's portrait painting glowed, a cat stopped right in front of it nearly tripping me, and I heard her voice telling me to get to the doctor, NOW. I did, and was diagnosed with stage one ovarian cancer. Mom had died of this same affliction, and she apparently didn't think I should join her just yet. We caught the cancer so early I didn't even need chemotherapy. My late cousin, Michael, who had died just after Mom, visited also on occasion. He liked my cats, and was an occasional jokester. He'd let us know he was around by swinging a door back and forth, especially any that needed a little graphite on its hinges, or helping me with occasional recipes. This was partly how I had one occasion of five-alarm Hungarian gulyas (he'd swapped the sweet Hungarian paprika container with the hot on that occasion) and another where the amount of brandy in a marinade seemed to be more than I thought I'd put into the recipe and the chicken not only caught fire, but singed several branches of the bougainvillea next to the grill.
I should explain a little about my family. My sister and I descend from at least two families of my late mother's who were long ago accused of witchcraft, and having extra "sight," etc. By one vote of the justices, an early Virginia county court narrowly acquitted the sister of one ancestress of witchcraft, and another had been driven out of her community on the same charge.
My late father, himself, was a natural warlock of sorts, and his own mother prayed for his everlasting soul when she discovered some of his extra talents, beginning in his childhood. He found not just water, but minerals as well, and was able to see in the dark. There were also stories of Dad occasionally turning into a wolf, but those were just stories, right? His forestry and hunting skills were legendary, though, and when he was growing up, he only went hunting with his father or a very few trusted friends, some of whom were Native American, in the wilds of upper Michigan or parts of Canada near his home. He served with the Code Talkers in WWII, among other things, in the Japanese Islands campaign, and was one of only a very few of his original platoon, and even division, to survive. Grandmother said a lot of rosaries every night, for as long as anyone had known her, for her husband and her son. Interestingly, her own family background included a Transylvanian line or two, which she was usually inclined to forget, and a story or two about an ancestor's encounter with someone who thought he or she was a vampire. I once tried to calculate how many rosaries were in the multiple novenas said every night for several decades since 1907, and decided it all was more than I wanted to contemplate. Clearly there were deep, dark secrets in far more than just a couple of family lines, but most of it was just fairy stories, though more like those of the Brothers Grimm, before editing and revision, rather than Andrew Lang.
In my immediate family, there were four of us children, but the degree of unique family talents varied widely. My other younger sister seemed to have almost none, and bitterly resented the rest of us who did, telling the rest of us we were all simply insane. I probably had the most of the unique talents, so she saved her greatest wrath and most spiteful barbs for me--whenever Mom and Dad weren't around to hear her. Long ago Mom had told me a strange tale of a night on a beach dimly lit by a crescent moon, in the Pacific at the end of the war, when my father didn't seem to be himself. It sounded to me too much like the old fairy tale of Uther changing into Gorlois, the Duke of Cornwall and seducing Ygraine of Tintagel, only Mom had implied that my father might have either been a Selkie who took human form, or, in his invisible energy state had temporarily merged with and taken over my father, and I dismissed it. Any resulting child is mostly human, but not entirely, and never really completely fits, or feels comfortable with the human world, nor should it spend any time in it, the world of the Shee, either. But this was just another fairy story and Mom was just using it to help me cope with my middle sister, or so I thought. These things just didn't happen in the 20th century. Mom told me to ignore these barbs, and said the extras might be possibly because I had an unusual birth and might not entirely be a full sister to the other three. "Don't worry about it, you'll always have extra protection she doesn't," Mom said. Then I found out the night we'd had the circle of friends say good-bye to Hugh, that maybe I shouldn't have dismissed it all as "just stories," after all.
At a table near the fireplace in the King's Oak, I sipped a large Irish coffee, heavy on the whip cream, light on the alcohol--I'm a certifiable cork-sniffer, according to my husband, and tried to relax listening to the music of the Irish session going on. This late in the evening, it had gotten past the jigs and reels played with gusto at top speed and there were more airs by Carolan, and soft laments, more soothing. Annie, who was not much of a pre-modern music lover, got roaring hooched, had an enjoyable argument with two other friends, over "the meaning of the road to perdition," while occasionally glaring in the direction of Serena, and finally began to doze off at the bar. She actually wasn't in much better shape, in many ways, than Hugh had been, but no one in his or her right mind would have ever dared tell her that. We all wanted to live long and enjoyable lives. Annie had a hell of a temper and occasionally held grudges.
Three of us carried her to our car. She snored all the way home, but woke to the sound of the garage door opening as we parked. The fog had come in, and the wind had picked up. It started to drizzle and the vines on the side of the house were were already wet, slapping against the walls and scratching under the eaves. The sliding back door had begun to rattle slightly and our two black cats had both retreated to our bedroom upstairs, neither lingering on the sofa downstairs, which given their usual rivalry, was a little unusual. Annie, who lived with us, at that time, retreated to her own suite, saying, "I can't stand this. I'm taking a sleeping pill." She took more than that.
Annie had a flask of vodka upstairs for high stress occasions, like the too often malfunctioning electronics at her job. Her department, she had long declared, was the orphan stepchild of the company, and got all the leftover bits and pieces of electronic machinery that no one else wanted, which she had to try to get and keep working together, while meeting daily deadlines. Annie and I had inherited something of a talent for generating electrical energy at times, when very stressed, that in her case could and did cause a few electronics mishaps, including a couple of fires. She hated computers in the first place and hated it even more when they were linked to other devices to accomplish anything, and especially if they were combined with telecommunications equipment. She would have been much happier living and working, before the 1980's. She finally got a full replacement of one particularly bad bubble-gum and baling wire rigged lash-up, when one piece of machinery overheated and blew apart, causing a fire that evacuated the entire building, and she'd been at the other end of the room fuming about its latest over-time causing misbehavior when it happened. Electronics--and people--survived much better if she really relaxed in the evening.
I'd only once had something like that happen, but though the blown printer-copier had flung what looked like shredded steel wool, all over my study, along with a few overheated bits of plastic, there had been no fire. Besides I'd simply tried to exceed the maximum number of copies too long and too fast, right? It had nothing to do with the ingrates who had suddenly decided they wanted them yesterday and, being a non-profit, never paid me for my work.
My husband and I watched a little of some late night comedy variety show with the cats cuddling up next to us and turned off the television and went to sleep. I then started to dream about Hugh flying about to all his friends' homes, saying good-bye, mostly by entering through their dreams. Sometimes, they would wake to his presence, but most often not. Unfortunately he wasn't alone. He was being followed--chased-- by a young woman with very long, nearly garnet red hair, and dark hazel green eyes in a black gown and hooded cape and she was trying to get him to stop his rounds and go with her. She was his family banshee, she protested, and was to escort him to his new home, but she was a FAMILY banshee for a very large clan, and she had other visits to make and Hugh was blowing her schedule. "Please, come with me," she pleaded, "you've been a good person, and people are waiting for you in your new home."
"Not yet,' Hugh would reply and wave her off, "I've got more friends to visit, waken and bid adieu. I'm full of energy now, and I can fly and it feels great! I want more time - I'll go with you eventually."
He made another few visits and the banshee became angrier, screeching so they could hear her and making his friendly visits difficult. "You have no idea how loud I can get," she warned him, "or why." He approached our house, ignored the banshee again, and I saw him land in the front side garden, though he'd never been there. Hugh looked up toward Annie's window on the second floor and seemed to know that it was hers. He walked through the closed front door, as though it was not there, and started toward the stairs. The banshee was now trying to grab his arm, and his shift sleeve flapped back and forth, as he shook her off, and he darted up the stairs.
At that point the banshee began to shriek in sheer irate frustration--and so did one of my cats. I started to wake and still, more than half asleep, sighed and mumbled to them to "knock it off. I know what's going on, I'm not involved and I need my sleep." Somehow the banshee heard me and she spun around and stopped at my doorway. "You can hear me? You can see me?" she demanded of me. 'You're not afraid of me?" I could feel her presence and now, more alert, saw her, at least some of her. "No," I answered.
"Why not?" the banshee asked, "are you a Shee, also?" I was now fully awake--and the male cat had switched from his warning-siren yowl to growling and pacing back and forth across the end of the bed. The other cat had dashed behind the headboard and was making mewing sounds from behind and beneath, as if to say, "Mom, make it go away, please!"
I suddenly remembered all the old stories I'd heard about banshees and humans. Humans were not supposed to see banshees unless they were dying. Only another Shee, or someone part Shee, could see and interact with them and not die. Not only that, they were generally family specific. They were once married, or loved and had a sexual relationship with a long ago member of that family. They had once been fair folk, fairies, in Ireland and Scotland called Shee, but become mortal to share the shorter life of a person they loved. They then were abandoned by the person they loved or killed by a relative, but not until they'd given birth to a member of that family. Thus, the combination of circumstances permanently tied them to the family. Banshees are a kind of angel of death, but as a family personal escort, and not for everyone. A bad person in the family had no normally friendly personal escort to a different hereafter. There was another order of beings that took them wherever they were to go.
This wasn't my first encounter with a banshee, but I somehow didn't think it was a good idea to tell her this. My own family had a banshee somewhere in it who escorted good males and warned those he had loved the most of his passing, especially if it was untimely, as it was for my uncle. Many years before, I'd heard the wind that sounded like crying and wailing before, as did my mother. My next sister, bless her, slept through the whole night my mother and I were up, in a solid brick and stone apartment building back east, listening to a keening wind that wasn't really there to most people. When I looked out the front room window, not a leaf was moving on the nearby trees. I saw though, glimpses of something like a dark cloak and sleeves beating at the edges of the window, and then a shadow circling above and in front of the building. I believe my mother saw it also, as she occasionally stared out the window, but she said nothing and I didn't ask. She got down the Bible from the top of a side-board and began to read to me instead until dawn, when the strange wind stopped. My mother wasn't surprised at all to get the telegram, a few hours later, that told her her favorite, and closest, brother was dead at the age of just 35, and that he died unexpectedly.
So, instead, half whispering to not alarm the cats further, or wake my husband, I carefully spoke to Hugh's banshee. I told her that I was more human than anything else and very mortal, with hearing that could be damaged by continuous loud noises, such as she and/or the cat had just inflicted. I told her that I could see her better when I was sleeping, but yes, even mostly awake, I could still see her black gown and cape now, though not her face, any longer, and that she seemed to be growing rather large. 'Why was that happening?' I wondered, mentally.
My husband, whom I used to suspect could sleep through a bomb blast, was beginning to stir, though, by now, the cat was no longer yowling and I was mostly whispering. He rolled over toward me, and asked, "what's going on, and why is the cat growling? We haven't seen any raccoons for weeks." 'We have a banshee.', I replied. "Oh?" He asked, and rolled on his back and looked around. "All I see is a dark shadow by the door, but I'm not awake. Is that all?"
'You're seeing just the upper part of her. The rest of her is filling up the lower floor, and I think her head is now in the attic. Her size seems to be related to how upset she is,' I told him. 'The banshee has been trying to catch Hugh ever since Serena told him he could stay with his friends longer. Hugh is now trying to wake Annie.' The banshee bent her head down partly through the attic floor, and the shadows that were her clothing fluttered a little, as she nodded.
"Tell Hugh 'good luck with Annie! No doubt she's dead to the world." My husband sighed. I'm going back to sleep." He then rolled over on his side and pulled up his covers, as if to block out further sight and sound.
I turned to the banshee, who was watching the cat, but keeping her distance. I knew I had to do something, as the banshee was not going to leave without the stubborn Hugh, and my cat would not settle down again until she was gone. Given how large she had grown, I was not entirely sure how much damage an irate banshee might do to a house of wood and stucco. Chauncey, our male black cat finally seemed to realize that the banshee might be an unwelcome night time visitor, but, as long as she came no closer, was barely tolerable. The growl and pacing subsided to a soft, "rrrr," as he sat upright at the edge of the bed, with his tail switching back and forth. He flexed his claws a few times, just to show he was still on-guard.
The banshee then began to vent, loudly complaining about every detail of the long chase she'd made all over the South Bay area since Serena's ritual had unwittingly enabled Hugh to linger. No one, especially the ungrateful Hugh, appreciated her efforts and responsibilities, and on and on she went. The banshee swelled and grew ever larger, the longer she complained. She was now filling both floors like a giant balloon of darkness, except for my husband's and my bedroom, and with that inner third eye that had not seemed to shut when I woke, I could see that her head was now bobbing furiously over the roof above the attic and her long hair was shaking the bougainvillea, making it slap again into the soffits and sides of the house. My female cat mewed plaintively from behind the headboard, again.
Hugh also heard the banshee's commotion, and began to protest at her crowding him, while he shook Annie trying unsuccessfully to wake her and say good-bye. I told Hugh he was wasting his time and that of the banshee, that Annie was near comatose, from a sleeping pill, if not two, and the extra alcohol. Stubborn Hugh was sure he could wake her anyway. Hugh was still into the ideal of the macho, all powerful medieval male lord, even if now he was little more than a vapor.
Now the banshee was about to envelop the entire house from the outside, and the windows began to rattle as though in a gale. Since she couldn't shake Hugh, the banshee seemed about to shake the entire house apart! I wasn't far behind the banshee in my own feelings of exasperation. Chauncey began to growl again, and my husband had stopped snoring. How in blazes was I going to convince Hugh that saying another good-bye to my sister was futile and he really should go with his family banshee? I did the only thing I could think of quickly and prayed, silently. Where are my guardian angels? Where are Christ and his Blessed Mother, Mary? Are they all that busy elsewhere?
Suddenly, from the back wall of the stairwell, two lights appeared and began coming toward us. They passed through the banshee's gown, and she looked down. Car headlights only reflected from the next house into my bedroom and not into the wall in the stairwell. It was obvious I had more unworldly visitors, about to appear! Probably they were ghosts -but ghosts on a mission. Had my prayers been answered and a heavenly cavalry arrived?
Well, it was not exactly a cavalry, more like a couple of Texas rangers! One of them, in life, even had a rather checkered history with law enforcement.
My often iconoclastic, and always irrepressible, Hungarian cousin Michael took form in his favorite black monk's bath robe, smiled, and introduced himself to the banshee, with these words:
"Hello, I'm Michael, Cecilia's cousin and I am very happy to meet you. I've always wanted to meet a banshee. We didn't have them in my part of the family. However, I know you're busy, so I'll take care of Hugh and send him down on you. Cecilia's mother Lily Maie is here waiting for you and will help you do what you need to do. You will like her."
Although surprised at cousin Michael's appearance, I remembered something. Michael had been engaged to a beautiful mortician at the time of his early death, and Maruschka was a visual double for Hugh's banshee.
Now curious, about my strange family who would all get involved with a banshee on my behalf--and could see and hear her, the banshee decided to go talk with this Lily Maie, my mother. Their unexpected visit was most unusual and such an interruption had never happened before, none of it! Getting this much attention, was very rare, indeed!.
The dark shadow began to shrink away from the upstairs and flow down the stairs. Michael watched the banshee depart and then turned to me, "Everything is going to be just fine, now. I'll retrieve Hugh and your Mother will calm the banshee down. Just don't go downstairs for a little while yet, and don't let that cat out of the bedroom as a banshee can feel a cat's claws and teeth, and we don't want her getting upset again." Michael then reached out and stroked Chauncey, who reacted as though this was the best moment of his night rolling on his back for a ghostly tummy rub, and purring.
'Chauncey' was the name that Michael used for special friends on occasions when he thought they were behaving, amusingly, like English aristocrats, and this cat had been, from the start, a little Sir Launcelot, and took his protector role very seriously. Chauncey was also very fastidious in cleaning himself or dining--"damned prissy sometimes," my sister, had commented. Chauncey also announced himself, like a little clarion, or the changing of a guard, every time he came in the house or a room. He and Michael had become instant friends, even before Michael died, and they stayed friends, ever after. "I'll see you all later," Michael then said, followed by "Chauncey behave yourself now. You need to stay here with Cecilia," and Michael headed into Annie's bedroom. Chauncey crept to my side and settled in for some head rubbing and scratching, and my husband resumed snoring.
I heard two male voices arguing, and Annie drowsily muttering, then shouting, 'I'm awake damn it! Go away! Both of you! Especially, you Michael - you almost killed me twice when we were kids, and I still haven't forgiven you! And what in the hell are you both doing in my bedroom, anyway??? And you Hugh, I said good-bye in the Circle. You're a nice guy, but it's been over for a long time. Go bother Reggie!"
"I already did! Hugh protested. "He couldn't hear me, then when I made his lamp flicker, he threw it right through me!" Hugh complained indignantly.
"Serves you right for waking people in the wee hours," said Annie, "I'm sorry he didn't see you, and I'm sorry you didn't have a longer life. We'll see each other again someday. Now, I'm sure there are lots of good people waiting for you, in your hereafter. Goodbye"
"Well yes, but I wanted to see you again," Hugh said.
Now more alert, "I've heard all the same stories you have', quipped Annie, 'You can see me anytime from anywhere--you just wanted ME to see YOU! I know you, and your tricks, Hugh, you and Michael are two of a kind. Go with Michael but don't give each other any bright ideas that cause any more problems.' I could hear Annie roll over, probably looking at the clock. 'Come on guys, it's 3 a.m. and I NEED my rest at this point. That machinery at work doesn't cooperate any better when I'm short on sleep!"
Michael laughed, "You know I could eliminate the machinery for good, this time, for you."
"No, thank you!" Annie yelped. 'Michael, I still remember what you did to Uncle's old car. It's a wonder you didn't get arrested for that one! You didn't learn a darned thing after you launched the old barbecue grill nearly into orbit! It was seen in DETROIT, for Chrissake! You're worse than I am with pyrotechnics! Now GO--GET OUT, BOTH Of YOU!"
As their voices faded, I heard Hugh say, "Hmm, now this sounds interesting, just what DID you to your father's old car?" "I blew it up--literally," said Michael. Come with me and I'll tell you all about it."
The two had departed, at long last. "Finally," Annie sighed," I think I need another drink! I could hear her stumble into the bathroom for a glass, then back to bed.
The breeze of the early evening had returned, dissipating some of the fog, and a thin sliver of street light again came through the side of the window the blinds did not completely cover. My female cat came out from behind the headboard and curled up next to me, on the other side from Chauncey, and peace reigned.
The next day, after Annie returned from work, while serving dinner, I cautiously asked her how her day went. "Well, despite being dog tired, my day was fine," she replied," for once the equipment didn't act up all day long, not once, which was a good thing." Then she said, you know, I slept pretty well, except for a funny bit of a dream that I can't remember completely, now. I think Serena's antics might have triggered it, but I really can't remember much. I dreamt that Hugh's and Michael's ghosts had both had visited and then went away discussing how Michael blew up his father's old, decrepit car. Huh! I always thought Hugh reminded me of Michael. But that's silly."
My husband coughed slightly, and looked at me. I looked at him, about to ask him if he was alright, and he shook his head and said with a little smile, "everything's just fine."