AmeriCeltic Newsletter
Published Friday, 2017-05-19
Hello {FIRST_NAME|AmeriCeltic Reader},

AmeriCeltic.net is a non-profit public service, supported by you, our readers.

will help us prepare and distribute these newsletters, continue our public outreach, as we are did by hosting the AmeriCeltic booth at the Irish Fleadh in Mountain View last weekend, and support our Mission. (See below)


Read more about our work on our website here: www.AmeriCeltic.net/about

Subscribe to our YouTube Channel!


Updates & Events

Updates:
• We offer another Pub Review, of Saint Stephen's Green, Silicon Valley's authentic Irish Pub, located in Mountain View. (See Below)
• Regular Reviewer, Cecilia Fabos-Becker, provides TWO reviews: Northern California Celtic Societies and Celtic Festival Jewelry Vendors. (See Below)

Events:
• TONIGHT, Friday, May 19 at 7:00 PM, the Mullen-Jones Project, featuring Tempest alumni Michael Mullen and Greg Jones, make Celtic Jazz at Ale Industries, 3096 East 10th Street in Oakland. (See Below).
• A review of U2 at UICC, in San Francisco Sunday, May 21th at 2:30 PM.
• On Sunday, May 21th 10:00 AM - 3:00 PM, its the South Bay Scottish Society Scottish and Celtic Gathering, with Scotish Balladeer Peter Daldry at Martial Cottle Park in San Jose. (See Below)
• On Thursday, May 25th at 7:30 PM, The Erica Hockett and Co., performs at Slainte Pub in Oakland, and on June 3rd, at The Chieftain in San Francisco. (See Below)
• And Wake the Dead launches their Summer of Love tour in Oakland on Thursday, June 1st. (See Below).
• Hot band, Charmas has gigs at the Silver Mountain Winery 12:00 - 3:00 pm Saturdays, May 27 & June 24 & Sunday June 25, Tuesday, June 20, 5:30 - 8:30 pm @ Pasatiempo Golf Resort, and Saturday, June 9th, at 6:30 PM at the UICC (See Below).
• And hot singer Erin Ruth Thompson entertains at the UICC, with The Crooked Road Ceili Band on Friday, June 30th, at 6:30 PM. (See Below).

Worth a repeat:
• Check out AmeriCeltic's new YouTube Channel, and the dozens of videos from our favorite regional Celtic artists. Click Here and Subscribe!

Scan our feature articles below, or as always, you can click here to check the next month of listings on our website.

Join our supporters! Donate to AmeriCeltic, and we will add your name here: www.AmeriCeltic.net/sponsors
---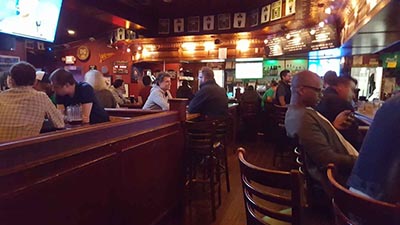 Pub Review: Saint Stephens Green
'Great Irish Pub in the middle of Silicon Valley'
Saint Stephens Green, 223 Castro St., Mountain View
Founded in 1999, Saint Stephens Green has served as a focal point for people to meet and socialize ever since, and following it's namesake, in Dublin, Ireland, a place to get away from modern stresses, relax, and enjoy a taste of Ireland in Mountain View, with a truly Irish atmosphere and lovely crew. Definitely worth a visit.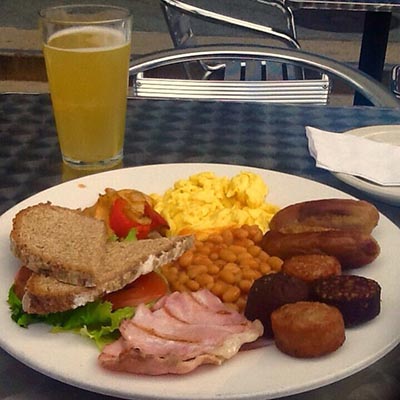 When you walk in, you are engulfed in pub atmosphere, with large pictures of Irish green landscapes and sea shores. The Pub's ambience is dark, like it would be in Ireland. Walk to the back and you will find the bar on your right and restaurant seating on your left, with plenty of small and large tables all over the restaurant that can be used for socializing, sharing libations, or dining one on one, in groups large or small. Of course there are wide screen TV's hugging the walls for the sports fan.
This place has a great happy hour with 3-4 dollar beers from 3-6:30 Monday thru Friday, BOGO specials Monday thru Thursday and breakfast on Saturday and Sunday (pictured). They offer, a large beer selection, including Guinness, Harp & Smithwicks from Ireland, and a full menu, offering traditional Irish Fare as well as great burgers, sandwiches, and salads and Irish specialties. Try the Tullamore Dew Creme Brûlée!
They also offer some interesting choices like their specialty burgers. Build your own burger from choices of Buffalo, Kobe beef, chicken, or lamb and finish them off with any number of tasty toppings. Their 'Irish Cheeseburger' is made with Kerry Gold cheese from Ireland.
More info at https://www.ststephensgreen.com or call (650) 964-9151.
Saint Stephens Green supports the community, and hosted their annual charity fundraiser, the 4th Annual Silicon Valley Irish Fleadh, last weekend. Fleadh (pronounced fla) is the Gaelic word for festival, or a gathering, and last weekend was a GREAT celebration of Irish music and culture, with two days of the best Irish talent, music, dance, crafts, food, and fun for all ages!
---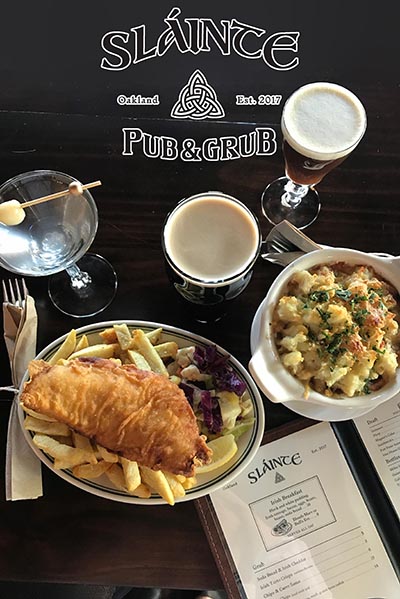 Sláinte Pub, Oakland
Jack London Square, 131 Broadway, Oakland
Sláinte (slahn-cha) is an authentic Irish pub offering a menu of traditional Irish cooking and classic cocktails in the heart of Jack London Square.
The menu features Irish cuisine from Irish-born Executive Chef, Jackie Gallanagh, with dishes that include both imported & local ingredients. Owner and Beverage Director, Jenny Schwarz, of Oakland's popular restaurant, Hopscotch, offers a bar menu with classic cocktails, a well-stocked selection of whisky, premium spirits, and local & imported beers.
Sláinte is open Tuesday - Sunday : 12pm-midnight Closed Monday. Contact them at (510) 823-2644 @slainteoakland or check the website https://slainteoakland.com. Sláinte also features some of the finest local and regional singers and musicians, in live, acoustic performance.
Appearing Thursday, May 25th at 7:30 PM
The Erica Hockett Trio
This is the new folk and traditional band putting out great folk music, a mix of upbeat jigs and reels, pub songs and ballads from around the British Isles and Ireland.
For the new Erica Hockett and Friends video, just Click Here! For even more music, check their Soundcloud site!
Erica Hockett – Vocals/Bodhrán Erica Hockett grew up in Chipping Norton, Oxfordshire, nestled in the English Cotswolds, home of Fairport Convention. Growing up singing in the local pubs, Erica came to love folk music from the British Isles and Ireland, especially the tales of woe and the history embedded in the old ballads. After a stint in Tokyo doing electronica and backing vocals in a rock band, Erica arrived in the Bay Area in 2002, and has since performed in many bands and genres including including, rock, pop, EDM and drum and bass. She is a member of several Bay Area bands including Hardly Strictly Trad with Jon Rubin, Ya Elah, an Eastern European vocals and harp group, classical early music group Fweeter, and MacClain and Cole.
Chris Hammond a.k.a. Alonzo Garbanzo – Guitar/Vocals Chris Hammond's first musical love is Bluegrass and Appalachian music. He plays a beloved guitar which was made in the 1930s and he loves to sing those high lonesome harmonies.
Troy Dillinger – Accordion/Vocals Troy Dillinger, tired of selling jeans in retail, took up the accordion in hopes of landing a job playing at the Macaroni Grill in Escondido, California. After many an evening of playing O Sole Mio to pasta-devouring patrons, Troy turned his sights to gypsy jazz and played with the illustrious quintet John Coffee & the Dark Roast. Most recently Troy has been studying the incorporation of piano accordion in traditional Irish music.
---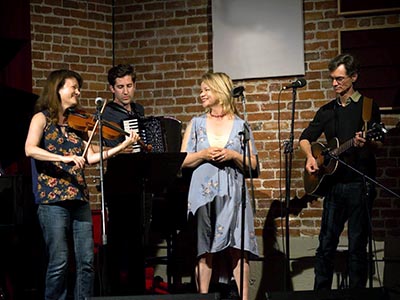 Chieftain Irish Pub & Restaurant
198 5th St, San Francisco
The Chieftain Irish Pub & Restaurant, 198 5th St, San Francisco, CA 94103, is a local SoMa Pub with Irish pub grub & beers on tap plus sports on the satellite TV. A bustling nightspot, The Chieftain also features local and regional singers and musicians, with robust sound support.
Appearing Saturday, June 3rd, at 8:45 PM
The Erica Hockett Quartet
On Saturday, June 3rd, @ 8:45 PM, The Chieftain presents the The Erica Hockett Quartet. Joining Erica, Troy and Chris for this appearance is fiddler Anne Goess.
Anne Goess – Violin/Vocals/Tin Whistle Fiddler Anne Bingham Goess has played for many a ceili, English Country and contra dance in the Bay Area, with The Raggedy Annes and Raven Hill, among other bands. She has also arranged instrumental music for several theater productions, including Bloomsday and a commemoration of the Easter Rising. When she's not fiddling, she's singing with the Christmas Revels and directing the Revels Solstice Singers, a traditional music vocal ensemble that entertains year-round. For more on Anne, Click Here.
The Chieftain is a local Irish Pub bringing the culture of Ireland to San Francisco, with a full bar, Happy Hour specials, and a full Irish restaurant menu, including favorites like fish and chips which goes with any style of sport, music or fun.
For the latest at The Chieftain, check the facebook Page, www.facebook.com/chieftainirishpubsf, or call 415-625-0436, or email Mark Nagle at mark@thechieftain.com or check www.thechieftain.com.
---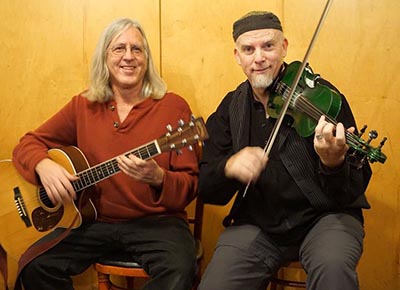 Mullen Jones Project in Oakland TONIGHT!
'Miles Davis meets Riverdance'
Fridays, May 19 & 26 at 7pm @ Ale Industries, 3096 East 10th Street, Oakland
Greg Jones and Michael Mullen, both lately of the legendary Celtic rock band Tempest, have created a new group, Mullen Jones Project. This "Celtic Bop" band plays Celtic music with a jazz accent, fusing Celtic melodies with the rhythms and harmonies of various jazz idioms, from New York to Brazil via Dublin and Edinburgh – Kinda like Miles Davis meets Riverdance. Celtic with too much jazz, or jazz with too much Celtic, depending on your point of view, Greg Jones and Michael Mullen are certain to give your musical palate some excellent new flavors to savor!
To hear Mullen Jones Project put their formula to work on the ancient tune, O'Carolan's Concerto, Click Here!
And another, A Fig For A Kiss
This will be the duo's first appearances at Ale Industries in Oakland. For more information on the venue, check http://www.aleindustries.com or https://www.facebook.com/aleindustriesbeer.
For more information on Mullen Jones Project music, email Michael Mullen at me@michaelmullen.net, or call 510-414-6063, or check his websites:
https://www.facebook.com/events/631859000352662
https://www.facebook.com/MullenJonesProject
---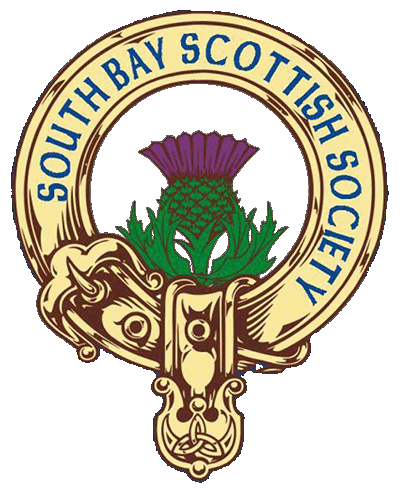 South Bay Scottish Society Scottish and Celtic Gathering
Sunday, May 21st, 2017, 10:00 AM - 3:00 PM
Martial Cottle Park, 5283 Snell Avenue, San Jose
Experience Scottish and Celtic history, traditions and culture at our Scottish and Celtic Gathering
Entertainment throughout the day includes:
• A working Children's model train layout operated by Diablo Pacific Short Line!
• Scottish and Celtic Music by Peter Daltry!
• History of various weapons and demonstrations by Davenriche European Martial Arts!
• Sweet Scottish and Celtic Treats by Artisan Candies!
• and many, many more exciting events!!!
Free Event - County parking is $6.00- street parking is free!
More information at southbayscots.org
---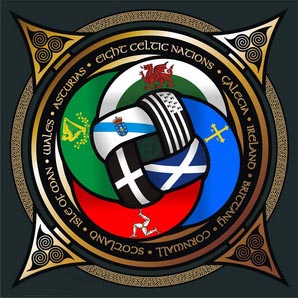 Northern California Celtic Societies
Organizations for Scots, Irish and more
by Cecilia Fabos-Becker
The festival season is in full swing, and perhaps you've recently been to either the Sacramento Valley (at Woodland) Scottish Games or the Silicon Valley Irish Fleadh (Irish festival, in Mountain View). You might be wondering where else you might get involved in something Scottish, or Irish, and social, as well as doing some community good. Some people enjoy more than just going to an occasional pub-restaurant for music or festival. If you are interested in more, you might consider participating in and joining one or more of a our local membership organizations, which we will try to mention in this article.
Several, including United Irish Cultural Center and the San Francisco chapters of the St. Andrew's Society and the Caledonian Club of SF own their own buildings, and offer regular meetings and events in the same place every time, (rather than having to find a space and then let everyone know where the event will be every time.
The United Irish Cultural Center (UICC) owns a large facility, with a number of large and small meeting and banquet rooms for all kinds of events, its own full restaurant and maintains a menu with a number of Irish/British favorites and a large bar. UICC hosts a regular live Irish music and dance, and a monthly session every first Saturday of every month that often has participation from a number of members of local bands in attendance. UICC has a number of cultural events and social activities on other evenings and Saturday afternoons. It has affiliations and divisions that support other Celtic entities such as the local Gaelic Athletic Association (GAA) teams, a pipe band, and is a leading organizer of the annual St. Patrick's Day parade in San Francisco. Many UICC members are also members of the Irish Literary and Historical Society of the San Francisco Bay Area or other organizations which helps raise scholarship funds for Irish students to study in the U.S. and American students to study in Ireland. It has 800 plus members, and membership is available to anyone interested in Irish heritage, culture, the organization and/or its affiliates. The UICC is located in west San Francisco just north of the San Francisco zoo at 2700 45th Ave, San Francisco, and has parking at the site and on the street around it. It's a great place to take the family!
The Saint Andrews Society of San Francisco (SASSF) meets in an attractive historic fire-house that it owns at 1088 Green St, San Francisco, and at it's monthly meetings, offers free valet parking for members and guests. It holds educational meetings about topics covering Scotland, Scots-American relationships, and has a number of very nice social events including whiskey samplings, dinners with poetry readings (some definitely humorous) like the annual 'Robert Burns Supper', dancing, etc. some of which it holds in conjunction with the Oakland chapter and the Caledonian Club of San Francisco. It raises funds for scholarships in Scotland (Scots coming to the U.S. and Americans going to study in Scotland), and Erskine, a hospital for wounded Scots servicemen, including chronic conditions from service injuries, etc.. SASSF meetings often begin with complementary light refreshments and beverages. Its membership is open to people with or without some Scottish heritage who have an interest in the organization, Scotland, etc.
There are Saint Andrew's Society chapters in Oakland and Sacramento as well, but note that not all chapters have the same degree of liberal membership policies. One or more chapters of St. Andrew's has a hospitality and information booth at most of the area's Scottish gatherings and games.
---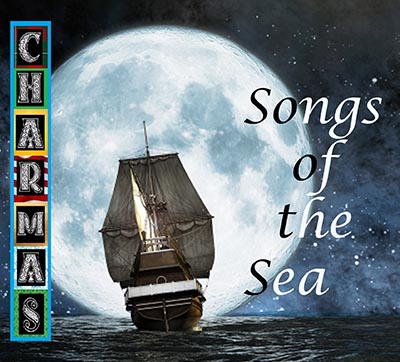 Charmas New Album Songs of the Sea!
Charmas Concerts in Scotts Valley, Los Gatos & San Francisco
Charmas has a brand-new 19-track album, Songs of the Sea! and five more concerts coming up in the next six weeks.
This unique sea music collection includes traditional Celtic and Afro-Carribean sea chanteys, Scottish boat songs, sea-themed sailors' ballads, Irish pub songs, Canadian folk rock, instrumental water music, and one original sailor song.
Preview sample song at Isle Au Haut.
• Saturdays, May 27 & June 24 & Sunday June 25 12:00 - 3:00 pm @ Silver Mountain Winery, Silver Mountain Drive, Los Gatos
• Tuesday, June 20, 5:30 - 8:30 pm @ The Hollins House Restaurant at Pasatiempo Golf Resort, Pasatiempo Golf Resort, 20 Clubhouse Road, Scotts Valley
• Friday, June 09 & Saturday July 08 6:30 - 9:00 pm @ United Irish Cultural Center of San Francisco, 2700 45th Ave, San Francisco
Download your copy of the CD today by visiting https://charmasband.com/purchase-cd
Full Details at https://charmasband.com, or email Elise MacGregor Ferrell at eliseelise@aol.com.
---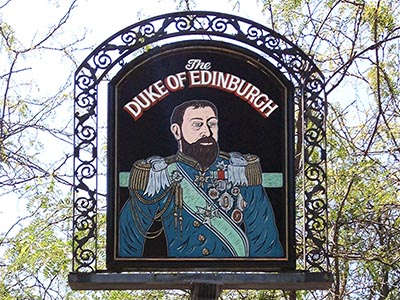 "The Duke" Authentic British Pub
The Duke of Edinburgh Pub & Restaurant
10801 N. Wolfe Road, Cupertino, CA, 11:30am - 2:00am every day of the year
The atmosphere at the 'The Duke', is the same as you would find in any pub in the British Isles, full of friendly patrons who come in to socialize, play darts, have a pint or two, and eat a meal. If you are looking for a comfortable elegance, pints of beer and authentic food, in an authentic English Pub, there is no a better choice in the Bay Area. The Duke offers a large number of beers on draft and by the bottle. Almost anything English, Scottish or Irish is available. Murphy's Irish Stout brewed in Cork, Ireland and Scotch Eggs is always a good choice.
The servers are excellent and very knowledgeable about the beer and food menu. The menu is expansive and worth exploring. The dark pubsy feel with old regulars in their respective, but not crowded corners around lunch hour in Cupertino, is a great boon.
You can't find more 'authentic' atmosphere, because the entire building was built in jolly old England, then disassembled, shipped and reassembled on site in Cupertino. With the red velvet seating and wall paper and ornate, dim lighting, you are transported to London as soon as you enter the etched glass door.
More info. on The Duke Facebook Page, website www.theduke.com or call 408-446-3853. The Duke is presently looking for line cooks and bussers, call the Pub if interested.
---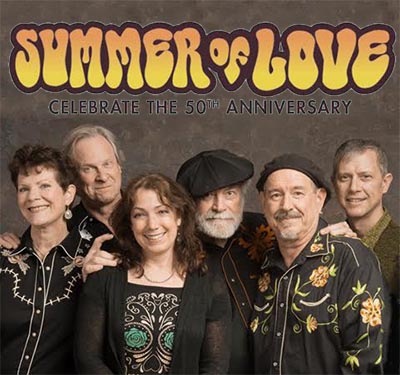 Danny Carnahan and Wake the Dead
Your Summer of Love Party Band
Oakland - June 1st | Santa Cruz - June 2nd
WAKE THE DEAD, the World's Only Celtic All-Star Summer of Love Party Band has two new shows to celebrate this Anniversary! Let's ratchet this warm and fuzzy feeling right into Summer of Love mode!!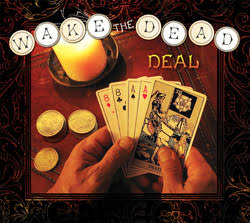 First known for weaving jigs and reels into the songs of the Grateful Dead, this hot Bay Area acoustic sextet now Celtifies the entire Summer of Love including the Airplane, Youngbloods, Buffalo Springfield and even the Beatles.
Here are a couple of sample Studio-Produced Videos of Wake the Dead:
Wake the Dead - Down the Days / Andy McGann's / Music For A Found Harmonium
Wake the Dead - Waiting For Snow / Darkness Darkness / Reel Mattawa
Wake the Dead is Danny Carnahan (vocals, fiddle, octave mandolin), Sylvia Herold (vocals, guitar), Paul Kotapish (vocals, mandolin), Kevin Carr (uilleann pipes, fiddle), Cindy Browne (bass) and Brian Rice (exotic percussion).
Seventeen years of rocking acoustic joy and still going strong - spotlighting songs from the brand-new CD 'Deal'. Fans are guaranteed brand-new surprises at every show.
Wake the Dead Summer of Love Tour

THURSDAY, JUNE 1st
BENEFIT CONCERT for the CALIFORNIA REVELS
at OAKLAND FIRST CONGREGATIONAL CHURCH
2501 Harrison Street, Oakland, CA
Doors open: 7:30 PM
Showtime: 8:00 PM
Advance Tickets: $30 adults/$20 kids 5-18 (and slightly more at the door... hey, after all, this is a benefit!)
Advance tix through Brown Paper Tickets: http://bpt.me/2934538
For more details, visit: http://www.wakethedead.org

Opening set by famed Gaita Gals bagpipe and drum band. Plus other Surprise Guests!

Nearly every member of WTD has performed at one time or another with the Revels, a wonderful Bay Area holiday tradition of many years' standing. We love this show and we love these people and we want to help assure that the tradition continues on, despite the cruel vagaries of economics in these peculiar times. So bring the whole family out for this show... held at a big and beautiful church space in which we will absolutely make some joyful noise. Our last Bay Area show till the fall... just sayin'. Now we're off to smell the flowers some more.

FRIDAY, JUNE 2nd
KUUMBWA JAZZ CENTER
320-2 Cedar Street, Santa Cruz, CA
Doors open: 7:30 PM
Showtime: 8:00 PM
Tickets: $20
Advance fix through Brown Paper Tickets: http://www.brownpapertickets.com/event/2934435
For will-call and more details, visit: http://www.wakethedead.org
For more info about Kuumbwa, call: 831-427-2227

Oh my, we always love the Kuumbwa, and it's been several years since we played here! Such a sweet room with delightful sound and equally delightful refreshments on offer. It's a listening room, but dancers always have room around the edges to follow any and all bliss.
Full Details, updates and ticket links at www.wakethedead.org/events
---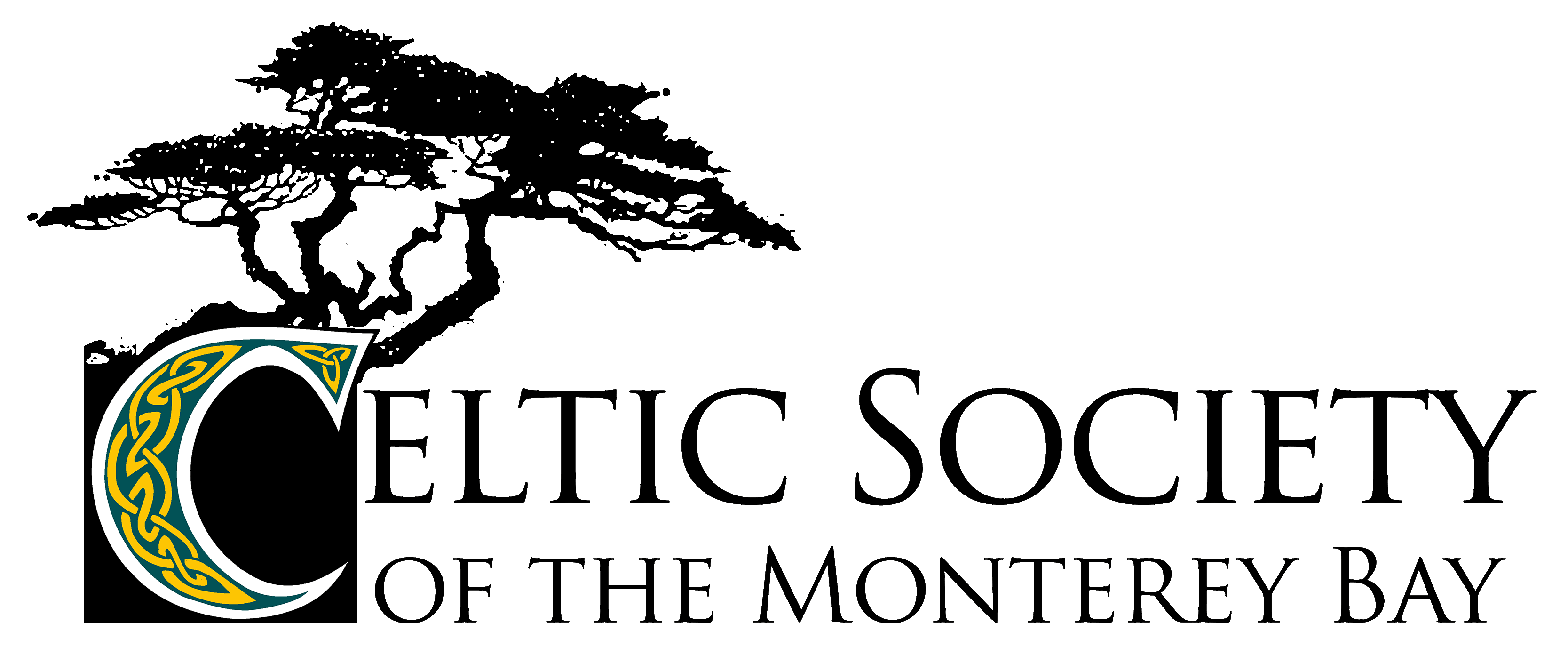 Celtic Society of Monterey Bay
The venerable Celtic Society of Monterey Bay has a 24 year record of bringing world class Celtic musicians to the Monterey Bay Area and is a key sponsor of AmeriCeltic.
Click here for full details of All Celtic Society of Monterey Bay Concerts on the CSoMB website! (Click on small arrow in the inset photo for the videos. Click on the 'more info' link for full details and ticket links.)
---
Shopping at Celtic Festivals
One Persons Perspective - Spring 2017
by Cecilia Fabos-Becker - 2017-05-19
When hosting at a Celtic festival booth, it's often difficult to get a break, much less have time to browse through the vendor areas thoughtfully. As my husband Tony takes more questions from folks asking whether they are Scots, Irish, Welsh, English or some mixture thereof, as most usually are, from the books and maps we bring, last weekend, I got a chance finally to spend a little time browsing the small but good selection of vendors at the Silicon Valley Irish Flead, in Mountain View. On a budget, I especially appreciate vendors that have beautiful, unusual work, whether it be in fabric, leather or jewelry, and priced under $50, or even $30!
In more than 20 years of hosting, I'd seen a lots of gifts at the many Scottish and Irish festivals and when you are hurrying, the unusual stands out. For some years, stand outs have been rare. Quite a number of vendors have the mass produced silver claddagh rings (two hands holding a heart) and the same few styles of earrings and pendants using a few of the variations of Celtic knots. It's almost all real sterling and good quality but, well, there is a lot of it, and a lot looks the same. It's also almost all produced outside of the U.S. in large factories, though blessedly, not a lot has a "made in China" label on it.
There are a few vendors who have started appearing in recent years who are different. For a long time for higher cost unusual Celtic and art-nouveau style jewelry, collectors and Celtic-fashionistas at some festivals have long appreciated "Postgate", a small design and self-manufacturing studio up near Truckee, California. It's been awhile since I've been able to afford their gorgeous gold work, but I certainly admire it every time I see them at a festival, and on others. You can recognize a Postgate piece at a distance. They are that good, but so is the price. "Nagle Forge & Foundry" has a unique mixture of higher and medium cost, unique designs all done in house. I once bought an unusual belt buckle there. I absolutely loved for its combination curves and waves design, and being just the right size for a woman's belt. At the Silicon Valley Irish Fleadh, though, I finally had a chance to spend some time examining the displays of three more vendors, newer, primarily jewelry, who do some or most of their own design work and either their own manufacture, or work closely with small, U.S. designer-manufacturers. I also revisited a more unusual gifts vendor whose wares attracted me from the first time I saw them at the Ardenwood Historic Farm Park Tartan Day in early April. All of these vendors will be at the San Francisco Caledonian Club Gathering and Games at the Alameda County Fairgrounds at Pleasanton in early September 2017, and several will be at the Costa Mesa Gathering and Games in southern California on the Memorial Day weekend. Some will also be at smaller festivals such as the Mother Lode Scottish Festival at the Amador County fairgrounds in the small town of Plymouth along Highway 49, on June 10-11, and either Reno or Big Trees (Felton) the second weekend in October.
---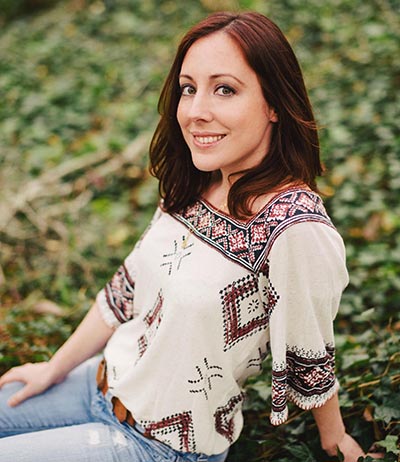 Erin Ruth Thompson @ UICC
with The Crooked Road Ceili Band
6:30 PM Friday, June 30th, / 2700 45th Ave, San Francisco
Rising star vocalist Erin Ruth Thompson came to the Bay Area in late 2012 from Tuscon via Hawai'i. With encouragement from Jack Gilder at the Plough & Stars Irish Pub in San Francisco, and Shay Black at the Starry Plough Irish Pub in Berkeley, Erin quickly fell in love with Celtic music, and has followed her heart, building an impressive repertoire traveling this path ever since. Erin is also an accomplished songwriter, keyboardist, and guitarist.
The Crooked Road Ceili Band is Jack Gilder, Concertina & Flute, Doug Lowder, Fiddle, David Chadwick, Guitar & Mandolin, and Julie Horner, Hammered Dulcimer.
Click on these links to see video samples:
Erin Thompson singing, Hard Times at the KKUP studios in March 2017 accompanied by The Black Brothers Band.
Erin Thompson singing her original composition, Miles Away at the KKUP studios in March 2017 accompanied by David Chadwick.
Erin Thompson singing A Lady Fair at the 'Spirit of Ireland' Award Luncheon in March 2017 accompanied by David Chadwick.
Erin Thompson singing The Rocks of Bawn 'Sean Nos' style in February 2017.
Erin Thompson singing The Foggy Dew accompanied by Tony Becker at the Mick McDonnell Memorial in November 2016.
More on Erin at More information at on Erin's website at http://erinruthfolk.com and sample tracks at her Soundcloud site soundcloud.com/erinruththompson.
---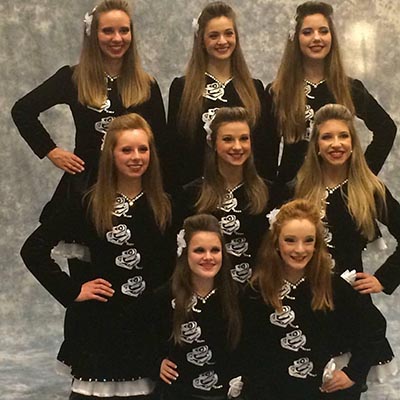 Greene Academy of Irish Dance
Learn to Riverdance!
2 locations: San Jose and Palo Alto
Have you ever wanted to learn how to Riverdance? Come join in the fun!!! Sondra Greene, ADCRG, has been teaching children how to dance for over 20 years, offering classes throughout the heart of Silicon Valley in San Jose and Palo Alto. Greene Academy Irish dancers are available to entertain at social events such as weddings and parties.
Greene Academy dancers compete at World Competitive Dance Feis. For a video of Kate Behan step dancing at the 2016 Worlds Qualifying Rounds, Click Here!
Get full details on the Greene Academy website www.greene-academy.com.
Sondra Greene, ADCRG, is a fully accredited teacher with An Coimisiún Le Rincí Gaelacha in Dublin, Ireland. Email Sondra at songreene@aol.com or call her at 408-313-6903.
---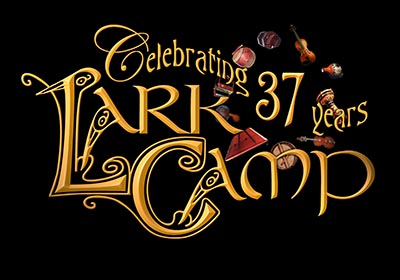 Lark In The Morning's 37th Lark Camp
Music, Song & Dance Celebration July 28 - August 5, 2017
Worldwide Workshops, Including Extensive Celtic Music and Song!
Unique in California, Lark Camp provides an open forum for the exchange of creative ideas between musicians, singers, dancers and composers. The Lark Camp experience is enhanced by motivational instructors and inspired students, who also share their passions and skills with the rest of the participants, while have one @&%!** of a good time!
For Lisa Lynne's Lark Camp Video, Click Here!
Lark Camp Adult & Family Camp features Music and Dance from the World Over
Music, Song & Dance Workshops • Cabins • Dances • Parties • Sessions • Great Food • Dance Hall • Dining Hall • Camping • Fire Circles • Mendocino Woodlands Redwoods • Full Camp 8 Days or Half Camp 4 Days
Lark Camp 2017 Registration Is Open Register Now to save your place.
Imagine idyllic days & nights in the magical redwood forest filled with all the music, dance, and good times you could possibly stand, and that's kind of close to what Lark's Music Celebration is like. You are free to take as many or as few of the workshops offered as you like; jam sessions 24 hours a day, big dances every evening. Plenty of good food, new friends, and musical stimulation. Truly a unique total immersion into the joys of nature, music and dance. Many workshops for the professional as well as the beginner!
To review the Lark Camp Music & Dance Staff 2017, Click Here. For pictures and videos of past Lark Camps Click Here, or check the history, layout, what happens at camp, and much more, at the Lark Camp website, larkcamp.com.
---
Wanna help, comment or get published?
We publish articles or comments that relate to our Mission (see below), to our thousands of Celtic concordant readers. If you have one, email us: Tony and Celia Becker, americeltic@gmail.com

Click here to switch to the live AmeriCeltic Calendar, covering the Bay Area.
Click here to switch to the live Celtic Events Calendar, from Chuck Jamison, covering the Central Valley. To submit an event for listing in our Calendar, email your event info., including Who, What, Where, Why & Description to us at, americeltic@gmail.com, or Click Here to use the online form.
We love videos! Include a link to an online video, and you will likely get featured in this weekly newsletter!
---
---
AmeriCeltic Mission
AmeriCeltic is an all volunteer, non-profit organization. Our Mission is to restore awareness, celebrate and preserve the culture and history of Americans of Celtic descent in Northern CA by promoting Celtic events & history. Our volunteers cover all the Celtic related events in Northern California, with an accurate and up-to-date description of each. To help fund our efforts, click the 'Donate' button above or on our AmeriCeltic Website www.americeltic.net.