<!The host root for account hosted files is http://dprhcp159.doteasy.com/~tonybeck/> <!To override the CCS defaults for link color, use the an in-line style attribute, eg a href="#1" style="color: blue; text-decoration: underline;" target="_blank" ...> <!To redirect 'name' links to the website, replace 'href="#' with 'href="http://www.americeltic.net/newsletter#' > <!For MailChimp use *|AMOUNT|* *|DDATE|* *|FNAME|*> <!For Vertical Response use {AMOUNT|} {DATE|any size} {FIRST_NAME|AmeriCeltic Reader}> <!Lark Session, New World String Project, Tree House Concert, KBCE @ The Cats, The Celtic Music Journal #10, & more> <!Features and Upcoming Celtic Music and Cultural Events from 2018-07-20>
<!Begin Appeal>

AmeriCeltic.net

is a

non-profit public service

,

supported by you, our readers and performers

.

Your

donation

of

any amount

is

very welcome

and

will help us prepare and distribute these newsletters

, continue our public outreach, and support our

Mission

, as we will do at the

Highland Games

in Pleasanton on Labor Day weekend.

Join Us on Facebook!


Get in touch with Celtic Culture!
Join our Celtic-compatible community on Facebook in a modestly moderated meetup.

AmeriCeltic
Facebook Group

<!Begin YouTube and Intro>


Subscribe to our YouTube Channel! . Learn more in our Video Introduction

<!End YouTube and Intro>

Friday, 2018-07-20




Updates, Features, & Events




Hello AmeriCeltic Reader,

Updates:
• 67 Music's Celtic Music Media Man Steve Behrens has just released another "The Celtic Music Journal". View the video here. Steve is inching upward in his drive to replace his dying laptop and upgrade his videos for your enjoyment. Please help! This Go Fund Me campaign makes that help easy to give. (See Below)
• Mickey Zekley reminds us that there are still a few openings for Lark In The Morning's 39th Lark Camp, July 27th - August 4th, a World Song & Dance Celebration, in the Mendocino Redwoods. (See Below)

Events:
• TODAY Friday, July 20th, the The New World String Project, will begin an short 3 city tour of OR and WA. (See Below)
• On Saturday, July 21st at 6 PM, Eric Azumi and Simon Lace invite all players to the first session at the new Lark In The Morning Store in Berkeley. (See Below)
• On Saturday, July 21, 8:00 PM Kyle Alden and his Tree House Concerts host Randal Bays and Felim Egan in San Anselmo. (See Below)
• On Sunday, July 22nd, beginning at 7:00 PM, The Kavanaugh Brothers Celtic Experience and O'Craven hold forth at The Cats in Los Gatos. (See Below)
• Indefatigable Celtic/World Rock band Tempest has 3 shows on Thursday, July 26th, at Amador County Fair in Plymouth, CA (See Below)
• Friday, July 27, 7:30 - 10:30 PM, Art Boutiki host Dan Vado offers a double-bill Celtic show: Peter Daldry and Michael Mullen in his Tiki-themed Music Hall behind his comic book store on Race Street, in San Jose. (See Below)
• On Saturday, July 28th, at 6:30 PM, Doris Angel (Williams) has a show at Britannia Arms on DeAnza in San Jose. (See Below)
• Wednesday, August 1st, at 8:00 PM, Greg Jones and Michael Mullen will reprise their 'Jigs and Jazz' Mullen-Jones Project at The Bistro in Hayward. (See Below)
• Small Town Romance, Cassidy Joy & Peter Johnson of Grass Valley, bring their Celtic/folk harmonies to two Gold Country gigs: On Wednesday, August 1st, at 5:00 PM at Nevada City Winery in Grass Valley and again on Saturday, August 4th at 6 PM at The Peak in Graeagle, CA. (See Below)
• On Sunday, August 12th, at 3:00 PM Corwin Zekley and Emma Newton will entertain at the Auburn House Concerts Venue in Auburn. (See Below)
• On Tuesday, August 14th, at 7:30 PM, The Fire Scottish Band will release their much anticipated new album, Radiance at Kuumbwa in Santa Cruz. (See Below)
• On Wednesday, August 15th, at 6:30 PM, The Mechanics' Institute will host Eugene O'Neill Foundation / Tao House for a presentation and performanc of Hughie by Eugene O'Neill at their venue in San Francisco. (See Below)
• On August 18th & 19th from 9:30 AM - 8:00 PM its the 28th Annual Cotati Accordion Festival featuring Culann's Hounds with Renée de la Prade in Cotati. (See Below)
• On Saturday August 18th from 9:30 AM-5:00 PM Redwood Dulcimer Day at St. John's Episcopal Church in Aptos. (See Below)
• On Saturday and Sunday, August 25th - 26th the NEW Midsummers Fairytale Celtic Renaissance Fair happens at the Amador County Fairgrounds in Plymouth. (See Below)
• On Labor Day Weekend, September 1st & 2nd, 2018, 9AM to 6:30PM, its the 153nd Scottish Highland Gathering and Games at the Alameda County Fairgrounds, in Pleasanton. (See Below)
• Celtic All-Star Grateful Dead Jam Band Wake the Dead is releasing dates for their Fall Tour, beginning with Saturday, September 8th, 8:00 PM at a new venue, Terrapin Crossroads in San Rafael. (See Below)
• Beginning Thursday, September 20th, acclaimed new quintet Connla begins a ten day tour of Northern California with a 7:00 PM show at Ashkenaz in Berkeley, culminating with shows at the KVMR Festival September 29th - 30th in Grass Valley. (See Below)

Please support our sustaining Sponsors with your Celtic business!
• The Duke of Edinburgh Pub & Restaurant, THE only Authentic, (and we do mean AUTHENTIC!), British Pub in the Bay Area, located across the street from Apple Headquarters on Wolfe Road in Cupertino. (See Below)
• The Plough and Stars, a SF Legacy Business, and THE place for Live Traditional Music in the inner Richmond district of San Francisco. (See Below)
• The Chieftain Irish Pub & Restaurant, local Irish Pub bringing the culture of Ireland to downtown at 5th and Howard in San Francisco. (See Below)


Scan our feature articles below, or as always, you can click here to check the full listings on our website.

AmeriCeltic Mobile

Get the AmeriCeltic Calendar on your mobile device
---
↑Top↑
The Celtic Music Journal
"White River" (Show #10)
With host Steve Behrens
Here it is! A brand new edition of The Celtic Music Journal!
To watch the latest edition of The Celtic Music Journal, "White River" (Show #10), Click here!
This edition features 'Journal' interviews with these Celtic artists:
• Syr
• The Kilt Lifters
• Mick McAuley
• The Finns
The Celtic Music Journal, hosted by Steve Behrens, is a quarterly video series produced by 67 Music, a Celtic music media and promotions company based in Portland, Oregon USA. The series brings you video 'Journals' from bands, musicians, artists and others in the Celtic realm from all over the world, including new artists as well as some you may know already.
In addition to the show, 67 Music is a Celtic music promotions company who's mission is to 'Bring global attention and recognition to Celtic music in all it's forms, and to the artists who make it. Also, to strengthen the Celtic community and maintain the grand heritage'. We do this by producing CD reviews, feature articles, videos on our YouTube channel and more.
Help Replace And Upgrade dead and dying equipment
One more thing. We are in desperate need of a new camera and computer. As we celebrate our tenth year anniversary this year, a decade's worth of still photos and hundreds of hours of video have taken their toll over the years. Our camera died last February and our computer is on it's last legs now. We're lucky they served us as long as they have. I hope you can help by making a donation NOW to this GoFundMe campaign and I also ask that you share this with all your friends and contacts. Thank you in advance.
We invite you to visit our website and other social media sites. Like, follow and tell your friends!
Facebook | Facebook TCMJ | YouTube Channel | Twitter | Website
---
↑Top↑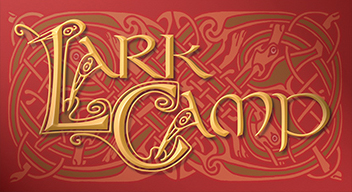 Lark In The Morning's 39th Lark Camp
Music, Song & Dance Celebration July 27 - August 4, 2018
Worldwide Workshops, Including Extensive Celtic Music and Song!
Unique in California, Lark Camp provides an open forum for the exchange of creative ideas between musicians, singers, dancers and composers. The Lark Camp experience is enhanced by motivational instructors teaching dozens of workshops and their inspired students, who also share their passions and skills with the rest of the participants, while have one @&%!** of a good time!
For Lisa Lynne's Lark Camp Video, Click Here!
Lark Camp Adult & Family Camp features Music and Dance from the World Over
Music, Song & Dance Workshops • Cabins • Dances • Parties • Sessions • Great Food • Dance Hall • Dining Hall • Camping • Fire Circles • Mendocino Woodlands Redwoods • Full Camp 8 Days or Half Camp 4 Days
Lark Camp 2018 Registration Is Open Register Now to save your place.
Imagine idyllic days & nights in the magical redwood forest filled with all the music, dance, and good times you could possibly stand, and that's kind of close to what Lark's Music Celebration is like. You are free to take as many or as few of the workshops offered as you like; jam sessions 24 hours a day, big dances every evening. Plenty of good food, new friends, and musical stimulation. Truly a unique total immersion into the joys of nature, music and dance. Many workshops for the professional as well as the beginner!
Irish & Breton Dance Instructors
Shirleigh Brannon-Irish Dance Basics For Everyone, Irish Sean-Nos Dance And Battering For Sets
Michael Riemer-Irish Set Dance
Adrienne Simpson-Breton, Galician & French Dance
Irish, Scottish, Galician & Breton Music & Vocal Instructors
• Shay Black-Irish Chorus, Sea Songs And More, Singing In A Session
• Christa Burch-Bodhran
• Alexandre Cadarso-Gaita (Spanish Galician Bagpipe), Galician Percussion In The Creek
• Danny Carnahan-Octave Mandolin, Songwriting
• Kevin Carr-Quebecois Fiddling, Quebecois Session
• Marla Fibish-Irish Mandolin
• Aryeh Frankfurter-Harp-Anything But Beginning, Swedish & Nordic Music For Nyckelharpa And All Instruments
• Jack Gilder-Irish Music on the Anglo System Concertina
• Preston Howard-Irish Uilleann Bagpipes, Uilleann Pipe Tune Favorites For Everyone
• Wanda Law-Irish Fiddle Basics For Beginners, Beginning Fiddle
• Lisa Lynne-Beginning/Intermediate Celtic Harp, Getting Your Music Out Into The World
• Stuart Mason-Celtic Tunes for Flatpick Guitar, Old Ballads For DADGAD Guitar
• Summer McCall-Celtic Cello, Rhythmic Grooves and Accompaniment For Fiddle and Cello
• Ryan McKasson-Scottish Fiddle
• Jim Oakden-Breton Music - Dance Tunes, Including Chording/Backup
• Celia Ramsay-Get Your Voice Out of the Closet, Scottish Travelers Songs
• Autumn Rhodes-Beginning Pennywhistle & Irish Flute, Intermediate Irish Flute & Pennywhistle including Ornamentation & Technique
• Dale Russ-Intermediate & Advanced Irish Fiddle
• Daniel Schoenfeld-Irish Tune Swap
• John Skelton-Irish Flute, Unusual & Rare Irish Flute Tunes For All Instruments
• John Weed-Old Time Irish Fiddle
To review the Complete Lark Camp Music & Dance Staff 2017, Click Here. For pictures and videos of past Lark Camps Click Here, or check the history, layout, what happens at camp, and much more, at the Lark Camp website, larkcamp.com.
---
↑Top↑ <!Begin Level 2> <!End Level 2>
The New World String Project
John Weed • Aryeh Frankfurter • Lisa Lynne • Stuart Mason
Extraordinary instruments and heartwarming music in Celtic, Nordic and American folk traditions
The Bay Area has long served as a creative hothouse for adventurous-minded roots string players, and New World String Project is the latest gorgeous hybrid to emerge from this fertile soil.
This Celtic Supergroup brings together four mighty players who weave a shimmering sonic tapestry from Celtic, Nordic and American folk traditions. Fiddler John Weed and guitarist Stuart Mason also play together in the long-running Celtic band Molly's Revenge. And Celtic harp master Lisa Lynne, who gained international renown via recordings and tours with the label Windham Hill, often performs in a duo with NWSP-mate Aryeh Frankfurter, an expert on harp and Swedish nyckelharpa. Together, these intrepid string explorers take audiences on a thrilling, melodically exuberant musical ride.
These four highly skilled and well known multi-instrumentalists have joined forces to create an exciting weave of music rooted in the Celtic, Nordic and American folk traditions. Ancient and modern sounds mingle freely on Swedish nyckelharpa, Celtic harp, fiddle, guitar, cittern, mandola and more. Join the New World String Project for a musical ride that will shake your boots, uplift your spirit and warm your heart.
Check out their concert tour around the West Coast at https://newworldstringproject.com, or email Lisa Lynne
New World String Project Tour
Friday, July 20th: Cultural Arts Center, Lincoln City OR
For information, please contact 541-994-9994
lincolncity-culturalcenter.org/events
Saturday, July 21st: Liberty Theater, Ridgefield WA
Showtime 7:30pm, Doors Open at 6:45pm
oldlibertytheater.com
Sunday July 22nd: Cedar House Concerts,Monroe OR
lisalynne.com/cedarhouse-concerts
---
↑Top↑
Lark In The Morning Store Session
Saturday, July 21st at 6 PM - 8:30 PM
Lark In The Morning, 830 Gilman St, Berkeley
We are having a session at the store! Come bring your fiddles, guitars, whistles, banjos, bodhrans, and whatever else you want to play and join in on the music! We will primarily be playing tunes from Ireland and Scotland, but will likely also play other British Isles music and beyond.
For those of you coming to Lark Camp the week after with us, this is your chance to dust off your instrument before camp! Also, the store will be open for sales, so if you break a string or forget picks, or even just want to try a new instrument, we've got you covered. This is the first event of this sort we've had yet, and it could quite possibly become a regular happening, so stay tuned if you can't make it!
If you are able, please bring a folding chair to sit on as we have a limited supply at the store. Please feel free to invite your friends and spread the word!
Simon Lace and Eric Azumi
Lark in the Morning, Berkeley
More details on the Facebook event: https://www.facebook.com/events/2077672059118651 or check the website: https://larkinthemorning.com.
---
↑Top↑
Randal Bays, Felim Egan and Kyle Alden
Tree House Concerts San Anselmo
Saturday, July 21, 8:00 PM
The Tree House Concert Series is pleased to present an evening of high energy Irish traditional music with Randal Bays, fiddle, Felim Egan, button accordian and Kyle Alden, guitar and vocals. Doors 6:45pm, music at 8:00 pm. $15 donation requested at the door. Please RSVP to kylealdenmusic@gmail.com. Address in San Anselmo and parking instructions given with your RSVP.
Randal Bays
Randal is a self-taught US-born musician who's been playing Irish fiddle for more than thirty years; he's now widely known as a master of that complex, ancient art, with a special love for the traditional styles of Counties Clare and Galway. He's "among the best Irish style fiddlers of his generation", according to Fiddler Magazine. Randal has toured and recorded with many of the great Irish musicians of the day, including James Keane and Daithi Sproule (in the band Fingal), James Kelly, Martin Hayes, Michéal O'Domhnaill and many more. He also has a string of great independent recordings to his credit, including his recent release with his family band, 'A Rake of Tunes.'
'This is Irish music the way it was born, what Irish music is all about… a wonderfully gifted family sitting together playing wonderful music… this is Irish music at its highest and deepest level.' Reviewer Bill Margeson on LiveIreland.com
Randal is also famed as a fingerstyle guitarist. He recorded two seminal albums with Irish fiddler Martin Hayes in the early 90s ('Martin Hayes' and 'Under the Moon') and later contributed two tracks to the 'Masters of the Irish Guitar' CD on Shanachie Records. In 2012 Randal finally released his first album of solo guitar work, 'Oyster Light'.
Randal has performed all over the US, Europe and Canada, and is in great demand as a teacher of Irish fiddle. He co-founded and served for ten years as Artistic Director of the Friday Harbor Irish Music Week, and is now Artistic Director of the Cascadia Irish Music Week, bringing together students and teachers of traditional Irish music every summer in the Pacific Northwest. Randal lives in Olympia, Washington.
Kyle Alden
Award-winning singer/songwriter and folk musician Kyle Alden has appeared on stages throughout California, Colorado, the Pacific Northwest and Ireland. His third CD--Songs From Yeats' Bee-Loud Glade--a collection of thirteen original folk songs inspired by poems of W. B. Yeats —received world-wide radio airplay and was on three 'Best of 2011' lists among folk music DJs. As the 2012 grand prize winner of the Y-Tunes Song Contest for his settings of W.B. Yeats' poetry, Kyle was honored to perform at the Hawks Well Theater in Sligo, Ireland in the summer of 2013. In March of 2015 he joined Mick Moloney and Athena Tergis in performing a selection of the Yeats songs at Symphony Space on Broadway in New York.
Recognized for his Irish traditional guitar accompaniment, Kyle has supported many top players in concert, including Gearóid Ó hAllmhuráin Tommy Peoples, Paddy Keenan, Mairéad Ní Mhaonaigh, Liz Carroll, Athena Tergis, Andrew McNamara, Tony De Marco and Ann Kirrane, among others.
Recordings include Hello Again Kind Stranger (2008), Tangletown (2008), Songs From Yeats' Bee-Loud Glade (2011) and Down In The West, Vol. I (2013) and Down in the West Vol. 2 (2016).
'Kyle Alden's melodies and performance rank with the most-pleasing-to-hear of any settings of W.B. Yeats I've heard. Excellent work!'--Andrew McGowan, president, W.B. Yeats Society of NY.

"A great album--one of the best of 2011." ~John Weingart, Music You Can't Hear On The Radio, Princeton, NJ
Check venue info. at: or email kylealdenmusic@gmail.com or check https://www.facebook.com/events/196010954450403
---
↑Top↑ <!Begin Level 2> <!End Level 2>
The Kavanaugh Brothers Celtic Experience
& O'Craven at the Cats
Sunday, July 22nd 7:00 - 10:00 PM
The Cats, 17533 Santa Cruz Hwy, Los Gatos, CA 95033, USA
Enjoy a rousing performance of Celtic music by The Kavanaugh Brothers Celtic Experience in Los Gatos!
KBCE is a foot-stomping traditional Celtic band steeped in the tradition of Irish folk songs, rebel tunes and pub songs, as well as with a bit of Americana, blues and country. Influenced by the Clancy Brothers, the Dubliners, the Pogues, the Grateful Dead, and all points between and beyond, so a rollicking good time is guaranteed.
Click here for KBCE videos.
More details on the Kavanaugh Brothers Celtic Experience Website, Facebook Page https://www.facebook.com/KavanaughBrothers or email Tim Kavanagh, t_kavanaugh@sbcglobal.net.
O'Craven
Bay Area band O'Craven, has played the Mountain Winery, the Catalyst, the Subzero Festival in downtown San Jose and many others many other festivals.
This highly charged Celtic Pirate Rock band is sure to get any crowd dancing!
https://www.facebook.com/pg/ocraventheband
https://www.bandmix.com/ocraven

---
↑Top↑
Peter Daldry — Scottish Balladeer
Michael Mullen — Trio of One
Two GREAT Shows $18 | Friday, July 27, 7:30 - 10:30 PM
Art Boutiki Music Hall, 44 Race St, San Jose
Two Caledonian Club members and two seasoned performers. Both presenting their own separate unique shows, then and joining forces to round off the evening with some well known Scottish and Irish standards to get you clapping and stamping yer feet!
Tickets $18 in advance at Tickets All Ages.
Says Michael Mullen:
"I am so happy to be playing at at Art Boutiki again, this time with my The Trio Of One show. If you haven't seen me perform my live looping act, this might be your best chance to see what I do."
Click Here for Michael Mullen's videos.
Never pre-recorded, always immediate and created fresh, the masterful Michael Mullen makes live looping an art form. Experiencing this solo musician building his TriaSoli 'ensemble' group gives the audience a unique and powerful connection with old chamber favorites – You may have heard them a thousand times, but never like this. Then, in Trio of One, the Mullen brings to life the music of his Celtic roots, creating a full band while you watch and listen. In the end, you'll understand why his old Tempest bandmates dubbed him The Mad Fiddler.
For more on Michael, check Michael Mullen's Facebook Profile
Scottish Balladeer Peter Daldry came from Clydebank, Scotland to Northern California has been playing and singing his original and traditional songs all around the West Coast for more than a decade, delivering powerful and passionate vocals, in a Celtic folk contemporary style. Blessed with a strong, smooth tenor voice, Peter sings the only way he knows how, with power, passion and depth of feeling.
'Peter Daldry is a corker with a strong stage presence and a grand way of singing and presenting a song." Ink Notes April 18, 2009 --- By Jean Bartlett, Managing Editor of Jean's Magazines' — Jean Bartlett, Jean's Magazines

'Peter Daldry has a truly remarkable instrument, the voice of a true balladeer. His singing can tell you a thousand stories with just a phrase.' — Baxter Labatos, Sounds New! 2
Click Here for Click Here for Peter Daldry videos.
For more on Peter, check www.peterdaldry.com.
For more on Art Boutiki, check www.artboutiki.com, call 408-971-8929 or email Dan Vado kahuna@artboutiki.com.
Click Here for full details on Facebook!
---
↑Top↑
Doris Angel (Williams) Shows
Three CDbaby Albums
California Performances in July and August
Doris Angel (Williams) is back in the Bay Area and scheduling several shows.
Doris has three albums available for download on CDbaby, collections of Renaissance, Celtic and Original songs: Renaissance and Beyond, Celtic and Beyond, and The Singing Bird
Doris says:
I want to sing to comfort and heal from my Renaissance, Celtic, and Spiritual Originals. I want to bring back the beautiful music of the old times, reflected in new words of today.
To watch Doris Williams videos, Click Here!
Get Tickets Now!
• July, 28th, 6:30 PM, Doris Angel, with guest Susie Butler, The Britannia Arms, 1087 S De Anza Blvd., San Jose, CA, All Ages & Bar w/ID Tickets
• August 19th, 6:30 PM, Doris Angel, with guests Luna 13, Suits of Steel, & Crow Eats Man at Brick & Mortar, 1710 Mission Street, San Francisco, CA Tickets

For more information, Check out Doris' facebook Page and her tour schedule http://www.aftonshows.com/DorisAngel
---
↑Top↑
Mullen-Jones Project
'Miles Davis meets Riverdance'
Wednesday, August 1st at 8:00pm @ The Bistro, 1001 B St, Hayward
Greg Jones and Michael Mullen, both lately of the legendary Celtic rock band Tempest, have created a new group, Mullen Jones Project. This "Celtic Bop" band plays Celtic music with a jazz accent, fusing Celtic melodies with the rhythms and harmonies of various jazz idioms, from New York to Brazil via Dublin and Edinburgh – Kinda like Miles Davis meets Riverdance. Celtic with too much jazz, or jazz with too much Celtic, depending on your point of view, Greg Jones and Michael Mullen are certain to give your musical palate some excellent new flavors to savor!
To hear Mullen Jones Project put their formula to work on the ancient tunes, like O'Carolan's Concerto, Click Here!
For more information on the venue, check http://www.caffetriestepiedmont.com or https://www.facebook.com/Caffe-Trieste-111741942196760.
For more information on Mullen Jones Project music, email Michael Mullen at me@michaelmullen.net, or call 510-414-6063, or check his websites:
https://www.facebook.com/events/631859000352662
https://www.facebook.com/MullenJonesProject
---
↑Top↑
Summer Concerts Small Town Romance
8/1 Nevada City | 8/4 Graeagle
Small Town Romance, Cassidy Joy & Peter Johnson, are two amazing musicians making beautiful music together, are performing in early August around the Gold Country. If you enjoy gorgeous vocal harmony work, two lead singers with lovely voices, and masterful acoustic guitar work, it's everything you want.
Here is a sample video: Small Town Romance - Cassidy Joy & Peter Johnson - Bogey's Bonnie Belle
Cassidy Joy says:
For those in or near Grass Valley or Graeagle, California, you have a couple of upcoming opportunities to hear a fine portion of Celtic/traditional European tunes. Along with our original songs, much of our material has been directly drawn from or influenced by Celtic Music.

Follow our band page https://www.facebook.com/johnsonjoyduo for frequent updates on live shows and recordings, or email us at strbandgv@gmail.com.
Upcoming Shows:
• Wednesday, August 1st, at 5:00 PM, Nevada City Winery, 321 Spring St, Nevada City, CA, http://ncwinery.com or call (530) 265-9463
• Saturday, August 4th at 6:00 PM, The Peak, 7482 CA-89 #133, Graeagle, CA, www.thepeakiscalling.com or info@thepeakiscalling.com or call (530) 836-7325.
---
↑Top↑
Corwin Zekley and Emma Newton
Auburn House Concerts Venue
Sunday, August 12th, 3:00 PM - 5:30 PM
An afternoon of eclectic singing and stringing.
Corwin Zekley is a singer, songwriter, and virtuosic violinist who plays and composes in genres ranging from Celtic to Gypsy Jazz to Rock & Roll. Corwin attends the Berklee College of Music in Boston, teaches violin, and performs across the west coast with a variety of bands. Emma Newton is an eclectic harpist, pianist, and singer-songwriter versed in Classical as well as Jazz whose voice is as moving as her Jazz-Pop originals. The two will be performing together for an afternoon of electrifying original love songs and standards featuring melodious violin, imaginative harp, and soaring vocal harmonies.
Click for the video Goodnight Dandelion - Emma Newton with Corwin Zekley at the Berklee Recital Hall 2/27/18.
Corwin comes from a very musical background, with parents that play a myriad of instruments in numerous genres as well as many influences from professional musicians ranging from Celtic to Jazz. Corwin has been playing violin for the majority of his life and has been singing and writing songs for several years. He attended Idyllwild Arts, and studied composition and songwriting, as well as improvisation with Marshall Hawkins (who played with Miles Davis).
He has recently been working as an accompanist with Buck Thrifty and The Crux; as a duo with David Brown performing Gypsy Jazz; and with the Gypsy Swing Club, and he teaches two workshops at Lark in the Morning Music Camp: Jazz, Swing and Gypsy Jazz Violin; and Improvisation & Spontaneous Composition for All Instruments & Styles.
Details at the Auburn House Concert website, www.auburnhouseconcerts.org or check the Facebook Event: www.facebook.com/events/431001707382624
---
↑Top↑
The Fire Scottish Band
New Album Radiance!
8/14 Santa Cruz | 9/1 & 9/2 Pleasanton | 9/15 Auburn
The Fire is a high energy pure-drop Traditional Scottish music trio, with world class fiddling in combination with bagpipes, guitar, bodhran, whistle, and bouzouki. The group includes, International Scottish Fiddle Champion Rebecca Lomnicky on fiddle, multi-instrumentalist David Brewer of the popular Celtic band Molly's Revenge on whistle, bagpipes and bodhran, and Adam Hendey on guitar and bouzouki.
On August 14th, The Fire will release their new 14 track album, Radiance. The collection of tunes on Radiance draws from a variety of Scottish fiddle manuscripts, bagpipe music collections, and the pen of all three band members. Over the last year The Fire has compiled, arranged, and recorded dozens of tunes which range from a scotch-measure published in the first collection of Scottish fiddle tunes in 1700, to a bagpipe anthem, to a medley of contemporary original tunes.
To celebrate the release of Radiance, The Fire will hold an Official CD Release Concert sponsored by the Celtic Society of the Monterey Bay on August 14th at Kuumbwa Jazz Center in downtown Santa Cruz, CA. The band will perform a full length concert open to the public and CDs will be available for sale.
Here is a short MP3 audio clip from the album, The Meadow Court Lasses
For videos of The Fire, Click Here!
"A masterful blend of subtle fiddling and hard-driving piping" - Kithfolk Roots Music Magazine
"What a fantastic performance these performers give. Rebecca sparkles on the fiddle while David plays several types of bagpipe, flute, whistle and guitar and does it all with unreal energy and verve." - Jack Baker, Irish American News
The Fire Northern California Tour
• Santa Cruz, CA - August 14th, 7:30 PM - Kuumbwa Jazz Center - Official Worldwide CD Release Concert
• Pleasanton, CA - September 1-2 - The Caledonian Club of San Francisco - 153rd Scottish Highland Gathering & Games
• Auburn, CA - September 15th, 7:30 PM - Auburn House Concerts - Email Sharon.
More details on The Fire website: firescottishband.com.
---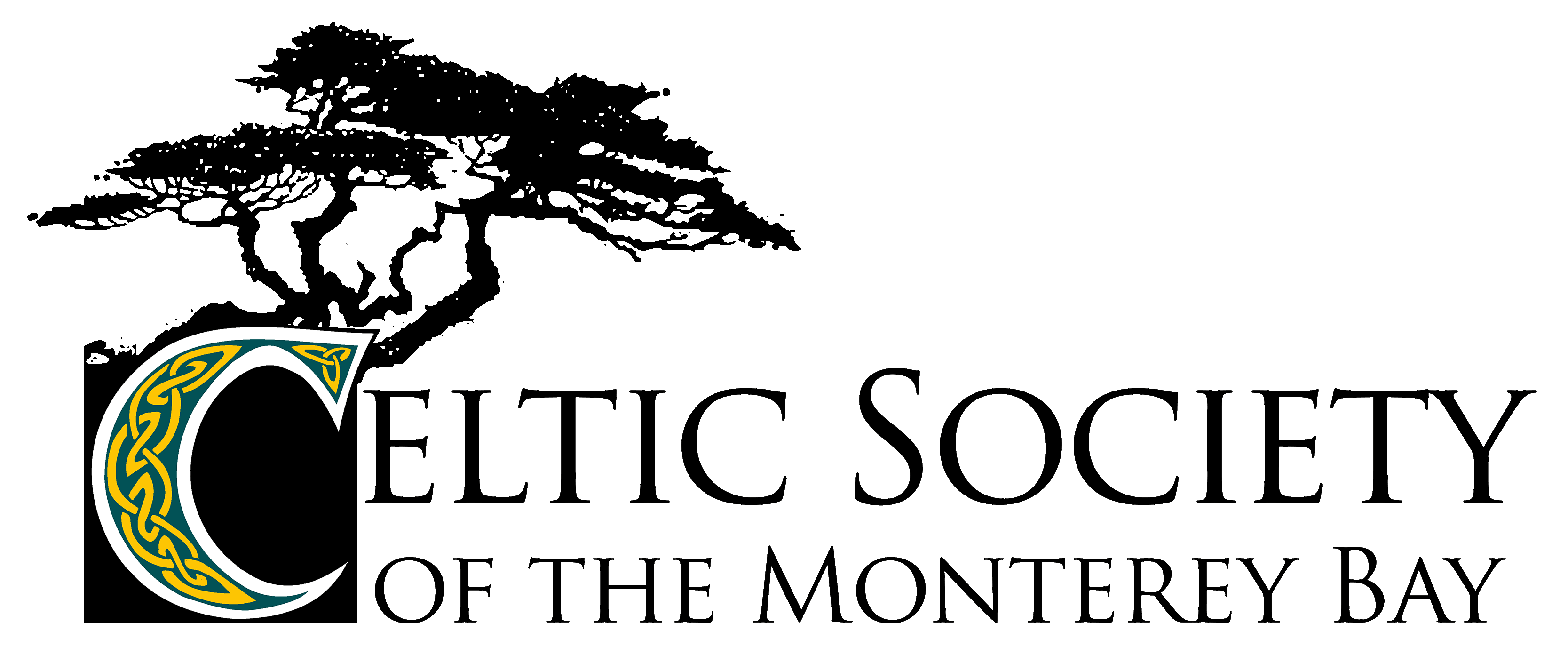 Celtic Society of Monterey Bay
The venerable Celtic Society of Monterey Bay has a 26 year record of bringing world class Celtic musicians to the Monterey Bay Area and is a key sponsor of AmeriCeltic.
• Tuesday, August 14th 2018, 7:30PM, The Fire give a CD Release Concert at Kuumbwa Jazz Center in Santa Cruz
<!Flynn's Cabaret (formerly Don Quixote's), Felton> • Tuesday, October 2nd 2018, 7:30PM, Heron's Valley give a Concert at Michael's On Main in Soquel

Click here for full details of All Celtic Society of Monterey Bay Concerts on the CSoMB website! (Click on small arrow in the inset photo for the videos. Click on the 'more info' link for full details and ticket links.)
---
↑Top↑
An Theatrical evening with the Eugene O'Neill Foundation
Wednesday, August 15th at 6:30 PM
Mechanics' Institute, 57 Post St, San Francisco
Join this evening with Artistic Director Eric Fraisher Hayes and actors from the Eugene O'Neill Foundation / Tao House, who will talk about their upcoming season and perform scenes from the production of Hughie by Eugene O'Neill which will be part of an international theater exchange in New Ross, Ireland and Danville, California. /www.eugeneoneill.org/one-festival-two-countries/
The dates of the festival in Danville are are: September 16-30, 2018 as part of the 19th Annual Eugene O'Neill festival at Tao House. From October 11-14, 2018 the production will be part of the 1st Annual Eugene O'Neill International Festival of Theater in New Ross Ireland.
$15 advance tickets are available on Eventbrite: An evening with the Eugene O'Neill Foundation Tickets
BIO
Eric Fraisher Hayes has directed over 100 productions, with an emphasis on bringing classic dramatic works to a modern audience. Eric has directed over 20 different Eugene O'Neill plays, making him the leading Director of Eugene O'Neill in the country. Eric has directed the works of numerous other classic playwrights, including William Shakespeare, August Wilson, Arthur Miller, Tennessee Williams, and Aphra Behn.
For more, contact Producer Laura Sheppard, events@milibrary.org, or check the Facebook Event: https://www.facebook.com/events/196549927723472
---
↑Top↑
28th Annual Cotati Accordion Festival
Culann's Hounds with Renée de la Prade
August 18th & 19th 9:30 AM - 8:00 PM
La Plaza Park, Old Redwood Highway & W. Sierra Ave., Cotati, CA
Whether you love 'em or hate 'em, there are plenty of those darn accordions at the Cotati Accordion Festival. The two main stages feature a cast of rotating acts who play 30- to 45-minute sets, including musical styles range from traditional Tex-Mex to whacky Rock-pop-San Francisco-mischief music, for 2 days of family-friendly wholesome fun! Click for the full list of performers: http://cotatifest.com http://cotatifest.com/index.php/schedule-performers
If you like to dance there is a separate tent that features polka and zydeco music. In the adjoining club, Friar Tuck's, there is zydeco dancing both days from 1:00 to 5:00 and zydeco in the polka tent from 5:00 to 6:30. Don't forget to bring your accordions to the Accordion Jam Tent which is growing each year.
Cruise the vendor displays. There are 100's of accordions for sale, music books and related merchandise. The vendors also include everything from arts and crafts to food, beer and wine.
Tickets are available online: http://cotatifest.com/index.php/tickets-lodging or at the gate.
Culann's Hounds
And this year, Celtic Rockers Culann's Hounds return with Renée de la Prade! Here is a rare, old video as Culann's Hounds launch their set at the 2006 Cotati Accordion Festival: https://youtu.be/sx0BcpYBCAs
Fierce like their namesake, Cu Chulainn, Culann's Hounds have built a reputation for stage shows filled with high-energy and a ruthless dedication to rocking their audiences. Folk melodies, sensibilities, and stories permeate their music with original in Ireland, France and early America. This mash-up of tradition and energy is at once thought provoking, accessible and infectious. The Hounds original material is a mirror of their lives, tales of distant lands, love, elation and loss.
Steve Gardner brings his virtuosic violin style uncut. With seeming effortlessness he plays Irish traditional music, Cajun, country and rock pairing with the accordion at breakneck speed. Steve also grabs the guitar and sings his irreverent brand of classic and original songs.
Mike Kelleher sings from the gut, giving his own songs and those of centuries past a particular urgency. A key to The Hounds' tireless rhythm, Mike's guitar playing cuts to the core of song, strongly framing the vocals and the traditional melodies.
Renée de la Prada is a show within the show. Her ability to rip melodies in unison with Steve, sing in different patios' in English and French, dance, and deliver her own songs with remarkable emotional depth leaves audiences stunned and enthralled.
Longtime Bassist Dan Duffin and a short list of regulars join the Hounds as the performance demands.
When The Hounds play, they take more than just the stage. They take control and make you love them. Give in to screamingly high energy, dance with wild abandon, and connect to music of the people made on real instruments in front of your eyes.
Culann's Hounds Videos | Culann's Hounds Website.
Cotati Accordion Festival (the 2018 festival will be the 28th annual) returns under the shade trees of La Plaza Park in Cotati. If you plan to stay for the whole day, bring your own comfortable, short-backed folding lawn chair. A shuttle will be provided from Park and Ride at the corner of Highway 116 and Old Redwood Highway on St. Joseph Way. Handicap parking is available at 102-104 W. Cotati Ave. (kitty-corner from the Korean Baptist Church) and in front of the Korean Baptist Church at 81 West Cotati Ave. Annual attendance reaches 2,000-3,000 a day.
Cotati Accordion Festival | https://www.facebook.com/cotati.accordionfestival | P.O. Box 809, Cotati, CA 94931 | Phone 707-664-0444 | Fax 707-585-2920
---
↑Top↑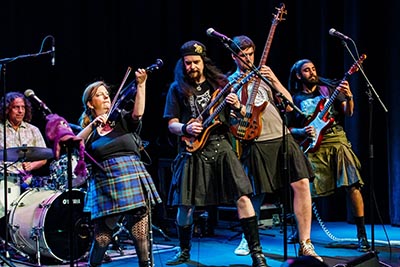 Tempest West Coast Summer Shows
Celebrating 30 years of Celtic Rock!
7/26 Plymouth, CA | 7/28 & 7/29 Enumclaw, WA
30th Anniversary Tour — Dance to Celtic Rock with flavors of Scandinavia, India, Africa & Arabic Nations.
For Tempest videos, Click Here!
Since forming in 1988, Tempest has delivered a hybrid of high-energy Celtic Rock. But as the band has matured throughout the years, their music has morphed stylistically. World Music has seeped into Tempest's over all sound because the band members are drawn to traditional and ethnic music from around the globe. There has been a natural progression towards coloring Tempest's music with elements from Scandinavia, India, African and Arabic countries. Middle Eastern flavors, traditional Irish and Scottish Medleys mingle with Robert Burns poems, Norwegian lyrics and heavy rock instrumentals on Tempest's finest record to date.
Dates
Thursday, July 26th, 6pm, 8pm, 10pm, Amador County Fair, Plymouth, CA
Saturday, July 28th & Sunday, 29th, South Stage 11:30am, 2:30pm, 4:30pm each day, Pacific Northwest Scottish Highland Games, Enumclaw, WA
Saturday, Sept. 1st 10am, 1pm, 3pm & Sunday, Sept. 2nd, 11am, 2pm, 4pm, Argyle Stage, Pleasanton Highland Games
FACEBOOK: http://www.facebook.com/TempestCelticRock
TWITTER: http://twitter.com/Sorbye
Artist sites and sounds: www.tempestmusic.com.
---
↑Top↑
Redwood Dulcimer Day in Aptos
Saturday August 18th: Workshops from 9:30 AM-5:00 PM
Sunday August 19th 10:00 AM: Episcopal Service and Concert
St. John's Episcopal Church, 125 Canterbury Drive, Aptos
Tuition: $75 (advance), or $80 (at the door)
includes workshops, lunch, and matinee concert by Jessica Comeau.

Register online https://www.communitymusicschool.org/dulcimer-day

This event offers beginning to advanced music workshops on playing the mountain dulcimer, a magical sounding instrument that anyone can learn to play and some have taken to lofty heights. Even if you are a complete beginner and do not own a dulcimer, come anyway. We will lend you an instrument and provide beginning level instruction to get you started. And if you already play, come prepared to make musical leaps. Redwood Dulcimer Day offers a low-pressure, low stress environment where everyone can relax and have fun playing and learning about the mountain dulcimer and just making music.

Featuring special guest artist Jessica Comeau. Also teaching will be locals Neal Hellman, Janet Herman, Peter Tommerup, Steve Eulberg, and Laura Devine. Children's program with Shelley Phillips.

Loaner dulcimers are available - let us know in advance if you need one...
Got an extra dulcimer you wouldn't mind loaning to a novice for the day? Bring it along!
You may also like to bring a music stand, note-taking supplies, and extra picks, but we will have extras of all these things too.
Free stringing, tuning and small repairs available as well.

Tuition:
$75 (advance), or $80 (at the door)

2018 Schedule:
Saturday August 18th: Workshops from 9:30am-5:00pm, with breaks at noon and 3 for performances and song circle.
Sunday August 19th: We have an opportunity to play for the 10 AM Episcopalian service at our venue (rehearsal at 9:30).

Young Persons Program
We will be making and decorating our own cardboard dulcimers and learning to play a bit. Class size limited - you must RSVP to shelley@communitymusicschool.org (sorry, no drop-ins). Children under 10 must be accompanied by an adult.

Other information
Light lunch provided, or enjoy the local restaurants.
---
↑Top↑ <!Begin Level 2> <!End Level 2>
Midsummers Fairytale Celtic Renaissance Fair
Saturday and Sunday, August 25th - 26th 2018
Amador County Fairgrounds, 18621 Sherwood St, Plymouth, CA
All day Saturday and Sunday there will be Jousting, Combat, Swordsmanship, Mermaids, Bands, Pirates, Living History Guilds, and a whole lot of fun! There will be music throughout the fair.

Advance Tickets - Buy early and SAVE some MONEY! https://kingdom-of-harron.ticketbud.com/midsummers-fairytale-celtic-renaissance-fair

<!Begin Level 2> <!End Level 2>

Full Details at https://www.midsummersfairytalecelticrenfair.com
---
↑Top↑
153nd Scottish Highland Gathering and Games
Alameda County Fairgrounds, Pleasanton
Labor Day Weekend, September 1st & 2nd, 2018, 9AM to 6:30PM
What if you gave a party and EVERYBODY came?
Come join us for some Celtic Craic! Saturday September 2nd and Sunday September 3rd at the enormous Alameda County Fairgrounds, 4501 Pleasanton Ave., Pleasanton, the Caledonian Club of San Francisco presents The 153nd Pleasanton Scottish Highland Games, two glorious days of fun and entertainment for the whole family from 9am to 6:30pm.
Advance tickets are available online, adults $20, youth/seniors $11, and military and ages 11 & under free or call 1-800-713-3160
Click here to watch the official preview video.
Whats On
The Festival includes more than 30 pipe bands from the US and Canada, plus the 3rd Marine Aircraft Wing Band, to the 42nd U. S. Invitational Heavy Event Championship with professional and amateur athletes, and the Western U. S. Open Highland Dancing Championships. There are 7 stages of Traditional and Celtic Rock music, 2 stages of Scottish dancers, fiddlers, harpers, dancers and singing, and 5 large exhibition buildings with more than 100 vendors including, British food and drink the popular Whisky Tasting Pavilion and an Irish Pavillion (Bldg. Q) with Irish dancers and shopping.
Entertainers
The Games will feature the best music and spoken word entertainers from Scotland and everywhere Scottish Culture thrives, including the hot Scottish Trad Band The Fire!
Here is a short preview MP3 audio clip from their brand new album Radiance: The Meadow Court Lasses.
For more videos of The Fire, Click Here!
For Stage 1 - 5 Schedules, Click Here!

• Albannach
• AnGry Brians
• Avalon Rising
• Browne Sisters with George Cavanaugh
• Ed Miller
• Marine Sandpiper
• Michael Mullen ~ Trio of One
• Peter Daldry
• Tempest
• The Fire
• The Royal Scottish Country Dance Society
• Erica & Friends
• San Francisco Scottish Fiddlers
• Harpers Hall
• Moonshine Jelly
• Kirsty Fitch
For more, check www.thescottishgames.com, or call: 1-888-769-2345.
Add to that the Living History area with Mary Queen of Scots and her entourage, highland warriors, an invading Roman Legion and fierce Vikings, the Gathering of the Clans providing historic information from nearly 100 clans and societies, Sheep Dog Trials, Children's Glen, Birds of Prey, Semi-Pro Five-A-Side Soccer Tournament, Kilted Mile, Rugby and Shinty Tournaments, Highland Cattle, Clydesdale Team, Archery participation and an array of British motor cars and you have a full Labor Day weekends worth of entertainment.
---
↑Top↑
Wake the Dead Fall Tour
World's Only Celtic All-Star Grateful Dead Jam Band
Keeping it Truckin' for Deadheads and Celtoids alike
WAKE THE DEAD, the World's Only Celtic All-Star Party Band, at first impressing the Dead themselves enough for them to release the début Wake the Dead CD on Grateful Dead/Arista Records, now extends their reach to embrace the entire Summer of Love.
First known for weaving jigs and reels into the songs of the Grateful Dead, this hot Bay Area acoustic sextet now Celtifies the entire Summer of Love including the Airplane, Youngbloods, Buffalo Springfield and even the Beatles.
Click Here for the Studio-Produced Videos of Wake the Dead!
Wake the Dead is Danny Carnahan (vocals, fiddle, octave mandolin), Sylvia Herold (vocals, guitar), Paul Kotapish (vocals, mandolin), Kevin Carr (uilleann pipes, fiddle), Cindy Browne (bass) and Brian Rice (exotic percussion).
Eighteen years of rocking acoustic joy and still going strong. Fans are guaranteed brand-new surprises at every show.
Wake the Dead Fall Tour
• Saturday, September 8th, 8:00 PM, Terrapin Crossroads, 100 Yacht Club Drive, San Rafael, Tickets

Danny says: "Phil and Jill Lesh have invited us to play at Terrapin Saturday, September 8th. Details below. This is a major event for us and a show you won't want to miss, even if you have to drive a while to get there. So mark your calendars and we'll be providing updates about this and all the other fall shows as we get 'em."
• Sunday, October 28th, 8:00 PM, Freight and Salvage, 2020 Addison St., Berkeley, Tickets

Danny says: "Details to come on this, our 17th annual Day of the Dead show at the Freight! Whatever could we possibly come up with to top last year? Well, come and find out!"
Full Details, updates and ticket links at www.wakethedead.org/events
---
↑Top↑
Young Sensation Connla
Multi-Awarded Quintet from Northern Ireland
9/20 Berkeley | 9/21 Fort Bragg | 9/22 Point Reyes Station | 9/23 Forestville | 9/24 Point Arena | 9/26 - 9/28 San Jose | 9/29 - 9/30 Grass Valley
Hailing from the cities of Armagh and Derry, Connla is Ciara McCafferty (vocals), Ciaran Carlin (Flute/Whistles) and Paul Starrett (Guitar) Emer Mallon (Harp) and Conor Mallon (Uilleann Pipes/Whistles). Labelled as the Hottest New Group out of Northern Ireland, (Chicago Irish American News) Connla have been quickly making an impact on the folk/traditional scene.
Since the release of their EP in April 2015, and album River Waiting in July 2016 they have received fantastic reviews at home and internationally, and they have just released The Next Chapter. They have already gathered a huge following in the UK, Ireland, Europe and the USA. Songlines magazine made Connla their 'must see act' for the tour of the UK and stated 'A band this young shouldn't be this good'. Their sensitive and innovative arrangements of traditional and modern folk songs and tunes, have helped them create a sound which is very identifiable as Connla.
Connla - Pilot Promotional Video https://youtu.be/vHbywU-ghiM
Awards: 'Vocal/Instrumental album of the year' from Live Ireland 'Livies' Award 2017 'Vocal/Instrumental album of the year' from Top TIR award - Irish Amercian 2017 Best of the year Awards 'Best new sound' from Chicago Irish American News 2016 Best New Group "The Livies" - Live Ireland Music Awards 2016 New Group of the Year - Chicago Irish American News 2016
www.connlamusic.com | www.facebook.com/connlamusic | @connlamusic
Northern California Tour
• Thursday, September 20th, 7:00 PM, Concert @ Ashkenaz, 1317 San Pablo, Berkeley, CA
• Friday, September 21th, 6:30 PM, Concert @ Fraternal Order of Eagles, 210 N Corry St, Fort Bragg, CA
• Saturday, September 22nd, 7:00 PM, Radio Show 'Celtic Universe' KWMR, 90.5 FM, Point Reyes Station, CA
• Sunday, September 23rd, 5 - 7pm, Concert @ Forestville United Methodist Church, 6550 Covey Rd, Forestville, CA
• Monday, September 24th, 7:00 PM, Concert @ Wine Bar, 215 Main, Point Arena, CA
• Tuesday, September 25th, 7:00 PM, (Tentative) Concert @ Michael's On Main, 2591 Main St, Soquel, CA
• Wednesday, September 26th, 3:00 PM & 10:00 PM, Workshop & Session, Cope-A-Cabana, 433 S. Henry Ave., San Jose, CA
• Thursday, September 27th, 7:00 AM, Streaming & Radio Show 'New Wood' @ KKUP, 91.5 FM, San Jose, CA
• Friday, September 28th, 4:00 PM, Streaming & Radio Show 'Friday Folk Off' @ KKUP, 91.5 FM, San Jose, CA
• Friday, September 28th, 7:00 PM, Concert @ Cope-A-Cabana, 433 S. Henry Ave., San Jose, CA
• Saturday, September 29th - Sunday, September 30th, KVMR Celtic Festival, Grass Valley, CA.
---
↑Top↑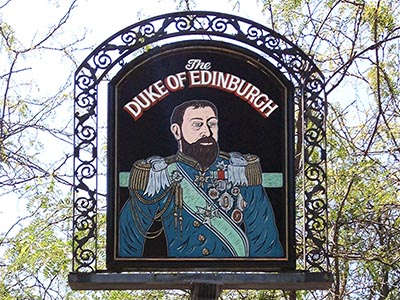 "The Duke" Authentic British Pub
The Duke of Edinburgh Pub & Restaurant
10801 N. Wolfe Road, Cupertino, CA, 11:30am - 2:00am every day of the year
The atmosphere at the 'The Duke', is the same as you would find in any pub in the British Isles, full of friendly patrons who come in to socialize, play darts, have a pint or two, and eat a meal. If you are looking for a comfortable elegance, pints of beer and authentic food, in an authentic English Pub, there is no a better choice in the Bay Area. The Duke offers a large number of beers on draft and by the bottle. Almost anything English, Scottish or Irish is available. Murphy's Irish Stout brewed in Cork, Ireland and Scotch Eggs is always a good choice.
The servers are excellent and very knowledgeable about the beer and food menu. The menu is expansive and worth exploring. The dark pubsy feel with old regulars in their respective, but not crowded corners around lunch hour in Cupertino, is a great boon.
You can't find more 'authentic' atmosphere, because the entire building was built in jolly old England, then disassembled, shipped and reassembled on site in Cupertino. With the red velvet seating and wall paper and ornate, dim lighting, you are transported to London as soon as you enter the etched glass door.
More info. on The Duke Facebook Page, website www.theduke.com or call 408-446-3853. The Duke is presently looking for line cooks and bussers, call the Pub if interested.
---
↑Top↑
Plough and Stars Honored
Added to SF Legacy Business Registry
The Plough and Stars Irish Pub, 116 Clement Street at 2nd Avenue, San Francisco
The Plough & Stars is thrilled to announce we've been honored with 'Legacy' status as an historic asset to the city by the San Francisco Office of Small Business ... Join us for great music & the best Guinness pint in town.
What a diverse and vibrant mix of businesses added to the Legacy Business Registry yesterday! Join us in congratulating Babylon Burning, the Lab SF, The Mindful Body, The Plough and Stars and Slim's! Thank you for your commitment and service to our communities.

The Plough and Stars (116 Clement St): An Irish pub and known gathering place for the Irish community for over 40 years. The bar showcases musicians across genres and maintains a tradition for over 35 years of hosting seisiúns, informal Irish jam sessions. Stop by for a perfectly-poured Guinness and see why?? they've been voted Best Irish Bar by SF Weekly.
I would like to thank all the Musicians who have played in the Plough. Without their contributions this would not have happened — Sean Heaney
The Plough and Stars Irish Pub, is known around the world for hosting incredible Irish music and pulling beautiful pints of Guinness since 1975. Since then, it has evolved to host live music every night of the week, except Monday, including all genres of music; Bluegrass, Country, Rock, Zydeco, acoustic Americana, and of course, Irish Traditional.
The first Saturday is always Americana Jukebox and every third Friday is Bluegrass Bonanza! We welcome you to stop in for a drink and try our famous, award winning pints of Guinness, or indulge in any of our other specials. We host Happy Hour all day every Monday with free pool, and the first Monday of the month has a Pub Quiz at 8:30 PM. Check out our website for a full calendar of events!
For a video of a Plough session from 2014, Click Here.
For more about the Plough, check www.theploughandstars.com, call 415-751-1122, or email Sean Heaney at sfplough@aol.com.
---
↑Top↑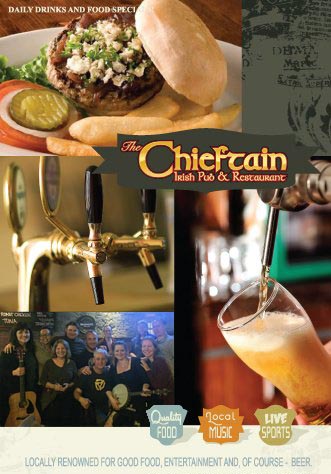 The Chieftain Irish Pub & Restaurant
198 5th St, San Francisco
The Chieftain Irish Pub & Restaurant, is a bustling SoMa spot with Irish pub grub & beers on tap plus sports on the satellite TV.
This local Irish Pub brings the culture of Ireland to San Francisco, offering a full bar, Happy Hour specials, and a full Irish restaurant menu, including favorites like fish and chips which goes with any style of sport, music or fun.
'I am in the city every 2-3 months and The Chieftain is an absolutely integral part of every trip. Mark runs an amazing, authentic Irish pub. Major plus, the only place I know of in northern California to get Kilkenny!!'

'Walked in, Saturday night about 7pm and there was a table right inside the door. We had a shepherds pie and an Irish stew. The shepherds pie was actually made with lamb! The live music was great entertainment too!'
For a video of some the Chieftain's food menu, Click Here.
The Chieftain hosts live music on Fridays and Saturdays. Click Here for the current schedule! The live Irish traditional music and song session every Sunday evening is always great Craic! Here is a sample Irish Session from 2009: Live Irish Session at the Chieftain.
For the latest happenings, check the Chieftain facebook Page, or call 415-625-0436, or email Mark Nagle at mark@thechieftain.com or check www.thechieftain.com.
---
↑Top↑
---
↑Top↑
Wanna help, comment or get published?
We publish articles or comments that relate to our Mission (see below), to our thousands of Celtic concordant readers. If you have one, email us: Tony and Celia Becker, americeltic@gmail.com
---
↑Top↑
Click to display the combined
AmeriCeltic Calendar
, covering the Northern California Coast and Bay Area, and the
Celtic Events Calendar
, from Chuck Jamison, covering the Central Valley.
To
submit an event for listing in our Calendars
, email your Celtic event info., including Who, What, Where, Why & Description to us.
Coastal Celtic events -
Email AmeriCeltic
. Central Valley events -
Email Chuck Jamison
.
Click Here to use the online form.
We love videos! Include a link to an online video, and you will likely get featured in this weekly newsletter!
---
↑Top↑
AmeriCeltic Mission
AmeriCeltic is an all volunteer, non-profit organization. Our Mission is to restore awareness, celebrate and preserve the culture and history of Americans of Celtic descent in Northern CA by promoting Celtic events & history. Our volunteers cover all the Celtic related events in Northern California, with an accurate and up-to-date description of each. To help fund our efforts, click the 'Donate' button above or on our AmeriCeltic Website www.americeltic.net.
---