<!Begin Level 2>
AmeriCeltic.net

is a

non-profit public service

,

supported by you, our readers and performers

.

Your

donation

of

any amount

is

very welcome

and

will help us prepare and distribute these newsletters

, continue our public outreach, and support our

Mission

, as we did at the

Woodland Celtic Games & Festival, and will do at the upcoming Mountain View SV Fleadh

. (See below)

<!End Appeal>


Learn more in our Video Introduction
.

Subscribe to our YouTube Channel!


Friday, 2018-05-18




Updates, Features, & Events




Hello AmeriCeltic Reader,

Events:
• THIS Friday, May 18th, 6:30 PM Deby Benton Grosjean and her GINORMOUS String Band join caller Andy Wilson for another Barn Dance at the Live Oak Grange in Santa Cruz. (See Below)
• Also THIS Friday, May 18th, Seanchaí (Irish Storyteller) and Singer Helena Byrne continues her tour of Northern California, with stops in San Francisco and Monterey. (See Below)
• Continuing THIS Friday, May 18th and through - Sunday, May 20th, Linsey Aitken & Ken Campbell tour Northern California with concerts in 3 more Cities. (See Below)
• Also THIS Friday, May 18th, at 9:00 PM, Gerry O'Connor & Richard Mandel give concerts in three more cities in OR and WA. (See Below).
• THIS Saturday May 19th, 7:30 PM, Tres Noctambule (Marla Fibish & Bruce Victor with Suzuki Cady) debuts with Fiddler and Singer Suzuki Cady at the O'Hanlon Center in Mill Valley. (See Below)
• Also THIS Saturday May 19th, at 7:30 PM, The Celtic Woman perform at the Gallo Center for The Arts in Modesto. (See Below)
• THIS Sunday May 20th, at 5:00 PM, the Irish Literary and Historical Society presents Tony Bucher's lecture on Archie Bunker's Chair, at the United Irish Cultural Center in San Francisco. (See Below)
• NEXT Tuesday, May 22nd, 6:30 PM brings the second monthly Santa Cruz County Chantey Sing at the Davenport Roadhouse Restaurant and Inn, in Davenport. (See Below)
• NEXT Friday, May 25, 7:00 PM, Erica and Friends and The Joy Drops are at The Monkey House, Berkeley. For the new Erica and Friends video, Click Here! (See Below)
• Also NEXT Friday, May 25 at 8 PM Breizh Amerika Collective brings their Fête de la Bretagne to the The Plough and Stars for a Britanny Day Interceltic Ceili in San Francisco. (See Below)
• Beginning on Saturday, May 26th @ 4:00 PM — May 27th @ 4:00 PM, the Community Music School of Santa Cruz hold their annual Redwood Music Camp, featuring Molly's Revenge and The Fire at their new location in Boulder Creek. (See Below)
• On Thursday, May 31st, at 8:00 pm, the Young Dubliners rock the joint at Father Paddy's Irish Public House in Woodland. (See Below)
• On Friday, June 1st, 7:30 PM in Auburn and continuing on Sunday, June 3rd, at 7:30pm in San Anselmo, and Tuesday, June 5th, 7:30 PM in Soquel, amazing singer, songwriter and lefty Celtic guitarist John Doyle will be touring Northern California. (See Below)
• Friday, June 8 at 7:30 PM, it's Fire and Grace and Ash, a new trio with Edwin Huizinga, William Coulter and Ashley Broder at the UCSC Music Center Recital Hall in Santa Cruz. (See Below)
• On Saturday and Sunday, June 9th-10th Mother Lode Highland Games and Celtic Festival at the Amador County Fairgrounds in Plymouth. (See Below)
• Sunday, June 17th at 6:00 PM, Culann's Hounds performs at the Third Annual Backyard BBQ Series in Penngrove. Warm weather, cold beer and delicious food! (See Below)

Please support our sustaining Sponsors with your Celtic business!
• Lark In The Morning's 39th Lark Camp, a Song & Dance Celebration, July 27th - August 4th, in the Mendocino Redwoods. (See Below)
• The Plough and Stars, a SF Legacy Business, and THE place for Live Traditional Music in the inner Richmond district of San Francisco. (See Below)
• The Chieftain Irish Pub & Restaurant, local Irish Pub bringing the culture of Ireland to downtown at 5th and Howard in San Francisco. (See Below)
• Artisan Candies and Baked Goods, Too, a stalwart on the festival circuit, offering desserts including Celtic standard baked goods and sinful sweets, as well as lunch or dinner from a menu of hand-made sausage rolls, meat pies, vegetable pasties, and fruit pies, catered, at the Festivals, at the shop, and meals-to-go in San Jose. (See Below)
• The Duke of Edinburgh Pub & Restaurant, THE only Authentic, (and we do mean AUTHENTIC!), British Pub in the Bay Area, located across the street from Apple Headquarters on Wolfe Road in Cupertino. (See Below)

Scan our feature articles below, or as always, you can click here to check the full listings on our website.

AmeriCeltic Mobile


Get the AmeriCeltic Calendar on your mobile device

<!End Level 2>
---
↑Top↑ <!Begin Level 2> <!End Level 2>
Family Barn Dance!
Friday, May 18, 6:30 PM
Santa Cruz Live Oak Grange, 1900 17th Avenue, Santa Cruz
Come and dance! Fun for all ages! Please share info with others! This will be our last Barn Dance until September.
6:00 PM (optional) Potluck Supper with Serenade
6:30–8:00 PM DANCE!
Caller & host: Andy Wilson (650) 879-0864 www.AndyWilsonDanceCaller.com.
Live music provided by Deby Benton Grosjean and her multi-generational students, The GINORMOUS String Band. email: Deby.fiddler@gmail.com
No experience needed. All ages and levels welcome! Walk through and instruction before each dance. Small fee at the door. Fun for the whole family!
---
↑Top↑ <!Begin Level 2> <!End Level 2>
Helena Byrne: The Pursuit of Happiness
Seanchaí (Irish Storyteller) and Singer
San Francisco 5/18 | Monterey 5/19
Helena Byrne is an Irish Storyteller and Singer. http://helenabyrne.com. Combining her love of Irish folklore and passion for Irish music, Helena Byrne regularly performs as a seanchaí (storyteller) and singer in Ireland and further afield.
Checkout Helena Byrne, Irish Storyteller & Singer online: YouTube Videos | Albums (on Bandcamp) | YouTube Channel
Following the release of her third studio album Tóraíocht Shonais (Pursuit of Happiness), Helena brings her new show The Pursuit of Happiness to North California this May 2018.
Helena delves into the music, superstitions & folklore of Ireland, alongside incredible stories of Irish emigration through the ages; the Great Famine, travelling on the Titanic, the Irish in the Wild West, John F. Kennedy's visit to Ireland and so much more.
'This will be enjoyed by both the Irish diaspora family and those who simply have a love of Irish music and stories alike' – Travel Ireland Magazine, December 2017
'Deeply moving… for anyone with links to the Irish diaspora' – IrishCentral.com, January 2018
Join Helena on this journey through the Irish experience of emigration to the New World; the excitement, the tragedy, the hopes and aspirations for a better life.
More about Helena at http://helenabyrne.com
Helena Byrne Northern California Tour
• Friday, May 18th, 7:30PM, United Irish Cultural Center of San Francisco, CA, 2700 45th Avenue (at Sloat Boulevard), San Francisco, Tickets $15, Purchase Tickets
• Saturday, May 19th, 3:00PM, Monterey Public Library, Monterey, CA, 625 Pacific St, Monterey, Free Community Event. Website.
Full Details at http://helenabyrne.com/tour
---
↑Top↑ <!Begin Level 2> <!End Level 2>
Linsey Aitken & Ken Campbell
From Loch Lomond, Scotland - California Tour
5/18 Redding | 5/19 Arcata | 5/20 Willits
Linsey Aitken & Ken Campbell bring one of the best songbooks in contemporary Scots acoustic music for a three week tour of Northern California.
Click Here for their one minute video, https://youtu.be/nfKAuqDIdnY
'One of Scotland's most distinctive duos, with their wide ranging influences and unusual instrumentation' - Celtic Connections
Linsey and Ken excel in showmanship accompanying themselves with Vocals, Cello, Guitar, Northumbrian Pipes, Piano, Laud, Harmonium.
Full Details at their website: www.linskenscotland.scot
Linsey Aitken & Ken Campbell Northern California Tour
Full Details and Ticket Links: http://www.linskenscotland.scot/gigs

• Friday, May 18, 8:00pm, Redding, The Bohemian Art Loft, Peter and Nadia's amazing Arts Centre, Buy Tickets
• Saturday, May 19, 7:00pm, Arcata, Relevant Music, Gregg Moore's amazing venue, Buy Tickets
• Sunday, May 20, 2:00pm, Willits, Willits Community Theatre, Special place and a special audience., Buy Tickets
---
↑Top↑ <!Begin Level 2> <!End Level 2>
Gerry O'Connor with Richard Mandel
Gerry O'Connor with Richard Mandel West Coast Tour Dates
5/13 Berkeley, CA | 5/16 Monroe OR | 5/17 Corvallis OR | 5/18 Tualatin OR | 5/19 Seattle, WA | 5/20 Whidbey WA
For a video of Gerry O'Connor with Richard Mandel, Click Here!
Hailing from a family of musicians in Dundalk, County Louth, Gerry O'Connor has won numerous All-Ireland titles. He has played and recorded with highly-regarded groups such as Lá Lúgh and Skylark, as well as having toured and recorded with members of all the legendary groups including Planxty, Bothy Band, De Dannan, Boys of the Lough, The Irish Rovers and the Chieftains. His solo album, Journeyman, was counted in the top five Albums of the year 2004 by The Irish Times and was heralded as a significant milestone in recording the music of the 'Oriel' region of South Ulster. His 2006 live album, In Concert, recorded with Gilles Le Bigot was a celebration of the cultural links between Ireland and Brittany. Jig Away the Donkey, an album focusing on the music and song of South Ulster with Martin Quinn and Gabriel McArdle was released in 2010. With Nuala Kennedy, Martin Quinn and Gilles Le Bigot, Gerry released the album Oirialla in 2012 at the Celtic Colours Festival in Cape Breton, Canada. This band is currently touring and entertaining audiences around the globe.
Richard Mandel fell into the well of Irish music in the mid-'90s and was soon driving every session he could get into. As a first-call accompanist, Richard has performed with legendary Irish musicians including Paddy Keenan, Jimmy Keane, Gerry O'Connor, Mick Maloney, Paddy O'Brien, Tony DeMarco and many others. Richard plays in the trio Three Mile Stone with mandolinist Marla Fibish and fiddler Erin Shrader. Three Mile Stone released its debut CD, produced by John Doyle, in March 2010 and has received rave reviews. In addition to Three Mile Stone, Richard can be heard on Christa Burch's CD 'Love of the Land', Radim Zenkl's, 'Restless Joy', and Tipsy House's CD, 'Sets in the City.'
Gerry O'Connor with Richard Mandel Tour Dates
• Friday, May 18th, Tualatin, OR (Portland Area), Wee Ceili Room, 9:00 PM, sam.keator@frontier.com.
• Saturday, May 19th, Seattle, WA, Seattle Folklore Society, 7:30 PM, www.seafolklore.org.
• Sunday, May 20th, Whidbey Island, WA, Comforts of Whidbey, 7:00 PM, whidbeyislandirishmusic@gmail.com.
More Info and full bios: https://www.gerryoconnor.net
http://threemilestonemusic.com/about/richard-mandel
---
↑Top↑
Double Release: A Sweetish Tune & Tres Noctambule!
Marla Fibish & Bruce Victor with Suzuki Cady
Saturday May 19th, 7:30 PM
O'Hanlon Center for the Arts, 616 Throckmorton Ave, Mill Valley CA
Join us for wine & cheese at 6:45 P.S. There will be cake!
It's taken us a while, but we finally are going to do a proper release for A Sweetish Tune. We are very proud of this project -- our third and a thematic departure from our previous two. This one centers around traditional Irish music and the sounds of our instruments in a variety of combinations and conversations.
And we have another release to celebrate! We have been working up both new and familiar repertoire as a trio with Suzuki Cady. Suzuki adds her gorgeous 5-string violin and her sparkling voice to the tableau, expanding the Noctambule sound with more varied string textures and rich three part harmonies. Never able to resist a play on words, we are dubbing the trio TresNoctambule. Ignoring small details like accent marks, we pick up the meaning of 'three' in Spanish, and 'very' in French! The tres of us would love to see you!
Info & Reservations: noctambulemusic@gmail.com or call 510-205-1617
https://www.facebook.com/noctambulemusic
http://www.noctambulemusic.com
---
↑Top↑ <!Begin Level 2> <!End Level 2>
Celtic Woman: Homecoming Tour
Saturday, May 19, 2018 7:30PM
Gallo Center for The Arts, Mary Stuart Rogers Theater, 1000 I St, Modesto
On a winter's night in Dublin 14 years ago…an idea, to create a musical show with exceptional talent, classically and traditionally trained Irish female musicians. Celtic Woman was born. Since its debut, global musical sensation Celtic Woman's concerts continue to touch the hearts of a huge audience that spans the globe.
Experience Celtic Woman on their worldwide Homecoming Tour...LIVE FROM IRELAND!
Video: Celtic Woman - My Heart Will Go On (1 Mic 1 Take).
Celtic Woman Details and Tickets, Click Here, or call (209) 338-2100.
Celtic Woman celebrates Ireland's rich musical and cultural heritage, while continuing its remarkable legacy of introducing some of Ireland's most talented singers and musicians onto the world stage. It's a universal celebration of life. It's traditional, it's contemporary. It's yesterday, today and tomorrow. Homecoming represents the next chapter of their extraordinary musical journey.
Check the event page on Facebook, https://www.facebook.com/events/208969089640965 or check their website, www.CelticWoman.com.
---
↑Top↑ <!Begin Level 2> <!End Level 2>
Tony Bucher: Archie Bunker's Chair
Media Images and Social Realities of Irish America from the 1960s and 1970s
ILHS Speaker Series | Sunday May 20th, 5:00 PM, St. Patrick's Room
The United Irish Cultural Center, 2700 45th Ave, San Francisco
<!Begin Level 2> <!End Level 2>

The Irish Literary and Historical Society presents Tony Bucher on Archie Bunker's Chair – Media Images and Social Realities of Irish America from the 1960s and 1970s.

Powerful and largely unflattering images of the Irish American community were fixed in the news and popular culture in a particularly turbulent passage in American history from the late 1960s through the 1970s. Certain Irish Americans came to represent the forces of reaction in American society at the very apex of a period of intense social activism and racial, inter-generational, and class conflict.

The critical view of Irish Americana finds expression in such venues as Salon, where cultural critic Andrew O'Hehir published an unfortunate St. Patrick's Day 2014 op-ed entitled How did my fellow Irish-Americans get so disgusting? Broader themes critical of the Irish American experience were expressed in Noel Ignatiev's unsympathetic 1995 volume How the Irish Became White.

A survey of American political and cultural history of the 20th Century reveals a somewhat more complicated picture, with Irish Americans among the most instrumental figures on the 'progressive' side as well as amply represented in the cultural ferment of the era.

This talk will attempt to reconcile these various views and images of Irish Americana with the broader experience of the Irish community in America in the 20th Century, with a view towards establishing a more balanced and sustainable perspective on Irish America as a whole.

For full Event Details, Click Here! For more on ILHS, Check the Irish Literary and Historical Society Facebook Page or the ILHS website.
---
↑Top↑ <!Begin Level 2> <!End Level 2>
Chantey Sing in Davenport
Tuesday, May 22nd, at 6:30 PM - 9 PM
Davenport Roadhouse Restaurant and Inn, 1 Davenport Avenue, Davenport
Man-up and sing! This will be the second chantey sing to happen in Davenport, this month lead by San Francisco seafarer Salty Walt Askew, former resident of the Mystic Seaport. Only the third known chantey sing in the Santa Cruz area, this is now a recurring monthly event! Admission is free. Invite your friends. Invite your family. Kids are welcome.
Sea Chanteys intentionally have singalong choruses that are easy to learn on the fly - and you'll have even more fun if you can lead one yourself. No singing experience is necessary.
Arrive early to enjoy some delicious tacos and micro-brew on tap, because Tuesdays are also Taco Nights at the Davenport Roadhouse.
If you're not sure what qualifies as a sea chantey, or where to find the lyrics and a recording for learning one, or if you'd like to be put on an e-mail list for reminders and updates about this recurring monthly event, contact Elise MacGregor Ferrell at eliseelise@aol.com.
---
↑Top↑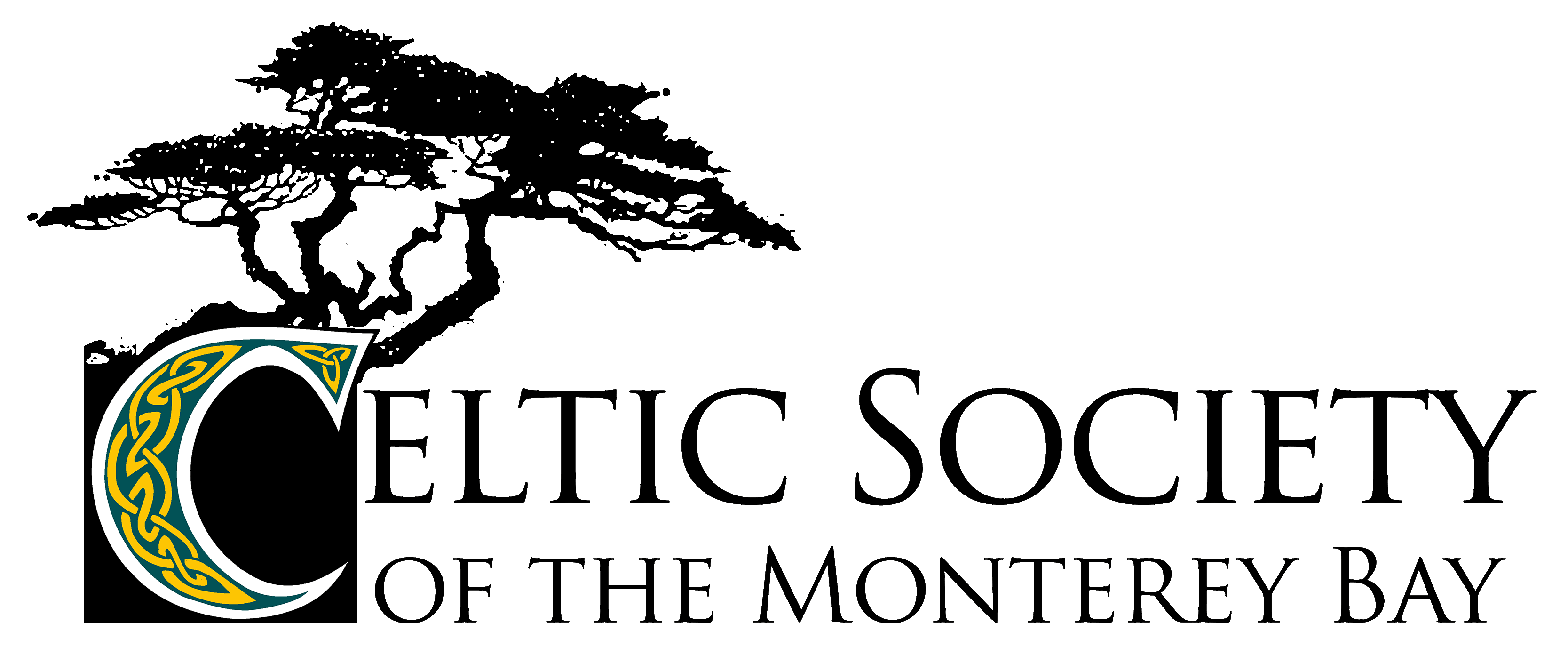 Celtic Society of Monterey Bay
The venerable Celtic Society of Monterey Bay has a 26 year record of bringing world class Celtic musicians to the Monterey Bay Area and is a key sponsor of AmeriCeltic.
• Monday, May 21st 2018, 7:30PM, Richie and Rosie give a House Concert in Soquel.
• Tuesday, June 5th 2018, 7:30PM, John Doyle gives a House Concert in Soquel.
• Wednesday, June 20th 2018, 7:30PM, the Jeremy Kittel Trio, gives a Concert at Michael's On Main, in Soquel.
Click here for full details of All Celtic Society of Monterey Bay Concerts on the CSoMB website! (Click on small arrow in the inset photo for the videos. Click on the 'more info' link for full details and ticket links.)
---
↑Top↑ <!Begin Level 2> <!End Level 2>
Erica and Friends with the Joy Drops
Collaborative Folk in the East Bay
Friday, May 25, 7:00 PM @ The Monkey House, 1638 University Ave., Berkeley
<!Begin Level 2> <!End Level 2>

Erica and Friends, line up of Erica Hockett, vocals, Troy Dillinger, accordion, Chris Hammond, guitar, and Anne Bingham Goess on violin and vocals, brings folk music from the British Isles and Ireland, including ballads and pub songs with vocal harmonies, jigs, and reels, with guitar, violin, accordion and bodhran.

Click for Erica & Friends new video.

For more on Erica & Friends, check their websites: YouTube Videos | Facebook Page | Soundcloud | or Reverbnation

Lead by mandolinist Lucas Gonze, Acoustic Americana trio The Joy Drops offer a lively mix of Bluegrass, old time, and early jazz songs and tunes with mandolin, standup bass, trumpet, and guitar.

For more on The Joy Drops, check the websites: YouTube Videos | Facebook Page | http://thejoydrops.com
---
↑Top↑ <!Begin Level 2> <!End Level 2>
Britanny Day | Fête de la Bretagne
May 18th - 27th - L'Alliance Française / Friday, May 25 - Plough and Stars
Fête de la Bretagne at L'Alliance Française, 1345 Bush St, San Francisco
Interceltic Ceili Fest-noz Friday, May 25 at 8 PM at The Plough and Stars, 116 Clement St, San Francisco
Each year during Fête de la Bretagne, hundreds of thousands of Bretons and friends of Brittany come together in France and around the world to celebrate breton identity, culture, music, dance, food, language, and economy.

In 2012, UNSECO inscribed Breton Fest Noz on the Representative List of the Intangible Cultural Heritage of Humanity. Fest-Noz, festive gathering based on the collective practice of traditional dances of Brittany.

Today, the Fest-Noz is at the centre of an intense ferment of musical experiences and has spawned a veritable cultural economy. Many meetings are held between singers, musicians and dancers from Brittany and different cultures. Moreover, many new inhabitants of Breton villages use Fest-Noz as a means of integration, as it is heavily implicated in the sense of identity and continuity of the people of Brittany. The largest annual Fest-Noz in Brittany is called Yaouank, when over 7,000 dancers descend on Rennes every mid-November.

Since 2015, "Breizh Amerika Collective" has organized breton themed events for American audiences in NYC, Chicago, Detroit, St Louis, Cleveland, Rochester, Santa Fe, Albuquerque, New Orleans, Baton Rouge, Lafayette, Arnaudville and Scott, Louisiana to celebrate la Fête de la Bretagne.
Ceili Fest-noz Friday, May 25 at 8 PM at The Plough and Stars
6:45pm - Lecture on Breton History in California
8pm - Concert by Breizh Amerika Collective (See Below)
9:15pm - Reception : drinks & crêpes
Tickets $10 online at Eventbrite
Celtic, Swing, and Jazz: Brittany's Strongest Trad Players Team up with California Jazz Artist for Collaborative Breizh Amerika Tour of California
The Breizh Amerika Collective initiative brings together innovative musicians from Brittany, France and the United States of America to collaboratively work to create and produce original music, bring awareness to endangered traditions, while developing durable Transatlantic links of cooperation and understanding.
The Jammy Dodgers (Irish music) will perform for the first Ceili/Fest-Noz ever in the Bay Area and in California. Since their start in 2010, The Jammy Dodgers have been bringing traditional Irish music with a novel twist to the Bay Area and beyond. From the high-energy driving rhythm of Irish jigs and reels to melodic airs and sean nós ('old style') songs (sung in both Irish and English), they stay well in touch with the roots of the music, while infusing it with their own unique style. Their influences include Skara Brae, The Bothy Band, early De Dannan, Liz Carroll, Planxty, and bohola.
Fest-Noz is a festive gathering based on the collective practice of traditional Breton dances, accompanied by singing or instrumental music. The strong Breton cultural movement has preserved this expression of a living and constantly renewed practice of inherited dance repertoires with several hundred variations, and thousands of tunes. About a thousand Fest-Noz take place every year with participants varying from a hundred to several thousand people, thousands of musicians and singers and tens of thousands of regular dancers. Beyond the practice of the dance, the Fest-Noz is characterized by an intense camaraderie among the singers, musicians and dancers, significant social and intergenerational diversity, and openness to others. Traditionally, transmission occurs through immersion, observation and imitation, although hundreds of devotees have worked with tradition bearers to compile the repertoires and lay the groundwork for new modes of transmission.
More info. at https://www.breizh-amerika.com
---
↑Top↑ <!Begin Level 2> <!End Level 2>
Redwood Music Camp, Boulder Creek
May 26th @ 4:00 PM — May 27th @ 4:00 PM
Easterseals Camp Harmon, 16403 Hwy 9, Boulder Creek
Redwood Music Camp is a three-day weekend music camp experience for adults, with a focus on Celtic music hosted by Community Music School of Santa Cruz. Faculty members include the members of Molly's Revenge and The Fire. For 2018, we'll be at a new location: Camp Harmon in Boulder Creek, California (about an hour and a half from the Bay Area). The site features large, well-lighted cabins in the redwoods. Each cabin has its own bathroom, and shower facilities are a short walk away. The woodland setting has multiple venues for practice, a large dining hall for jamming and concerts, and room for small tents, RVs, and parking.

Tuition is $385, and includes three nights of lodging, with all meals included from dinner on Friday to lunch on Monday. This year a day rate of $75 will be offered once the class schedule is posted; day rate participants will join us for lunch and dinner, but no overnight lodging will be provided.
Details and Registration.

Musical styles of camp workshops range from Irish and Scottish to American traditional, but with a strong focus on Celtic. Participants get the full music immersion experience of learning in small workshop settings in the morning and early afternoon, and sessions bringing it all together in the late afternoon and evening, plus lots of informal jamming. Perfect for experienced players who want to up their game, or those who have been meaning to get that fiddle out of the closet. All levels welcome, but players should be at least mildly proficient! Open to players of fiddle, flute, pennywhistle, recorder, oboe, harp, guitar, dulcimer, accordion, percussion, banjo, mandolin, keyboards, and more! Other activities include singing, dancing, swimming, crafts, hiking, and bamboo flute making.

Faculty will include David Brewer, winds; John Weed and Rebecca Lomnicky, fiddles; Stuart Mason, guitar; Jesse Autumn, harp and piano; Shelley Phillips, ukulele and shape note singing; Rachel Goodman, songs and songwriting, with more faculty to be listed soon!

More details on the Facebook event, https://www.facebook.com/events/394785894310732
---
↑Top↑ <!Begin Level 2> <!End Level 2>
Young Dubliners at Father Paddy's in Woodland
Thursday, May 31st at 8:00 PM
Father Paddy's Irish Public House, 435 Main St., Woodland
The Young Dubliners are quite possibly Celtic rock's hardest working band, playing hundreds of shows to thousands of fans across the US and Europe every year. In recent years they have twice appeared on ABC's Jimmy Kimmel Live and Good Morning America, had songs featured in TV shows (Sons Of Anarchy, Human Target) and toured extensively as a headliner and as the opener for such a diverse list of artists as Collective Soul, Jethro Tull, Johnny Lang, Los Lobos, Culann's Hounds and many more.
The Young Dubliners - Rocky Road to Dublin
Although the Young Dubliners sound is most commonly called 'Celtic Rock', it's not the only influence that rears its head on their albums, or in live shows. After all, several of the band members have no Irish roots of any kind. 'That was always the idea', Keith Roberts, lead singer for the band explains. 'The sound was always intended to be a hybrid because we all come from different backgrounds. Even though two of us are from Ireland, a lot of the music we listened to growing up wasn't Irish at all, but when we got here, we got homesick and developed a new appreciation for Irish Music. In truth the Celtic riffs can just as easily come from the American band members. Everyone writes now so you never know what we'll end up with when we start on a new album.
More info at www.youngdubliners.com or on Facebook https://www.facebook.com/events/238649680016113
Father Paddy's Irish Public House is a locally owned and operated restaurant and bar offering a unique menu of Irish-American Cuisine. We serve fare like bangers and mash, Irish bacon and corned beef and cabbage sliders and specialty cocktails with a large selection of Irish whiskeys on hand. Father Paddy's has many craft bottled beers to choose from and 16 different beers on tap. Located in the Historic Downtown District massive former bank, we repurposed the vault into a one-of-a-kind 'Whiskey Vault', (Yes, a whiskey vault) that is so special that you have to see it and experience it.
Father Paddy's has live music is on every Thursday, Friday, and Saturday evening, and many of the bands crank out considerable Celtic Craic! For more information, check www.fatherpaddyspub.com, call 530-668-1044 or email fatherpaddys@gmail.com.
---
↑Top↑ <!Begin Level 2> <!End Level 2>
John Doyle in California
6/1 Auburn | 6/3 San Anselmo | 6/5 Soquel
Singer, Songwriter and Left-Handed Irish Guitar Legend
Impossibly in demand in the studio and on the road, immensely talented and blessed with an acute ear, a wicked sense of rhythm and seemingly endless stream of magic in his playing, composing, performing and producing, John Doyle is solidly establishing himself as one of the most versatile, creative and prolific voices in folk and traditional Irish music.
Check out John's 2017 show on YouTube: https://youtu.be/iRWjhBX1x5A

In 1994 John Doyle brought his brilliant and innovative guitar stylings to the nascent Irish super-group Solas, which soon took the folk and Celtic music worlds by storm. In the years since going out on his own, John has recorded two solo albums, including Wayward Son, which The Irish Edition hailed as 'a contender for Album of the Year;' and has become a highly sought-after accompanist and session player for the likes of Joan Baez, Eileen Ivers, Tim O'Brien, Linda Thompson, Seamus Egan, Alison Brown and Kate Rusby; and has developed compelling duo performances, first with fiddler Liz Carroll and more recently with Solas' co-founding vocalist Karan Casey. Their new CD is Exiles Return.
From a musical family in Dublin, John was sixteen when he went on the road with Chanting House, a group which he formed with Susan McKeown and which eventually included such great players as Seamus Egan, Eileen Ivers, Donogh Hennessy, and Brian Doyle. The highly influential Solas followed, its success due in no small part to John's powerful rhythmic guitar. As a member of Solas, John performed internationally to sold out audiences and appeared on many television and radio programs, including NBC's The Today Show, A Prairie Home Companion, Mountain Stage, E-Town and World Cafe. As part of that critically acclaimed group, he also received three NAIRD awards and a Grammy nomination.
John has appeared on soundtracks for feature films The Brothers McMullan and Soldier, as well as PBS's Out of Ireland. He composed the music for the film Uncle Robert's Footsteps and the play Down the Flats.
Auburn House Concert, Friday, June 1st, 7:30 PM
Auburn House Concerts Venue, Private Home in Auburn
Guitar Workshop at 4pm ($35 donation)
Concert at 7:30pm ($25 donation)
Reservations are required. Call 530-885-4292 or email info@auburnhouseconcerts.org for reservations and directions. All proceeds go to the artist. See more info at http://www.auburnhouseconcerts.org. https://www.facebook.com/events/578767089182956
San Anselmo House Concert, Sunday, June 3rd, 7:30 PM
Tree House Concerts is pleased to present Irish guitar virtuoso John Doyle in concert on Sunday, June 3rd, 7:30pm in a beautiful new listening room set amidst the oak trees in San Anselmo.
Doors at 6:45pm, music at 7:30pm. $20 donation requested at the door.
Reservations are required. Please RSVP to kylealdenmusic@gmail.com. Address and parking instructions given with your RSVP.
Celtic Society of Monterey Bay, Tuesday, June 5th, 7:30 PM
Private Home in Soquel $22
Tickets and more info at https://www.celticsociety.org.
More on John Doyle at https://www.johndoylemusic.com
---
↑Top↑ <!Begin Level 2> <!End Level 2>
Friday, June 8 at 7:30 PM, Fire and Grace and Ash
William Coulter • Edwin Huizinga • Ashley Broder
Folk Baroque Chamber Trio playing Bach, Celtic, American and World Music
UCSC Music Center Recital Hall, 1156 High St., Santa Cruz
William Coulter and Edwin Huizinga are the duo Fire & Grace and for this special concert they will be joined by ace mandolinist Ashley Broder. They will be performing music that the trio is preparing for a Carmel Bach Festival concert in July, including original compositions by Ashley Broder, and the premiere of Partita Americana a blending of the music of JS Bach, with traditional and contemporary American folk tunes. Other composers represented will include Vivaldi, Piazzolla, and Riverdance composer Bill Whelan.
William Coulter - guitar, Edwin Huizinga - violin, Ashley Broder - mandolin.
Click here for a video sample, https://vimeo.com/265583025
Tickets at Brown Paper Tickets:
https://fireandgraceandash.brownpapertickets.com
More details at https://www.facebook.com/events/1459219110856382/
Or check their websites:
Edwin Huizinga: http://www.edwinhuizinga.com
Ashley Broder: www.ashbroder.com
Fire & Grace: http://www.fireandgracemusic.com
---
↑Top↑ <!Begin Level 2> <!End Level 2>
Mother Lode Highland Games and Celtic Festival
Saturday and Sunday, June 9th-10th, 2018
Amador County Fairgrounds, 18621 Sherwood St, Plymouth, CA
Join the fun at the third annual Motherlode Scottish Games at the Amador County Fairgrounds. Come a few days early, or stay a few days after and enjoy the charming town of Plymouth, CA, do a wine tasting tour, or go white water rafting in the American River! There is an exhaustive list of accommodations on the Motherlode website or Motherlode Facebook Page.

The Scottish Highland Games are a unique mix of sports, culture and community. The Games consist of field and track events, piping & athletic events such as caber tossing, hammer throw, and weight for distance and more.

For more information contact email Carl McDanel or call him at (209) 304-4926.

<!Begin Level 2>
Bands

Highland Games, Food, Music and Activity Highlights

BlackEyed Dempseys

Golden Bough

Michael Mullen Trio of One

Stand Easy

Children's Activities - Celtic Clans - Clan Village
Dancing: Cape Breton Step Dancing | Highland Dancing | Irish Dancing | Scottish Country Dance
Gold Rush Era Sawmill - Gold Panning
Athletic Events - Caber - Weight for Distance - Weight Over Bar - Open Stone
Living History - Historic Re-Enactment - Village Marketplace
Whiskey & Wine Tasting Seminars
Piping & Druming - Fiddlers & Harpers - Celtic Foods
<!End Level 2>
FREE Saturday Night Ceili 6:00PM - 10:00PM
A ceili is a traditional Scottish or Irish social gathering. In contemporary usage it involves playing Gaelic music and dancing. It's a potluck, so bring your best Celtic dishes, whether it be a side dish, dessert. Bring a steak or chicken - we will have a cook available to grill your meat - bring a steak or chicken. We'll have entertainment, Golden Bough & Michael Mullen will be performing, pipe bands, and you are more than welcome to bring your musical instrument and dancing shoes and perform for the crowd.
Volunteers Needed
The Mother Lode Highland Games and Celtic Festival would not be possible without all the volunteers that help us organize and run this great event. To volunteer please email us at mmcdanel@volcano.net.
---
↑Top↑ <!Begin Level 2> <!End Level 2>
Culann's Hounds + BBQ
Sunday, June 17th 6:00 PM
Twin Oaks Roadhouse, 5475 Old Redwood Hwy, Penngrove
Join us for our Third Annual Backyard BBQ Series - Our outdoor summer music show series featuring some of the finest local bands and musicians accompanied by the summer smell of outdoor BBQ! Warm weather, cold beer and delicious food — bring the whole family...kid friendly!!
Culann's Hounds / Family-Friendly BBQ and a Show Event!
BBQ & Show $20 | Show $10 https://www.ticketfly.com/event/1693192.
Culann's Hounds have been playing Celtic Punk and Trad for almost 2 decades. Blending high energy Fiddle and Pipe tunes with Murder Ballads, Rebel Songs and originals, These guys have taken their act across the US and Europe, recorded 5 albums, played countless festivals, headlined such venues an the Great American Music Hall many times and have over 35,000,000 spins on Pandora, making them a known band everywhere there are people connected to the internet. With some new members and plans to record another album in 2017, The Hounds are planning to be around for at least another 20 years.
See the Hounds Live Video - 3 Reels
---
↑Top↑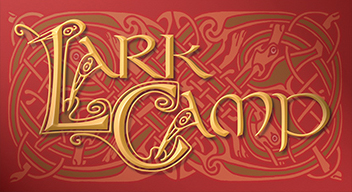 Lark In The Morning's 39th Lark Camp
Music, Song & Dance Celebration July 27 - August 4, 2018
Worldwide Workshops, Including Extensive Celtic Music and Song!
Unique in California, Lark Camp provides an open forum for the exchange of creative ideas between musicians, singers, dancers and composers. The Lark Camp experience is enhanced by motivational instructors teaching dozens of workshops and their inspired students, who also share their passions and skills with the rest of the participants, while have one @&%!** of a good time!
For Lisa Lynne's Lark Camp Video, Click Here!
Lark Camp Adult & Family Camp features Music and Dance from the World Over
Music, Song & Dance Workshops • Cabins • Dances • Parties • Sessions • Great Food • Dance Hall • Dining Hall • Camping • Fire Circles • Mendocino Woodlands Redwoods • Full Camp 8 Days or Half Camp 4 Days
Lark Camp 2018 Registration Is Open Register Now to save your place.
Imagine idyllic days & nights in the magical redwood forest filled with all the music, dance, and good times you could possibly stand, and that's kind of close to what Lark's Music Celebration is like. You are free to take as many or as few of the workshops offered as you like; jam sessions 24 hours a day, big dances every evening. Plenty of good food, new friends, and musical stimulation. Truly a unique total immersion into the joys of nature, music and dance. Many workshops for the professional as well as the beginner!
Irish & Breton Dance Instructors
Shirleigh Brannon-Irish Dance Basics For Everyone, Irish Sean-Nos Dance And Battering For Sets
Michael Riemer-Irish Set Dance
Adrienne Simpson-Breton, Galician & French Dance
Irish, Scottish, Gaician & Breton Music & Vocal Instructors
Shay Black-Irish Chorus, Sea Songs And More, Singing In A Session
Christa Burch-Bodhran
Alexandre Cadarso-Gaita (Spanish Galician Bagpipe), Galician Percussion In The Creek
Danny Carnahan-Octave Mandolin, Songwriting
Kevin Carr-Quebecois Fiddling, Quebecois Session
Marla Fibish-Irish Mandolin
Aryeh Frankfurter-Harp-Anything But Beginning, Swedish & Nordic Music For Nyckelharpa And All Instruments
Jack Gilder-Irish Music on the Anglo System Concertina
Preston Howard-Irish Uilleann Bagpipes, Uilleann Pipe Tune Favorites For Everyone
Wanda Law-Irish Fiddle Basics For Beginners, Beginning Fiddle
Lisa Lynne-Beginning/Intermediate Celtic Harp, Getting Your Music Out Into The World
Stuart Mason-Celtic Tunes for Flatpick Guitar, Old Ballads For DADGAD Guitar
Summer McCall-Celtic Cello, Rhythmic Grooves and Accompaniment For Fiddle and Cello
Ryan McKasson-Scottish Fiddle
Jim Oakden-Breton Music - Dance Tunes, Including Chording/Backup
Celia Ramsay-Get Your Voice Out of the Closet, Scottish Travelers Songs
Autumn Rhodes-Beginning Pennywhistle & Irish Flute, Intermediate Irish Flute & Pennywhistle including Ornamentation & Technique
Dale Russ-Intermediate & Advanced Irish Fiddle
Daniel Schoenfeld-Irish Tune Swap
John Skelton-Irish Flute, Unusual & Rare Irish Flute Tunes For All Instruments
John Weed-Old Time Irish Fiddle
To review the Complete Lark Camp Music & Dance Staff 2017, Click Here. For pictures and videos of past Lark Camps Click Here, or check the history, layout, what happens at camp, and much more, at the Lark Camp website, larkcamp.com.
---
↑Top↑
Plough and Stars Honored
Added to SF Legacy Business Registry
The Plough and Stars Irish Pub, 116 Clement Street at 2nd Avenue, San Francisco
The Plough & Stars is thrilled to announce we've been honored with 'Legacy' status as an historic asset to the city by the San Francisco Office of Small Business ... Join us for great music & the best Guinness pint in town.
What a diverse and vibrant mix of businesses added to the Legacy Business Registry yesterday! Join us in congratulating Babylon Burning, the Lab SF, The Mindful Body, The Plough and Stars and Slim's! Thank you for your commitment and service to our communities.

The Plough and Stars (116 Clement St): An Irish pub and known gathering place for the Irish community for over 40 years. The bar showcases musicians across genres and maintains a tradition for over 35 years of hosting seisiúns, informal Irish jam sessions. Stop by for a perfectly-poured Guinness and see why?? they've been voted Best Irish Bar by SF Weekly.
I would like to thank all the Musicians who have played in the Plough. Without their contributions this would not have happened — Sean Heaney
The Plough and Stars Irish Pub, is known around the world for hosting incredible Irish music and pulling beautiful pints of Guinness since 1975. Since then, it has evolved to host live music every night of the week, except Monday, including all genres of music; Bluegrass, Country, Rock, Zydeco, acoustic Americana, and of course, Irish Traditional.
The first Saturday is always Americana Jukebox and every third Friday is Bluegrass Bonanza! We welcome you to stop in for a drink and try our famous, award winning pints of Guinness, or indulge in any of our other specials. We host Happy Hour all day every Monday with free pool, and the first Monday of the month has a Pub Quiz at 8:30 PM. Check out our website for a full calendar of events!
For a video of a Plough session from 2014, Click Here.
For more about the Plough, check www.theploughandstars.com, call 415-751-1122, or email Sean Heaney at sfplough@aol.com.
---
↑Top↑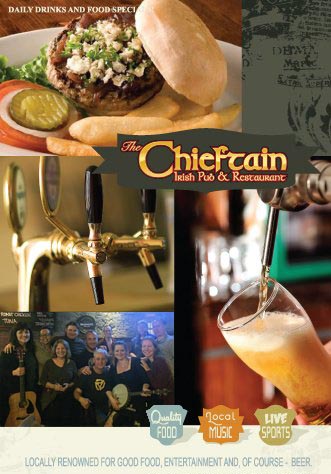 The Chieftain Irish Pub & Restaurant
198 5th St, San Francisco
The Chieftain Irish Pub & Restaurant, is a bustling SoMa spot with Irish pub grub & beers on tap plus sports on the satellite TV.
This local Irish Pub brings the culture of Ireland to San Francisco, offering a full bar, Happy Hour specials, and a full Irish restaurant menu, including favorites like fish and chips which goes with any style of sport, music or fun.
"I am in the city every 2-3 months and The Chieftain is an absolutely integral part of every trip. Mark runs an amazing, authentic Irish pub. Major plus, the only place I know of in northern California to get Kilkenny!!"

"Walked in, Saturday night about 7pm and there was a table right inside the door. We had a shepherds pie and an Irish stew. The shepherds pie was actually made with lamb! The live music was great entertainment too!"
For a video of some the Chieftain's food menu, Click Here.
The Chieftain hosts live music on Fridays and Saturdays. Click Here for the current schedule! The live Irish traditional music and song session every Sunday evening is always great Craic! Here is a sample Irish Session from 2009: Live Irish Session at the Chieftain.
For the latest happenings, check the Chieftain facebook Page, or call 415-625-0436, or email Mark Nagle at mark@thechieftain.com or check www.thechieftain.com.
---
↑Top↑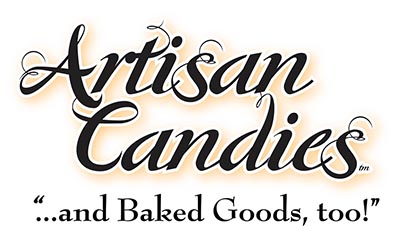 Artisan Candies and Baked Goods, Too
Kristen & Dean Scott offer Celtic Lunch & Dinner
4432 Pearl Avenue, San Jose CA | Tuesday-Friday 11-5:30 pm
<!Begin Level 2> <!End Level 2>

Artisan Candies and Baked Goods, Too, has great menu items, both for dessert and lunch or dinner! There are hand-made sausage rolls, meat pies, vegetable pasties, and fruit pies, at the shop, as well as meals-to-go. You can buy the rolls and pies fresh-baked, or frozen so you can bake them at home.

Afternoon tea lunches include chicken salad, cucumber finger sandwiches, fruit mince pie and tea. The meals-to-go consist of 4 bridies, celtic pasties, or sausage rolls, and mash or colcannon. We suggest adding peas or Heinz beans to round out a perfect Celtic lunch or dinner!

We also can deliver to your nearby door in case you can't get to our shop during business hours Tuesday-Friday 11-5:30 pm. (Please allow about an hour for delivery of the afternoon tea or meals-to-go.) Click this link to see the new lunch and dinner menu, but call us directly at 408-267-7090 and we will arrange delivery to your door!

You can still find Kristen and Dean with their booth, Celtic Candies and Cakes, at many of the Scottish and Celtic festivals around California such as the Pleasanton Highland Games on Labor Day weekend, the Big Trees Highland Games coming up on October 7, 2017, and at the Great Dickens Christmas Fair this winter as London's Finest Cakes and Puddings, or book their The Celtic Tea Shoppe, for your event. To check the The Celtic Tea Shoppe Facebook Page, Click Here!

Check our website www.artisancandies.com for all our other baked goods and confections. To order, contact Kristen Scott with a call to 408-267-7090, or an email to sales@artisancandies.com
---
↑Top↑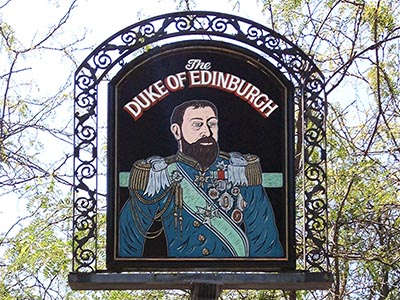 "The Duke" Authentic British Pub
The Duke of Edinburgh Pub & Restaurant
10801 N. Wolfe Road, Cupertino, CA, 11:30am - 2:00am every day of the year
The atmosphere at the 'The Duke', is the same as you would find in any pub in the British Isles, full of friendly patrons who come in to socialize, play darts, have a pint or two, and eat a meal. If you are looking for a comfortable elegance, pints of beer and authentic food, in an authentic English Pub, there is no a better choice in the Bay Area. The Duke offers a large number of beers on draft and by the bottle. Almost anything English, Scottish or Irish is available. Murphy's Irish Stout brewed in Cork, Ireland and Scotch Eggs is always a good choice.
The servers are excellent and very knowledgeable about the beer and food menu. The menu is expansive and worth exploring. The dark pubsy feel with old regulars in their respective, but not crowded corners around lunch hour in Cupertino, is a great boon.
You can't find more 'authentic' atmosphere, because the entire building was built in jolly old England, then disassembled, shipped and reassembled on site in Cupertino. With the red velvet seating and wall paper and ornate, dim lighting, you are transported to London as soon as you enter the etched glass door.
More info. on The Duke Facebook Page, website www.theduke.com or call 408-446-3853. The Duke is located across the street from Apple Headquarters on Wolfe Road in Cupertino.
---
↑Top↑
---
↑Top↑
Wanna help, comment or get published?
We publish articles or comments that relate to our Mission (see below), to our thousands of Celtic concordant readers. If you have one, email us: Tony and Celia Becker, americeltic@gmail.com
---
↑Top↑
Click to display the combined
AmeriCeltic Calendar
, covering the Northern California Coast and Bay Area, and the
Celtic Events Calendar
, from Chuck Jamison, covering the Central Valley.
To
submit an event for listing in our Calendars
, email your Celtic event info., including Who, What, Where, Why & Description to us.
Coastal Celtic events -
Email AmeriCeltic
. Central Valley events -
Email Chuck Jamison
.
Click Here to use the online form.
We love videos! Include a link to an online video, and you will likely get featured in this weekly newsletter!
---
↑Top↑
AmeriCeltic Mission
AmeriCeltic is an all volunteer, non-profit organization. Our Mission is to restore awareness, celebrate and preserve the culture and history of Americans of Celtic descent in Northern CA by promoting Celtic events & history. Our volunteers cover all the Celtic related events in Northern California, with an accurate and up-to-date description of each. To help fund our efforts, click the 'Donate' button above or on our AmeriCeltic Website www.americeltic.net.
---