AmeriCeltic.net is a non-profit public service, supported by you, our readers.

Your donation of any amount is very welcome and will help us prepare and distribute these newsletters, continue our public outreach, as we did at the Pleasanton Scottish Highland Gathering and Games on Labor Day weekend, and support our Mission. (See below)


Learn more in our Video Introduction
.

Subscribe to our YouTube Channel!


Friday, 2018-01-12
Updates, Features, & Events

Hello AmeriCeltic Reader,

Updates:
• Our man in Galway, Robert Sullivan, offers an overview of Traditional Irish Sessions in Galway. (See Below)
• From now through Monday, January 22nd at 10:53 AM, Charmas is fundraising for their New Stark Raving Celtic album on Kickstarter. (See Below)

Events:
• Continuing TODAY, Friday January 12th at 7:30 PM, Quebecois band Maivish plays four more days of Concerts and Contra Dances in San Luis Obispo and Palo Alto. (See Below)
• TOMORROW Saturday, January 13th at 6:00 PM, Harlow's brings you the 7th Annual Irishpalooza in Sacramento. (See Below)
• Also TOMORROW Saturday, January 13th at 9:00 PM, new band Igam Ogam will hold forth at the Poet & Patriot in Santa Cruz. (See Below)
• Beginning TOMORROW Saturday, January 13, the annual rounds of Robert Burns Suppers begin, as Scots all around Northern California honor Burns the Poet as well as all things Scottish. (See Below)
• On Saturday, January 20th at 8:00 PM, Tempest performs live for the first time at Michael's on Main in Soquel. (See Below)
• On FRIDAY, January 26th, broadcasting and streaming from KKUP.org at 3:45 PM from KKUP.org and then LIVE IN PERSON at 8:00 PM, at Art Boutiki in San José, Mullen-Jones Project / Erica and Friends make rare live appearances in the South Bay. (See Below)
• On Saturday, January 27th, 2018 at 7:30 pm, it is Cornish Californian Rita Hosking at Foothill Community Presbyterian Church, in San Jose. (See Below)

Scan our feature articles below, or as always, you can click here to check the next month of listings on our website.
---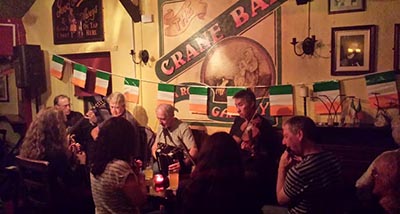 Sessions in Galway, Ireland
A first-hand report by Robert Sullivan
Editors Note: I first met the author while playing sessions here in California. When I learned that he emigrated to Ireland, and was active in the sessions there in County Galway, I asked him to write this article. - Tony Becker
Traditional Irish musicians in Galway are very fortunate to have many pubs hosting sessions, two to three times a day, seven days a week. These are frequented by the best musicians from Galway and all over Ireland and the world. Most pubs that host trad music are within a fifteen minute walk from city centre, and all sessions are 'open' sessions, though they are not described as either open or closed. All sessions in Galway are 'open' to anyone who already knows how to play the music.
Local musicians know when and where the sessions are, and are always welcome and supportive to anyone else who wants to join in. Visitors who know traditional Irish music and play at the level of the session are always welcomed. A set of tunes from another country, another culture, are always encouraged.
Most of the sessions I personally attend are mainly for traditional tunes, with only an occasional song. There are singing sessions for those who prefer to hear mainly songs, and anyone may participate in them by singing and playing. There are also swing, jive, jazz, contemporary rock and country music, not open to visiting musicians, but usually with dancing. There are also monthly Ceili dances at the Claddagh Hall with Set Dancing and the best of live Irish Ceili bands.
Sessions are controlled by a session leader that has been hired by the pub. That person almost always has a second, or partner that they play with regularly, and together, they keep things flowing and interesting, which keeps the patrons coming back. They know every common, or popular tune which allows every one to play along, while constantly introducing new tunes. Occasionally, they will be the only ones playing. The session leaders are also working. They are hired by the pub and being paid to have high quality music on a daily basis to attract patrons. They are working to pay their mortgages or rents, so trying to take over a session is not very considerate.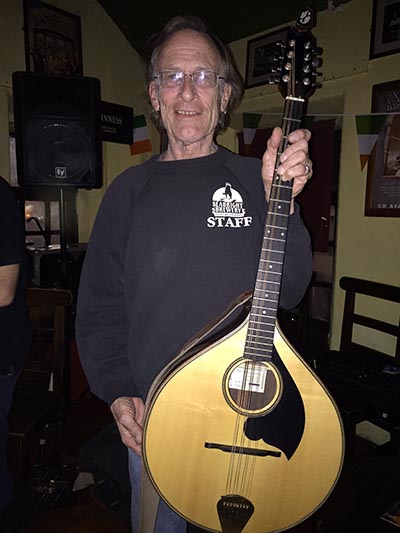 Rules
There is no 'rule book' for sessions in Galway. Trad musicians know how to conduct themselves without one. Etiquette means respect. Respect for the session leaders, the pub, the players sitting next to you, the people who come to listen, and especially the music. The leaders here are so supportive and accommodating to every one, they deserve respect.
Practice at Home!
Practice at home, not in public. Noodle at home, not in public. Fish for chords with recordings at home, not in public. Instead of starting sets to show what you got, buy a pint and say hello. Join the craic. The session leaders are good at what they do. You don't need to start sets, that is their job. They have been doing this all their lives. Remember, there are 100,100 Irish children who are better at trad music than you will ever be, so stop, listen and learn.
Resources
Galway has the National University of Ireland, Galway, NUI Galway and several other major colleges including MIT and GTI, all with music departments. Galway also has a great community trad music school, Dusty Banjos. It's also a major tourist spot on the 'Wild Atlantic Way', and is therefore a high transit area with eclectic musical tastes.
O'Neill's 1001 Dance Tunes Of Ireland, still the Bible, is a lifetime of learning and available from Waltons in Dublin, https://www.waltons.ie or Amazon. Comhaltas 'Foinn Seisiún Book #1 - 4', are 4 Sheet music books with CDs, and available from https://comhaltas.ie in Dublin. Dusty Banjos 400+ Trad Tunes played in The West of Ireland is available at: http://www.irishtunebook.com. Now! Go home and practice!
The best daily sessions in Galway are at: Tig Coili, http://www.galwaycitypubguide.com/tigcoili, Taaffe's, http://www.galwaycitypubguide.com/taaffes.html
The Crane Bar, http://www.thecranebar.com (also check out https://www.tripadvisor.ie/Attraction_Review-g186609-d607271-Reviews-Crane_Bar-Galway_County_Galway_Western_Ireland.html )
TG4 is the Irish Language TV station broadcasting from the Connamara Coast, Galway, with Music and Dance Programs: http://www.tg4.ie/en/player/irish-music-series/
---
Charmas Album Stark Raving Celtic
Kickstarter Fundraising Campaign now over 50%
Instrumental madness, blue ballads, and comedy fuel this rare blend of Traditional Celtic and Modern Fusion Music
Thanks to Stark Raving Celtic Donor Peter Cook
Charmas thanks
Peter Cook
of
Lighthouse Realty
for their $500 pledge! Peter's pledge puts our Campaign total at $4,552, over the halfway mark on our way to reaching our goal of $9000!

Lighthouse Realty is located at, 402 Ingalls St., Suite #5A, Santa Cruz. Contact Peter by email
peter@lighthouserealty.net
or call (831) 425-7355, or check the website
http://lighthouserealty.net
. CA BRE license # 01908917.
Says Elise,
"Lighthouse is the best real estate brokerage in Santa Cruz, because:
Peter Cook
(who runs the business with his wife Krista) doesn't just sell houses - he sells neighborhoods. You can
ask Peter about any location
: 'What kind of neighbors live near this house? What are this neighborhood's crime statistics? Do any gang members live nearby? What plans does the city have for developing this end of town?' Peter generally knows those answers off the top of his head, and if he doesn't know some, he'll find out the answers right away."
The 20 Stark Raving Celtic — All-Stars

Stark Raving Celtic features twenty Central California musicians, wielding an astonishing variety of folk-, rock-and percussion-instruments, who are giving the album exceptional creative variety. Please support them by making a pledge today!

Aaron Clegg
Mick O'Broain
Jim Powell
Phil Johnston
Stephen Vahle
Devin Lara
Russ Bennett
Matt Johnson
Dan Frechette
Mike Long

Lee Corbie-Wells
Richard Dwyer
Galt Barber
Janet Herman
Garrett Harpainter
Daniel Steinberg
Jamie Wylde
Jeffrey Ferrell
Ariel Ferrell
Elise MacGregor-Ferrell

Stark Raving Celtic is an intensely intimate listening experience! To hear the Stark Raving Celtic Audio Samples, Click Here!
We're expecting to finish all the mixing and mastering during the first couple weeks of January 2018. Top quality recording is expensive, but this time around Charmas founder-producer Elise MacGregor Ferrell is carrying that load, but we need your support to carry Stark Raving Celtic through to another successful album release.
Your support, no matter how small or large, is CRUCIAL to these projects. Please take a moment, Click Here, and check out our updated video and new support levels, which start at just $5.00, and every supporter receives a copy of the completed Stark Raving Celtic album.
Thanks VERY much!

- Elise
---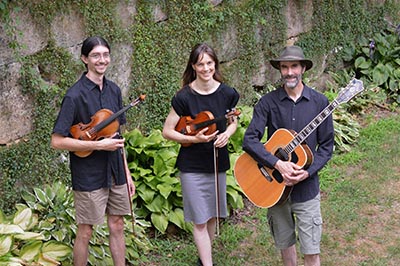 Maivish Concerts & Dances
House Concerts and Contra Dances
"Maivish navigates a deep current of musical heritage that spans the British Isles and North America. With members originating from the UK, New England and the Appalachian mountains, their root system exists in the migration of traditional folk music, from the Old Country to the New World. Coupling time-honoured songs and tunes with tradition-inspired original compositions, their performances are infused with distinct vocal harmonies, inspired interplay, and captivating spirit."
Jaige Trudel: Fiddle, Voice
Adam Broome: Guitar, Jaw Harp, Voice
Matthew Olwell: Flutes, Bodhrán, Percussive Dance, Voice
Tour Dates
• Fri Jan 12-14, 2018, 7:30pm, San Luis Obispo - Maivish Contra Carnivale - Contra Dance - Veterans Memorial Building, 801 Grand Ave, San Luis Obispo More Info.
• Mon Jan 15, 2018, 7:30pm, Palo Alto - Maivish - Contra Dance - First United Methodist Church, 625 Hamilton Ave, Palo Alto More Info.
---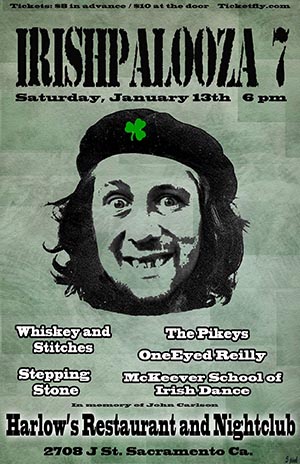 7th Annual Irishpalooza
Celtic Rock, Trad and Dance, Saturday, January 13th, 2018
Harlow's Restaurant & Nightclub, 2708 J St, Sacramento
Harlow's Restaurant and Nightclub presents the 7th Annual Irishpalooza, featuring many great acts.
Whiskey and Stiches is a little bit of everything; traditional Irish folk, punk, and Americana encompasses their sound, The Pikeys blend different musical backgrounds and countless influences together into a stew of musical hooliganism. At any given Pikeys show you might hear traditional songs, a polka, a cover of a song from a metal band, or all three, One Eyed Reilly is a Celtic/Americana rock band from Sacramento that blends dynamic original songs with modern Celtic rock, Americana, and energetic, innovative versions of traditional Irish and Scottish classics, Stepping Stone will rock up the Irish tradition and toss in a touch of Americana for good measure, and the McKeever School of Irish Dance adds a percussive beat that will get you on your feet!
The cover charge is $8 advance and $10 at the door. Music and Dance from 6-9 pm.
Check the Irishpalooza Facebook event, or the www.harlows.com website for details or call (916) 441-4693. Harlow's is on J Street between 27th and 28th.
---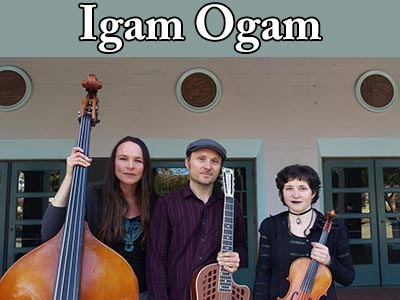 New Band, Igam Ogam
LIVE Saturday, January 13 at 9:00 PM
Poet & Patriot, 320 Cedar St, Santa Cruz
Igam Ogam is Cornish for 'zig-zag', and a fitting title for this trio based out of Santa Cruz, California, as they zig-zag across genres and continents with skillful playing and clever arrangements. The trio includes of Lee Corbie-Wells on violin and vocals, Scott Stobbe on various guitars and Patrice Wallace on upright bass.
For a 'Teaser' Igam Ogam video, Click here!
Lee sings in a variety of languages as the groups repertoire travels across France, Greece, Ireland and Romania as well as covering Jazz, Blues and Bluegrass from the United States.
Scott Stobbe has been sitting in with Lee Corbie-Well's other band, Moonshine Jelly for a while as well as playing in a duo with Lee. With the addition of a bass player Patrice, they have a new band, Igam Ogam.
Full Details at https://www.facebook.com/events/1663841263637104
---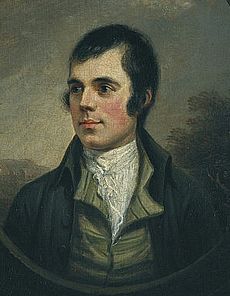 Robert Burns Suppers
Celebrating the National Poet Of Scotland
Robert Burns (January 25, 1759 – July 21, 1796) was a poet and a lyricist. Burns is widely regarded as the national poet of Scotland, and is the best-known of the poets who have written in the Scots language, although much of his writing is also in English and a 'light' Scots dialect which would have been accessible to a wider audience than native Scottish speakers. Burns wrote many blunt political and civil commentaries about the Scottish condition. For more on Robert Burns, Click Here.
This is also the time of year when Scots everywhere organize formal gatherings to commemorate Robert Burns and all things Scottish at Burns Suppers, with plenty of Burns poetry, Highland Dancing, Pipers, readings of Burns 'Address tae the Haggis', Toasts to the Lads & Lassies, and Entertainment of all kinds Celtic.
Of note, Arbroath is playing for the Daughters of Scotia Burns Celebration on January 13th and also for the Scottish American Military Society Burns Supper on February 3rd.
Act Now! (Burns Suppers generally have a deadline for reservations, and sell out quickly).
Burns Suppers in Northern California
Sat, 01/13/18 01:00 PM Sacramento - Daughters of Scotia - Burns Supper
Sat, 01/13/18 06:00 PM Amador City - Mother Lode Scots - Burns Supper
Sat, 01/20/18 04:00 PM Fair Oaks - St Andrews Society - Burns Supper
Sat, 01/20/18 05:00 PM Murphys - Western Sierra Celtic Society - Burns Supper
Sat, 01/20/18 05:00 PM San Francisco - Saint Andrews Society of San Francisco - Burns Supper
Sat, 01/20/18 06:00 PM Scotts Valley - Loch Lomond Celtic Society - Burns Supper
Sat, 01/27/18 06:00 PM Nevada City - Gold Country Celtic Society - Burns Supper
Sat, 01/27/18 05:00 PM Eureka - North Coast Scottish Society - Burns Supper
Sat, 01/27/18 05:30 PM Pleasanton - PBFSCO 23rd Annual Robert - Burns Supper
Sat, 01/27/18 06:00 PM Bakersfield - Kern County Scottish Society - Burns Supper
Sat, 01/27/18 06:00 PM Modesto - St. Andrews Society of Modesto - Burns Supper
Sat, 01/27/18 04:00 PM Reno - Nevada Society of Scottish Clans 36th NSSC Annual Robert - Burns Supper
Sat, 01/27/18 04:00 PM Mountain View - 24th Annual South Bay Scottish Society - Burns Supper
Sat, 02/03/18 05:00 PM Davis - Dixon Scottish Association - Burns Supper
Sat, 02/03/18 05:00 PM Sacramento - Scottish American Military Society Post 1921 - Burns Supper
---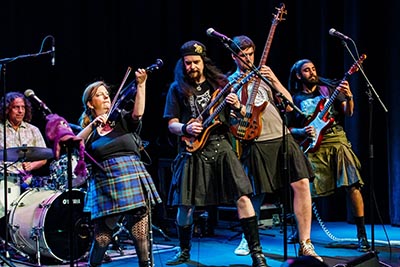 Tempest @ Michael's on Main
Celebrating 30 years of Celtic Rock!
Sat. January 20, 8:00PM | Michael's on Main, 2591 Main St, Soquel
30th Anniversary Tour — Dance to Celtic Rock with flavors of Scandinavia, India, Africa & Arabic Nations. Tempest's first time at this great St. Cruz area venue!
For Tempest videos, Click Here!
$15 adv./$15 door dance- ages 21+ https://tempestjan20.brownpapertickets.com
Since forming in 1988, Tempest has delivered a hybrid of high-energy Celtic Rock. But as the band has matured throughout the years, their music has morphed stylistically. World Music has seeped into Tempest's over all sound because the band members are drawn to traditional and ethnic music from around the globe. There has been a natural progression towards coloring Tempest's music with elements from Scandinavia, India, African and Arabic countries. Middle Eastern flavors, traditional Irish and Scottish Medleys mingle with Robert Burns poems, Norwegian lyrics and heavy rock instrumentals on Tempest's finest record to date.
FACEBOOK: http://www.facebook.com/TempestCelticRock
TWITTER: http://twitter.com/Sorbye
Artist sites and sounds: www.tempestmusic.com.
Check venue info. at: http://www.michaelsonmain.info or email Tom Miller tmm@cruzio.com call at (831) 335-2526.
---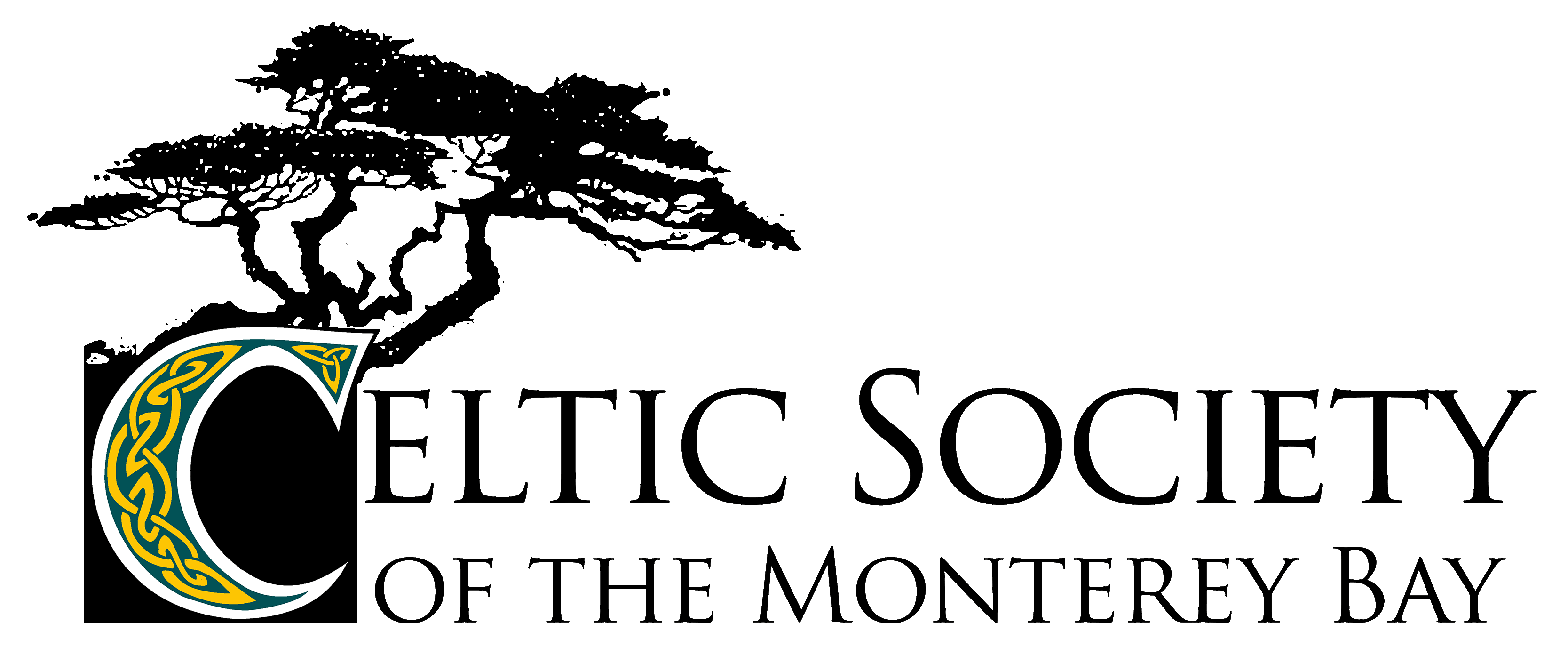 Celtic Society of Monterey Bay
The venerable Celtic Society of Monterey Bay has a 25 year record of bringing world class Celtic musicians to the Monterey Bay Area and is a key sponsor of AmeriCeltic.
• On Saturday, January 20th 2018, 7:30PM, The Press Gang gives a House Concert in Soquel.
• On Sunday, January 21th 2018, 3:00PM, The Press Gang gives a Concert at St Mary's By The Sea Episcopal Church in Pacific Grove.
• On Tuesday, January 30th 2018, 7:30PM, Jim Malcolm gives a House Concert in Soquel
Click here for full details of All Celtic Society of Monterey Bay Concerts on the CSoMB website! (Click on small arrow in the inset photo for the videos. Click on the 'more info' link for full details and ticket links.)
---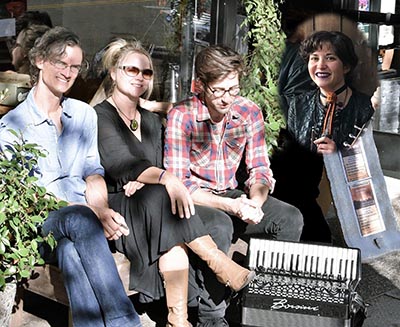 Mullen-Jones Project / Erica & Friends
Two
LIVE SOUTH BAY Appearances!


Friday, January 26th:
3:45 PM LIVE STREAMING @ KKUP.ORG or 91.5 FM
8:00 PM LIVE IN CONCERT, @ Art Boutiki, 44 Race St, San José

Art Boutiki and AmeriCeltic.net bring you 'Mullen-Jones Project / Erica & Friends', featuring two GREAT Acts for only $12!

Get Mullen-Jones Project / Erica & Friends Tickets NOW!

Erica and Friends is the new Bay Area folk and traditional band based in Berkeley, that is putting out a mix of upbeat jigs and reels, pub songs and ballads from around the British Isles and Ireland. With Erica Hockett's vocals, Lee Corbie-Wells' fiddle, Troy Dillinger's accordion, and Chris Hammond's guitar, they are destined to become one of our great regional folk music resources. For only the second time, hear them in the South Bay, at Art Boutiki!

For more on Erica & Friends, check their websites: YouTube Videos | Facebook Page | Soundcloud | or Reverbnation
Greg Jones and Michael Mullen, both lately of the legendary Celtic rock band Tempest, have created a new group, Mullen Jones Project. This "Celtic Bop" band plays Celtic music with a jazz accent, fusing Celtic melodies with the rhythms and harmonies of various jazz idioms, from New York to Brazil via Dublin and Edinburgh – Kinda like Miles Davis meets Riverdance. Celtic with too much jazz, or jazz with too much Celtic, depending on your point of view, Greg Jones and Michael Mullen are certain to give your musical palate some excellent new flavors to savor!

To hear Mullen Jones Project put their formula to work on the ancient tunes, like O'Carolan's Concerto, Click Here!

For more information on Mullen Jones Project music, email Michael Mullen at me@michaelmullen.net, or call 510-414-6063, or check his website:
https://www.facebook.com/MullenJonesProject
2 Appearances on Friday, January 26th
• 3:45 PM LIVE STREAMING! Erica & Friends and Mullen-Jones Project will be the LIVE guests on the 'Friday Folk-Off' show, streaming on www.KKUP.ORG and broadcasting on FM 91.5
• 8:00 PM LIVE IN CONCERT Doors open 7:30 PM for Erica & Friends and Mullen-Jones Project performance at Art Boutiki, 44 Race St, San José.
For more Mullen-Jones Project / Erica & Friends Details and $12 Advance Tickets, ($15 at the door), Click Here!
For more on Art Boutiki Art Gallery, check www.artboutiki.com, call 408-971-8929 or email Dan Vado kahuna@artboutiki.com.
---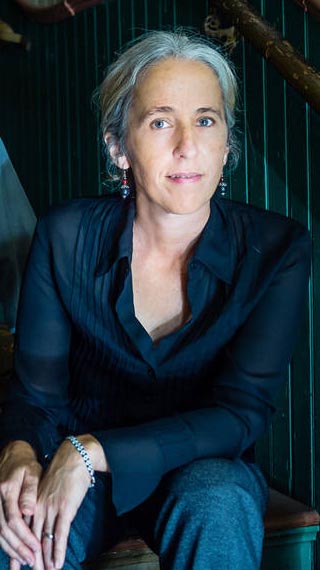 Rita Hosking
Saturday, January 27th, 2018 at 7:30 pm
Foothill Community Presbyterian Church, 5301 McKee Road, San Jose
A descendant of Cornish miners who sang in the mines, Rita grew up with deep regard for folk music and the power of the voice. The music she produces today is an amalgamation of her university studies, teaching experience, motherhood, and the humanity that has moved her since her childhood in the hard-hitting mountains of Northeastern California. In returning to her early love of singing and songwriting, Rita found a natural and accessible way to share this embracing of spirit. Rita's style of folk music has been lauded for story and sense of place, and her performances praised with capturing the audience.
Listen to her music: Rita Hosking and Sean Feder perform 'Clean'.
Admission: $15 adult, children 12 and under are admitted free. Rita Hosking Tickets
Honors: Winner of the 2008 Dave Carter Memorial Songwriting Contest at the Sisters Folk Festival, finalist in the 2009 Telluride Music Festival Troubadour Contest, and honors in the International Songwriting Contest and West Coast Songwriters' Association.
Reviews: 'This California girl comes by her mountain music sensibility with true authenticity, with original songs deeply rooted in her family's frontier experience,' (Dan Ruby, FestivalPreview.com) and Rita's fans call her the real deal.
Visit Rita's website: https://www.ritahosking.com/home Rita Hosking
For more on the Foothill Community Presbyterian Church Concert Series, check the website, http://www.foothillpc.org/fccs, or contact them by email: foothillpc@gmail.com or phone (408) 258-8133.
---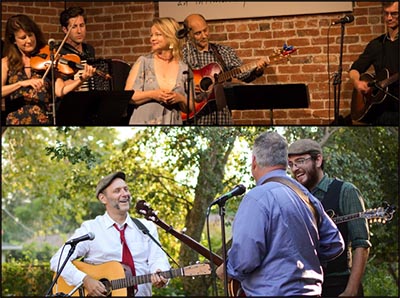 Erica and Friends with The Joy Drops
February 3rd, 8:00 pm at The Lost Church, 65 Capp St, San Francisco
Erica and Friends is the new Bay Area folk and traditional band based in Berkeley, that is putting out a mix of upbeat jigs and reels, pub songs and ballads from around the British Isles and Ireland. They are destined to become one of our great regional folk music resources; hear them NOW!
The Joy Drops play hot bluegrass with a New Orleans party vibe. They're a good time band with some of the best acoustic pickers in the bay area, including folks from the Brewglass Boys and the Bearcat Stringband. The Joy Drops are the biggest act you've never heard of, with more than 500,000 streams on YouTube and 300,000 on Free Music Archive.
Doors Open at 7:30 PM. Advance Tickets $10.00 Available Online - Click Here! - $15.00 at the door.
For Erica Hockett and Friends videos, Click Here!
For more on Erica & Friends, check their websites: YouTube Videos | Facebook Page | Soundcloud | or Reverbnation
---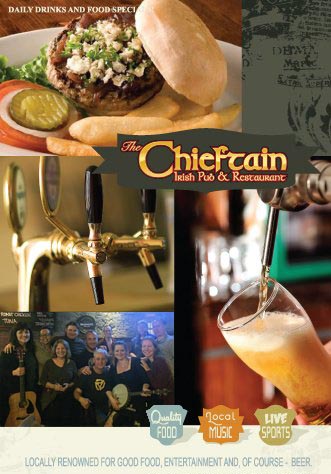 The Chieftain Irish Pub & Restaurant
198 5th St, San Francisco
The Chieftain Irish Pub & Restaurant, is a bustling SoMa spot with Irish pub grub & beers on tap plus sports on the satellite TV.
This local Irish Pub brings the culture of Ireland to San Francisco, offering a full bar, Happy Hour specials, and a full Irish restaurant menu, including favorites like fish and chips which goes with any style of sport, music or fun.
"I am in the city every 2-3 months and The Chieftain is an absolutely integral part of every trip. Mark runs an amazing, authentic Irish pub. Major plus, the only place I know of in northern California to get Kilkenny!!"

"Walked in, Saturday night about 7pm and there was a table right inside the door. We had a shepherds pie and an Irish stew. The shepherds pie was actually made with lamb! The live music was great entertainment too!"
For a video of some the Chieftain's food menu, Click Here.
The Chieftain hosts live music on Fridays and Saturdays. Click Here for the current schedule! The live Irish traditional music and song session every Sunday evening is always great Craic! Here is a sample Irish Session from 2009: Live Irish Session at the Chieftain.
For the latest happenings, check the Chieftain facebook Page, or call 415-625-0436, or email Mark Nagle at mark@thechieftain.com or check www.thechieftain.com.
---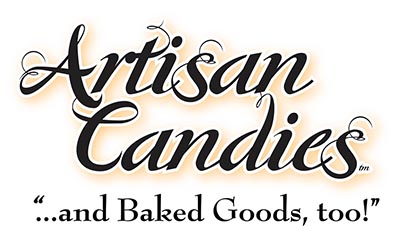 Artisan Candies and Baked Goods, Too
Kristen & Dean Scott offer Celtic Lunch & Dinner
4432 Pearl Avenue, San Jose CA | Tuesday-Friday 11-5:30 pm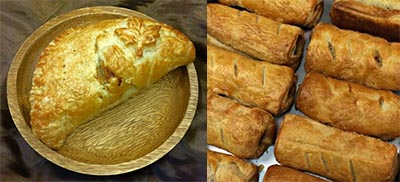 Artisan Candies and Baked Goods, Too, has great menu items, both for dessert and lunch or dinner! There are hand-made sausage rolls, meat pies, vegetable pasties, and fruit pies, at the shop, as well as meals-to-go. You can buy the rolls and pies fresh-baked, or frozen so you can bake them at home.
Afternoon tea lunches include chicken salad, cucumber finger sandwiches, fruit mince pie and tea. The meals-to-go consist of 4 bridies, celtic pasties, or sausage rolls, and mash or colcannon. We suggest adding peas or Heinz beans to round out a perfect Celtic lunch or dinner!
We also can deliver to your nearby door in case you can't get to our shop during business hours Tuesday-Friday 11-5:30 pm. (Please allow about an hour for delivery of the afternoon tea or meals-to-go.) Click this link to see the new lunch and dinner menu, but call us directly at 408-267-7090 and we will arrange delivery to your door!
You can still find Kristen and Dean with their booth, Celtic Candies and Cakes, at many of the Scottish and Celtic festivals around California such as the Pleasanton Highland Games on Labor Day weekend, the Big Trees Highland Games coming up on October 7, 2017, and at the Great Dickens Christmas Fair this winter as London's Finest Cakes and Puddings, or book their The Celtic Tea Shoppe, for your event. To check the The Celtic Tea Shoppe Facebook Page, Click Here!
Check our website www.artisancandies.com for all our other baked goods and confections. To order, contact Kristen Scott with a call to 408-267-7090, or an email to sales@artisancandies.com
---
Be a Celtic Hero!
Donate to AmeriCeltic,
and we will add your name here: www.AmeriCeltic.net/sponsors
---
Wanna help, comment or get published?
We publish articles or comments that relate to our Mission (see below), to our thousands of Celtic concordant readers. If you have one, email us: Tony and Celia Becker, americeltic@gmail.com
---
Click here to switch to the live AmeriCeltic Calendar, covering the Bay Area.
Click here to switch to the live Celtic Events Calendar, from Chuck Jamison, covering the Central Valley. To submit an event for listing in our Calendar, email your event info., including Who, What, Where, Why & Description to us at,
americeltic@gmail.com
, or
Click Here to use the online form.
We love videos! Include a link to an online video, and you will likely get featured in this weekly newsletter!
---
---
AmeriCeltic Mission
AmeriCeltic is an all volunteer, non-profit organization. Our Mission is to restore awareness, celebrate and preserve the culture and history of Americans of Celtic descent in Northern CA by promoting Celtic events & history. Our volunteers cover all the Celtic related events in Northern California, with an accurate and up-to-date description of each. To help fund our efforts, click the 'Donate' button above or on our AmeriCeltic Website www.americeltic.net.