AmeriCeltic Newsletter
Published Friday, 2017-08-18
Dear AmeriCeltic Reader,

AmeriCeltic.net is a non-profit public service, supported by you, our readers.

Your donation of any amount is VERY WELCOME and will help us prepare and distribute these newsletters, continue our public outreach, as we will do at the Pleasanton Scottish Highland Gathering and Games on Labor Day weekend, and support our Mission. (See below)


Read more about our work on our website here: www.AmeriCeltic.net/about

Subscribe to our YouTube Channel!


News, Features, & Events

Updates:
• We've just added another batch of 8 Celtic Music Videos from our regional bands to our AmeriCeltic YouTube Channel, including new videos from Celtic Sands, New World String Project, Lisa & Aryeh, and Fortunate Strangers! Click Here to check them out and don't forget to SUBSCRIBE!
• AmeriCeltic co-founder Cecilia Fabos-Becker gives treatise on Interpreting centiMorgans in her DNA Genealogy series (See Below).

Events:
• TODAY & THIS WEEKEND, AmeriCeltic duo Mason - Weed are playing three Contra Dances, in Santa Rosa, San Francisco and San Jose. (See Below)
• TOMORROW, Saturday August 19th, The Festival Of The Sea returns to Hyde Street Pier, in San Francisco. (See Below)
• Beginning Wednesday, August 23rd, Supergroup, The New World String Project featuring John Weed, Aryeh Frankfurter, Lisa Lynne, Stuart Mason, begin their Tour of the West Coast in Lake Tahoe. (See Below)
• Thursday August 24th, at 7:00pm, One Eyed Reilly brings their Celtic/Americana rock to the Delta King's Pilot House in Old Town Sacramento. (See Below)
• On Sunday, August 27th, Erica and Friends bring their upbeat mix of traditional of pub songs, ballads, jigs and reels to The Chieftain in San Francisco. (See Below)
• Thursday, August 31, 7:30pm Moonshine Jelly brings their fiddle music, original songs and weird experimentations, ballads, jigs and reels to The Monkey House in Berkeley. (See Below)
• Labor Day weekend, September 2nd & 3rd, brings the 152nd Scottish Highland Gathering and Games, at the Alameda County Fairgrounds in Pleasanton. (See Below)
• September 29nd - October 1st, brings the 21st Annual KVMR Celtic Festival, at the Nevada County Fairgrounds in Grass Valley. (See Below)

Scan our feature articles below, or as always, you can click here to check the next month of listings on our website.
---
Be a Celtic Hero!
Donate to AmeriCeltic,
and we will add your name here: www.AmeriCeltic.net/sponsors
---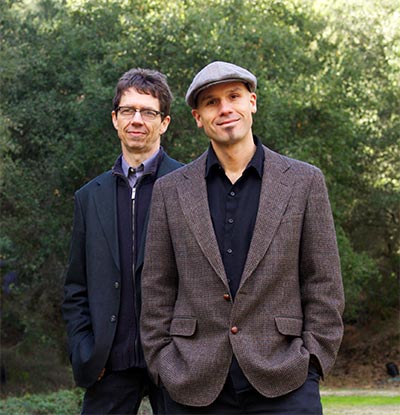 The Bay Area Country Dance Society
This Weekend Featuring Mason - Weed Contra Dances
with Michael Karcher of Seattle calling
Contra, Ceili, Barn, Square, Morris, Rapper Sword and English Country Dance are community dance forms recognized around the world as American folk dance. These dances are welcoming and inclusive places where people of all backgrounds and experience come together to connect with live music and each other.
Here is an introductory Contra Dance video: https://vimeo.com/67428955
There are several Contra Dance events around the Bay this weekend featuring Mason - Weed.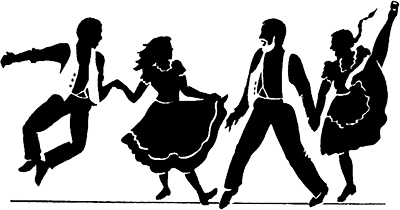 Highlight: South Bay Contra Dance
South Bay Contra Dances are held on the Third Sunday each month, year round, with Beginner's Introductions at 2:30PM, and dancing from 3-6 PM. This Sunday, 8/20/17, South Bay Contra features Mason Weed playing fiddle tunes & Michael Karcher of Seattle calling the contra dances.
First-timers dance FREE! Mention 'AmeriCeltic', at the 2:30pm beginner's introduction and get a coupon for another free dance!
Free meter parking on Sunday, don't park in the lot off 4th St.
Full Schedule of Mason-Weed Contra Dances
• Friday August 18, 8-11 PM, Santa Rosa Contra Dance, Monroe Hall, 1400 W College Ave, Santa Rosa. Details at www.nbcds.org
• Saturday August 19, 8-11 PM, San Francisco Contra Dance, St. Paul's Presbyterian Church, 1399 43rd Ave, San Francisco. Details at www.nbcds.org
• Sunday August 20, 3-6 PM, South Bay Contra Dance, First Unitarian Church, 160 N 3rd Street, San Jose. Details at www.bacds.org
More about Mason-Weed at masonweedmusic.com.
---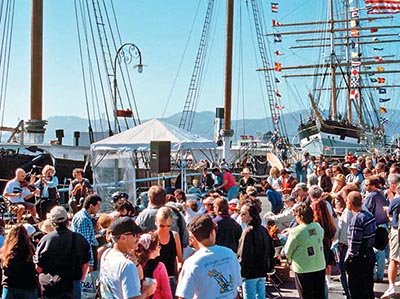 Festival Of The Sea
Celebrating the Evolution of High Tech on the High Seas!
Saturday, August 19, 9:30am-5:00pm | Hyde Street Pier, San Francisco
Fast track your knowledge of maritime history with activities and music at San Francisco Maritime National Historical Park's 2017 Festival of the Sea. This year, the Festival's theme is 'High Tech on the High Seas: The Evolution of Maritime Culture and Technology.' Learn about capstans, the 1907 Hercules' powerplant, and other 'engines that made a difference' while sampling traditional music from internationally renowned acts and local performers on three stages at Hyde Street Pier. This is a chance to 'Find Your Park' on the San Francisco waterfront!
Family-friendly activities will include: knot tying; rigging, caulking, steam bending, and rope-making demonstrations; a small boat launch; sail raising; living history performers; kids craft stations; and, as ever, lots of music from two outdoor stages and aboard Balclutha and Eureka.
Performers scheduled to appear: Kevin Burke, Diana Gameros and Maria Jose Montijo, Shay Black, The Holdstocks, Bu Falle African Drum and Dance Ensemble, Maureen Brennan, Ron and Natalie Daise, The Dogwatch Nautical Band, Patrick Landeza, Richard Adrianowicz, Simon Spalding, The Fire, Brass Farthing, Chris Maden, Megan Messinger, Sean Wahl, Laurel Wong, Amelia Hogan, Basil Trollop and Friends, Susan Walsh, Penny Opry, Steve Canright, Erin Rose Conner, and Bartholomew Faire.
Here is a long video from 2016's closing chantey sing.
FOREPIER STAGE MCs: Noemi Levine and Jeff Grund
10:30 Basil Trollop and Friends
11:10 Simon Spalding
11:55 Ron and Natalie Daise
12:35 The Holdstocks
1:25 The Fire
2:00 Brass Farthing
2:50 Patrick Landeza
3:35 Chris Maden

MIDPIER STAGE MC: Charlie Fenton
12:00 Diana Gameros and Maria Jose Montijo
1:00 Ron and Natalie Daise
2:00 Kevin Burke
3:00 The Fire
4:00 Bu Falle African Drum and Dance
4:50 Finale, all hands

EUREKA
11:00 Emerging Performers: Megan Messinger / Sean Wahl / Laurel North / MC: Peter Kasin
12:00 Irish Traditions: Shay Black / Maureen Brennan / Kevin Burke / Amelia Hogan / Susan Walsh / MC: Shay Black
1:00 Instruments That Went To Sea; Dogwatch Nautical Band / Penny Opry / Simon Spalding/ MC: Gary Keep
2:00 Forebitters and Modern Songs: Richard Adrianowicz / Steve Canright / Erin Rose Conner / The Holdstocks / Chris Maden / MCs: Dick and Carol Holdstock
3:00 Dogwatch Nautical Band / MC: Gary Keep
4:00 Penny Opry
San Francisco Maritime National Historical Park, located at the west end of Fisherman's Wharf, includes a fleet of historic ships, Visitor Center, Maritime Museum, Maritime Research Center, and the Aquatic Park Historic District.
All events and entry to ships FREE that day! No reservations or advance ticketing. For more information, please call visit nps.gov/safr or call 415-447-5000. Twitter @SFMaritimeNPS, and Facebook @SanFranciscoMaritimeNHP.
Contact:
Lynn Cullivan
415-561-7006
---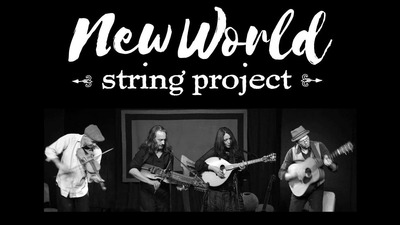 The New World String Project
John Weed • Aryeh Frankfurter • Lisa Lynne • Stuart Mason
Extraordinary instruments and heartwarming music in Celtic, Nordic and American folk traditions.
Science tells us that cross pollination can result in hybrid vigor that transcends the sum of its parts. In a parallel vein, the vibrant West Coast traditional music community has given birth to Supergroup New World String Project, featuring John Weed, Aryeh Frankfurter, Lisa Lynne, and Stuart Mason.
In this video, https://youtu.be/kjh06Qa1oag, you can see and hear how this party started. "Once we got airborne, we knew that something special was happening here!"
These four highly skilled and well known multi-instrumentalists have joined forces to create an exciting weave of music rooted in the Celtic, Nordic and American folk traditions. Ancient and modern sounds mingle freely on Swedish nyckelharpa, Celtic harp, fiddle, guitar, cittern, mandola and more. Join the New World String Project for a musical ride that will shake your boots, uplift your spirit and warm your heart.
New World String Project Tour
• Wednesday August 23, Boathouse Theater at Valhalla Tahoe, Lake Tahoe, CA, Lisa and Aryeh with special guests, valhallatahoe.com
• Thursday August 24, University of Earth, Feather River Campus, Web: uofearth.org, Contact Rick Silver rich@UofEarth.org
• Friday August 25, 7:00 PM, SLO House Concerts, San Luis Obispo, CA, slohouseconcerts@gmail.com, slo-houseconcerts.com
• Saturday August 26, KCBX/Live Oak Festival benefit, Painted Sky Studios, 715 Main St, Cambria CA 93428, ph: (805) 927-8330, paintedskystudios.com
• Sunday August 27, House Concert, Bradley CA, Off Bryson-Hesperia Road, Near Lake Nacimiento and Lake San Antonio, Contact Barbara at bwonsmith@gmail.com
Check out their kickoff concert tour around the West Coast at https://newworldstringproject.com
---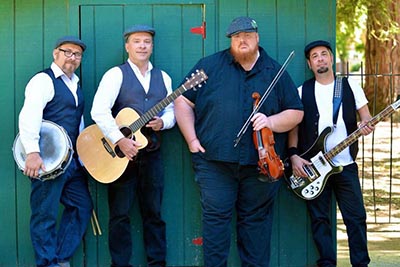 One Eyed Reilly
Sacramento based Celtic Rock-Fusion Band
One Eyed Reilly is a genre-bending Celtic/Americana rock band from Sacramento that blends dynamic originals with Celtic rock, Americana, and energetic, innovative versions of Irish and Scottish trad. Their original songs draw on musical influences from Irish folk to Celtic punk with occasional unexpected nuggets ranging from the likes of Bob Dylan, John Prine, Tom Waits, Wilco or the Old Crow Medicine Show. This musical mash-up forms the perfect beer-and-whiskey drenched milieu for a good time Pub night out.
One Eyed Reilly is:
Rick Meagher, lead vocals/acoustic guitar
St John Fraser, fiddle, harmony vocals
Aaron Hendel, bass guitar
Nick Carvajal, drums, harmony vocals
For a One Eyed Reilly sample video, Tipperary Blood, Click Here.
One Eyed Reilly Upcoming Dates
• Thu, Aug 24, 17, 6pm-9pm, Delta King Pilot House, 1000 Front Street, Old Sacramento
• Sat, Aug 26, 17, 7pm-10pm, Marco's Cafe, Coloma Road, Lotus
• Thu, Aug 31, 17, 6pm-9pm, Delta King Pilot House, 1000 Front Street, Old Sacramento
• Sun, Sep 03, 17, 2pm-4pm, Kentucky Mine, 100 Kentucky Mine Rd, Sierra City
Download One Eyed Reilly's album "Hoist Your Glass" featuring "Tipperary Blood" here:
iTunes: http://smarturl.it/HoistYourGlassiTunes
Amazon: http://smarturl.it/HoistYourGlass
https://www.facebook.com/One-Eyed-Reilly-279393675482117
http://www.oneeyedreilly.com
---
Using DNA Tests to help Find Family History
What are centiMorgans and How to Interpret them
By Cecilia Fabos-Becker, Published 2017-08-11
In genetics, the Morgan was named in honor of geneticist Thomas Hunt Morgan by his student Alfred Henry Sturtevant. In modern DNA analysis, shared sequences of DNA, measured in 100ths of a Morgan, or centiMorgans, (abbreviated cM) are commonly used to measure genetic linkage between related individuals.
Two DNA testing companies, at least, Family Tree DNA and 23 and Me, give a person's cousin matches in lists, ranked by closest to most distant, in quantities of centiMorgans or cM. So long as you did the tests as per directions (and the lab processing it didn't mix it up with someone's else's tests), you can be highly CERTAIN that the persons listed with 15 centiMorgans (cM) or more of matching DNA are related to you. Family Tree DNA and 23 and Me use these centiMorgan based matching methods, and also do very well at selecting and monitoring their labs.
Most users begin with the inexpensive 'autosomal' DNA tests which give results on your 22 non-sex related chromosomes. For females who also took the mitochondrial (MtDNA) test, you KNOW that if your haplogroup matches another test subject it is through your maternal line, your mother, her mother and so on. For males, who can take both the MtDNA and the y chromosome (Y-DNA) test, you KNOW your paternal-paternal line down to current sons and that other male matches are related to you through your Y-DNA haplogroup. Males have TWO haplogroups, one each from their mother and their father.
With over 10 million persons results in the top three companies' databases, users receive hundreds of 'matches' in their test results. Using centiMorgan based matching methods, there is no possibility of sensationalistic, dubious 'you might be related to' (pick the modern celebrity or historic figure of your choice)' sales pitches common to 'Family Name' or other companies' sales pitches. DNA and haplogroup matches greater than 15 cM are reliable measurements of the objective probability of your shared DNA indicating you are, in fact, related.
If you have your results and your cousin matches are given in cM's, how do you determine which matching individuals are your CLOSEST cousins? Well, the best chart I've seen that explains this in an easy to understand, color-coded manner is the one which originated with Blaine Bettinger, (www.thegeneticgenealogist.com). As soon as I saw it, I LOVED it, and I'm not alone, it is repeated on a several blogs of other notable experts. Bettinger's chart shows averages and ranges for all categories of relationships extending outward from 'self' (the white box), with siblings and half siblings on the left of that box in blue and olive, and cousins on the right in yellow to red, and it shows the relationships of cousins to parents, grandparents, great-grandparents, etc. in green. The color bars are great for separating the degrees of relationships in an easy to use, understand, and remember manner. After using his chart for just a few days, I now find myself remembering the average numbers of cM's for each degrees of relationships much better now.
---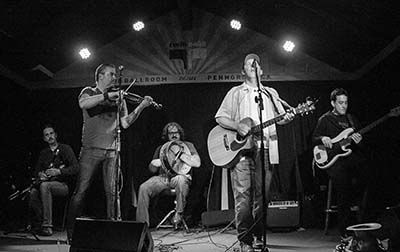 Culann's Hounds @ Summer-Fall 2017 Tour
3 shows: San Francisco, Casa de Fruta, Fairfax
San Francisco's Culann's Hounds have been performing their upbeat style of fiddle tunes and rebel songs for 2 decades. Tight arrangements, excellent stage shows and great band chemistry are the hallmarks of this band as they have toured the world and recorded 5 albums.
For 4 videos of Culann's Hounds in Live performance, Click here
The Hounds deliver a unique fusion of 'core values' Irish trad and high energy, verging on punk - rock, performed with passion and feeling. Seen live, the Hounds are truly something to behold: they deliver a raucous, rollicking performance that exudes raw energy and fun. Simply put, the Hounds know how to put the live in a live show and are among the best traditional Irish groups anywhere.
Summer-Fall 2017 Tour Shows
• Fri. Aug 25, 9:00 PM, @ Plough and Stars, 116 Clement St, San Francisco
• Sat. Sep 30, 6:00 PM, @ Northern California Rennaissance Faire, Casa de Fruta
• Sun. Oct 22, 9:30 PM, @ Fairfax Fleadh, Peri's Bar, 29 Broadway, Fairfax
---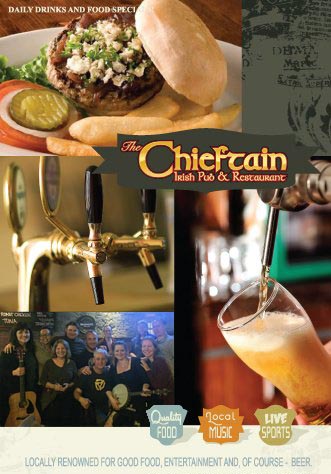 Erica & Friends @ the Chieftain
Sunday, August 27th, 8:00 PM
The Chieftain Irish Pub & Restaurant, 198 5th St, San Francisco
The Chieftain Irish Pub & Restaurant, is a bustling SoMa spot with Irish pub grub & beers on tap plus sports on the satellite TV.
This local Irish Pub brings the culture of Ireland to San Francisco, offering a full bar, Happy Hour specials, and a full Irish restaurant menu, including favorites like fish and chips which goes with any style of sport, music or fun.
"I am in the city every 2-3 months and The Chieftain is an absolutely integral part of every trip. Mark runs an amazing, authentic Irish pub. Major plus, the only place I know of in northern California to get Kilkenny!!"

"Walked in, Saturday night about 7pm and there was a table right inside the door. We had a shepherds pie and an Irish stew. The shepherds pie was actually made with lamb! The live music was great entertainment too!"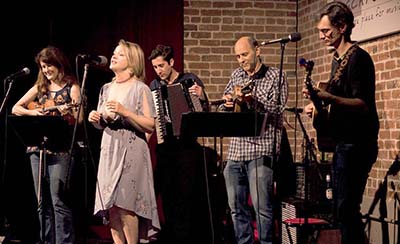 For a video of some the Chieftain's food menu, Click Here.
The Chieftain regularly hosts live music on Fridays and Saturdays, and on Sunday Aug 27, 2017, at 8:00pm, will feature Erica & Friends the new traditional band from Berkeley.
Erica & Friends is the new Bay Area folk and traditional band based in Berkeley, that is putting out a mix of upbeat jigs and reels, pub songs and ballads from around the British Isles and Ireland. They are destined to become one of our great regional folk music resources; hear them at the Chieftain if you can.
For Erica & Friends videos, just Click Here! For even more of their music, check their Soundcloud site, or their Reverbnation site!
For more on Erica and Friends, check their Facebook Page here!
For the latest happenings, check the Chieftain facebook Page, or call 415-625-0436, or email Mark Nagle at mark@thechieftain.com or check www.thechieftain.com.
---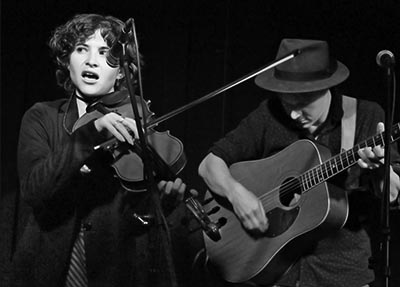 Moonshine Jelly @ Monkey House in Berkeley
Trad Fusion Band from Boulder Creek
Thursday August 31, 2017 7:30PM
The Monkey House, 1638 University Ave, Berkeley, CA
San Francisco native Lee Corbie-Wells took up fiddle at 6. Her parents were both music teachers and taught her Celtic and American tunes by ear, fostering her love of traditional folk music. With her fiddle, guitar, striking vocals, and her new and the ancient folk songs, Lee transforms these traditions to a contemporary context.
Lee toured Southern Ireland with Alison Streich in the band, Drowsy Maggie and has since performed in numerous Celtic, Americana, Blues, Jazz, Swing, Ragtime, and Latin bands, including a few years with Los Gatos based The Gallowglasses. In 2014, Lee formed her own band, Moonshine Jelly, and earlier this year, a Scandinavian-Bluegrass-Contra band called Kaptain Bottletop. Last Labor Day weekend, Lee performed two solo shows on the AmeriCeltic Stage at the Pleasanton Highland Games.
North Carolina native Kent Kessinger joins Lee with his guitar, banjo, and backing vocals.
For Moonshine Jelly video samples, Click here!
If you love fiddle music, original songs and weird experimentations with Russian, Greek, and Gaelic music Eastern European, Americana, early Jazz music or Blues, Moonshine Jelly performs them all with a riveting mix of traditional music.
More at www.moonshinejelly.org
The Monkey House, is a lovely, cozy little sit-down venue, where you can bring your own booze! For more, check www.themonkeyhouse.org or call 510-898-1979.
---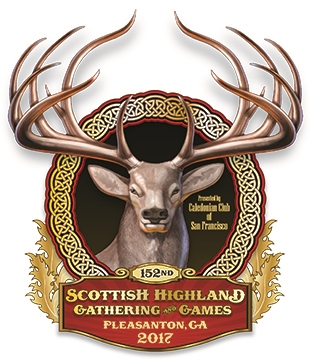 152nd Scottish Highland Gathering and Games
Alameda County Fairgrounds, Pleasanton
Labor Day Weekend, September 2nd & 3rd, 2017, 9AM to 6:30PM
What if you gave a party and EVERYBODY came?
Come join us for some Celtic Craic! Saturday September 2nd and Sunday September 3rd at the enormous Alameda County Fairgrounds, 4501 Pleasanton Ave., Pleasanton, the Caledonian Club of San Francisco presents The 152nd Pleasanton Scottish Highland Games, two glorious days of fun and entertainment for the whole family from 9am to 6:30pm.
Advance tickets are available from Keith Victor, adults $20, youth/seniors $11, and military and ages 11 & under free Click Here. Or, call Keith between 9 and 5 at 1-925-829-5555
Click here to watch the official preview video.
Entertainment and Activities!

For Complete Event Schedules and Map, Click Here!

• Albannach
• Brother
• Browne Sisters with George Cavanaugh
• Ed Miller
• Golden Bough
• Michael Mullen ~ Trio of One
• Neil O'Neill
• Peter Daldry
• Tempest
• The Fire
• The Royal Scottish Country Dance Society
• Erin Ruth Thompson & David Chadwick, Sat 9/2: 11:00-11:30 & 2:40-3:40 | Sun 9/3: 12:10-12:30 & 3:40-4:15 Jordan Hill Stage
• Plastic Paddy
• Alasdair Fraser & the SF Scottish Fiddlers
• Harpers Hall
• Kirsty Fitch

The Festival includes more than 30 pipe bands from the US and Canada, plus the 3rd Marine Aircraft Wing Band, to the 42nd U. S. Invitational Heavy Event Championship with professional and amateur athletes, and the Western U. S. Open Highland Dancing Championships. There are 6 stages of Traditional and Celtic Rock music, 2 stages of Scottish dancers, fiddlers, harpers, dancers and singing, and an Irish Pavillion (Bldg. Q) with Irish dancers. For shopping, check out the 5 large exhibition buildings with more than 100 vendors including, British food and drink and the popular Whisky Tasting Pavilion.

Add to that the Living History area with Mary Queen of Scots and her entourage, highland warriors, an invading Roman Legion and fierce Vikings, the Gathering of the Clans providing historic information from nearly 100 clans and societies, Sheep Dog Trials, Children's Glen, Birds of Prey, Semi-Pro Five-A-Side Soccer Tournament, Kilted Mile, Rugby and Shinty Tournaments, Highland Cattle, Clydesdale Team, Archery participation and an array of British motor cars and you have a full Labor Day weekends worth of entertainment.

Graham McTavish, star of Outlander and The Hobbit, will be joining the Party!
For more, check www.thescottishgames.com, or call: 1-888-769-2345.
---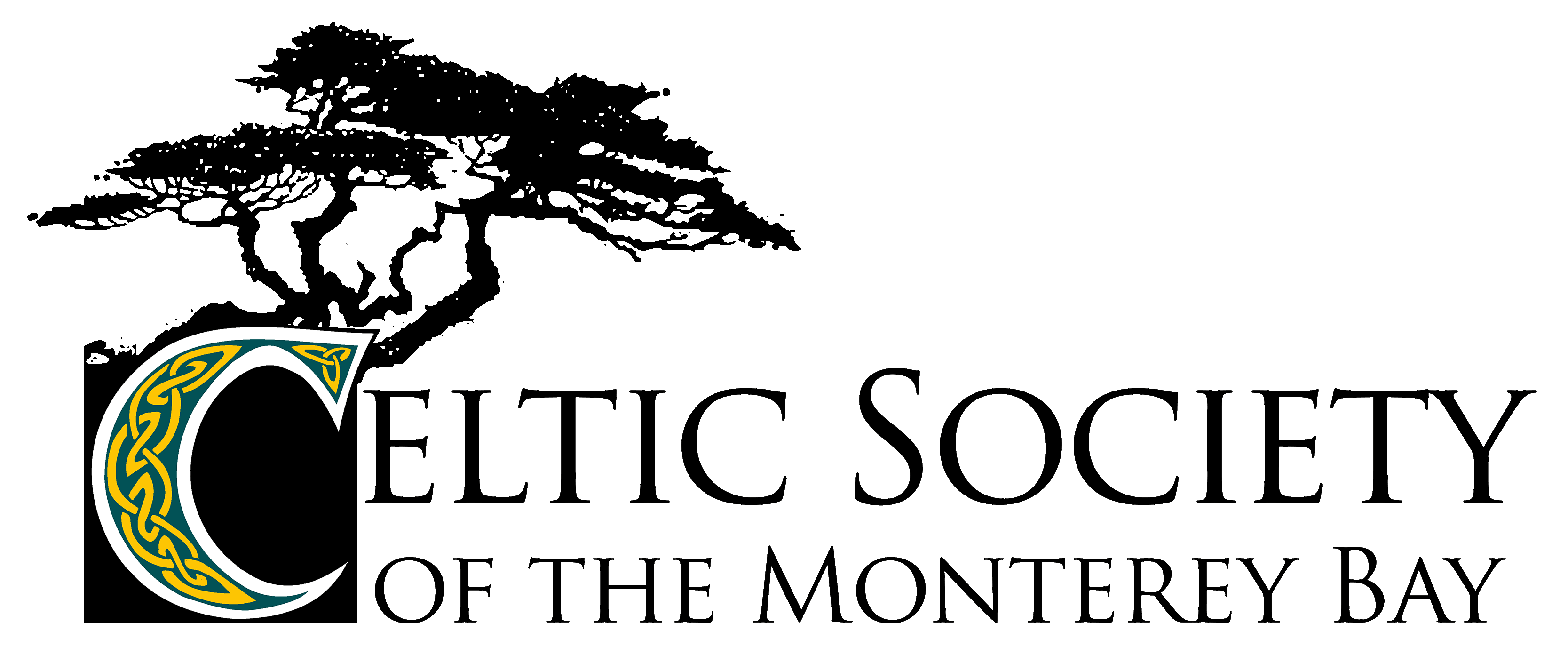 Celtic Society of Monterey Bay
The venerable Celtic Society of Monterey Bay has a 24 year record of bringing world class Celtic musicians to the Monterey Bay Area and is a key sponsor of AmeriCeltic.
• Sunday, September 3rd 2017, 7:30PM, Don Quixote's International Music Hall, Felton.
• Wednesday, September 17th 2017, 3:00PM, St Mary's, Pacific Grove
• Wednesday, September 20th 2017, 7:30PM, House Concert, Soquel
• Tuesday, September 26th 2017, 7:30PM, Kuumbwa Jazz Center, Santa Cruz
• Wednesday, September 27th 2017, 7:00PM, St Mary's
Click here for full details of All Celtic Society of Monterey Bay Concerts on the CSoMB website! (Click on small arrow in the inset photo for the videos. Click on the 'more info' link for full details and ticket links.)
---

21st Annual KVMR Celtic Festival
Friday, September 29th - Sunday, October 1st
Nevada County Fairgrounds, 11410 McCourtney Rd, Grass Valley
Every fall, the Nevada County Fairgrounds, are transformed into a Celtic Village and concert venue, with eight stages and performance areas. Join publically supported KVMR radio for another spectacular mix of Celtic music and magic in their bucolic setting amidst 100 acres of giant ponderosa pines.
For a Video Review of last years KVMR Celtic Festival, Click Here!
Click here to purchase a la Carte advance tickets on line.
Entertainment and Activities

The eight Music Stages host many of the world's best Celtic musicians, this year including:
• Skerryvore, Seven-piece band from Tiree, Scotland
• Cassie & Maggie MacDonald, Sister duo from Nova Scotia
• Story Road, Celtic super-group from both US coasts
• John Whelan & Low Lily, Crossing the Atlantic
• Screaming Orphans, Sister quartet from Co. Donegal, Ireland
• Eamon McElholm & Johnny B. Connolly, from Co. Tyrone & Dublin
• Calan from Wales
• The Fire, from Santa Cruz
• Lisa Lynne and Aryeh Frankfurter, from San Francisco and Oregon
• Fódhla from Limerick, Boston, Portland and more.

• Three genres of Celtic Dance
• The Salem Street Sessions (Bring your voice or instrument and join in).
• Dozens of Living History, demonstrations.
• Dining and shopping opportunities abound with over 50 vendors and a complete Irish Pub. Hundreds of regional performers, singers, bagpipers, actors, jugglers and storytellers roam the fairgrounds.
Family Activities:
• A Free Friday Youth Arts program on Friday from 4-7 p.m., giving local students ages 10-18 the chance to participate in workshops with headline performers.
• Animals of the Celtic Lands including falcons, eagles, hawks, owls, sheep and ponies.
And more activities to numerous to list!
Friday, September 29th activities include:
• The Royal Tournament & Gathering of the Clans, with a medieval tournament featuring full contact jousting, dancing horses, sword fights and hand to hand combat. Honors to the winners will be presented by the King, Queen and their royal attendants.
• The Ceili! featuring MAC, 8:00 to 11:00 pm Ponderosa Hall! Our Friday Night Ceili (kay-lee) features live music by MAC, Ryan McKasson on fiddle, Elias Alexander on pipes, Colin Cotter on guitar and harmonium, for dancing in Ponderosa Hall. For MAC videos, Click Here.
More information check The KVMR Celtic Festival website or email celtfest@kvmr.org
Proceeds support publicly supported KVMR radio. Can't make it? Click here to make a donation.
---
Be a Celtic Hero!
Donate to AmeriCeltic,
and we will add your name here: www.AmeriCeltic.net/sponsors
---
Wanna help, comment or get published?
We publish articles or comments that relate to our Mission (see below), to our thousands of Celtic concordant readers. If you have one, email us: Tony and Celia Becker, americeltic@gmail.com

Click here to switch to the live AmeriCeltic Calendar, covering the Bay Area.
Click here to switch to the live Celtic Events Calendar, from Chuck Jamison, covering the Central Valley. To submit an event for listing in our Calendar, email your event info., including Who, What, Where, Why & Description to us at, americeltic@gmail.com, or Click Here to use the online form.
We love videos! Include a link to an online video, and you will likely get featured in this weekly newsletter!
---
---
AmeriCeltic Mission
AmeriCeltic is an all volunteer, non-profit organization. Our Mission is to restore awareness, celebrate and preserve the culture and history of Americans of Celtic descent in Northern CA by promoting Celtic events & history. Our volunteers cover all the Celtic related events in Northern California, with an accurate and up-to-date description of each. To help fund our efforts, click the 'Donate' button above or on our AmeriCeltic Website www.americeltic.net.