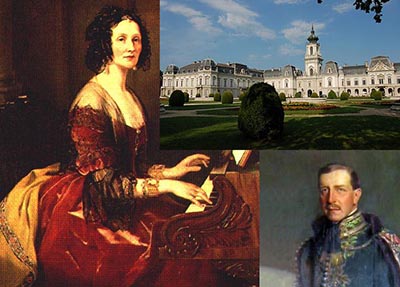 My DNA Dilemma: Scottish East Europeans
Monaco's Runaway Scottish-Hungarian Princess and more
by Cecilia Fabos-Becker
After four decades of family history research I thought all my remaining 'brick walls' of missing documentation were in my mother's line, I recently decided see what clues were hiding in my genes, and got a DNA test. After reviewing the two best rated companies, I chose Family Tree DNA, both because they specialize in identifying cousin matches and allow people with DNA matches to exchange emails, and because, besides the usual autosomal DNA test, they offer tests and analysis of mitochondrial DNA which we inherit exclusively from our mothers, (as well as tests and analysis of Y chromosome DNA which we inherit exclusively from our fathers). I happily signed up for a package of two tests: autosomal and mitochondrial.
After more than 6 weeks, I finally got the results earlier this month. There were several surprises, but the biggest surprise was not in my late mother's mitochondrial DNA but instead in my late father's in the autosomal genes! I expected no more than 50% Scots and Irish matches, but these results showed 70% British Isles! (or 63% if one subtracts that bit of about 6-9% "unknown DNA.") Either way it meant that I have an ancestor who was very British somewhere in my father's allegedly "pure Hungarian" forebearers, and RECENTLY!
Given the location of the darkest part of this bright, blue blob of British DNA, it's also likely that person was largely part Scots or Scots-Irish. With this unexpected extra percentage understanding the division of percentages each generation, it seems to me most likely that someone who was British, with a lot of Scots or Scots-Irish, came into some line of my father's family between about 1815-1840 during or right after the Congress of Vienna. But Who? How? When? and Why, exactly?
I began to delve into the history of British-Hungarian relationships and found more surprises. If most people know anything about such relationships, about all they know is that a Countess Rhedey is a 2nd great grandmother or so of the current Queen of England, Elizabeth II and that, about a thousand years ago, a Hungarian princess, became Queen Margaret of Scotland.
Well, there is a middle history.
First starting sometime in the 14th century, Scottish clans who didn't have as much land began to engage in sea trade and to build up mercantile branches of their clans. Scotland traded with the Hanseatic League, which included a port in Poland that often was under the Polish kings, Danzig/Gdansk. Over time, some 25,000 to 40,000 members of Scottish families set up branches in several port cities, and the royal courts fed by those ports. Paterson's History of Ayrshire specifically mentions that, in one generation, members of the Wallace of Failford clan sent, three brothers to the Netherlands, a German port, and to the Baltics (likely Gdansk, as Poland and Lithuania were a joint kingdom from the 14th century onwards). From the late 14th century to the 16th, and the death of the last Hungarian king at Mohacs in 1526, SEVERAL kings of Poland became kings of Hungary, and moved their court from Poland to Budapest. Retainers and merchants, including those who were Scots descendants followed.
My late grandmother's Garai family in Hungary, were appointed these kings' counts palatine, generals and as permanent "bans" (Viceroys) of Croatia, Dalmatia and southeast Hungary, now part of Romania. (See websites such as "House of Garai"). A member of the Polish contingent with a Scottish ancestor could have entered that family. Then in the late 18th century, Poland was completely destroyed, divided between Orthodox Russia and Protestant Prussia, with a third smaller portion being allowed to Catholic Austria-Hungary. Needless to say a number of wealthy mercantile, and noble, Catholic families made their way south to settle permanently in Austria-Hungary. When the Wallaces, and other Scots first settled in Poland, these Scots were still Catholic. It is likely some descendants of the Scots families who remained Catholic made their way south to Hungary, among the Polish nobles and merchants. That's two possibilities for Scots-Hungarian relationships.
By the late 18th century, Hungarians were growing wealthy and making "Grand Tours" of Europe and going to England and Scotland. For its part, the new UK (English) Parliament was noticing and taking interest in Austria Hungary, especially Hungary, as a counter to France. Hungary had long tolerated Protestants. Some noble families such as the Counts/Princes Bathory, who were cousins to the Rhedey, were already Protestant by the mid-17th century. Hungary was also more reform minded than Austria and eager to learn from the UK.
By 1812, the British and Austro-Hungarians were allied to defeat and exile Napoleon and afterwards, the new, post-Napoleon peace treaty for Europe, was drawn up in Vienna over the course of a year of negotiations and settlements. With the three main British diplomats, two of whom were Scots and Scots-Irish, were an entourage about 50 wealthy Scots and English families connected to the three leading negotiators. These people of course engaged in the social scene, the balls, theatre, and music of Vienna, as well as renowned hot springs and baths of that empire, including those located in Hungary. They also found that Hungary had fine wines and still had substantial wild game for hunting, including in the Dunantul, where my families had homes, wineries, and hunting lodges. At least one of them left behind a charming daughter or sister who married a Hungarian aristocrat whose estates were primarily in the Dunantul.
After this period, members of several key Hungarian families, including the Wesselenyi, the Festetics and Szecsenyi, made their way to the UK and spent months and years there, studying agricultural and industrial reforms, horse breeding for racing and bringing this new knowledge, and more British guests and investors home to Hungary. Several thousand British workers, particularly Scots, came to Hungary to help build the bridges, and the later railways, also built by the Szecsenyi and in part with British funds. The first bridges spanning the Danube river were built by the Szecsenyi using their and British investment money and designed by Adam and William Clark of the UK.
Some of them stayed. By the mid 1800's a number of the Hungarian Gymnasiums had English language programs in their degrees, including the one at Esztergom. These Hungarian gymnasiums, were not all just secondary schools. Many offered 4, 6 and 8 year programs, the latter two being college degrees, similar to what U.S. junior colleges and state colleges now offer. The most prestigious was Esztergom, under protection and influence by the Cardinal Archbishop of Hungary whose residence and cathedral were there and who was friendly to the British. Esztergom is where my grandfather attended and finished his degree.
Then came the last surprise.
I knew that my grandfather and grandmother were both aristocrats, that they born and raised in Somogy, and in the northern part of the county. The Counts Festetics were known to both of them, and their lands were adjoining. In fact, my grandfather and his father both were keen reformers in agriculture, viticulture and livestock breeding and met with Count Festetics often during the years the Count slowly developed his palace at Kezthely and where he set up a regional agricultural library and school. Dr. Gyula Fabos, the Rutgers professor, (also a former professor at Amherst in landscaping and landscape engineering), was a second cousin of my father and went to this school, in the 1940's before the communists temporarily shut it down as they took over Hungary.
In 1880, the then Count Tassilo Festetics II married someone well known to Scots, as well as the highest social circles of the UK, the Lady Mary Victoria Douglas-Hamilton, sister of the 11th Duke of Hamilton! Lady Mary had been briefly married to the Prince of Monaco, and bore his only child and heir! She is the ancestress not only of the current Festetics descendants of herself and her husband, but also the current monarch of Monaco. My Garai ancestors who owned most of the four larger villages and towns east of Kezthely on Lake Balaton and other large properties nearby, my Nyers at Vors and Csurgo, and my Fabos (a black sheep branch of the Szecsenyi), who were at the next nearest and largest town, Marczali and points south and southeast (they owned several pieces of the "great Szecsenyi" estate that had been established just after 1711 to rebuild the southeast Dunantul area after the Turks had been driven out of that area of Hungary for good) were the nearest neighbors and close associates of Count Tassilo and his Scottish born wife, Lady Mary. In fact, when my grandparents married in February 1905, the Count and his Scottish wife were among the first to honor them with a reception, at their palace at Kezthely.
The historical articles on the Dukes of Hamilton and Lady Mary, who became Countess, and later Princess Festetics, note that the Duke of Hamilton himself, her brother, mostly lived in Paris and Baden-Baden, and visited his sister Mary at Kezthely, frequently, often bringing his close friend Edward, the Prince of Wales, the future King Edward VII. My grandfather, his father and the Count were close, and at this point I can't help but wonder if there was another reason for this close association, that unknown Scottish-British ancestress in my father's father's family who entered the family between 1815-1840, somewhere.
I would be very curious to know if there is anyone, perhaps in the St. Andrew's Society or the San Francisco Caledonian Club, who knows a LOT about the Congress of Vienna and those several dozen British families who were there, or how to identify them, or has heard an interesting story about a charming sister or daughter of some British (probably Scottish) family who was in Vienna at the time and who married a Hungarian aristocrat, contact me, please. Email is best: celia.lfsbecker@gmail.com.
The Germanophiles and those who wanted to retain the absolute monarchy of the Habsburgs were by the late 1820's were, highly suspicious of Hungarian families who were close to the British and advocated reforms. This worsened under the emperor Franz Josef. Long before the communists rose, in 1906, my grandfather was sent into exile by Emperor Franz Josef. Shortly afterward, my grandfather's home was firebombed, and some of the family records were destroyed. My grandmother and uncle barely escaped with their lives and a few belongings and had to live with her family while she waited for her husband to be recalled or to be allowed to emigrate to join him. The Austrian Secret Police were not known for kindness and mercy, and this happened to other families as well. The communists weren't terribly fond of either the British or Hungarian aristocrats when they first took over and destroyed a number of families' and other records. Others were collected and stored haphazardly at the national archives and other places, as happened to the gentleman below.
There are likely to be other British/Scottish-Hungarians who could some day use your help in identifying their own Scottish ancestors, some who came to Hungary with Adam and William Clark, and stayed. One such Scottish Hungarian was lucky enough to know his heritage, and able to find additional earlier records in Hungary, is a Campbell, a senior descendant of the brother of the grandfather of the 9th Earl of Breadalbane, (originally Campbell of Borland). John Breadalbane Campbell, 'came to Hungary in 1873 to help build the the bridges and railroads and stayed.' His great grandson, Huba Campbell b. 1945 of Budapest has been accepted recently as the seniormost legitimate heir to the title of Earl of Breadalbane, by Debrett's Peerage and other authorities. Huba Campbell has the documents to support his ancestry, showing his descent from his great grandfather, John Breadalbane Campbell, and his great-grandfather's ancestors back to Scotland. Huba Campbell grew up under communism in an impoverished and oppressed family. He presently owns his own 'haulage' (trucking) business. (See "The Scotsman," Sunday, 14th March, 2004).
---