---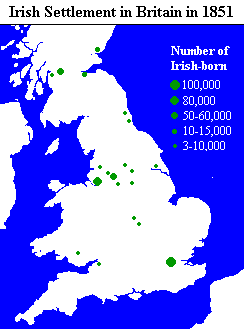 Irish Ancestry Research in England
If they came from England, are they Irish or English?
By Cecilia L. Fabos-Becker, March 15th, 2018
This is the time of year when people of Irish descent most think of their ancestors and might be researching their Irish family history. They may get a surprise when they look for their immigrant ancestor's immigration record and find that he or she arrived in New York from England.
Don't worry too much, it doesn't mean your ancestor is likely to be English, but can mean that your ancestor was among the millions of Irish who didn't have enough land to live on, or inherit, and went to work in England for a while to earn enough money to pay for emigration.
We discovered some years ago that both of my husband's Irish great-grandparents had gone to England. The big mystery was, how long were they both in England? Maryann Coyne actually told the census takers in the U.S. that she was born in England. She was not, but she had been brought to England when she was probably no more than 2 or 3 years of age, at most, and had no memory of Ireland. The second mystery was, where was she married to Michael McInerney. He was not found living in the same county in England as Maryann was. So how did we find all the answers?
We found a number of the answers in the English census records, beginning in 1841. These showed all but one of her sisters and brothers, their names, ages and where they were born. It showed us that her father's name had been written down wrong in the later done first family tree charts and that she had a twin brother identified as her father, among other things. It also showed us that her mother was likely to have been her father's second wife, answering one question and leaving us with another.
Ancestry.com, though, only had some of the answers. England has additional records online that are not all on subscription sites, and like the U.S. there are local and county (shire) historical and genealogical societies with additional materials, including valuable county histories. We found church records with the death dates of some of the individuals in Maryann's family, and marriage records, with places and ages of the individuals getting married. We also found the baptismal record for Maryann's youngest sister, not on the 1841 census, as she had not been born yet. She was also not easily found on the 1851 census, when the family was split up as the father had died and several members were now working and living apart from one another. By looking at the 'hundreds' as neighborhoods of a specific size and area were called, we found brothers of her father living in the same immediate neighborhood, and immediately adjacent neighborhoods, who all arrived at nearly the same time.
The time when they arrived was another mystery. They arrived about ten years before the famine and we wondered why. The county history explained why, and where almost all the Irish who settled in that county in England, Staffordshire, had originated. There had been a study of what was said in the census records and additional interviews were done. The researchers came to the conclusion that nearly ALL the Irish in Staffordshire, but particularly Wolverhampton and the towns nearest it, had come from County Mayo. It said that they came in two waves, in the 1830's and then as the famine, started in the second half of the 1840's. Many Irish came for two reasons, it was stated. They came to work on the railroads which paid well, and to work in the supporting industries, like those who made the ties and rails, and they came to work in the weaving industry, as the less mechanized, less developed weaving industry in Ireland collapsed.
The English and many Anglo-Irish property owners had turned their backs on Ireland after 1798, when the Irish parliament was dissolved permanently by the English overlords. Many had become absentee landlords were content to have local managers collect rents while the property owners lived in England. Canals were being dug just to transport agricultural products to Dublin and its port to ship the produce to England. There was no investment in anything else: not in railroads, not in new manufacturing equipment or factories. The Irish were to provide raw materials and buy finished goods from the English. English manufacturing was developed, made more mechanized, more efficient with lower cost better quality goods. The Irish got nothing from the first 50 years of the Industrial Revolution.
For a time, when England was at war with France and France controlled most of continental Europe, the Irish survived on the less developed weaving and other industries. There was a great need for uniforms, guns, blankets, and more for the armies, which included virtually all Irish men who weren't actually farming. For the ordinary enlisted men, quality of cloth wasn't a priority. Irish lace did well since the rich English couldn't import French, Swiss, Italian and German lace. Then Napoleon was defeated and sent to St. Helena, the English and Irish soldiers all were mustered out and went home to civilian life, and fine European manufactured goods began to be made again and imported by the rich English and Irish, at lower cost, as well as English goods being improved in cost and quality. There was no longer any need for coarse woolen blankets and enlisted men's uniforms, nor coarse linen shirts. It didn't happen immediately as continental Europe had to rebuild its own industries after the Napoleonic wars, and also develop modern mechanization. For a few years, even the returning Irish soldiers had money to spend and bought local goods. The Irish industries began to collapse about 1818, but really hit bottom in the late 1820's.
In 1815-16, the returning soldiers married and had children and the population began to grow rapidly, but the absentee landlords weren't selling any land. Instead they began rapidly raising the rents as more people needed to rent, making those who needed housing and land compete on what they were willing and able to pay to have it. Beginning about the time the post war generation in Ireland reached its mid teen years, about 1832, and the railroads began to be in demand all over England, at about the same time, Irish began to leave in the tens of thousands, of mostly young adults, and then tens of thousands of entire families as the post war adults sought to marry and provide for entire families of their own. The first big wave of Irish arrivals in England was about 1834-1840. The counties that experienced the greatest Irish immigration, other than to London, were Staffordshire, Lancastershire (aka Lancashire), Northhamptonshire, Warwickshire, and Worcestershire. Among the cities most heavily settled by Irish were Liverpool, Manchester, and Wolverhampton.
Another interesting thing today is that most of the descendants of the Irish who settled and stayed in England starting in the late 1820's do not consider themselves Irish any longer and don't identify themselves as Irish. Many Irish and children who had one Irish parent, eventually intermarried with non-Irish to move upward in socio-economic status. We discovered that Maryann Coyne, my husband's grandmother had a marriage we had not known about and this was why we had a hard time finding her marriage to Michael McInerney. She was married briefly once before--to an Englishman from Wolverhampton who had then moved to Northamptonshire. Maryann, in contrast to those who stayed in England, did not want to remember, or mention this English marriage later in her life. Don't be surprised if after all your hard work and maybe a DNA test or two, you find Irish-English cousins today and they are shocked and in disbelief when you tell them you found their origins in Ireland.