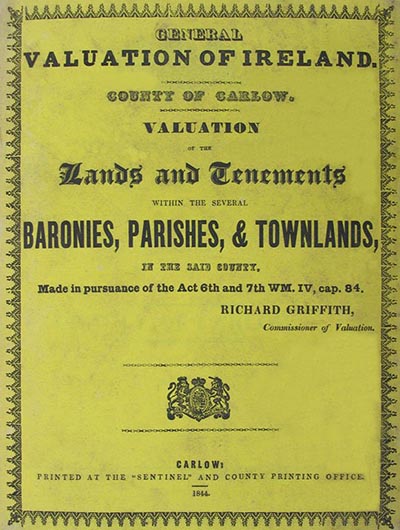 Ancestry - Your Irish or Scots-Irish Immigrant Ancestors
Finding them and Visiting their Home Areas
Part 2: Using Griffith's Valuations
By Cecilia Fabos-Becker, Published 2017-11-24
If you want to visit the home area of your immigrant ancestors in Ireland, and they emigrated to the U.S. between about 1845 and 1870 or so, there is a good source, Griffith's Valuations, for placing your family surname, or the individual male ancestor's full name, in the Irish counties and the baronies within those counties. This source may narrow down the ancestral home of the surname, and WILL narrow down the ancestral home of an emigrant's FULL name, considerably. It is on-line, free and searchable. A good link for searching this valuable resource is: http://www.askaboutireland.ie/griffith-valuation
This site explains how Griffith's Valuation and the search programming at this site are organized and can be used best to help you find your family.
Before the famine and the immediately following epidemics of cholera, measles, and smallpox ran their course, the English Parliament and Crown were concerned about decreasing taxes and land abandonment resulting from the famine and epidemics. To make a UK budget, including setting aside amounts for poor relief, they needed to know who was left to tax. Thus, they commissioned Lord Griffith to make a survey of all the counties in Ireland and determine who was living on what parcels of lands, tenants as well as landlords. This was done between 1847 and 1864, with most done between 1848 and 1854. The original pages of the valuation indicate each head of household, where he (or she, if a widow) was living, by county and barony within the county, and, if the person was a tenant, who his or her landlord was.
Now here is something we learned about using MacLysaght's The Surnames of Ireland and Griffith's Valuation. You will often find families listed in multiple counties, and many are neighbors to one another, or some families will be most heavily concentrated in a few counties, that are also neighboring counties, and then an area clear across the country. In many cases, where there is a concentration of a surname within neighboring counties in just one part of the country, it is because the surname originated near the county line of of the two, three or four counties, and as the family expanded in spread out, wherever it could obtain land around the original home. When there are two concentrations of a surname in two distant parts of Ireland, this is often an indicator that the surname is not originally Irish. Scots-Irish, Welsh-Irish and Anglo-Irish names will be found not just in Ulster and in and near Dublin, but in and near the largest port towns of Ireland, particularly Limerick, Galway and Cork.
Limerick, Galway and Cork initially were towns founded by Vikings, who themselves were outsiders, as trading towns, and initially the native Irish were wary of them, as the pagan Vikings took Christian Irish as slaves and sold them in these towns and elsewhere, as far east as Byantium and the Khazar empire. The Christian Irish were at war with the Vikings for about three centuries from the 8th to the 11th centuries. Some Vikings became Christianized and settled among the Irish or stayed in the towns that eventually became Irish. Sweeney/McSweeney is an example of a formerly Viking family found in more than one area of Ireland because of the original Viking trading towns' networking with one another.
Then came the Normans--Norsemen (and Danes--because the two lands often shared a ruler) who had settled in northwest France and become Christianized and somewhat intermarried with French and Flemings before conquering England and then taking over parts of Ireland, including the same towns that their pagan ancestors had founded. The first Norman families were in the old kingdom of Leinster in the southeast quadrant of Ireland, because the king of Leinster was the first to invite Norman knights from England in as mercenaries to help make him high king of all Ireland and the greatest numbers of Norman families for centuries stayed in Leinster and Meath. Norman-Irish families, like Burke, originally DeBurgh, are now all over Ireland, but rather rare in Ulster, and not much more common in Connaught. Munster has more Norman families than Ulster and Connaught, but less than Leinster and Meath. The Norman-Irish, as they all intermarried with native Irish, mostly stayed Catholic, which means they also were dispossessed, or forced westward into Connaught and northern Munster during the 17th and 18th centuries by Cromwell and the 1707 Penal Laws if they did not change their religion. Almost all surnames that begin with Fitz, such as Fitzgerald, Fitzsimmons, etc., are Norman Irish. Fitz is a derivation of "fils" meaning "son" (of). Fitzpatrick and Fitzdermot are two of the rare exceptions; use of these surnames is believed to have begun by sons of Irish families who wanted to behave more like the rising powers in southeastern Ireland.
The towns of Galway and Limerick stayed small for several centuries, because after the Vikings who were often well unified under kings that ruled Norway and Denmark, took them and used them for trade that included slaves, Ireland was again quickly divided into four or five warring kingdoms--each one's king striving to become high king of all Ireland, which was how the Normans came to be invited into Ireland, beginning in latter half of the 12th century. Additionally, within each kingdom was infighting over who would be clan chief, or king of that kingdom. The Irish didn't practice primogeniture inheritance for power but tanistry--consensus of the male kin of the last king, on the proven merit (mostly in warfare) of a contender from among them. All the male relatives of the last king, to a certain degree, had an equal chance to obtain the throne, by fighting for it and defeating all other contenders. The average length of reign was only about 15 years and it was seldom unchallenged, even after a consensus finally crowned a king. Tanistry was also the means of determining clan chiefs. This meant there was no nation and no national defense. The Viking slavers might have left, but the coasts of Ireland, particularly the small towns on the west and south coast, were prey to the raiders and slavers of a much more unified Muslim North Africa and the Turkish empires. Grania O'Malley, the female head of Clan O'Malley and associated families, including O'Flaherty of mostly Counties Mayo, part of Galway and Sligo, had a fleet of 30 ships to not only attack English vessels, when she and her clan or the Irish generally were fighting the English, but other Irish clans with which she was occasionally at war, and she was defending most of the west coast of Ireland from Muslim pirates and slavers, until the English took over Galway.
These towns were quickly taken over by the English during the reigns of the Tudors after Henry VIII had become Protestant who did not want the Spanish allying with or taking over the Irish and then attacking England from two fronts. The English, often along with Grania O'Malley tried to protect the coast, then, and expand trade. Grania O'Malley had enemies east (O'Donnells and O'Neills) and south (sometimes, but not always the English) and her power waned and her fleet was diminished. She also traded with the French, Spanish, and Italians, spoke those languages and was Catholic. Thus she was not trusted by many English who worked to gradually weaken her. By about the last fifteen years of the reign of Elizabeth I (or from about 1585-1603), in the towns Galway and Limerick, residence was prohibited to Irish. Only NON-Irish could live here. Irish could travel to the towns and visit long enough to do business there, but not live there until the restoration of Charles II (1660). After the Penal Laws banning land-ownership by Catholics were put in place in 1707, the Protestant families in the towns expanded their land ownership and prevalence to areas near the towns. Many of these families had originated in eastern Ireland, in the counties of Ulster and the English Pale, and obtaining warehouses, townhouses, etc. in Limerick and Galway during the later Tudor reign and that of James I/VI. If the surname for which you are searching shows up both in counties in Ulster, and also Limerick or Galway, or Dublin or some other county of the Pale and then also Limerick or Galway, then it is likely your family's original Irish home was in the eastern areas of Ireland, either Ulster or the Pale.
Last, if your family was in Antrim, Tyrone, Armagh and Down, and concentrated in Antrim, it is possible, even likely, your family was Scots-Irish in the truest and most ancient manner, feudal subjects and followers of Clan O'Donnell/McDonnell/McDonald--and likely intermarried with the Clan, who from the 5th century forward always had lands in BOTH Ireland and Scotland, and after being defeated in their bid for the crown of the whole of Scotland, largely RETURNED to Ireland, to the "Glens of Antrim" and "northern Down," just after 1585--a generation before the Ulster plantations created by James I/VI. The very name "Down" is actually from "O'Duinne" the ancestral name of O'Donnell, the patriarchal family of McDonnell/McDonald/McDugald/McReynold--and Campbell. The Campbells were just a part of the O'Donnells that had a genetic trait of a slight twist to one side of the mouth. Campbell was originally "Cam Beuil" "wry mouth." Most of Antrim, the northern part of Down, and much of eastern Tyrone and Armagh, were not part of the Ulster plantations because they were McDonnell lands that were allowed to remain in McDonnell/McDonald possession. Likewise, all their feudal supporters, tenants, etc. also remained in possession of their lands so long as the McDonalds/McDonells then stayed loyal to the Stuarts and later dynasties. The Earl of Antrim, well before 1641, was a McDonald.
Don't assume that because your family was in Ulster it was simply Scottish. There were real Scots-Irish, who had always been in Ireland, long before the Ulster plantations. Additionally, not all the O'Donnells and O'Neills joined in the treachery of the two earls who considered themselves heads of their clans. Many branches of O'Neills and O'Donnells were not on good terms with the self-appointed leaders because of the warfare and slaughter the two had waged, against other branches of their own families, to become earls. The "innocent" branches then were allowed to retain lands in Ulster and, for the O'Donnells, some in Counties Donegal and Sligo in Connaught, as well.